Memorial Day decor – 15 ideas for a patriotic summer kickoff
Ring in the summer with Memorial Day decor; we have ideas that set a festive, all-American atmosphere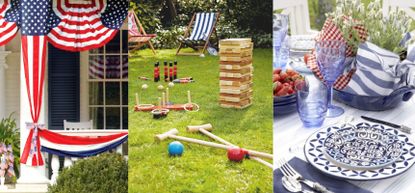 (Image credit: Grandin Road / John Day / Mark Scott)
Our Memorial Day decor will help kick off the summer in style. As the unofficial start of the season, Memorial Day means backyard barbecues, outdoor picnics, and al fresco dinner parties.
Of course, the day is also about remembering the men and women who gave their lives for our country, so a proper tribute incorporates patriotic motifs and all-American red, white, and blue.
Below, we've rounded up 10 Memorial Day decorating ideas that celebrate both summertime and the good ol' U.S.A., whether you're looking for a way to dress up your front porch, you're hosting a fancy garden party, or you've thrown together a last-minute neighborhood barbecue.
Memorial Day decorating ideas
Our favorite Memorial Day decor is, of course, red, white and blue, which means you can reuse them again as July 4th decor ideas, too.
1. Add red, white, and blue to the porch
If you have a seating area on your porch, give it a Memorial Day update with red, white, and blue decor. Think: Throw pillows, an outdoor rug, and colorful lanterns. When it comes time to host a long-weekend get together, add to the ambience with servingware in the same hues.
2. Set a star-spangled table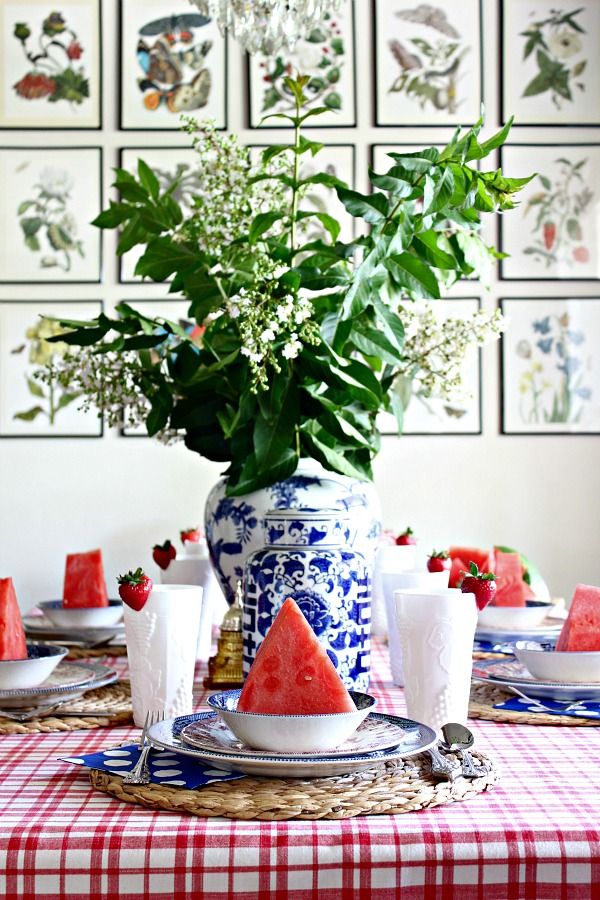 For a chic take on Memorial Day decorating, set a table that nods to the American Flag without being literal. Stylist Jennifer Griffin combined a plaid tablecloth with classic blue-and-white porcelain dinnerware and vases to create a layered look with a sophisticated All-American feel. The finishing touch? Watermelon wedges that act as a simple appetizer course while also adding to the decor.
3. DIY a flag display
Your best grill recipes will look even better served up with a side of classic Americana. Create a simple but charming Memorial Day centerpiece with small burlap flags. To get the look above, fill a selection of colorful glass bottles with a few inches of sand, then stick a flag into each bottle. For a visual statement, group the bottles together on a tray.
4. Invest in decor you can use all summer
Consider Memorial Day a chance to stock up on summer serving and hosting essentials, like melamine plates, multi-use baskets, and cloth napkins with seasonal motifs.
'I use décor outside that not only looks great but has a dual purpose,' says Jenny Reimold, interior stylist and HomeGoods style expert. 'I used a $20 whale-shaped wicker basket I found at HomeGoods and styled it for various uses, from holding star-spangled napkins on a table, to serving up fresh blueberry muffins as a grab-and-go summer snack station or holding sunscreen poolside.'
5. Hang fabric wreaths
Wreaths don't have to be just for the front door. Instead, add a pair of red, white, and blue wreaths to the siding of your home with a small nail or Command hook. This look will work as summer porch decor through the Fourth of July, but you can use in on your back deck to set the scene for a Memorial Day barbecue, too.
6. Set a red, white, and blue table
If your Memorial Day weekend plans involve an outdoor dinner party, a festive tablespace is a must. For a sophisticated look, skip the flag motifs for a more evocative setting.
'No matter what holiday or theme you're decorating for, there's usually a literal way to do it, and one that's a bit more subtle and creative. Neither is right or wrong, but if you're opting for the latter, choose colors, textures, and designs that remind you of the look you're trying to create,' says Sarah Spiteri, Homes & Gardens editorial director. 'Instead of flag prints, pull out the colors in the flag and use them in varying shades and across the different elements of your table, for example.'
To get the look above: Pair blue-and-white patterned melamine plates with a striped or gingham-checked tablecloth, and wrap basic plastic planters with cloth napkins to create a simple centerpiece.
7. Style the porch with vintage lanterns
Retro-inspired gas lanterns are a summertime decorating must for a few reasons. For one, they elicit memories of summer sleepaway camp and family overnights at the state park. Plus, you'll find them in a range of classic colors that'll reinforce any outdoor decorating scheme. And, of course, you'll only add to the ambience of your outdoor event by lighting them up at night.
8. Decorate the front porch
One of our favorite front porch ideas is seeing a home's exterior resplendent in the stars and stripes. If your home has a porch, take advantage of the opportunity to share your patriotism, and hang flag pull-downs from the roof of your porch or across the front railing, or wrap columns and beams with a flag banner. For a simpler look, fly an American flag from your front flag pole.
9. Add a patriotic pop to planters
Looking for a quick and easy way to dress up your table centerpieces or patio planter ideas? Buy a set of miniature stick flags, and push them into the soil in your planters, or stand them in the middle of a flower arrangement.
The handmade, pint-size versions above are from Etsy, but you'll also find a large selection online at retailers like Amazon or Target, too.
10. Hang a bunting
Whether you're looking to elevate your patio ideas for a family get together, or you simply want to add a festive pop to your fireplace mantle indoors, a red, white, and blue bunting is up to the task.
The beauty of a cloth bunting is that it's both versatile and reusable, so you can rehang it in a few months for the Fourth of July, or stash it away for events in years to come.
11. Create all-American planters
If you're planning your patio planters for the season, consider incorporating red, white, and blue for a Memorial Day decorating idea that keeps on giving. To make them feel festive, but simple enough to keep out all summer, consider a blue or red planter, like this Grandin Road version, filled with white hydrangeas. Or, swap the idea and fill a white planter with blue hydrangeas, instead.
To ensure your hydrangea continues to stay blue, treat the soil it grows in, says Melanie Griffiths, editor at Period Living and one of Homes & Gardens' resident gardening experts. 'Hydrangeas change color based on the pH level of the soil. For blue and purple shades, you'll want a more acidic soil with a lower pH,' she says. A fertilizer with aluminum sulfate will do the trick, or try adding coffee grounds to your soil.
12. Design a sophisticated scheme
Just because Memorial Day is synonymous with the casual backyard barbecue doesn't mean you can't turn the day into an elegant affair. Forgo plastic plates and disposable cutlery for the good china or transferware with a blue-and-white pattern, set on a fabric tablecloth. Add to the atmosphere with cut crystal stemware and arrangements of red and white dahlias and carnations in glass vases.
13. Swap out throw pillows
Break out your best grill recipes and call your friends, you're about to spend the whole day outdoors. If you're lucky enough to have a backyard that fits an outdoor sofa or conversation set, make it extra cozy for long-weekend lounging with patriotic-patterned throw pillows.
To ensure the decor looks holiday-ready, but not kitschy, play up one or two American-flag themed pillows with complementary options like blue and white solids, or striped patterns in varying scales. For bonus points, lay an outdoor rug that complements your All-American color scheme.
14. Decorate with flowers
Flowers are a simple, yet beautiful way to decorate for any holiday. For a look that's specific to Memorial Day, choose red and white blooms, like the combination of roses and daisies, above. Oher pairings that work well? Red ranunculus and white garden roses, or white dahlias and red gerbera daisies.
For a tablespace, pair the bouquets with simple blue-rimmed dishware, or blue-and-white striped table linens.
15. Don't forget the backyard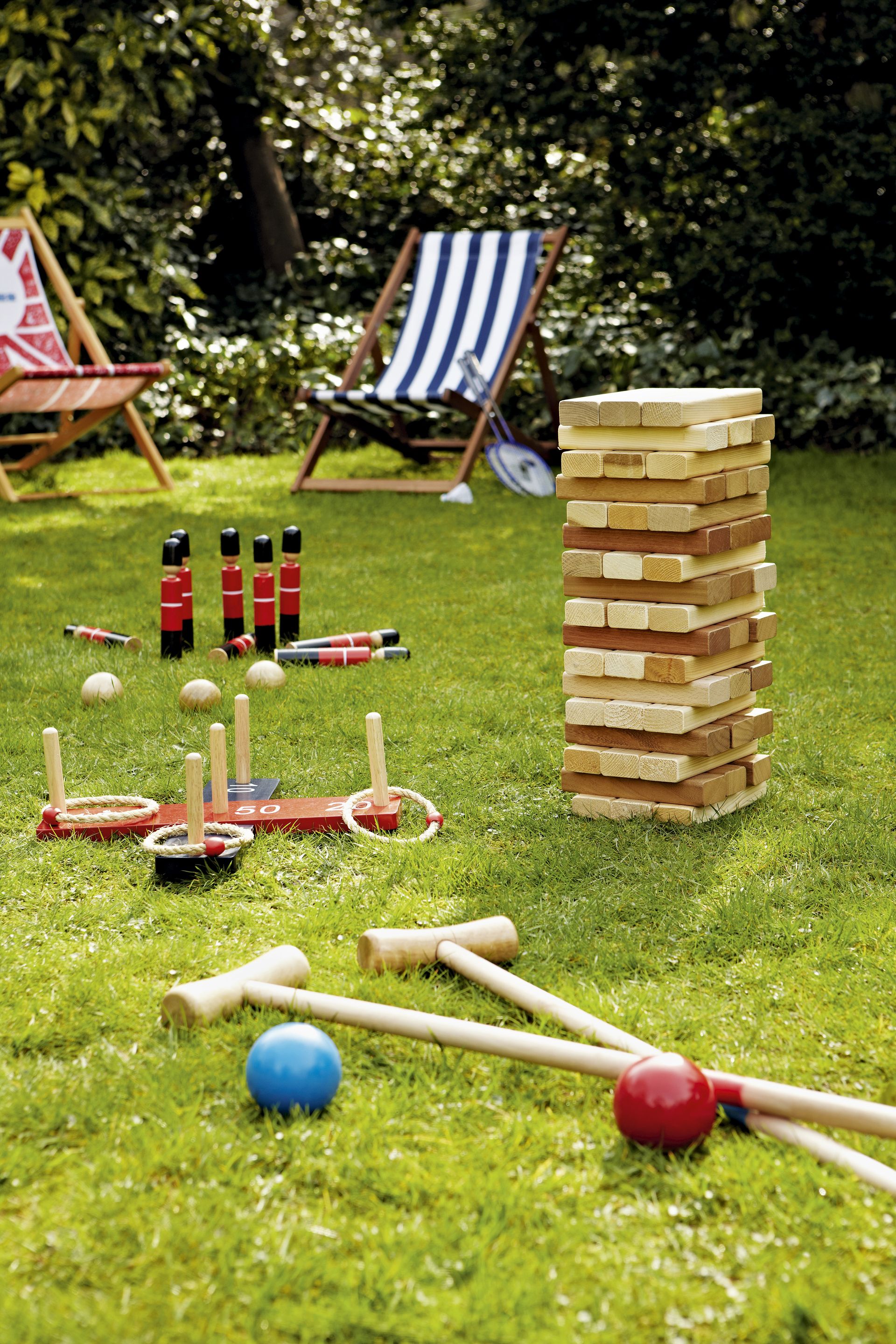 Lawn games are a must-have backyard idea for any barbecue, so why not choose options that underscore your decorating theme? Think: croquet mallets with red and blue striped handles, a cornhole set with an Americana theme, or a ring toss game in the colors of the flag.
As a bonus, look for lawn chairs, bench cushions, or outdoor umbrellas with a red, white, and blue scheme.
When should I start decorating for Memorial Day?
If you're decorating the outside of your house for the holiday, plan to start decorating for Memorial Day a week or two in advance. Because it's not a major holiday for decorating, like Christmas or Halloween, and the decorations are more generic, decorating any earlier might not register to passersby that your patriotic decor is meant to honor a specific holiday.
If you're decorating for a party or barbecue, decorating the day of the event, or up to a day in advance is appropriate.
Once you've decorated, however, feel free to leave your decor up straight through the Fourth of July, especially if it's on the more subtle side. Flag Day is June 14, and then the Fourth of July is just a few weeks later.
Sign up to the Homes & Gardens newsletter
Decor Ideas. Project Inspiration. Expert Advice. Delivered to your inbox.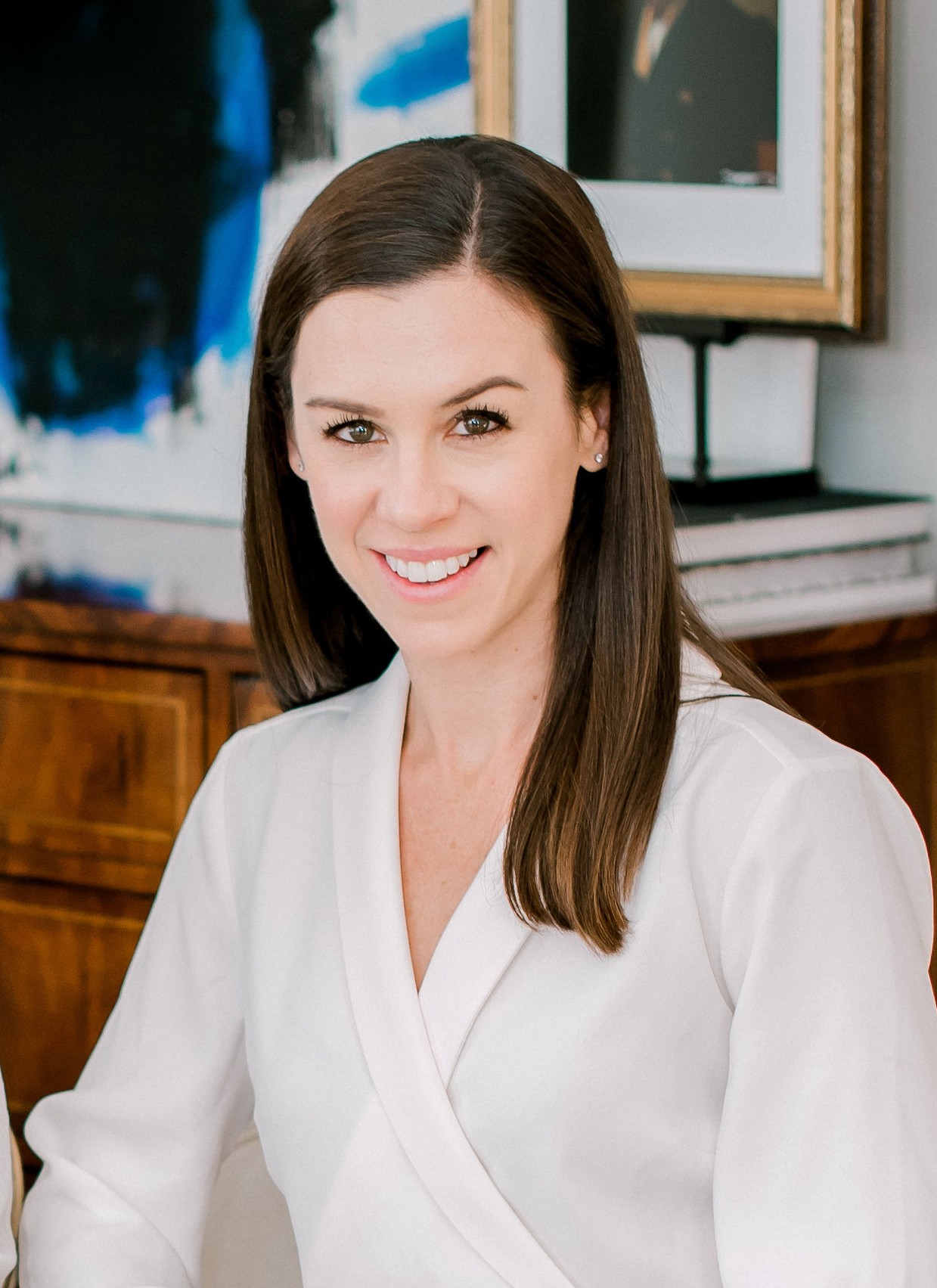 Executive Editor, Homes & Gardens
Kaitlin Madden Armon is a writer and editor covering all things home. Her work has appeared in Real Homes, Architectural Digest, Martha Stewart Living, Refinery29, Modern Luxury Interiors, Wayfair, The Design Network, and lots more. She graduated from Northeastern University with a degree in journalism and currently lives in Connecticut with her husband, three kids, and black lab.