Discover the paint brand that promises to put creativity at the heart of your decorating schemes
Benjamin Moore is the paint brand you need to know about before you start your next decorating project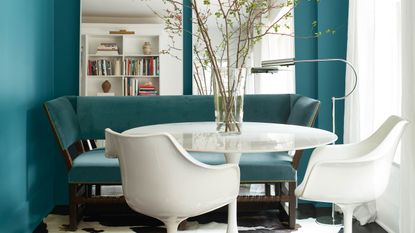 (Image credit: Benjamin Moore)
Creative paint choices can bring unique beauty to a home – and the more inventive they are, the better. But, every so often, you may find yourself stuck in a decorating rut. Sometimes the right ideas just don't reveal themselves to you.
However, open up your design horizons a little and you're sure to find the perfect starting point for your decorating scheme – and more likely than not it's going to be a colour that kickstarts your design inspiration. That's where Benjamin Moore – the colour aficionados – step in.
Not only does Benjamin Moore have a great breadth of colours to consider for your home, but they're also experts at providing creative ways to use paint and colour so that you can create rooms that truly capture your personality and individuality. Want to get to know Benjamin Moore's paint a little better? Here's why they have become our go-to brand...
Put quality first
It is best to go for paint colours that make you happy and have longevity. Before you select a new colour for your walls, you'll want some reassurance that you've chosen a quality product. Is it durable? Does it have a good finish? Are the colours pigmented and rich?
With Benjamin Moore's paint offering, you know you're in safe hands. Depending on your priorities, you can also find the paint that's best for the job at hand. If getting the perfect colour is top of your agenda, Aura is the paint for you. With Colour Lock technology, your colour choice will look richer and truer.
On the other hand, Regal Select is a great choice for spaces where you need your paint finish to be tough. It's a durable, washable paint that makes it an optimum choice for heavy-wear areas like kitchens, halls and kids' rooms.
And then, whether you're a confident painter or not, Benjamin Moore's Ben paint is specially formulated to be easier to apply - that means a smooth finish every time and easy touch-ups.
Consider colour at the start
If there's anything that makes Benjamin Moore the go-to paint brand for interior designers around the world, it's probably its breadth of colours. There are over 1000 colours to choose from, which means however creative your decorating project is, you're guaranteed to find the colour you need.
Their colour range covers the whole spectrum, from beautiful calming neutrals to vivid, expressive shades. Just take Benjamin Moore's Colour of the Year for 2023 as an example. Raspberry Blush is a coral-tinged pink that's unapologetically bold - a perfect addition to a colour lover's home.
Sign up to the Homes & Gardens newsletter
Decor Ideas. Project Inspiration. Expert Advice. Delivered to your inbox.
As the UK's first-ever home interest magazine, Homes & Gardens has been shaping British style for 100 years. Our core pillars are inspirational interiors, stylish decorating, beautiful gardens and fascinating stories. With the values of timeless style and considered elegance at our heart, we show an affection for heritage whilst also championing the future, from emerging designers to latest trends. The Homes & Gardens website brings all our beautiful content online, with a focus on stunning room ideas, expert advice from interior designers, architects and design professionals, and more practical expertise, too, on caring for and improving your home. Our website is updated and added to daily and we're delighted to welcome more than 6 million readers monthly. Of course, we've assembled a cracking team of experts in their fields to deliver all this stunning inspiration to you, and we'd love to introduce them. Their contact details are below, too.