Platinum Jubilee party ideas – 21 ways to celebrate, no matter where you live
Queen Elizabeth's Platinum Jubilee is quickly approaching - don't miss your chance to celebrate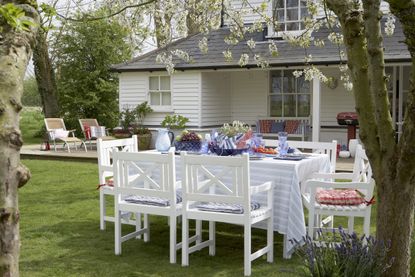 (Image credit: Future)
Queen Elizabeth's Platinum Jubilee takes place from June 2-5, to honor the Queen's 70 years of service.
If it sounds like a reason to celebrate, it is. The entire United Kingdom will take a pause to fete its longest-reigning monarch over a long weekend, thanks to an extra bank holiday (the U.S. equivalent of a national holiday) on June 3. There will be nationwide street parties, a parade, and a Platinum Party at the Palace, which is open to the 10,000 lucky patrons who snagged tickets in a lottery earlier this year.
If you'll be on the wrong side of the pond for the occasion, sulk not. There's no reason you can't round up your best garden party ideas and host a memorable Jubilee celebration of your own.
Platinum Jubilee party ideas fit for a Queen
Break out the Pimm's, fire up your best grill recipes, and grab the good china, these ideas will help you host a party worthy of Her Majesty the Queen.
1. Host the party outside
Brits are known for hosting outdoor street party celebrations to commemorate various royal occasions, so be sure to host your event outside.
Instead of setting the table with a plastic tablecloth and disposable dishware, give it the proper dining room table treatment with cloth table linens, your favorite dishes, and colored glassware in red, white, and blue in honor of the Union flag, for a tablescape worthy of the occasion.
If you prefer a more proper muse for your party decor, choose a color scheme of purple and platinum, the official colors of the Jubilee.
2. Celebrate with the neighbors
While it's become tradition in the UK to celebrate key royal events with a huge street party, if a full-scale event isn't possible, why not still arrange a celebratory get-together with your neighbors so that you can all get in the spirit as a community?
A 'street meet' where neighbors get together on front lawns and driveways can be great fun and is a lovely way of connecting older and younger residents and meeting up with those neighbors that you might not ordinarily get to spend time with.
As long as it's just a small gathering and you're not obstructing any roads you won't need a permit. Just set up tables and chairs outside on the front lawn - garden furniture is ideal – and cover with jolly cloths to add some patriotic color.
3. Put on a good spread
When it comes to party food, simple finger food and easy-to-prepare dishes that can be organised in advance are best, so you can spend time socialising on the day without stressing about the food. If you're getting together with friends, family or neighbours, work out who should bring what, so you have a mix of sweet and savory fare.
Why not include some classic dishes to add more of a patriotic flavour. Coronation chicken, cucumber sandwiches, smoked salmon and cream cheese or roast beef and horseradish are all crowd-pleasers that are sure to go down well.
'Not only is a street party a great way to bring your neighbours together, it's also a wonderful opportunity to try delicious food you may not otherwise,' says Jo Jeffery, Head of Brand Development at Talking Tables. 'Asking people on your street to bring a dish not only shares the responsibility, so less pressure, it also means you'll have a variety of tasty treats to try. Plus, it's a surefire way to make sure everyone has something they like to eat. A nice idea is to ask everyone to attach a label to their dish stating the ingredients, so those with food intolerances know what they can/can't consume.'
4. Decorate the table in regal style
Flying Union Jack flags and stringing red, white and blue bunting from trees or lamp posts is guaranteed to create a patriotic mood and set the scene for an outdoor party. But when it comes to the table, it's easy to mix-and-match classics that you already own to create a celebratory flavor without spending a fortune.
Pull together any table linens, runners, napkins and place mats that will work with a red, white and blue color scheme. It could be a cheery red gingham cloth, blue ticking-striped napkins, a pretty floral or a few plain colored items. Just a few token pieces in key colors should suffice, then bring the whole scheme together with dinner candles along the length of your table in complementary colors.
5. Set the scene out front
As an alternative to flags and bunting, why not go big with floral decorations indoors and out? Spruce up the porch or verandah by decking out window boxes, tubs and outdoor planters with cheery red, white and blue florals, or regal purple blooms. And decorate the front door too with a garland of greenery and flowers as a welcoming touch.
Make easy floral table arrangements for garden party ideas by popping mini posies of flowers in simple glass jam jars to run along the length of a party table. A garden crown ornament will make a patriotic addition if you have one to hand. Red roses, white gypsophila and purple freesias make a pretty combination, or use Lily of the Valley, which is a favorite of the Queen.
6. Organize a bake-off
Celebrate the occasion by organizing a fun 'bake-off' competition between family and friends or neighbors if you're holding a communal event. Choose Great British classics, such as Victoria sponge, Battenburg and fruit cakes or ask bakers to decorate cakes and biscuits along a 'royal' theme.
Organize a tasting and judging session to finish off proceedings at the end of the day, with cups of tea to wash everything down, and then guests voting on the winner.
7. Set up a drinks station
If you're entertaining outdoors, think about setting up a makeshift bar that can be stocked with cold drinks for when the weather gets warm. Invest in a couple of drinks dispensers filled with ready-made punch so guests can help themselves and take some of the pressure off the host.
Opt for summer classics, such as Pimms and lemonade or a gin and Dubonnet punch based on the Queen's favorite tipple, or for non-alcoholic options, consider iced tea or cucumber and elderflower fizz. Stock up with plenty of glasses and ice in the freezer beforehand.
8. Go for Great British classics
There's nothing more British than fish and chips, so give your guests a treat by serving mini bite-sized versions of the classic that is sure to be a crowd-pleaser.
Breaded fish and chips can be prepared in advance and then gently heated up in the oven once guests have arrived. Serve in mini paper bags or newspaper-style wraps with slices of lemon to garnish and mini pots of tartar sauce.
9. Fly the flag
Stuck for a festive centerpiece for your party table? For a quick, no-bake option, try your hand at a 'Union Jack' topped cheesecake, decorated with seasonal fruits. It's super-quick to put together, but will add instant impact to a table and is guaranteed to wow your guests.
Simply make a regular biscuit-based and cream cheese-topped cake and leave to chill overnight. Once set, simply arrange your fruit to form a Union Jack pattern on top, starting with a double row of raspberries to form the cross and then filling in with extra raspberries and blueberries to complete.
10. Serve tea in style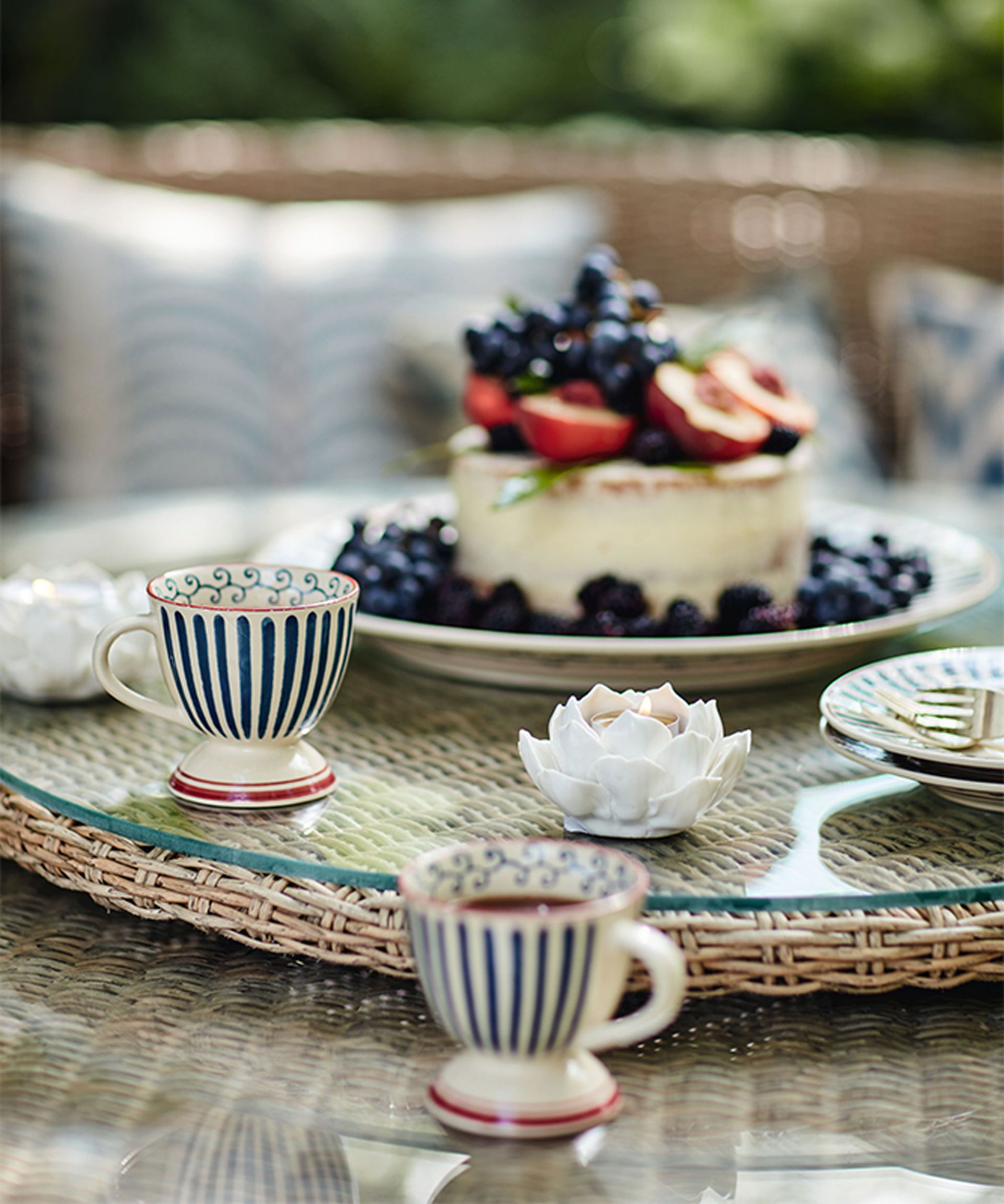 No Great British tea party is complete without a refreshing afternoon brew to finish off the proceedings. Tea is always best served in real china so ensure that you have plenty of tea cups and saucers to go around, as well as teapots, milk jugs, tea spoons and tea strainers. Plus a plentiful supply of hot water too.
When it comes to the tea itself, loose leaf is always best. Opt for two or three different varieties, such as an Earl Grey or Breakfast Tea, as well as a black tea such as Darjeeling, Assam or Ceylon. The Queen is said to favor a classic cup of Twinings Earl Grey served with a splash of milk and no sugar.
11. Party on after dark
As the evening settles in, don't forget to factor in lighting so that you can extend your celebrations after dark. Tables are easily lit with candles, votives and lanterns that can be dotted along the table and lit up as dusk settles.
For overhead lighting, festoon strings and twinkling fairy lights are an easy option that can be strung from nearby trees or posts to illuminate tables and seating areas. Solar lights are a good option as they require no additional wiring-in, and will simply charge on stand-by throughout the day to illuminate the outdoor area after dark and create a majestic sparkle.
12. String up a bunting
A royal-themed party starts with the right decor, and not just any latex balloons and paper napkins will do. Instead, choose party decorations that nod to British heritage, like a fabric bunting (a traditional street party decoration) in the colors of the Union flag.
'What's a party without decorations? Bunting is a must-have when celebrating the Queen's Jubilee,' says Harriet Hastings, founder of London-based Biscuiteers, a cookie company known for the iced biscuits it makes to celebrate holidays and royal milestones.
Fabric buntings make an incredibly easy craft for kids or adults. Start by cutting triangles from scrap fabric, an old tablecloth, a spool of lace, or any other fabric you may have lying around. Then, use a hole punch to punch two holes through the top corners of the fabric. Finally, string a piece of ribbon or twine through the holes and hang.
13. Serve a Pimm's Cup
If you're a fan of Wimbledon, you'll be familiar with the Pimm's Cup, a cocktail that originated in London in the 19th century, and has since become the tennis tournament's unofficial drink.
The Pimm's Cup isn't just for sipping courtside, however. It's a go-to summer tipple in the U.K. To make one, mix 2 oz. Pimm's liqueur with slices of orange, strawberry, and cucumber. Add a few sprigs of mint, and top with lemon-lime soda.
Don't feel like playing bartender? Set up your backyard with outdoor bar ideas that make it easy for your guests to serve themselves.
14. Hang DIY pom poms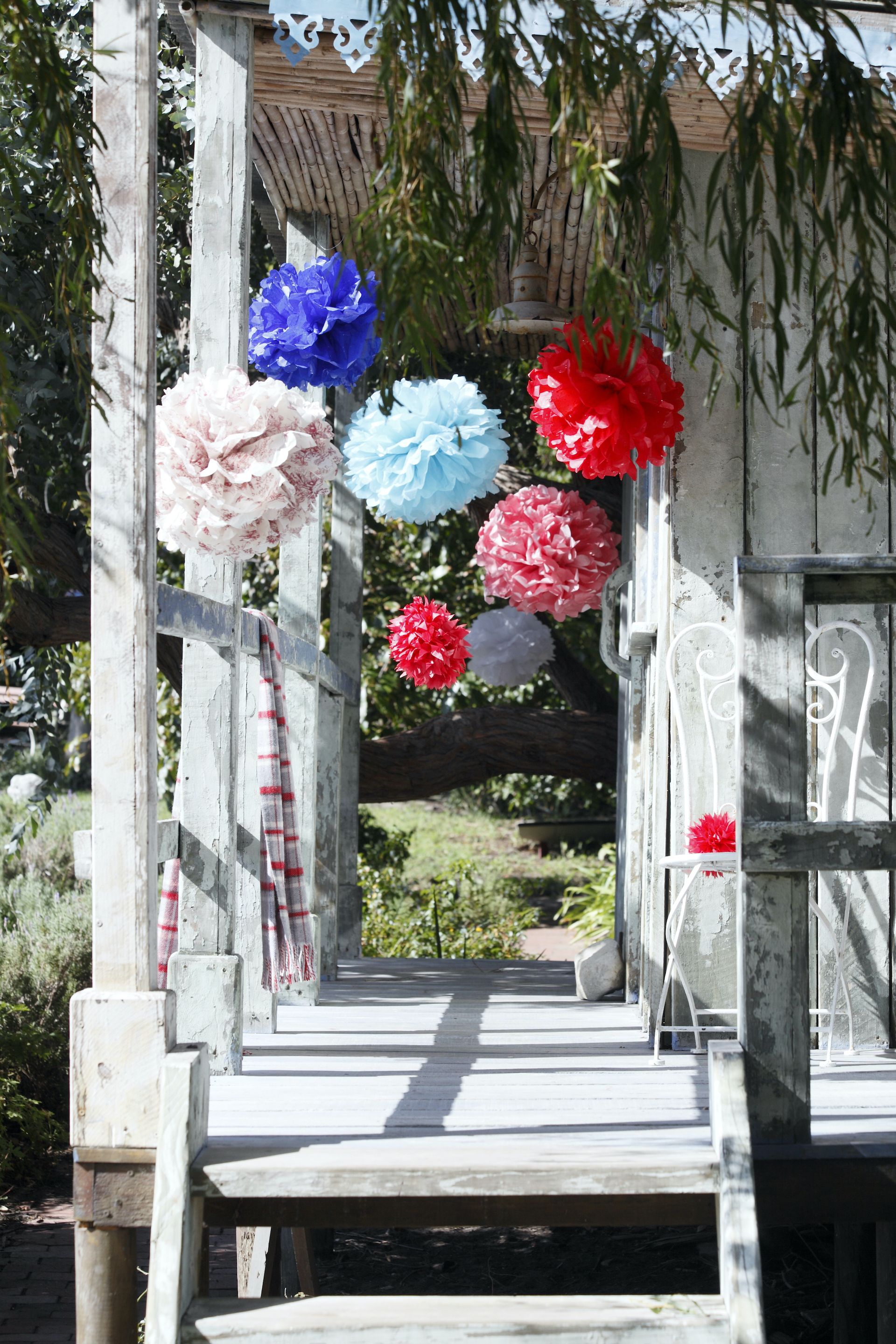 Tissue paper pompoms are a fun way to dress up an outdoor space because they're lightweight and you can hang them almost anywhere, like from tree branches, porch railings, or the roof of a patio or pergola.
Make them yourself by folding a stack of tissue paper accordion style, tying a string around the center, and carefully lifting each sheet of tissue paper upwards to form a ball shape. Or, you can also find premade versions online or in your local party supply store.
15. Mix-and-match prints for a pretty place setting
Take a cue from English country decorating ideas and mix and match patterned textiles for a quaint and pretty, but inviting, decor scheme. Choosing a palette with various shades of red and blue, or purple and platinum ties the look to the Jubilee theme without feeling cliché.
16. Don't forget the details
The details are what make any event memorable, so add a few extra touches to make your Jubilee party feel special.
A few favorite ideas: wrap the labels of bottled beverages with patterned paper strips and tags with your guests names on them (you can also do this with plain glass bottles filled with a signature beverage or cocktail). Serve them alongside paper straws adorned with small pennant flag cutouts (another easy DIY!).
17. Make dessert part of the decor
When it comes to the food you're serving, make sweets the centerpiece, says Hastings. 'Naturally we recommend making sweet the star attraction and the Platinum Pudding competition, looking for a pudding fit for a Queen, certainly proves that.'
The best way to create a festive dessert in the late spring? Add in-season strawberries, which support a red, white, and blue theme.
18. Use flowers for a simple, patriotic centerpiece
June is high season for some of spring's most beautiful flowers, so why not use your best cutting garden flowers to embellish your Jubilee table?
If you have red and white flowers on hand, arrange them in a St. George's cross, as seen above, which is the basis for both the city flag of London and the Union Jack.
19. Host a Big Jubilee Lunch
The Big Lunch is a celebration that takes place each year across the U.K. as a way to encourage neighbors to go out and get to know each other better. Essentially, it's a day of street parties around the country meant to foster a sense of community.
During Jubilee years, the Big Lunch turns into the Big Jubilee Lunch. This year's event takes place on June 5, and is an official part of the Platinum Jubilee celebration.
To host your own version, invite the neighborhood over for a potluck-style afternoon barbecue. Serve up summer recipes like strawberry trifle, a chilled crostini, and barbecue fare that's easy to serve.
20. Set a royal table
If you're a true fan of the monarchy, go all in with a set of collectible Jubilee plates. The official collection, commissioned by the Royal Collection Trust, is almost sold out. But, you'll find dinnerware that pays homage to British heritage and the royal family available at all sorts of price points from a range of retailers, including Zazzle and Harrod's.
21. Host a tea
There are few things more English than an afternoon tea. Make your Jubilee celebration a tea party by serving English breakfast alongside as assortment of bite-sized sandwiches, scones, cakes, and pastries.
How to celebrate Platinum Jubilee?
Some of the biggest ways to celebrate the Platinum Jubilee this year are happening in the U.K., but are easily replicated anywhere in the world.
Street parties, which will take place in cities and villages across the U.K. over the Platinum Jubilee weekend.
The Big Jubilee Lunch, which takes place on June 5, and encourages neighbors to take to local streets and gardens to celebrate the Queen together.
The Queen's Green Canopy, which is an initiative by the Queen, encouraging people to plant trees through the end of 2022.
What to serve at a Platinum Jubilee party
Wondering what to serve at a Platinum Jubilee party? Here are a few festive options:
- Coronation chicken. Coronation chicken is a curried chicken dish that was served for the Queen's coronation ceremony in 1953, so it only makes sense that you serve the dish to mark her 70 years on the throne. Not a fan of curry? Try a simple, cold chicken salad, instead.
- Platinum pudding. Platinum Pudding is a lemon Swiss roll and Amaretto trifle, created by Britton Jemma Melvin. The pudding recipe took home top awards during The Platinum Pudding Competition, staged to commemorate the Jubilee earlier this year
- Tea and biscuits. If the weather's warm, make your afternoon tea of the iced variety, and serve it with cookies for a British-inspired snack.
Sign up to the Homes & Gardens newsletter
Decor Ideas. Project Inspiration. Expert Advice. Delivered to your inbox.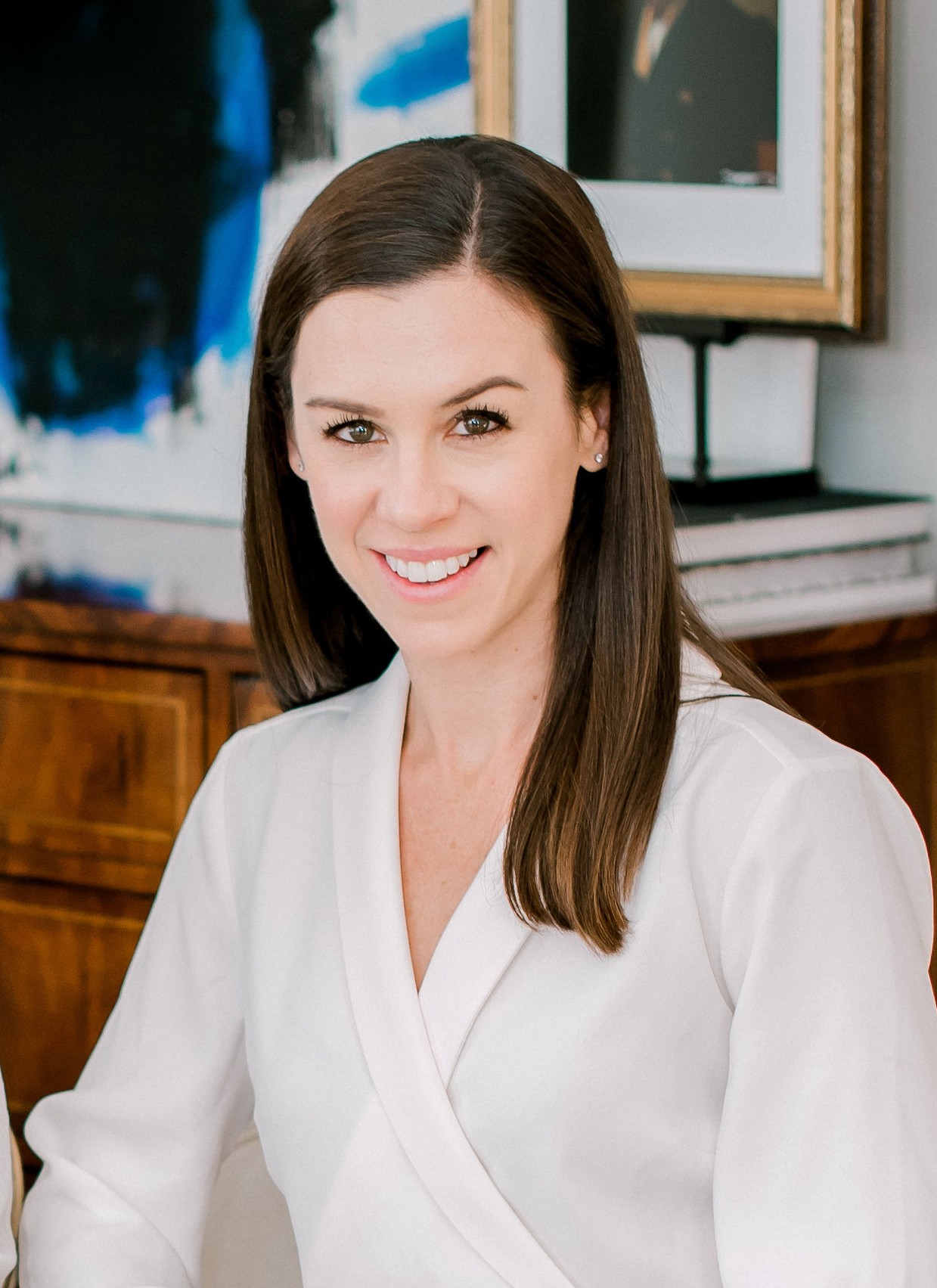 Executive Editor, Homes & Gardens
Kaitlin Madden Armon is a writer and editor covering all things home. Her work has appeared in Real Homes, Architectural Digest, Martha Stewart Living, Refinery29, Modern Luxury Interiors, Wayfair, The Design Network, and lots more. She graduated from Northeastern University with a degree in journalism and currently lives in Connecticut with her husband, three kids, and black lab.