Cleaning a kitchen sink drain - expert tips for removing unwanted buildup
These top tips for cleaning a kitchen sink drain will help unclog buildup and create a fresh aroma...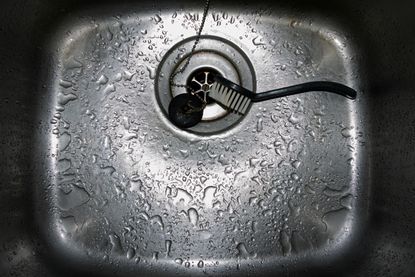 (Image credit: Alamy)
Cleaning a kitchen sink drain is sure to make those everyday washing and cooking chores a little more pleasant.
Grime and food from pots and pans as well as things like soil from watered houseplants can easily get stuck down the drain, creating an unpleasant odor.
So, make sure your kitchen is a pleasant space to be by cleaning the kitchen sink – and in particular the drain – once a week.
Jelina Saliu, Chief Innovation Officer at Safely, the home care and cleaning brand by Kris Jenner and Emma Grede, says: 'Various foods and objects can easily drop down the kitchen sink and get stuck, clogging the drain which makes it hard for water to flow down. When this happens, vinegar, baking soda and a good cleaning spray will be your best friends.'
Cleaning a kitchen sink drain
There's nothing more annoying than a dirty, blocked sink drain, but by working this job into your kitchen cleaning routine, it needn't ever be a problem. Below, Jelina gives us her top tips on how to clean a kitchen sink drain thoroughly. These techniques will work, whether you are cleaning a stainless steel sink, or one of any other material.
You will need:
Rubber gloves
Baking soda
White vinegar
Cleaning spray
Water
Non-abrasive cloth
1. Unclog the sink
The first thing to do is to unclog your sink of any obvious blockages before cleaning. If the issue isn't so much cleanliness as a faulty drain, you may need to look to change a kitchen sink drain.
2. Make a baking soda and water mix
Cleaning with baking soda is always a great first step.
'Bring a big pot of water to a boil and add about a ¼ cup of baking soda. This will begin to fizz so you'll need to act quickly,' says Jelina. 'Pour this mixture directly into the drain.'
3. Add white vinegar and pour the mix down the drain
Cleaning with vinegar is next.
'Add about a half of a cup of white vinegar,' advises Jelina. 'You'll hear some gurgling noises but this only means this solution is doing its best work.'
Baking soda and white vinegar are the perfect pairing to remove unwanted smells as well as unclogging the drain.
Leave for 10 to 15 minutes for it to work its magic. Jelina adds: 'You may need to do this up to three times for optimal results.'
4. Apply an all-purpose cleaning spray
It's now time to add a cleaning spray to the sink and drain for a sparkling finish and pleasant aroma. Or, you can use the baking soda/vinegar mix to clean with.
Jelina says: 'Once this is complete, spray down your sink generously with a cleaning spray like the Safely Universal Cleaner. Then wipe dry with a reusable cloth.'
What is the black stuff in my sink drain?
Noticed some unpleasant black gunk coming out of the drain? 'This is build-up over time from food and other hard particles that may get lost in your drain,' says Jelina.
You can remove it with a combination of baking soda and vinegar, made into a paste and applied to the black gunk with some hot water. Scrub away any excess then rinse with hot water.
How do you clean a kitchen sink discolored drain?
Jelina Saliu, Chief Innovation Officer at Safely, the home care and cleaning brand by Kris Jenner and Emma Grede, says: 'Combine a cleaning spray, like the Safely Universal Cleaner, with some baking soda. Then use a dish brush to combine and scrub into your sink. This should help with discoloration and leave a nice shine.'
Sign up to the Homes & Gardens newsletter
Decor Ideas. Project Inspiration. Expert Advice. Delivered to your inbox.
Ruth Doherty is an experienced digital writer and editor specializing in interiors, travel and lifestyle. With 20 years of writing for national sites under her belt, she's worked for the likes of Livingetc.com, Standard, Ideal Home, Stylist and Marie Claire as well as Homes & Gardens.