How to clean kitchen grease – expert tips for removing stubborn dirt
Clean kitchen grease for a gleaming cooking space with these top expert tips...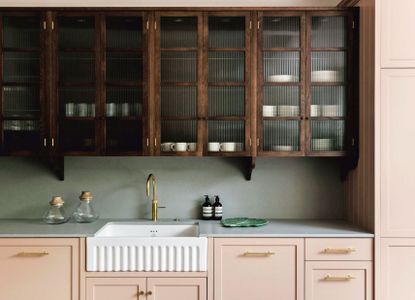 (Image credit: Studio Duggan/Mariell Lind Hansen)
If you find how to clean kitchen grease a difficult endeavor, you're not alone - it can be a tricky task, yet it's essential for a fresh and aesthetically pleasing cooking area.
Whether you're cooking up a gourmet breakfast or sautéing a delicious dinner, grease splatters can easily reach kitchen countertops, kitchen walls, kitchen cabinets and backsplashes.
Thankfully, there are some simple tricks you can employ to remove kitchen grease without too much stress.
'Removing built up grease can be arduous indeed,' says Sabrina Fierman, of high-end residential cleaning service, New York's Little Elves. 'Make the job easier by using the right products for the task.
'Take into account the surface material; many cleaners will stain or strip protective surfaces of marble or wood, or scratch other surfaces like lacquer.'
After putting so much effort into designing a kitchen and sourcing all those beautiful kitchen ideas, learn how to keep it looking grease-free and gorgeous below.
How to clean kitchen grease – top tips for a gleaming space
Firstly, make sure you have the right tools.
According to Sabrina, you will need a degreaser (like Fantastik or 409 All Purpose), or Barkeepers Friend, which is safe for most metal surfaces (check the label).
Alternatively, make your own with vinegar, baking soda and dish soap degreaser (See recipe and instructions below.) Also, grab a clean sponge and plenty of cotton rags.
Follow Sabrina's expert guide on how to clean kitchen grease from stoves and walls here:
How to clean kitchen grease on stoves
There's nothing less appealing than cooking up a feast on a stove that is caked in grease. These top tips will make getting back into the kitchen a more alluring prospect.
1. Remove knobs and grates. Place them in the sink and wash with warm water and dish soap separately.
2. Apply cleaning agent to stove top and let sit for a few minutes.
'Be careful to avoid areas that have printed markings as these can easily be stripped off by cleaners or abrasive sponges,' warns Sabrina. 'Generally, if you apply cleanser to a sponge or rag and clean these areas that will be sufficient and not cause any damage to the printed areas.'
She adds: 'Also avoid the burners on gas stoves. For glass top and induction cooktops, make sure to use only soft cloths and nothing abrasive (even baking soda can damage them).'
3. After a few minutes, wipe until all grease is removed. Repeat if necessary, rinsing your sponges needed.
Sabrina says: 'After the grease is gone, wipe with a clean rag or sponge to remove any residue.'
How to clean kitchen grease from cabinets and walls
Grease has an uncanny way of dripping down onto cabinets and splashing onto walls. Don't panic, it's possible to get your kitchen looking as good as new.
'Whether the walls are wood, lacquer, painted or wallpaper you must tread carefully as these surfaces can be scratched or stripped easily,' says Sabrina.
'We recommend doing a small spot test somewhere inconspicuous prior to using any cleaning agents on walls anywhere in the house.
'Applying a diluted mixture of gentle soap and white vinegar in water may be the safest bet.'
She continues: 'Wipe down with soft clean rags or a soft sponge. Depending on the grease build up, you may need to repeat one or more times. Always rinse with lightly dampened clean soft sponge or rag and dry thoroughly.'
How to clean kitchen grease from a tiled backsplash
Grease can easily build up over time on your kitchen tile backsplash ideas. Tackle the problem with a degreaser or natural products like orange or lemon oil
A degreasing agent is likely required to first remove any built-up cooking grease and oils. Don't forget to follow the degreasing agent's manufacturer guidelines and then follow with a clean, wet cloth and buff with a dry cloth.
According to Topps Tiles, cleaning kitchen tiles with vinegar is possible but it's advisable to dilute the solution with at least 50% water as 'acid can ruin the surface of some tiles'.
Topps Tiles says: 'If you have stubborn stains, use the vinegar but then wash the tiles down immediately with fresh clean water to reduce the acidity levels.'
The brand adds: 'A brilliant cleaning product and natural degreaser is orange or lemon oil. Simply drip a few drops directly on to the surface of the tile then wipe with a damp cloth or sponge and clean water to remove the grease whilst making your home smell fresh.'
How to clean kitchen grease with a homemade degreaser recipe
If you'd prefer to use a degreaser you've made yourself, Sabrina's recipe can help.
She says: 'Mix 1 cup vinegar with 3 cups of water in a deep bowl, add 1 cup of baking soda and ½ cup of dish soap.
'This solution is best used right from the bowl, so dip a clean cloth into the bowl to apply the degreaser, then use the soft cloth or sponge to clean the greasy surface.'
She adds: 'Be sure to rinse afterward and wipe the surface again to finish. Caution: Do not use on any surfaces that might scratch, as baking soda is abrasive.'
What dissolves grease buildup?
You can opt for a a degreaser (like Fantastik or 409 All Purpose), or Barkeepers Friend.
Alternatively, you can make your own degreasing solution with vinegar, baking soda and dish soap.
It's also possible to use undiluted vinegar; simply pop it into a spray bottle, apply to the greasy surface, let it sit for five to 10 minutes, and wipe with a dishcloth or non-abrasive sponge.
What is a good degreaser for kitchen walls?
A mix of soap and white vinegar is a safe yet effective solution for degreasing kitchen walls.
Wipe down with a soft sponge and then dry thoroughly. Repeat the process as many times as necessary.
Sign up to the Homes & Gardens newsletter
Decor Ideas. Project Inspiration. Expert Advice. Delivered to your inbox.
Ruth Doherty is an experienced digital writer and editor specializing in interiors, travel and lifestyle. With 20 years of writing for national sites under her belt, she's worked for the likes of Livingetc.com, Standard, Ideal Home, Stylist and Marie Claire as well as Homes & Gardens.