12 enduring and elegant kitchen surface trends for your next project
Discover which material is the right one for your space with our kitchen countertop trends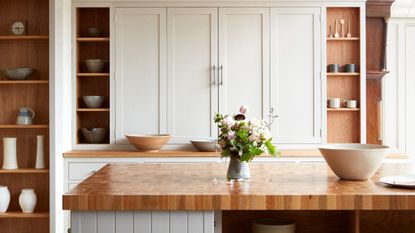 (Image credit: Naked Kitchens )
Sign up to the Homes & Gardens newsletter
Decor Ideas. Project Inspiration. Expert Advice. Delivered to your inbox.
Thank you for signing up to Homes & Gardens. You will receive a verification email shortly.
There was a problem. Please refresh the page and try again.
Looking for new kitchen surface ideas? The latest kitchen surface trends are here, we've researched the top materials and have put together a guide on what's hot in the world of this most vital part of the kitchen.
First things first – it's worth really considering what kind of look you want, how you want it to perform, and what your budget is. A beautiful but practical kitchen countertop needs to provide the space and logistics for you to prepare all manner of meals, snacks, and feasts, perhaps share a cocktail with friends, keep clean and tidy, place hot dishes and pans on, and cherish for a long time.
The countertop can make or break kitchen style, it should be the cherry on the cake, but it must be affordable, practical, beautiful, and right for you.
Kitchen surface trends 2023
Fashions come and go, but your kitchen countertop should last a lifetime or at the very least a decade or more. Chose one of our kitchen countertop trends that suits you and your kitchen and not the latest fad on Instagram or TikTok. Read on to find out more about the best countertops, from Italian marble to copper and everything in between.
1. Quartz
Quartz that is used for countertops is a manmade product that is usually constructed using a mix of ground quartz, resin, and polymers making this a robust alternative to 100% natural stone. The manufacturing process offers a myriad of creative options with some quartz countertops created with veins to mimic marble or granite. Or metal or glass flecks that sparkle in the light and unlimited color options including pure whites and blacks to create a crisp, contemporary finish.
Quartz is often more affordable compared to other natural stones and will retain its value. A non-porous material, quartz is unlikely to become stained, get chipped, or damaged and is considered very durable. Other benefits include easy maintenance without the need for regular sealing. But some liquids including bleach, paint, and nail polish remover could stain quartz, and because it is created with a mix of materials it could be susceptible to heat damage from extremely hot pans.
Interior designer, Kristin Marino at KozyKasa believes quartz is a great option for a kitchen countertop and Helen Parker, creative director at deVOL agrees:
'Quartz is great for people who are a little more fastidious about their surfaces looking pristine all the time, it has less character, but it is more durable and stain resistant, although not completely, so is a good option for people who don't want the hassle and like the idea of a low maintenance work surface.'
2. Granite
Granite on the other hand is 100% natural, it is a stone made from igneous rock, formed from cooling magma, the molten rock beneath the earth's surface. Due to this natural creation granite often boasts beautiful unique details including layers of minerals, whorling shapes, lines, colors, and patterns. Ami McKay, interior designer, and owner at Pure Design loves the imperfections and natural formations found in slabs of granite.
Granite will look beautiful in a kitchen and each piece will be entirely unique to you. It's considered a very durable stone that, with care, should last a lifetime, it is also resistant to heat and stains making this a practical choice. But granite can be porous, so sealing each piece is highly recommended, it is also cold to the touch, which is perfect for making pastry, but can put some people off. As this is a natural item it comes with a high price tag.
Jennifer Hamilton, director at The Vawdrey House, likes to use granite, 'because it is hard wearing close to sinks and prep areas.'
3. Marble
If you want to make a statement in the kitchen then chose Arabescato Marble, a bold, beautiful veiny marble that is not subtle in the slightest, it is as Helen Parker says at deVOL, 'not for the faint-hearted as it really does make a bold statement.'
'Marble can etch, scratch, and stain, but some clients are ok with a material that shows its imperfections and will take the time to care for it appropriately. A bold marble slab can provide all the drama needed and set the tone of a home's finishes and color story,' says Keren Richter, interior designer at White Arrow.
Marble is, of course, the natural option, and arguably the most popular, when it comes to kitchen counters, an expensive option yes, that comes with its own set of pros and cons, but with care, it can last forever, and some experts even believe it will add value to your home.
4. Copper
There has been a resurgence in the use of copper for kitchen countertops, its rich burnished tone will instantly add drama and depth to your kitchen and can seamlessly fit into a traditional or modern style.
Copper has anti-bacterial properties, which means it will kill bacteria, a useful addition to the kitchen. It is a durable metal that will last for years, is sustainable, and can be 100% recycled if you tire of it. Copper will age with use, is prone to dents and knocks, it is also sensitive to oxidation, transforming the metal over time as it takes on other green and blue tones, which will for some add character to its patina, but for others, this could pose a problem.
'Copper is shiny and has an incredibly fluid, ever-changing patina, it looks rare and precious and turns out to have amazing antibacterial properties which now make it even more desirable. What a special product it has turned out to be, so glamorously chic and a little bohemian with the power to kill pathogens in minutes. Who would have believed that one material could have so many benefits and be so good looking, some worktops have all the luck!' Helen Parker, creative director of deVOL.
5. Wood
The timeless beauty of wood has kept this natural material high in kitchen countertop trends. To get that rustic, countryside kitchen look, wood is an obvious choice, and as a material to work with it offers a lot of positive contributions as a kitchen prep surface, although there are some drawbacks.
'Sustainably focussed homeowners may consider a timber countertop as an environmentally conscious choice; however, wood and water don't make the best combination when it comes to low maintenance or longevity. On countertops near a sink, timber can blacken and rot unless it is sanded and treated regularly,' explains Jennifer Hamilton, director at The Vawdrey House.
Keren Richter, interior designer at White Arrow, adds: 'Some new sealants can increase the durability of countertops and can make wood more durable. Boats can be made of wood, so why not countertops?'
Wood needs to be regularly sanded, oiled, and sealed to prevent drying out or moisture damage. Wood is also sensitive to heat and cold, so use mats or trivets to protect the wood from hot pans, it is fine to cut directly onto a wooden surface although it will cause minor damage.
Wood, however, is 100% sustainable, can be fitted quickly and easily, is sourced locally, and is soft and warm to the touch, but this natural material does require regular care to keep it in tip-top shape.
6. Quartzite
Andi Morse at Morse Design declares that quartzite is in vogue right now, adding: 'The best material for bright colors is quartzite because it has all kinds of options.' Quartzite is a naturally occurring stone, not to be confused with quartz, which is manmade. Quartzite is one of the toughest most durable materials available for countertops, it is created beneath the earth's crust when sandstone is subjected to extreme heat and pressure, ensuring this natural stone is strong. After it is mined, it is cut into slabs, polished, and sealed, making this a top choice for a lot of designers.
Charlie Smallbone, the founder of Ledbury Studio, recommends it, 'from my experience, I recommend quartzite as it is extremely durable and resistant to scratches, chips, and other damage. In fact, it is even more durable than granite, which is renowned for its toughness. Quartzite is also UV resistant, heat resistant, and stain resistant due to its low porosity.'
7. Concrete
To get a super contemporary, industrial look in your kitchen, then a concrete countertop may be the way to go. As a material, it is extremely versatile and can be stained in various shades or have things added to it to make it unique, such as glass chips or stones. Concrete is a porous material so it must be sealed and waxed annually, and it is heavy so it may require extra support underneath.
As a premium product, it is designed to last a lifetime and its method of production means it can flow seamlessly from floors to furniture, with no joints, to create a visually dramatic interior.
Patrick Michell, partner at Platform 5 Architects, explains why he used concrete in this project:
'This concrete worktop was formed on-site by a specialist so large pieces could be formed without joints. The material has natural variation in its color and appearance, taking on a marbled appearance. Concrete worktops are robust but will take stains like a natural stone, but over time it turns into an attractive patina. The concrete will vary in appearance with the heat and humidity to form a record of the day it was poured.'
8. Porcelain
Porcelain is a beautiful product that creates a highly polished and luxurious look as a countertop. It is resistant to heat, stains, UV light, and scratches, it is exceptionally hard and therefore durable and comes in a variety of colors and depths. But it can be costly and could be prone to cracking if brute force is applied to it, so be gentle.
'Countertops play a crucial role when it comes to designing a kitchen. When sourcing we look for something that is both beautiful and functional. Our favorites are marble and porcelain, while marble is expensive, if we want a cost-friendly option, we recommend porcelain,' says Ali Budd at Ali Budd Interiors. 'There have been some incredible advancements in the last few years both in terms of durability and look. We also love to mix materials. Our favorite way to do this is to switch up the stone that we're using on the kitchen island, we look for a material that will either complement or contrast what's on the countertop. On the opposite end of things, using the same material throughout a kitchen space is always a safe design choice.'
9. Linoleum
Inspired by the colors of a Gucci runway and retro 1970s styling, interior designer Victoria Sass, founder of Prospect Refuge Studio, explores a mixture of materials for countertops including that retro classic, linoleum.
This kitchen island is inspired by Alvar Aalto's tables, which feature pops of bright linoleum tops with birchwood edging, linoleum gives Victoria the possibility of employing glorious colors in her design. 'We've explored laminate for very pure solids, and Marmoleum inlays which come in leathery solids and interesting marbled color combinations.'
Linoleum has evolved since its heyday in the 1960s and '70s, the material is probably the most affordable and it offers hundreds of design options and colorways, but it is not heat resistant, nor does it have the longevity of natural stone or marble. So, consider the best area to use this material to get that bold pop of color that will not be damaged by heat.
10. Butchers block
Introduce a sustainable element into the kitchen countertop using a butcher block, or a great slab of wood, it's a great way to create a space that is entirely designed for food prep. 'Butcher block countertops are often made from leftover wood from other areas in a home remodel. They double as a cutting board, are easy to maintain, and are sustainable,' says interior designer, Kristin Marino at KozyKasa.
11. Caesarstone
Rozit Arditi, principal designer of Arditi Design will often select caesarstone as a man-made alternative to marble. She explains why, 'While marble is a timeless natural material, the upkeep is harder than a man-made composite alternative like caesarstone. There is no set rule for which one is the right choice, it is more about what your priorities are. Clients with young kids or who cook a lot tend to prefer durability, that is when we opt for caesarstone.
If we have colorful cabinets in the kitchen, we tend to keep the countertops more neutral, but if the cabinetry is minimalist, we often chose darker counters.'
Caesarstone is an engineered stone, using an industrial process that molds quartz aggregates, sand, glue, and resin into slabs. Caesarstone is heavy, rather like concrete it may need extra support, as it is manmade it is non-porous so stains are not a problem and it is easier to maintain that natural materials, so there is no need to seal this product, but it can be expensive.
12. Combine materials
It is common for interior designers to use several materials when designing countertops in the kitchen. Cost is a huge factor, if a client prefers marble or quartz then these materials may be selected for one space, perhaps an island, or backsplash, with other more cost-effective materials chosen elsewhere. Usage is another key factor; wood is good for prep but is better away from a water source, and marble is great for baking but can get damaged through heat or UV light.
Keren Richter explains: 'It is important to understand who will use the kitchen and their expectations regarding durability and longevity.'
Charlie Smallbone, founder at Ledbury Studio agrees, 'When choosing a kitchen countertop, it's important to consider your priorities. For example, if staining is a concern, it's best to avoid marble. If chipping is a worry, porcelain may not be the best choice. If practicality is a priority, harder stones like quartzite or granite may be a better fit. However, these options can be more expensive, ultimately, the choice should be based on your priorities and what you want from your countertop.'
Elizabeth Sherwin, creative director at Naked Kitchens, 'Choosing a kitchen countertop can be overwhelming, in part due to the sheer number of materials there are to choose from. The bottom line is there is no one material that's ideal for every home, there are several factors to consider such as color, overall aesthetic, durability, and price. Don't feel you need to stick to one material, for example, a split-level island with a mix of quartz and exposed wooden countertops will add warmth and visual variety.'
FAQS
Which countertops are best for your kitchen?
The sheer number of options for countertops can be confusing, but you can rule out some materials simply through cost. Decisions about maintenance also play a key role in the decision, do you want to regularly seal your countertop? Do you want something that is tactile, natural, manmade, or sustainable? How you use the space is essential to work out first.
'My number one piece of advice is to take your time and do your research. Visit showrooms with a good selection of surfaces and order samples of your favorite countertop materials to see how they will look in your home. View them in different lights to get a true sense of their color and texture, just like paint samples.' Says Charlie Smallbone, founder of Ledbury Studio.
Andi Morse at Morse Design recommends you consider two things: 'First, what look do you want to achieve, and second, how do you use your kitchen? Are you a big cook? Do you want more of a showplace because you do not cook often? These are important things to consider because certain materials are tougher than others, and depending on your lifestyle and kitchen usage will determine what is best for your home.'
'The most successful bespoke kitchens are a harmonious blend of form and function, and the kitchen counter is one of the most hard-working components. This space provides an area for all the cooking preparations and often it is where the family gathers to eat, as well as to socialize and work.' Adds, Felix Milns, founder of HUX London.
Hyphen designer Eliza McNabb says to consider maintenance first and foremost. 'Natural stone will patina over time, even if sealed. If you are bothered by stains and scratches, steer clear of natural stones and opt for quartz, or manmade, countertops instead. These are virtually indestructible, stain resistant, and, because they are made from quartz sand mixed with resin, many have depth that brings richness to a space. When thinking through the veining of your stone countertop, consider how often you wipe countertops down. The more veining or noise there is in the countertop, the less you'll notice those coffee grounds you missed while making a pot that morning. Wood countertops bring warmth to any kitchen and will also patina over time. These are ideal in pantries or dry areas as they will wear more next to sinks or areas where they are exposed to water.'
Sign up to the Homes & Gardens newsletter
Decor Ideas. Project Inspiration. Expert Advice. Delivered to your inbox.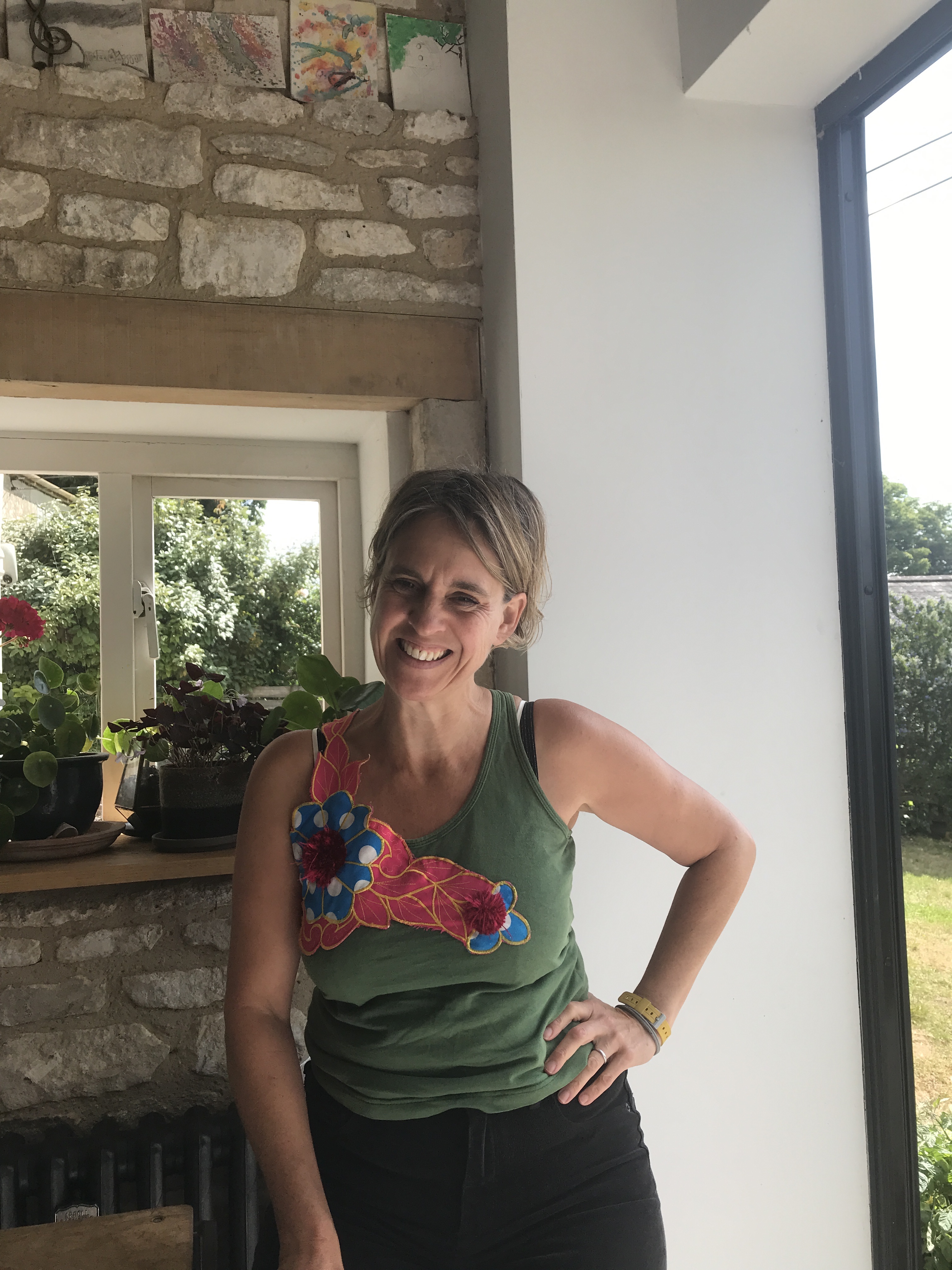 Hannah Newton is a lifestyle, interiors, travel and design journalist and editor who has been writing for the past two decades, she has written for national newspapers including The Times, The Telegraph, The Guardian and The Observer as well as interiors titles Elle Decoration and Architectural Digest in the UK and across Europe, South Africa and Australia.