12 marble kitchen ideas – contemporary ways to use marble to elevate your interiors
New interpretations and statement schemes keep this metamorphic rock an enduring classic in the kitchen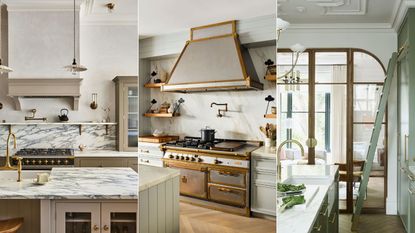 (Image credit: deVOL / Kligerman Architecture & Design / Gunter & Co.)
The Greeks loved it, the Romans adored it, and Michelangelo sculpted with it: marble is a material considered to be enduring and beautiful, century after century, so how should it be used in the kitchen?
Deep in Italy's Apuan Alps lies an abundance of white gold, marble has been quarried here for centuries, and its fine white dust covers the mountainside after gigantic slices are regularly cut and shipped in massive containers to all corners of the world.
Michelangelo carved the statue of David from this formidable material in 1501, while the Parthenon Marbles still lay undiscovered in the Acropolis of Athens having been carved 2,500 years earlier. Marble is an extraordinary and historical material that we should treat with reverence and respect, because as Helen Parker, creative director at deVOL, says: 'A splash of softly rounded Carrara marble isn't ever going to go out of fashion.'
How should we use marble in home design to curate a majestic space? Is it useful as a kitchen countertop, how do we care for it, and what colors and other materials work alongside marble? Read on as we delve into the world of marble and talk to designers to find out just how we should treat this expensive yet exquisite stone.
Marble kitchen ideas
You don't have to stick to classic white marble kitchen ideas – there is a variety of colors to choose from. Here are 12 fresh ideas which will inspire you to work marble into your kitchen.
1. Consider if the characteristics of marble are right for your kitchen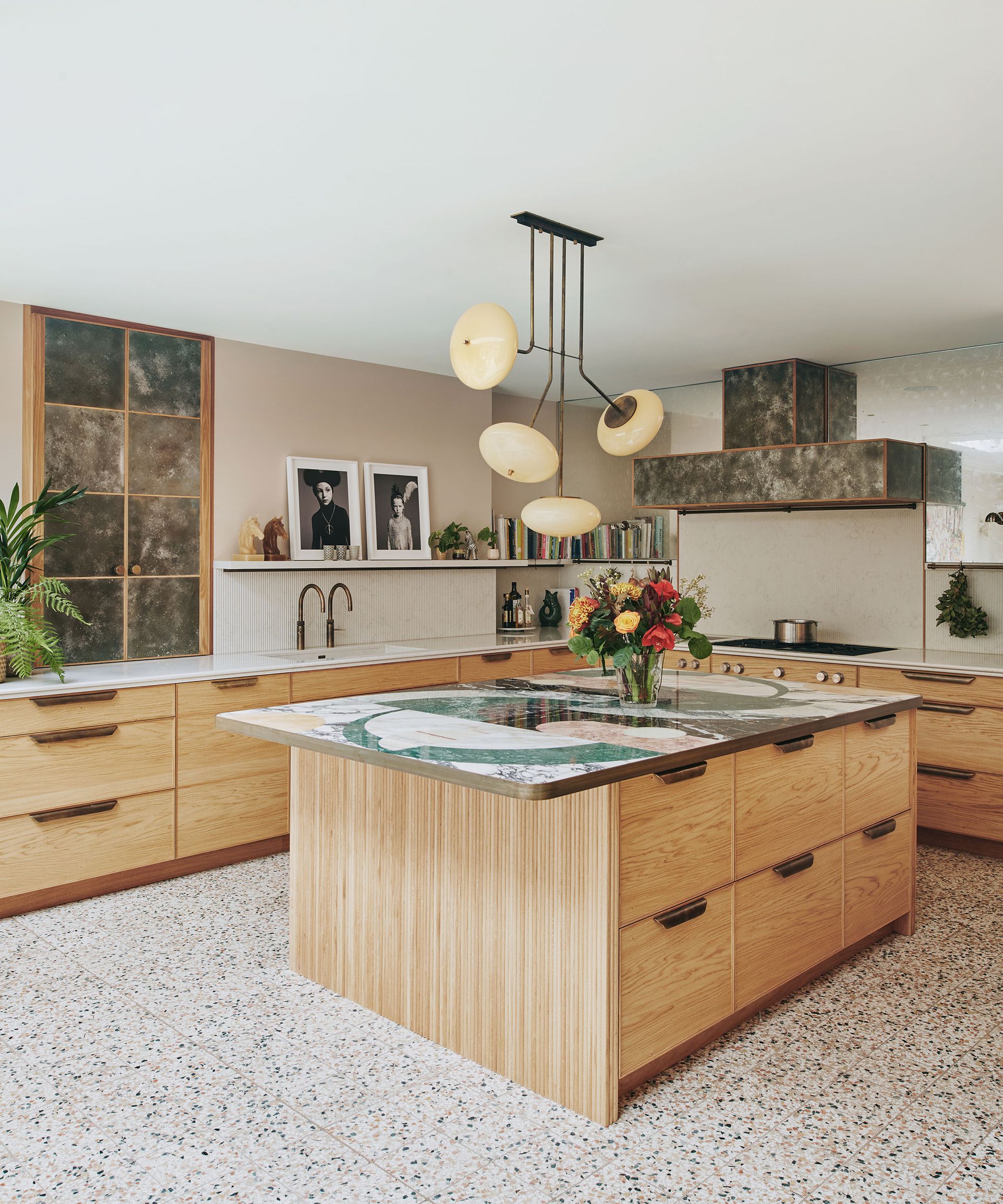 Marble has innate characteristics that ensure this tactile natural stone is on top of the wish list in kitchen design. 'Soft and cool to the touch with natural beauty and a character that makes it a little contentious for some to use in a kitchen. It gives an air of quality and humble beauty; it really does make a bold statement,' says Helen Parker, creative director at deVOL.
Siobhan Kelly, associate director at David Collins Studio agrees: 'Marble is a timeless, luxurious natural material that can bring a sense of occasion and drama to a kitchen. With every slab having its own unique characteristics, and many colors to choose from, incorporating marble is also a means of expressing personality and crafting a design identity.'
Marble is a porous stone which means that it may stain over time, coffee, red wine, hot dishes, and pans could leave all marks, so if you chose to use it, explains Siobhan
Kelly, 'Be prepared to accept the almost inevitable patina of use that will develop over time with this porous material. For some, this is part of the charm, for others an undesirable property that carries regular maintenance.'
Given the porosity of this natural material, designers often place marble in less busy areas of the kitchen for example, using it as a kitchen backsplash or as a feature island with a waterfall edge. Creating a visually impactful feature in the kitchen that incorporates marble without fear of damaging the surface.
But, you might dream of having marble as a centerpiece and you are prepared to maintain the surface, Charlie Smallbone, the founder of Ledbury Studio, explains the importance of caring for this precious stone:
'Marble is one of the softer natural stones, but it is still a resilient material that can last a lifetime. It requires care, such as regular sealing and resealing of the surface, and immediate cleaning of any spills, particularly those involving red wine or anything acidic. The surface will also develop marks from knocks and small scratches, but I see this as the surface developing a personality and patina that reflects its long life in your kitchen.'
2. Contrast marble with dark cabinetry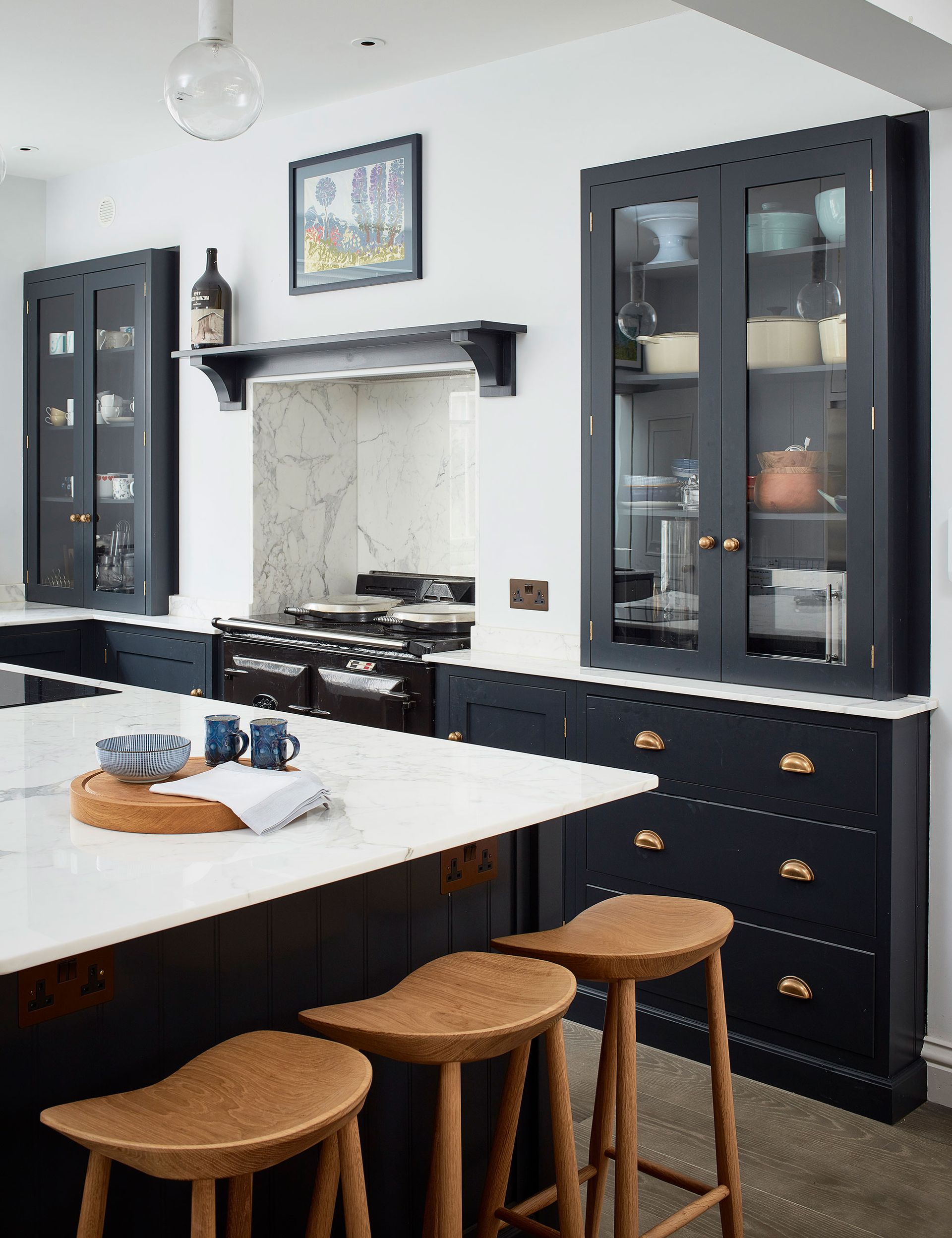 Marble comes in a variety of colors and tones ensuring that this stunning material can be used for a multitude of design styles. If you are looking to create a chic, sophisticated, contemporary kitchen, contrast dark cabinetry in rich blues or dark greens with a soft Arabescato or Carrara marble.
Siobhan Kelly, associate director at David Collins Studio suggests choosing: 'The sultry intensity of dark marble alongside rich dark cabinetry to reflect an urban elegance. Selecting contrasting statement pieces, such as a white marble table or glass accessories, accentuate these properties.'
3. Create a light and airy aesthetic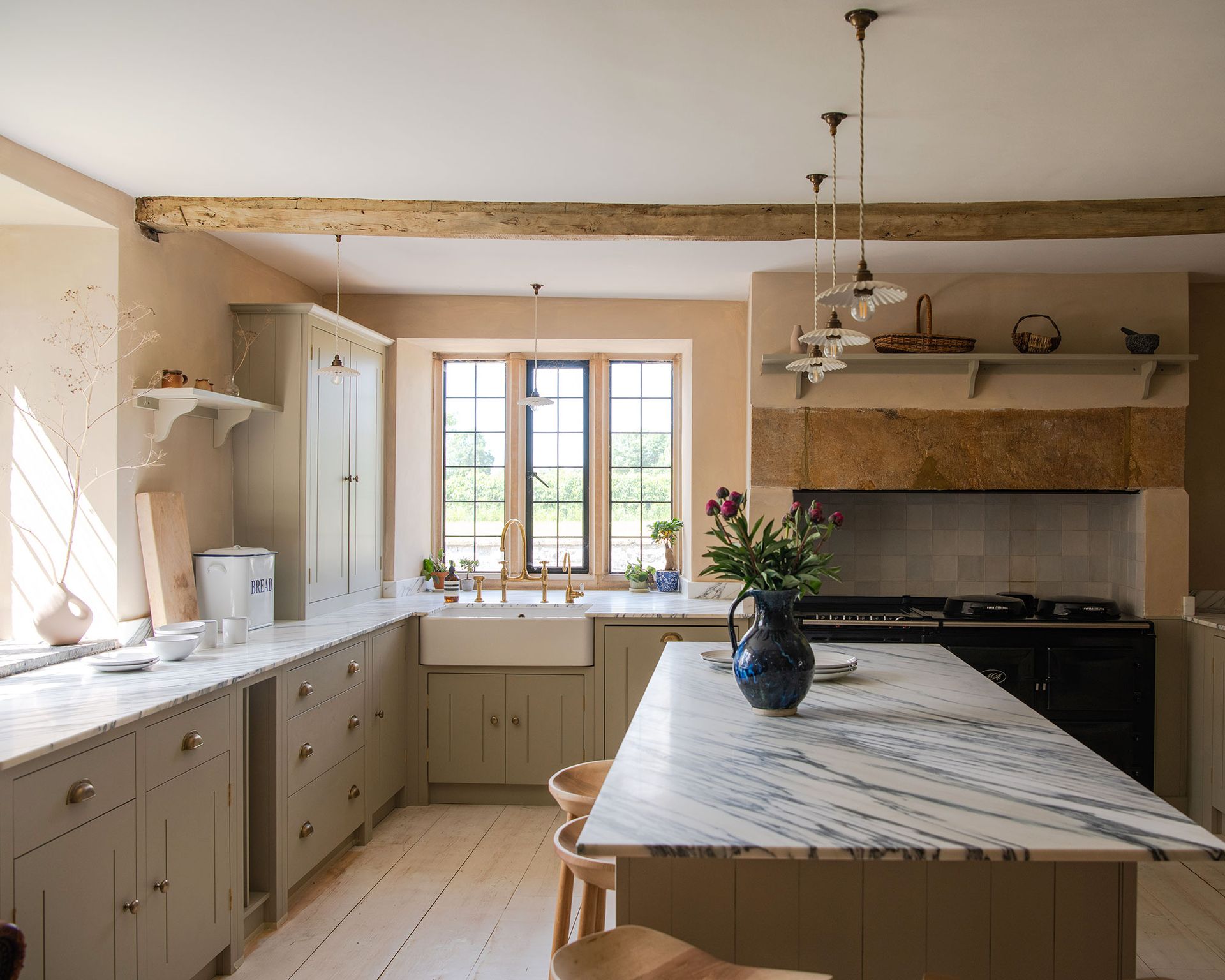 'Whether used in a subtle or bold way marble is a great way of adding extra detail and texture to a space. Muted-toned marble is ideal for creating a light and airy aesthetic especially where the room lacks natural light, the modern finish helps to balance textures elsewhere in the room for a sleek and clean finish,' says, Will Eaves, international design coordinator at British Standard.
4. Make a design statement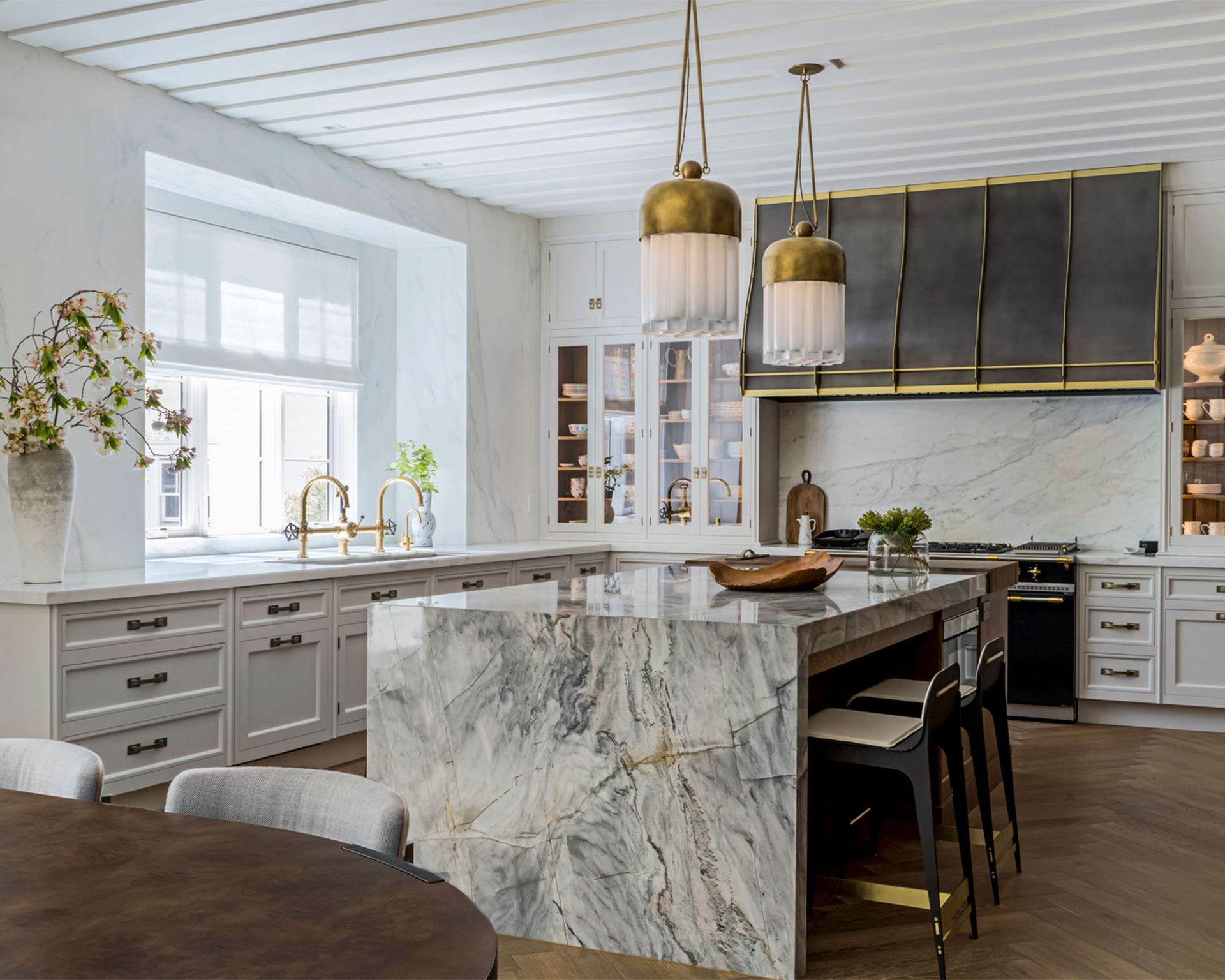 There is no denying it, marble is opulent, luxurious, and expensive so when you chose to work with it, you are immediately making a design statement.
'Marble is a precious resource, and its price only keeps going up,' says Irene Gunter, co-founder of Gunter & Co. So, when it comes to deciding how much marble to use in your kitchen, the key question is far can your budget stretch?'
Firstly, think carefully about how much you want, and where to place the marble; whether you want to create a grand design statement, use marble around a wet area, or as a backsplash.
Sarahliz Lawson at Sarahliz Lawson Design explains: 'We use several types of marble to create a sense of balance throughout. Including a white marble on the perimeter countertops and the counter-to-ceiling backsplash, while a more dramatic marble is used on the waterfall island for a look that is highly finished and customized.'
5. Prioritize harmony and balance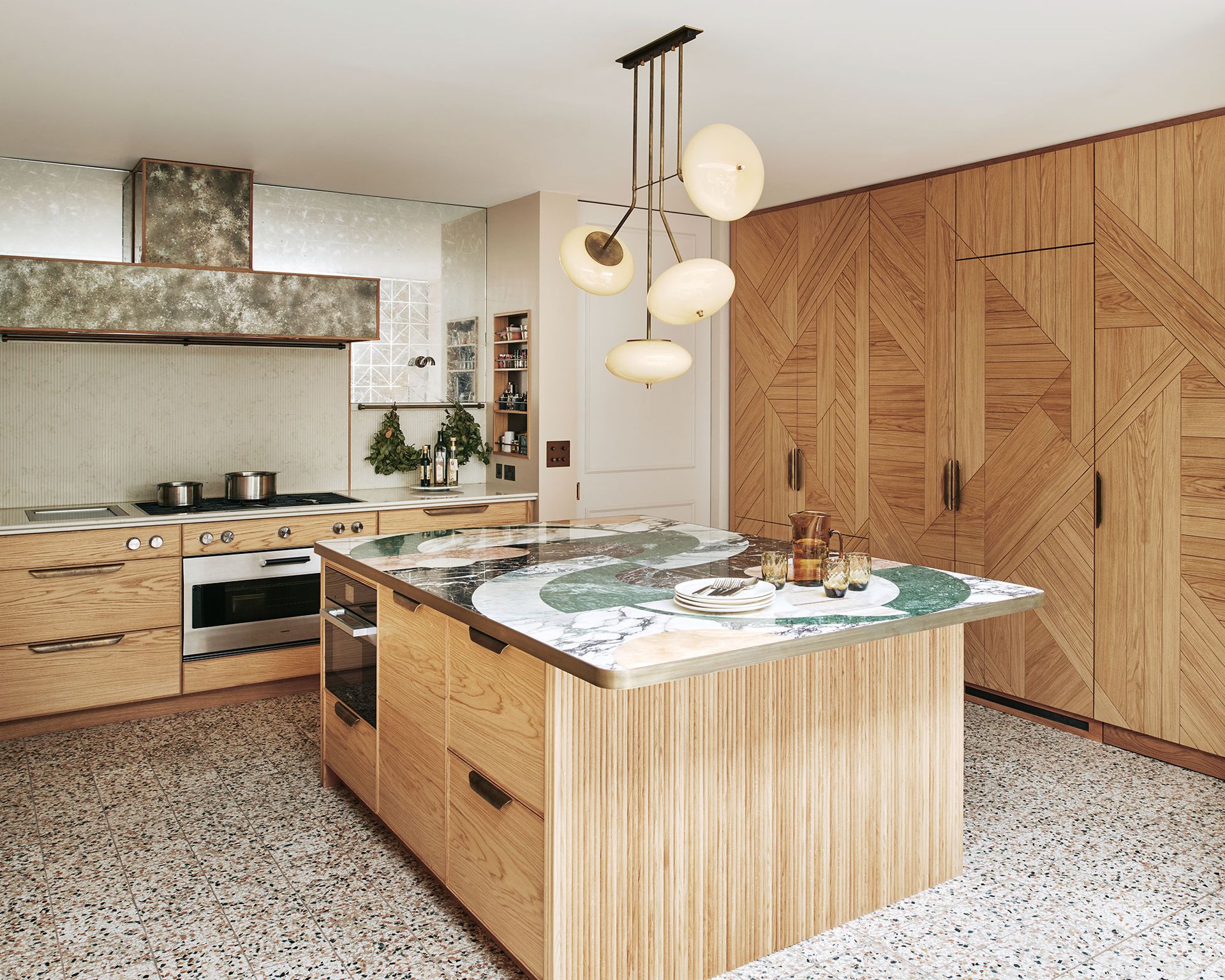 The natural beauty of marble lends itself brilliantly to both modern and traditional kitchen designs. The soft tones and colorful veins of marble fit well with other natural finishes, including timber and metals, helping to pull together all the elements to create a harmonious timeless style.
Senior design lead at Magnet, Jen Nash, says, 'Marble is distinct, a sleek, and uniquely decorative pattern that never ceases to attract attention. It can be either a powerful statement piece or used more subtly in key focal places. Marble is also great for creating harmony and restoring balance in kitchens, with the material's dual color pattern it is often used to tie colors used throughout a kitchen together.'
6. Protect and perfect counters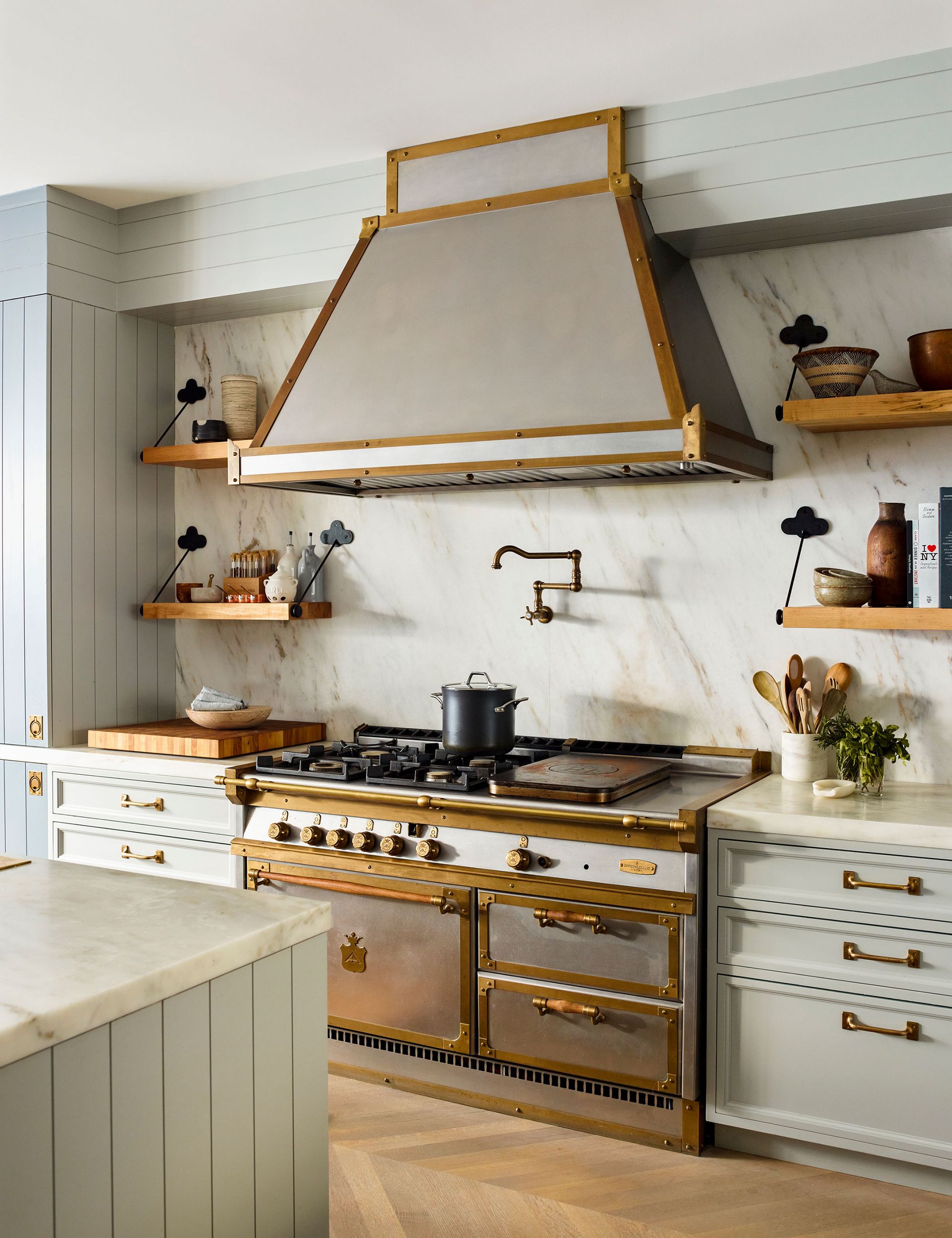 Marble will last a thousand years! The ancient Romans used it in their gardens – and for stately statues – and they have truly stood the test of time, patina will simply make the marble more beautiful. However, for many, selecting a stone that does not age is preferable. If this is you, consider using marble as a statement piece.
Ross Padluck, partner at Kligerman Architecture & Design: 'I love to use marble in the kitchen for vertical surfaces, such as backsplashes and walls behind ranges. Marble is a softer, more porous stone, so I like to use natural quartzites for countertops as they are much harder and more durable. If you are using marble as a countertop surface, expect it to patina with use. Acidic foods will stain and etch marble, especially black stones.'
You can of course have marble as a counter material, just be careful of acids like lemon juice. Andi Morse at Morse Design suggests: 'Protect counters from hot pots and pans coming out of the oven. Marble cleans up well and is great for baking, just do not put hot items on it.'
'To ensure longevity, diligent maintenance such as sealing and protective measures like cutting boards and trivets are necessary. Additionally, integrating marble into other elements of the kitchen such as custom hoods or the backside of an island can create a cohesive and elevated look,' adds Bridgette Caporaso of Sketch Design Studio.
7. Embrace the natural veining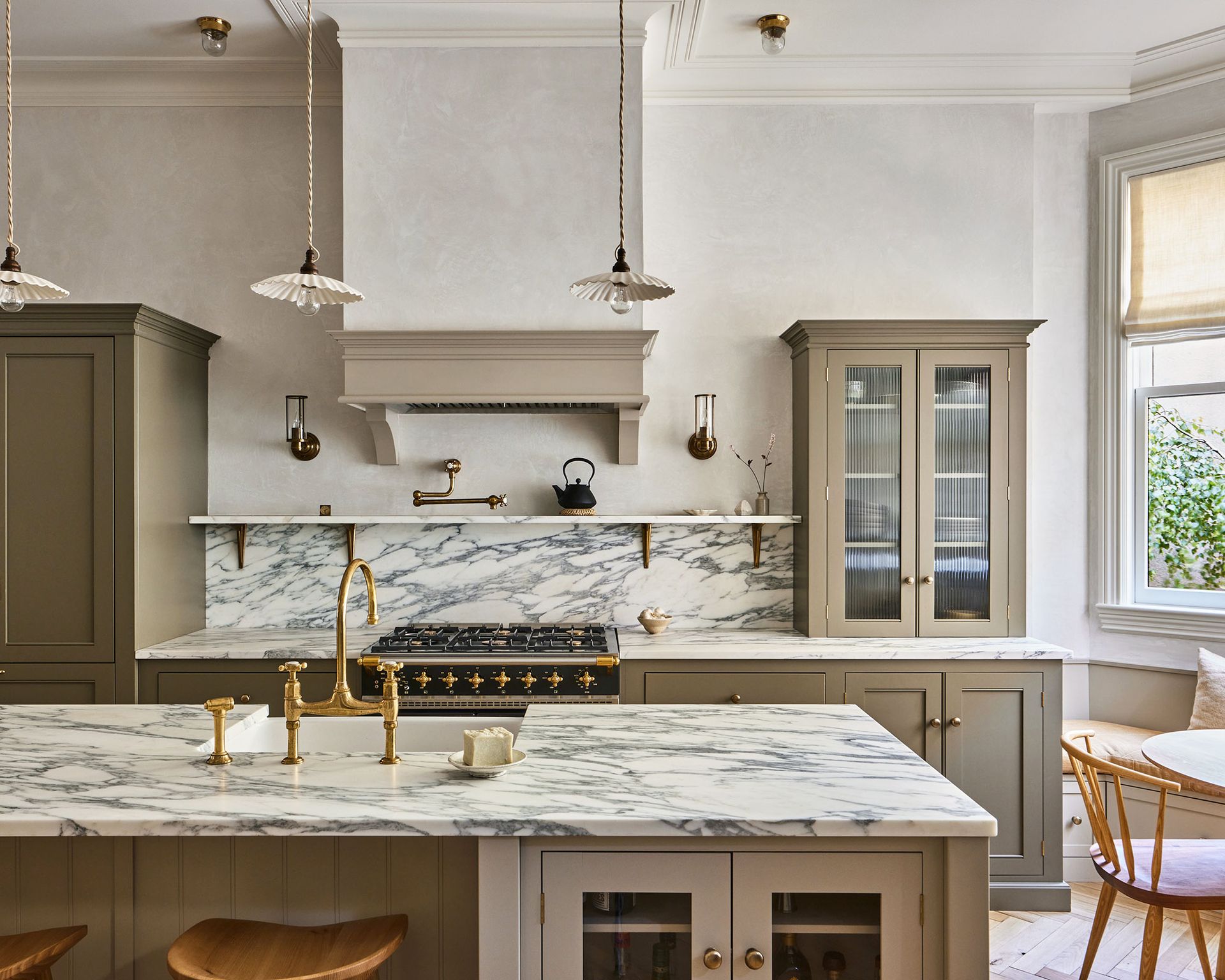 The veining patterns in marble can be incredibly delicate and subtle, Carrara and Arabescato marble add a certain glamor to a kitchen. The surface is smooth and tactile and the natural veining, reminiscent of old Italian kitchens, has a beautiful way of aging, and every slab is unique.
David Hood, director at Goddard Littlefair: 'One of the distinctive features of marble is its unique veining, which lends a bespoke quality to kitchen design. Depending on your desired aesthetic, you can choose from classic white for a timeless, refined look, which is something we chose, or opt for dramatic black to create a bold and striking space.'
The veining of this backsplash and kitchen island top in this Brownstone in Jersey City is rich and detailed, like a slice of fine stilton cheese, the natural grey tones in the smooth creamy marble pull out the dark notes of the lighting and brass details from the handles and taps, creating a soft pleasing aesthetic.
8. Use marble in a wet area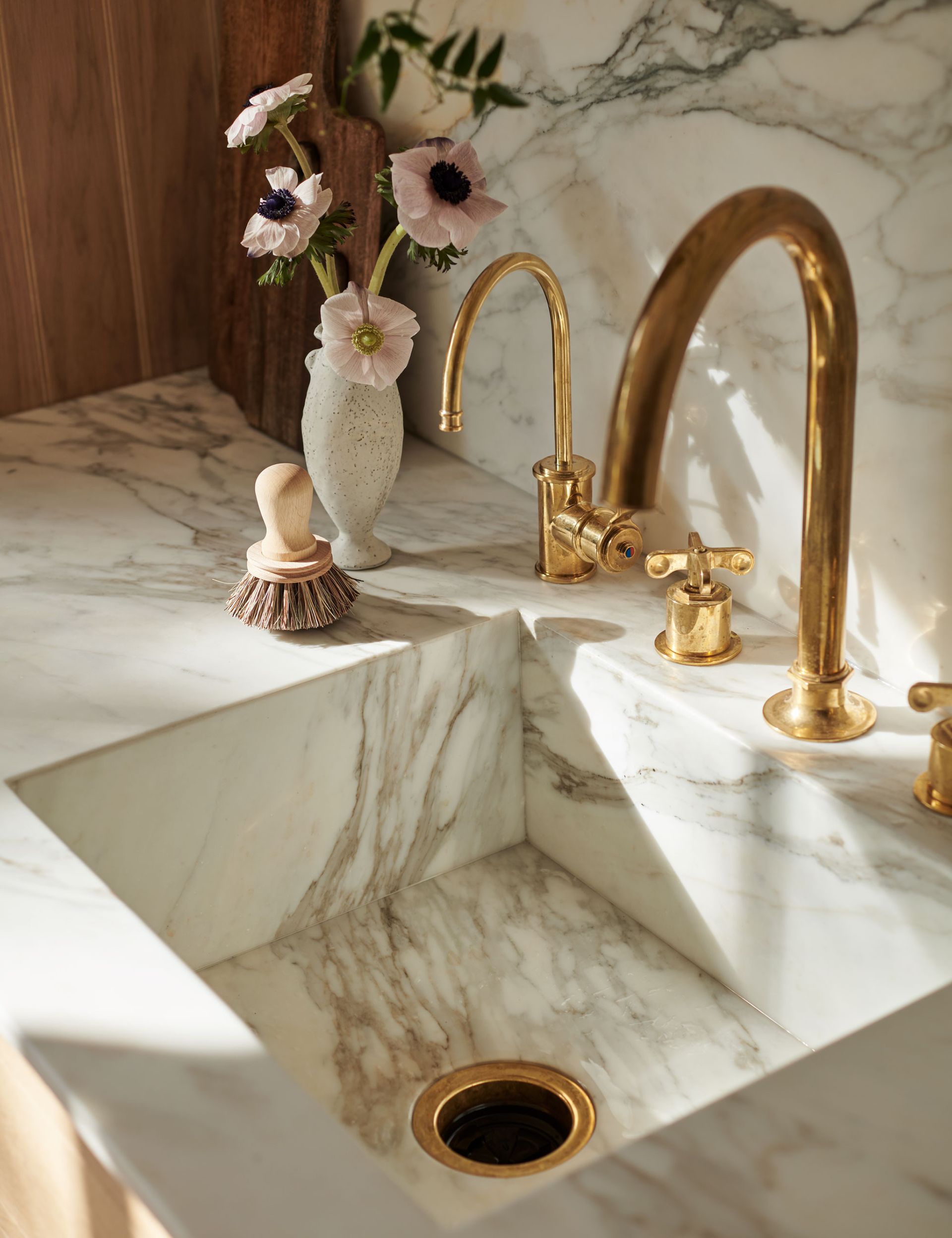 Paired here with North American white oak, this marble sink from Neptune embraces the marble aesthetic entirely.
Simon Temprell, interior design manager at Neptune says: 'Marble is a very hardwearing stone that is perfectly durable for kitchen work surfaces and backsplash. It does require a little more maintenance, but it has such a classic, luxurious appearance that it elevates any style of cabinetry.
'However, it can stain, especially if you don't mop things up quickly, but it is wonderfully cool, making it the perfect surface for rolling out pastry, etc. Marble is also relatively easy to cut so it is possible to create interesting edge details without chipping.'
9. Create a cohesive color palette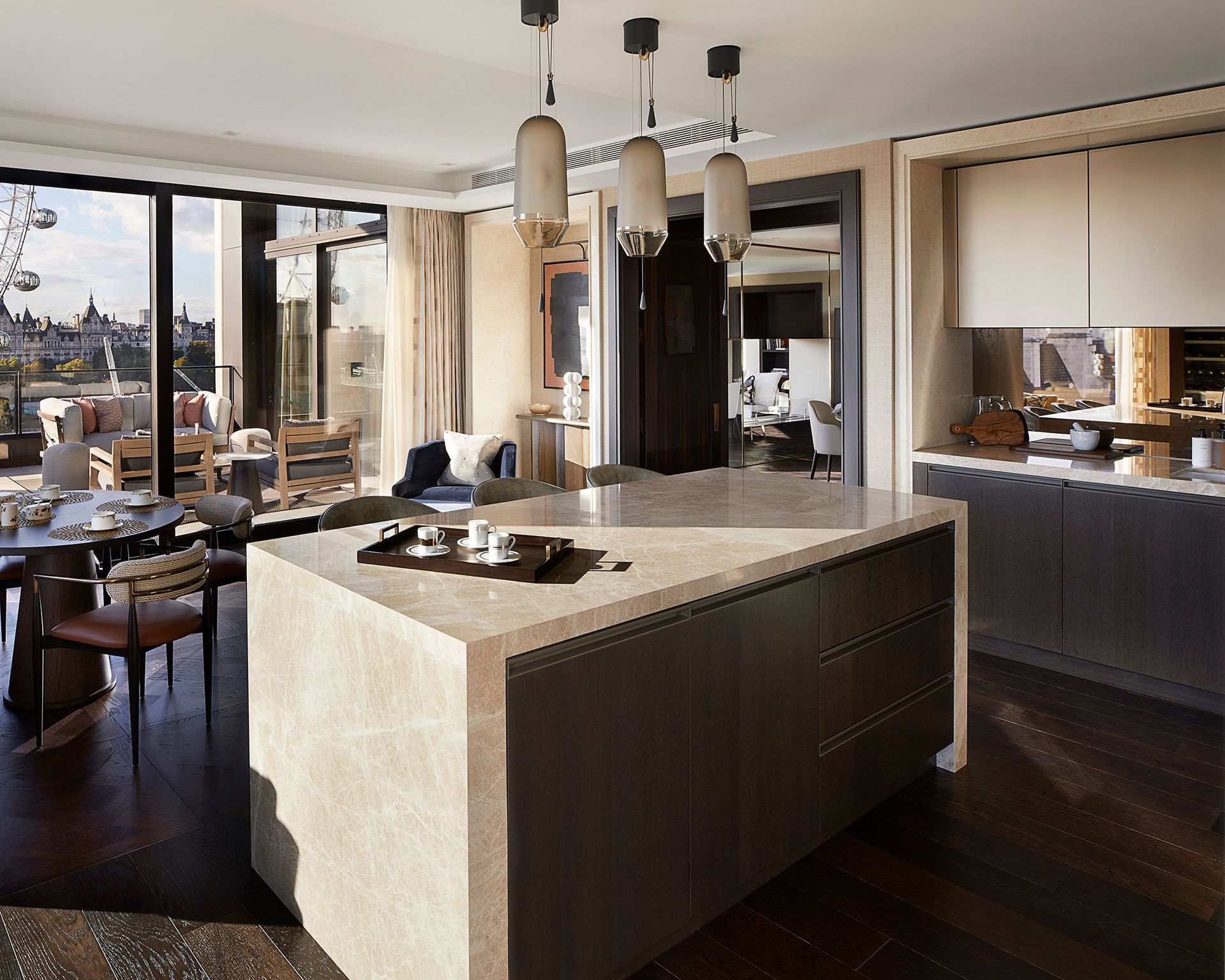 Begin with the marble, select the color and veining that you like best, and the rest of the kitchen design can fit around the marble, allowing it to become the focal point and providing clarity for the rest of the kitchen. This, explains David Hood, director at Goddard Littlefair, ensures the marble does not overwhelm the space entirely.
'When designing a kitchen with marble, it is essential to create a cohesive palette that combines the material with other elements. Introducing different tones and textures through wood, metal, and glass accents can contrast with the stone, adding depth and visual appeal.'
10. Co-ordinate colors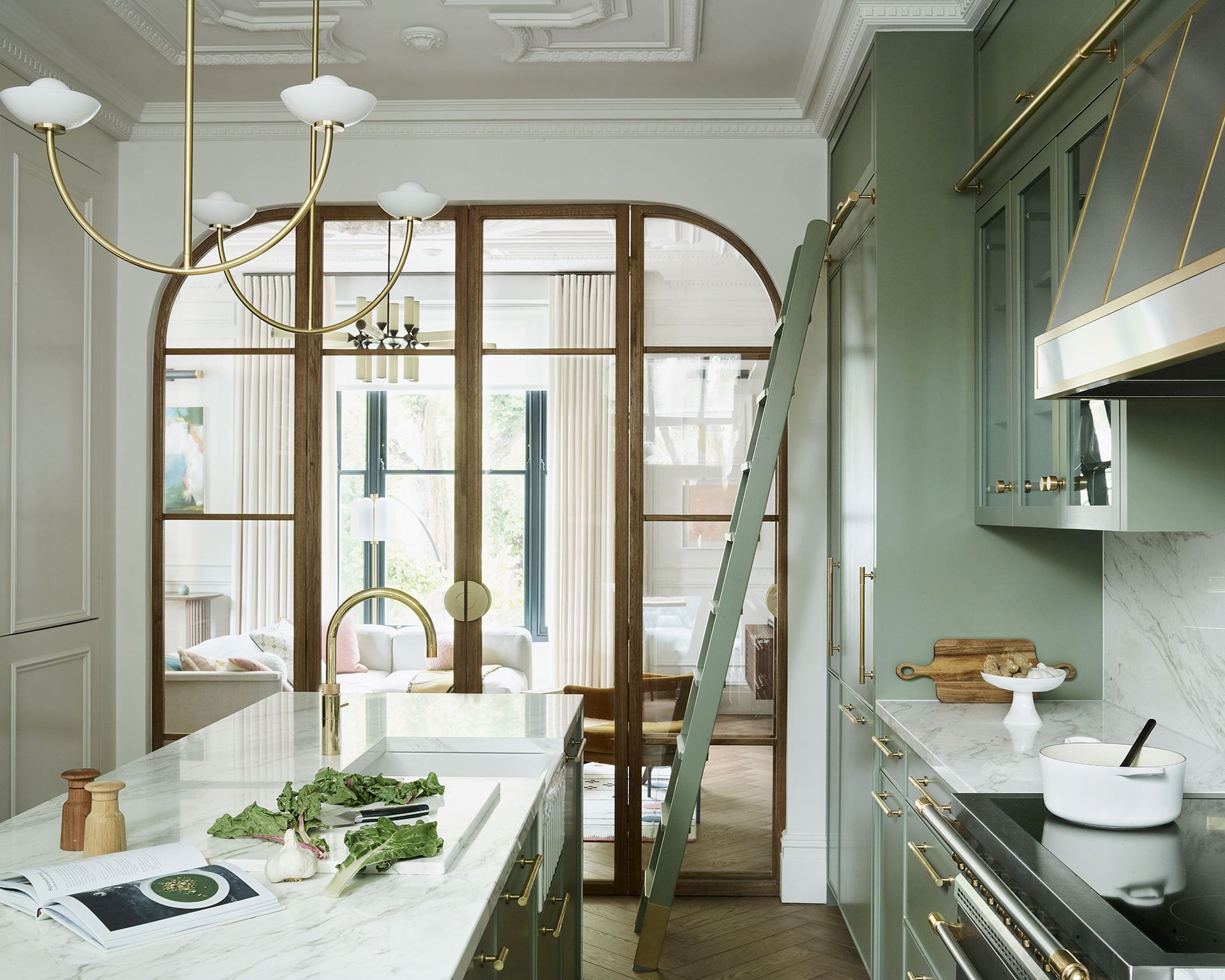 'I prefer using colored marble instead of the usual white marble, which has become a bit of an overused aesthetic. Marbles with natural colors like gray, beige, or green have more depth and interest. Some amazing kitchens have been created using bold color choices like green onyx.
However, it takes some serious courage to pull it off.' Smiles interior designer, Irene Gunter, co-founder at Gunter & Co. The marble selected in this kitchen has a soft green hue, which is elevated through the painted cabinetry. The brass details and rich green paint choice enhances the natural tones and veins found in the marble.
11. Mix marble with wood for a natural feel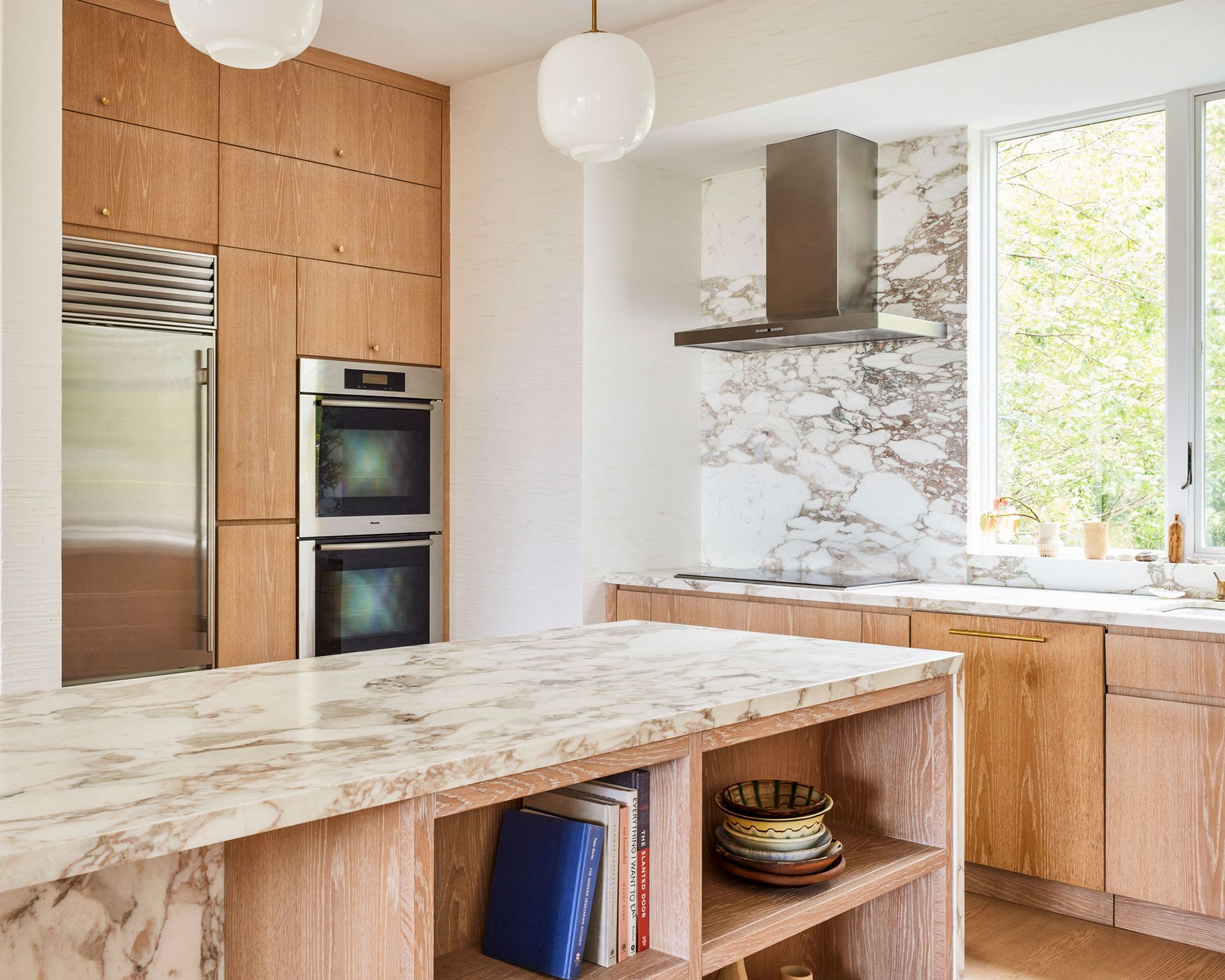 If you dream of having a natural, soothing kitchen environment, that promotes nature and wellbeing, consider aligning your marble slabs with wood for a soft and comfortable aesthetic. Source a range of marbles that have velvety browns and caramels in the veining and it will inherently connect with the wood. As Tommy Zung, Principal of Studio Zung says: 'The type of marble specification and finish is crucial as it sets the mood of the entire kitchen.'
12. Plan for walls of marble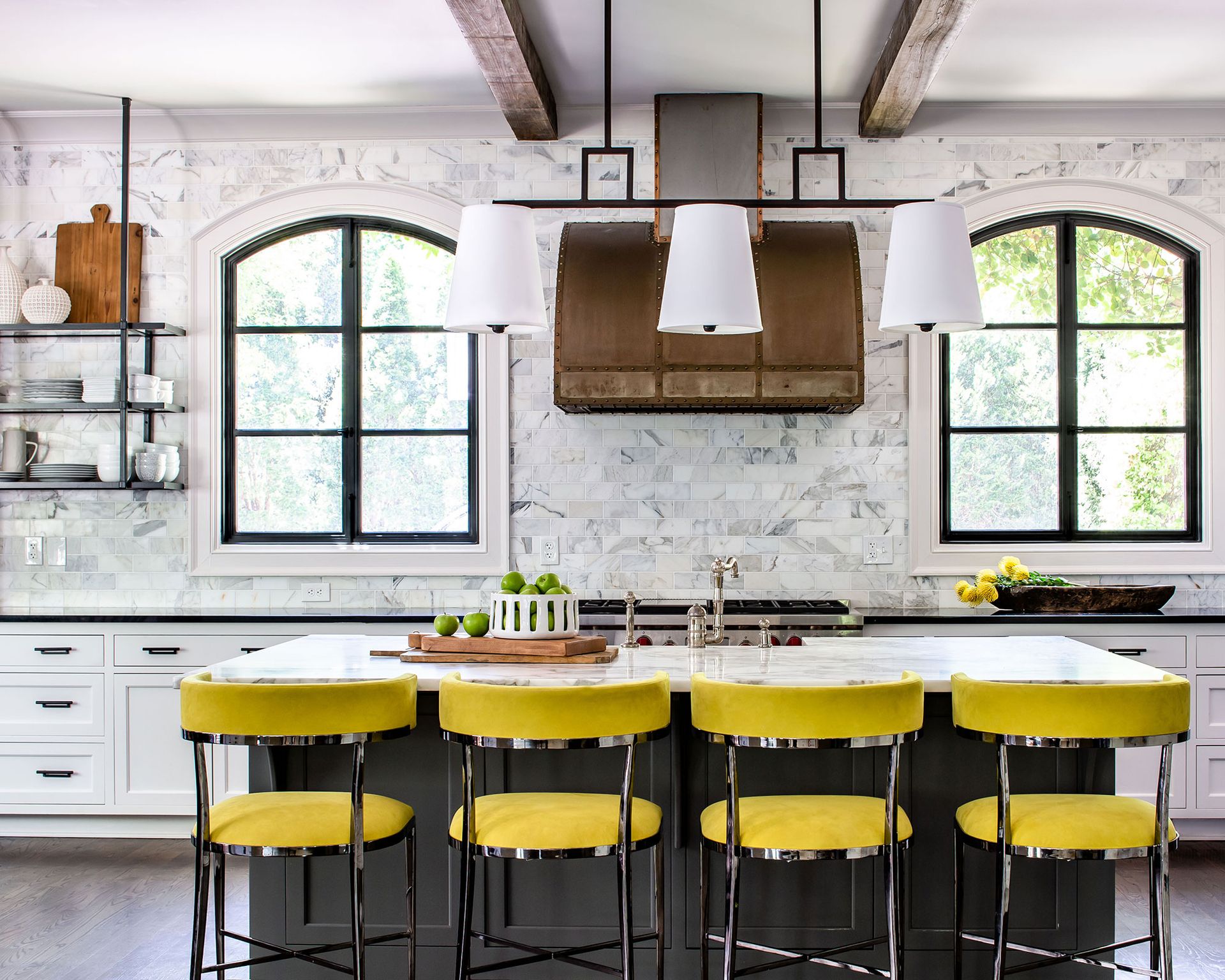 Marble is not just for countertops and backsplashes, marble can be used on walls, and floors, through kitchen tiles, allowing a designer to introduce the beauty of this natural stone without having to use it in busy working areas such as countertops.
Here, a marble-tiled wall adds a textured element to the kitchen, ensuring an elegant and luxurious addition to the overall look.
FAQs
Should you choose marble for your kitchen?
If you have the budget and the vision to use this beautiful natural material in your kitchen, then embrace marble. It ages gently through use, and the subsequent patina should be celebrated as a generous love affair with your marble, your kitchen, your cooking, and your family. Marble is a precious resource, and it should not be considered if you plan to re-design your kitchen, this is a life-long relationship and one that you should enter with respect and pleasure.
How to care for marble in the kitchen
Although notoriously considered a demanding material, you do not need to be a slave to this ancient stone. If you chose to use it in busy prep and work areas of the kitchen, be prepared to carefully seal the surface once it has been fitted and to regularly reseal over the years. A soft stone, marble needs to be resealed annually, or possibly more depending on how much it is used.
Sign up to the Homes & Gardens newsletter
Decor Ideas. Project Inspiration. Expert Advice. Delivered to your inbox.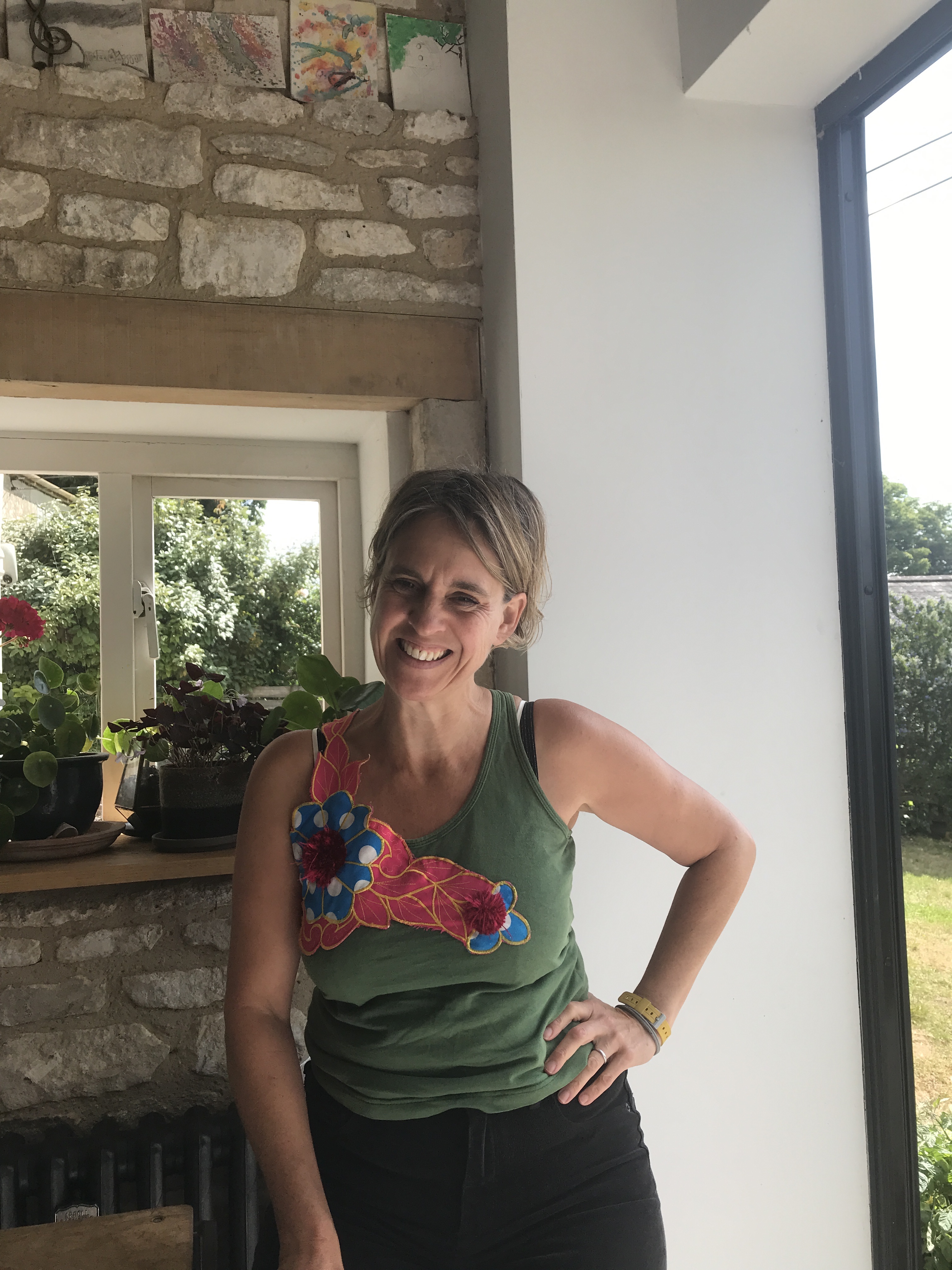 Hannah Newton is a lifestyle, interiors, travel and design journalist and editor who has been writing for the past two decades, she has written for national newspapers including The Times, The Telegraph, The Guardian and The Observer as well as interiors titles Elle Decoration and Architectural Digest in the UK and across Europe, South Africa and Australia.