These bathroom features add value to your home – and none of them is a bathtub
If you're looking to maximize your home's resale value, these are the features worth investing in, according to real estate professionals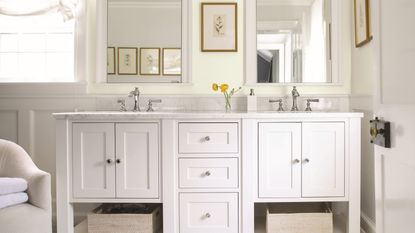 (Image credit: Benjamin Moore)
And the bathroom features that add value to your home are... probably not quite what you think they are.
If you're looking for bathroom ideas that will give you the best return on the resale value of your home, then you'll definitely want to consult these top tips from realtors and professional house flippers, because the most value-adding elements of bathroom design might not be what you expect.
1. A tiling update
Gorgeous, expensive-looking tiles really do it for buyers, who are prepared to pay more for homes with exquisite tiles. Jason Gelios, an experienced realtor, author, and presenter from Michigan, says: 'Updated tile can draw the eye in and create a comfortable and clean feeling in the space.'
Eric Kucharik, who leads a team of Realtors at Realty One Group Supreme (PA) and Realty One Group Central (NJ), agrees that up-to-date, statement tiles are highly sought after by buyers: 'Every bathroom needs accent tile. Patterned tiles are the star of 2021. They provide a fresh twist to classic design and make your house pop.'
Want to go one step further? Invest in a fully tiled, luxurious shower. Brittany Hovsepian, owner of The Expert Home Buyers, one of the premier real estate investing companies in the CSRA (Central Savannah River Area), concludes: 'Our favorite value addition to a bathroom is a tiled (from floor to ceiling) shower with a beautiful glass door. This really makes a bathroom pop.'
See: Bathroom tile ideas - stylish looks that are both classic and timeless
2. A double sink vanity
Ellen Schwartz, a Licensed Associate Real Estate Broker with Compass, says it how it is: 'A vanity with double sinks is a must. People do not want to share sink space.'
Once a rare feature to be found only in top-of-the-range luxury home, the double sink vanity is increasingly common – and highly desired by home buyers. So keep this in mind when looking at different bathroom layout ideas for your home.
Jason confirms: 'Twin sinks are an absolute must if you have a bathroom that is shared by one or more people on a regular basis. This really can add a lot of value and appeal to a bathroom. '
Eric adds: 'Besides the shower, the vanity will steal the show. Spend a little extra to upgrade the cabinetry, vanity top, and facets. It draws your eye and elevates the whole room.'
3. Heated flooring
This value-adding feature confirms what we've been suspecting – that people increasingly want all the comfort they can get from a bathroom, and really are prepared to pay top dollar for it. Aimee Stern, Director of Estates for The Agency, advises: 'For the ultimate indulgence, add radiant heated flooring, whether stone or natural wood, and you'll stay cozy and warm upon emerging from a respite in a deep soaking tub.'
Bruce Cram, Sales Representative for Remax, with over 20 years' experience in real estate, says that 'having heated floors in the bathroom is often seen as a luxury, but the cost of heated floors is minimal at several dollars per square footage. Heated flooring adds value and utility to a room and are best added while renovating.'
See: Bathroom flooring ideas – for a durable and stylish foundation underfoot
Does a home have to have a bathtub in order to sell?
Incredibly, no. Ellen explains: 'If opting to undergo a complete bathroom renovation, where there was a bathtub, instead rebuild with a fabulous, large shower only. The shower should have shower sprays, a shower head and a great bench to sit on, so women can shave their legs. There is no need for a tub.'
Luxury double showers pop up again and again in realtors' top three value-adding features. As Eric points out, 'buyers love to imagine waking up to a luxurious shower.' Hillary Landau of The Hillary's Homes Team at Compass weighs in that most homeowners are foregoing the big built-in jacuzzis of the '80s for extra-large walk-in showers with multiple heads and steam.'
See: Walk in shower ideas – ways to add an element of luxury to your bathroom or wet room
Of course, this doesn't mean that tubs have suddenly become undesirable: 'If there's space available, they'll add in a free-standing tub to satisfy the soak!'
Sign up to the Homes & Gardens newsletter
Decor Ideas. Project Inspiration. Expert Advice. Delivered to your inbox.
Anna K. Cottrell is now a freelance writer, having previously been a Content Editor for Future's homes titles. She writes about interior design, property, and gardening. On H&G, she specialized in writing about property – buying, selling, renting – sustainability and eco issues.