Best places to buy a vacation home in New York – old favorites and up-and-coming second home hotspots
The best places to buy a vacation home in New York are perfect to get away from city life – and make some extra rental income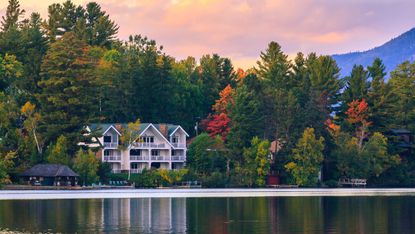 (Image credit: Henk Meijer / Alamy Stock Photo)
The best places to buy a vacation home in New York state all have one thing in common: they have an all-season appeal and a combination of beautiful nature, gorgeous housing, and opportunities to dine out in style.
Like all other US locations, however, upstate New York is experiencing big changes following the pandemic, with new vacation hotspots holding their own alongside old favorites.
See: How to buy a house – a first-time buyer's guide
The best places to buy a vacation home in New York
We've spoken to real estate experts with experience in the area to name the best places to buy a vacation home in 2021. Here's what they told us.
1. Montauk, Long Island: a gorgeous beach spot
Montauk has such a beautiful beach that it will surprise no one that it's one of the very best places to buy a vacation home in upstate New York.
Emir Dukic, Founder and CEO of Rabbu, a turnkey platform for Real Estate investors looking to buy properties as short-term rentals, comments: 'A better known vacation rental region, Montauk has only gotten better through the long months of the pandemic. Located at the east end of Long Island, Montauk is a small village with beautiful waterfront access, perfect for weekends of surfing, beach days, or outdoor dining.'
Its appeal to a second-home investor is that Montauk is not just a beach destination that empties out over the winter: 'Montauk is beautiful in different ways through all four seasons, and though homes in this location can be particularly expensive, owners are always well-rewarded with high yield and sustained rental demand when the property isn't in use.'
See: Best ways to cut house moving costs – as revealed by consumer experts
2. Lake Placid: Classic upstate NY with year-round appeal
Agent Rowena Dasgupta of Warburg Realty said: 'Lake Placid is increasingly becoming a "hot spot." Great for winter and summer sports, it's becoming a growing destination where space can be obtained for less (at the moment at least) and it's a true getaway from NYC.'
Homes in Lake Placid are, surprisingly, still affordable: 'Lake Placid is also one of the few remaining places in New York where a second home can be bought at a reasonable price. It does have 'some but not very many very expensive homes', according to Rowena, but 'there are some very lovely homes at affordable price points.'
Rowena adds that this is one of the quieter locations in New York, which is a bonus: 'given the distance from NYC, there is more of an exclusivity as it won't attract throngs of New Yorkers seeking to replicate another iteration of the city (as has happened in the North and South Fork as well as the Hudson Valley to some degree). What can I say, the Adirondacks are fashionable again?'
3. The Hamptons: popular for good reason
You just can't beat the Hamptons, and even though real estate in the area is very expensive, it's still well worth looking at. Broker Michael J. Franco of Compass said: 'The rental market is very strong and versatile in the Hamptons. You can rent weekly, monthly, seasonally, or yearly. You could potentially cover your entire year of carrying costs with a one-month rental! Everyone wants to be in the Hamptons!'
That's a very strong endorsement, and there are very good reasons why the Hamptons continue to be so popular.
'The house can be used year-round (unlike Fire Island or other seasonal shore-type houses), the weather is more temperate on Long Island vs upstate NY or Connecticut. There is a world-class beach and some very fine restaurants. The choices for food are incredible between fresh seafood shops and farm stands to world-class specialty shops.'
4. Finger Lakes: breathtaking nature and fine dining
Another stunning location that still has semi-affordable prices, Finger Lakes is an amazing choice for nature and hiking lovers (who also don't mind dinner at a fine dining establishment after the hike).
Emir says: 'The Finger Lakes Region is about a 4 to 5 hour drive northwest of the city center. Constellated between 11 lakes, the area has ample hiking and biking trails, water access, and famous wineries. The area has a distinguished food scene and outdoor offerings for all four season. Rentals in the area are incredibly well-performing without sky high prices – the average lakeside home in the region sold for roughly $470,000 in 2018.'
Best strategy for choosing where to buy a vacation home in New York
How do you choose between all these upstate gems? Our real estate experts all concur that choosing what really calls your name is the best strategy.
Emir says: 'The best advice to any buyer is to imagine themselves in the space—pick the community you'd love, the amenities you need, and the people you want to be around. Design the space according to your taste, and make your vacation home a getaway that calls your name. Whether you use it as a primary residence, a seasonal home or a full-time rental, your investment in the property will pay dividends sooner than you think.'
See: Lake Tahoe is the best place to own a second home in the US – here's why
Agent Mihal Gartenberg of Warburg Realty agrees: 'upstate NY offers a lot of potential for vacation homes. My best advice is to find a home that suits your hobbies. If and when you decide to turn it into an income-producing property, you will find other like-minded takers. Do you like lakes? Wine touring? Apple picking? Beaches? New York has everything!'
Sign up to the Homes & Gardens newsletter
Decor Ideas. Project Inspiration. Expert Advice. Delivered to your inbox.
Anna K. Cottrell is now a freelance writer, having previously been a Content Editor for Future's homes titles. She writes about interior design, property, and gardening. On H&G, she specialized in writing about property – buying, selling, renting – sustainability and eco issues.