Lake Tahoe is the best place to own a second home in the US – here's why
If you're thinking of purchasing a vacation home and renting it out, there's no place like Lake Tahoe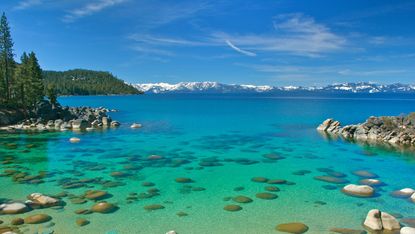 (Image credit: Getty/stevedunleavy.com)
Lake Tahoe is the best place in the US to own a second home, according to real estate specialists. Buying a second home or vacation home rental can be a huge responsibility. After all, just like your own home, it will require regular maintenance and tax payments. Plus, if you're planning on using the second home yourself, it needs to be in a location that's attractive to you as well as the vacation makers who'll rent if from you.
Above all, however, a vacation home has to be financially viable to ensure you don't lose too much money on it. So – well located and accessible, attractive to people going to vacation, financially lucrative. Tahoe, as it happens, has it all.
The best of California and Nevada
Apart from its stunning beauty – it's the second deepest natural lake in the United States – Lake Tahoe has an important, unique characteristic: it straddles two states, California and Nevada. This puts it at an enormous geographical advantage as a vacation destination, and as an attractive opportunity for buyers.
Tahoe is the best alternative to buying in the over-crowded areas of California that already have too many hotels. According to Departures, 'to make a vacation home financially worthwhile, you have to steer clear of Los Angeles, Orange County, San Francisco, and Napa Valley.' The over-abundance of vacation options there 'decreases the vacation rental value.' This is not the case in Lake Tahoe, which is not so built up.
Of course, if you do buy on the California side, taxes will be high. However, given that Lake Tahoe cabins go for over $200 a night in high season, you will more than cover your costs.
And if you buy on the Nevada side, your property taxes will be significantly lower, even if you buy in one of the counties close to California. As Tahoe real estate specialist Linda Granger puts it, 'Generally, I tell people that if they buy a $1,000,000 house in CA, their tax bill will be about $1,000/month, while in Douglas County the property tax on a $1,000,000 house is +/- $3,500 per year.' That's a real difference.
An all-season destination
While the summer season is the busiest at Tahoe, it is actually an all-season destination with ski resorts in winter and foliage hotspots in the fall. Of course, if generating an income is your top priority, you will need to rent out the home during the summer months when occupancy and prices are both at their peak.
The good news is that you don't have to buy the more expensive properties by the shore. Amanda Adams of Paradise Real Estate writes that 'a lot of people think that a VHR has to be located on the shores of the Lake. But that just isn't the case... some of the most popular VHRs are miles away from the Lake.' Some of the most popular destinations on Lake Tahoe have a mountain, woodland, or meadow setting, so you really don't need to worry about buying on the beach.
Should I buy a vacation home?
Ultimately, any decision to purchase a second home should rest primarily on you being prepared to reap longer-term benefits. Vacation homes in popular locations appreciate in value over time, always, even if the profits you'll be making from renting out initially may be small. Ultimately, if the vacation home is in a location you find attractive, it could be a great backup plan for retirement.
The disadvantages are mainly the high mortgage costs that come with vacation homes, high taxes dependent on the state you're buying in, and low rental incomes outside the peak vacation season. If you can afford it, however, a vacation home is an excellent long-term investment.
Sign up to the Homes & Gardens newsletter
Decor Ideas. Project Inspiration. Expert Advice. Delivered to your inbox.
Anna K. Cottrell is now a freelance writer, having previously been a Content Editor for Future's homes titles. She writes about interior design, property, and gardening. On H&G, she specialized in writing about property – buying, selling, renting – sustainability and eco issues.