Red roses are the least loved Valentine's Day flowers... here's what to buy instead
Ciao ciao red roses, it's over!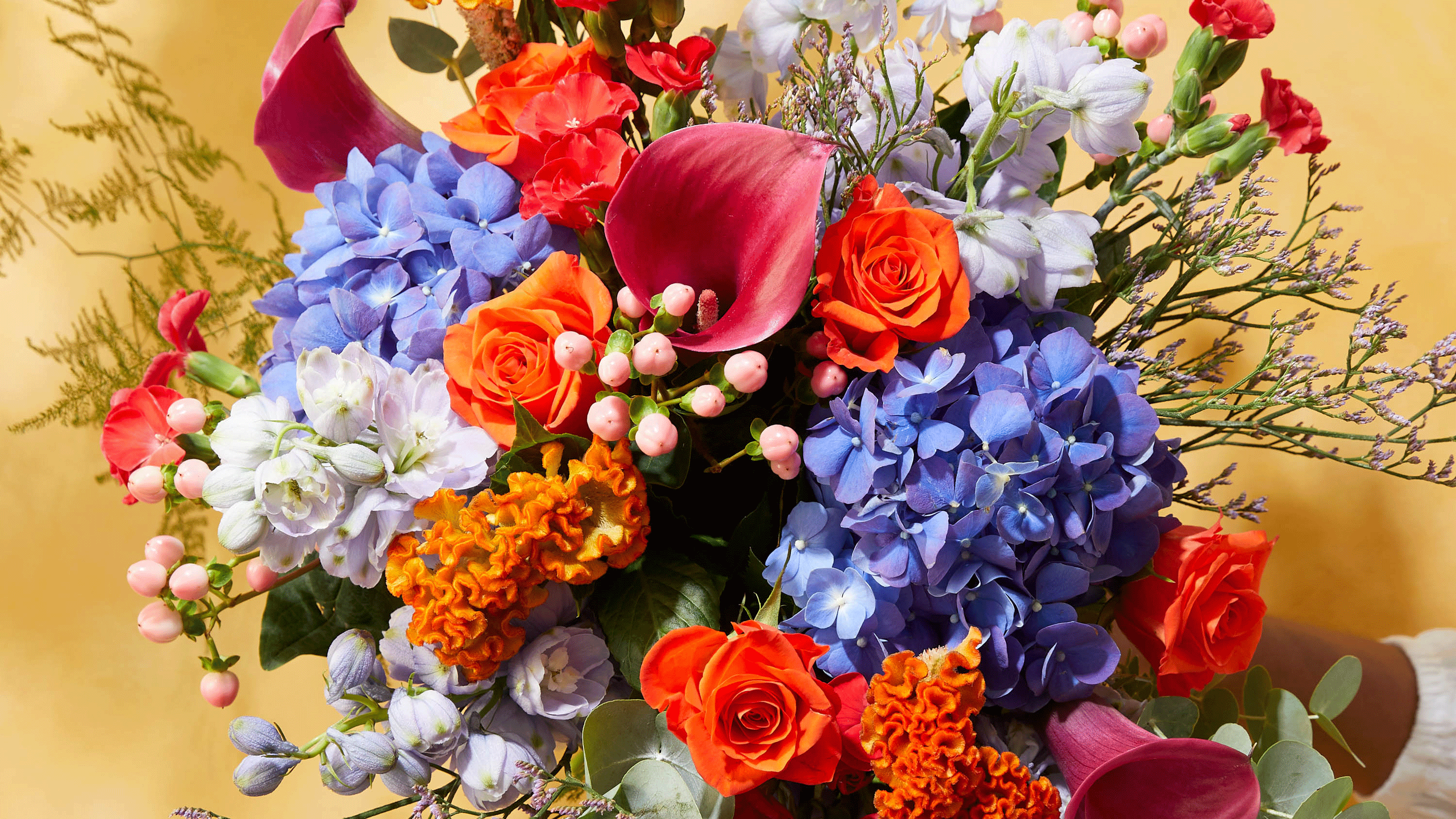 (Image credit: Bloom and Wild)
Nouveau romantics take note – roses aren't red anymore! For the first time ever, one of favorite florists will not sell red roses for Valentine's Day.
Bloom & Wild haven't made the decision unilaterally – as you would expect, the brand is being guided by its thousands of customers who send its flowers and notes every single day.
And what they're seeing in 2021 is that customers don't buy into clichés, so this year it isn't selling red roses. The sass-fuelled stats speak for themselves…
See: Floral trends – chic new ways to bring the outside into your home
The online florist revealed that last year the majority of their customers sent a bright or pastel bouquet for Valentine's Day. Red might be the color of love, but in a survey, the brand found that 70% of women would prefer something other than red roses for Valentine's Day.
In fact, opting for red roses as a romantic gesture could misfire if you are hoping to show your partner how much you care. The survey found that 38% of those questioned felt that red roses are a last-minute choice or a gift with little thought.
And, 58% of customers denounced red roses as a cliché. While a further 79% said they'd prefer a unique and thoughtful gift over something traditional like red roses for Valentine's Day.
If you truly can't let go of the idea of red roses this Valentine's Day, a third did say they'd appreciate the gesture but prefer something else.
You might be left wondering what the confused Casanovas and Casanovettes should send instead? Bloom & Wild have it covered with extra thought bubbles of TLC!
Senders will be able to put real thought into which bouquet feels right for the person they love. Because Valentine's Day shouldn't be about ticking a box with a generic dozen. It should be about saying 'I know you' with personality-bursting, blowsy blooms that match the beauty of the lucky-in-love recipient.
Here are some of the new on-trend flowers that are set to take the place of the red rose. Show your other half you care with these dazzling bouquets.
1. The Anoushka
Featuring bridal roses, it's a thoughtful choice for newly engaged couples.
2. The Ruby
After a big romantic gesture with a twist? With rare celosia, anemone and deep calla lilies, this bouquet oozes passion.
3. The Drew
For relationships full of fun and energy, lively tulips are just the thing.
4. The Toyin
This statement-maker is full of unexpected orange roses and bold blue hydrangeas. It makes the most romantic surprise.
5. The Naima
Simple scented stocks and tulips. A real favourite. Proof that there's no need to go overboard to show how wildly you care.
6. The Vivienne
Pink and lilac roses symbolise happiness, which makes this bouquet the sweetest love note of all.
Stats based on a Bloom & Wild survey of 1,000 nationally representative UK men and women between the ages 18 -64 [January 2021]
Holly is a Shopping Editor across Future Plc's homes titles, Country Homes & Interiors and Livingetc . She has a background in interior and event styling spanning a decade, which previously took her from coast to city and beyond to Australia. Holly loves working with creative minds and discovering fresh, indie brands, and is a firm believer that no home can have too many cushions, unruly blooms or decorative details of happy.