How to grow roses in pots – expert tips to guarantee your container roses flourish
Roses can thrive in pots and give beautiful blooms in small spaces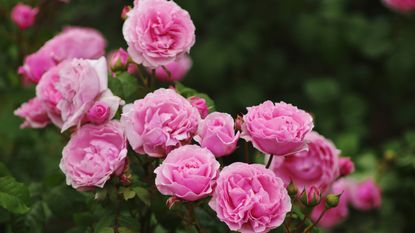 (Image credit: Getty/Masako Ishida)
Sign up to the Homes & Gardens newsletter
Decor Ideas. Project Inspiration. Expert Advice. Delivered to your inbox.
Thank you for signing up to Homes & Gardens. You will receive a verification email shortly.
There was a problem. Please refresh the page and try again.
Roses are one of the most popular plants grown around the world, not only thanks to their beautiful flowers but also their versatility and the fact there are so many types and varieties to choose from.
Growing roses is not just limited to those with large backyards or dedicated rose gardens. Even if you are short of space then you can have roses that thrive growing in pots, though it does tend to be miniature or patio roses that are most suited to containers.
When it comes to planting roses in pots, you do need a large container, rich soil and a sunny spot to put it in. As long as you remember to keep the rose watered, fed, and pruned, it can be happy for many years in a pot and you can enjoy its stunning blooms.
Can roses grow in pots?
The good news is that, if you're limited with space, growing roses in pots as part of your container gardening ideas is an option. Not all types of roses are ideal for growing in containers, however, but despite a limited choice available, there remains a good selection of suitable roses to pick from as part of your backyard ideas.
There are advantages to growing roses in pots, for example it can give you full control of the growing medium and moisture levels, and allows you to locate pots in the sunniest corners of the backyard.
If you have little or no soil in your backyard, or if the soil you have is poor, then growing roses in pots gives you the opportunity to enjoy these beautiful blooms. You can even grow roses in pots if you have no backyard, there are types that can grow on balconies.
Best roses for pots
If you are planning landscaping with roses or designing a rose garden, then there are a wide range of roses to choose from. From shrub roses to climbing roses, if you are after rose garden ideas there are thought to be over 30,000 varieties around the world.
Many of these will not happily grow in pots unfortunately, mainly due to the size that they grow to and the forms they grow in. However, there remains a good selection of fragrant roses that are suitable.
'Patio and miniature rose varieties are ideal for containers. English roses also work well with their rounded, bushy shapes; standard roses are elegant options, and ground-covering roses and shorter climbers can also be used,' says gardens writer and photographer Leigh Clapp.
Patio or miniature types are specially bred to be smaller in scale and suitable for growing in pots, with the patio types larger in size but still not quite the size of a standard rose. A great example of a miniature rose perfect for pots is the colorful Red Sunblaze Rose available at Nature Hills, growing to just two-foot in height it puts out clusters of double red blooms.
Miniature climbing roses can also grow happily in containers, they are slightly bigger again and will reach around six feet in height. While the likes of shrub or climbing roses are capable of being grown in pots, they are vigorous types and will need a much bigger pot to grow in. Climbing roses will also need a trellis or structure in place for them to be supported by and scramble up.
Leigh Clapp is a professional photographer with over 25 years experience, primarily as a garden specialist photojournalist but also with food and travel. Leigh's work appears in magazines, newspapers and books, both in the UK and abroad, including Period Living, Country Life, and Gardens Illustrated.
How to plant roses in a pot
Roses do need a large pot to be able to thrive in. They are shrubs that put out long roots, normally to search deep in the soil for water and nutrients, and that means a large container is required to house them happily.
Choose a container around 12-18 inches deep and a minimum of 15 inches wide. When it comes to choosing a pot for roses, the taller you pick the happier the rose is likely to be. The experts at David Austin Roses recommend 'using a pot with a minimum internal dimension of roughly 60 litres to allow for an adequate depth of rich soil', adding that 'larger roses will need larger pots'.
Fill the chosen pot with a well-draining and rich compost. Sarah Raven, a famed gardener and writer, says that 'fertile soil is key to growing roses' and incorporating some compost or well-rotted manure to the soil mix can boost the nutrients available to plants.
Never reuse potting soil from other containers and do not use garden soil to fill your pots, as it can often hold too much water and puts plants at risk of waterlogging. Always make sure any container has drainage holes at the bottom to allow any excess moisture to escape.
Roses tend to come either bare root or in nursery pots. For either method, firstly half-fill the pot with compost and gently press it in to remove any air pockets. Place the bare root rose over a mound in the centre, or remove the rose from its pot and place on the soil.
Fill around your rose with compost and firm the soil around it as you go. Take good care when it comes to the height that the rose sits in the pot. The union of the rose, where the rose is grafted to the rootstock, should sit just above the level of the soil and two inches below the pot's rim.
How to care for roses in a pot
Water your newly-planted rose thoroughly and place the pot on feet to help further ensure that any excess moisture can drain away from the container. Such feet include these Non-Slip Surface Grip Pot Lifters available at Amazon.
Place your container in a sunny position in the backyard, for example on a south-facing patio or deck. Sarah Raven says: 'Most roses need a position in full sun to flower well – the site needs to spend at least 50% of the day in the sun.'
Roses growing in pots will require more watering than those planted out in the ground. This is due to the finite amount of soil in the pot to be able to hold onto the moisture. Always monitor the pot carefully and water the rose regularly, especially in hot and dry weather. A good tactic when watering plants in containers is to check the moisture level a few inches down in the pot using your fingers.
As well as regular watering, roses in pots need to be regularly fed to keep them happy and thriving. When fertilizing roses in pots, feed them with a general-purpose fertilizer in spring and then switch to a fortnightly feed with a high-potassium fertilizer, such as a tomato feed, once the plants are flowering through the summer. Stop feeding the plants at the end of August. A great option for a general-purpose fertilizer to use is the Natural Organic Rose Bloom Granular Plant Food available at Burpee that can slow-release nutrients for up to three months.
The plants will also benefit from a mulching each year with a two-inch layer of compost or well-rotted manure, and for the top couple of inches of compost in the pot to be replaced by a fresh layer every two years.
As with growing roses in the ground, deadhead roses regularly throughout the flowering season to keep a constant flush of blooms on the plant and also prune roses every year to keep them healthy. Improper pruning and not deadheading are two common rose growing mistakes to avoid.
FAQs
Can roses remain in pots over winter?
Roses can remain in their pots over the winter, but they may need protecting from extreme temperatures. Plants in pots are more susceptible to damage from cold and frosts as there is less protection around their roots than when planted in the ground. The American Rose Society recommends that, for a rose to overwinter outdoors without an issue, it should be 'hardy to at least two US hardiness zones below the zone in which you live'.
How do you protect roses from frost in pots?
You can protect roses in pots by moving them to a sheltered spot, garden shed, or unheated garage for the winter after they have dropped their leaves and gone dormant for winter. It is important to put them somewhere unheated as warming temperatures can cause the roses to break their dormancy early. An alternative is to bury the pot itself in the ground or insulate the pot by mounding mulch around it and adding a layer on top.
---
Roses are a joy to grow and not as difficult to maintain as many people think. There may be rose pests and roses diseases to contend with, but with proper maintenance and good observation these can often easily be dealt with. Also, using organic gardening tactics such as rose companion plants can also help keep any potential issues at bay. If you have always wanted roses but thought yard size restricted you, then think again and maybe try growing roses in pots. The striking color and fragrance of roses are well worth the effort.
Sign up to the Homes & Gardens newsletter
Decor Ideas. Project Inspiration. Expert Advice. Delivered to your inbox.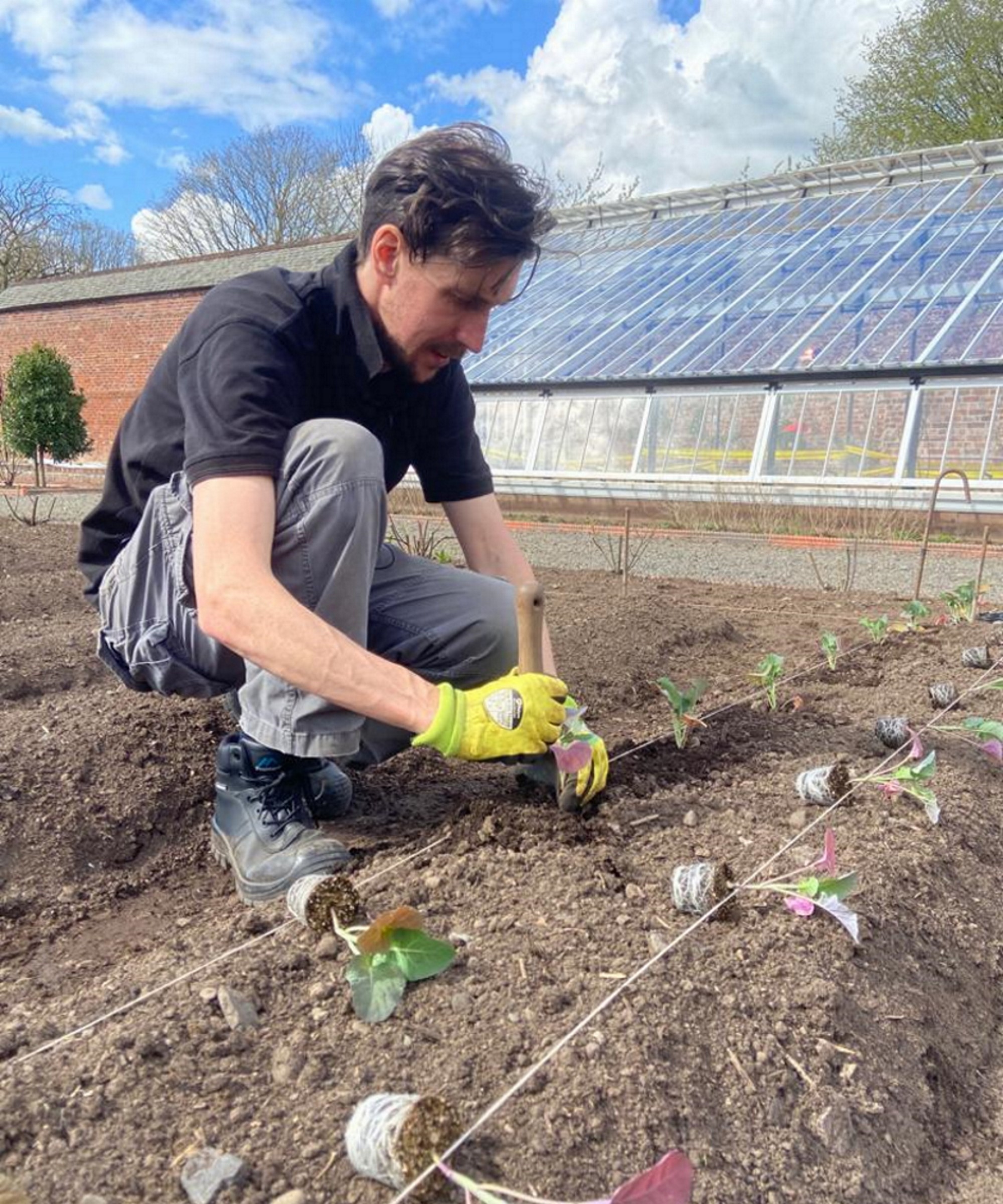 Drew's passion for gardening started with growing vegetables and salad in raised beds in a small urban terrace garden. He has gone on to work as a professional gardener in historic gardens across the UK and also specialise as a kitchen gardener growing vegetables, fruit, herbs, and cut flowers. That passion for growing extends to being an allotmenteer, garden blogger, and producing how-to gardening guides for websites.