Rose companion plants – the best options for enhancing your displays and to help combat diseases
Take into account the height, color, flower timing and scent when picking partners for roses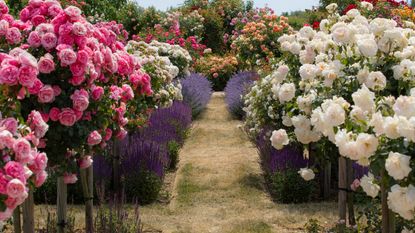 (Image credit: Getty/jokuephotography)
Sign up to the Homes & Gardens newsletter
Decor Ideas. Project Inspiration. Expert Advice. Delivered to your inbox.
Thank you for signing up to Homes & Gardens. You will receive a verification email shortly.
There was a problem. Please refresh the page and try again.
Roses are hugely popular plants that have been cultivated for centuries. Their fragrant flowers come in a wide range of shapes and colors and offer up a wealth of opportunities for companion planting in backyards.
Throughout the years they were often seen in dedicated rose gardens, with different types and varieties showcased to their fullest potential. But they are versatile shrubs, and roses are also so-often stalwarts of flowerbeds and borders, mixed in with other planting for dramatic and highly-scented displays.
No matter what type of rose garden ideas you have, there are an abundance of options for companion planting. By combining roses with other shrubs or flowers you can boost the impact and extend the season of a border. There are also rose companion plants that can protect your shrubs from pests and diseases.
Companion planting for roses
Roses can grow in any US hardiness zone and want to grow in a sunny position in rich and well-draining soil. They do require some care each year, but by deadheading roses each summer and pruning roses each year they are capable of providing you with a glorious show of flowers year-after-year.
When designing a rose garden, it is definitely worth taking advantage of companion planting to help develop the space and also protect your roses. While planting roses can give you beautiful blooms alone, even the best fragrant roses can be further enhanced by being complemented with the right surrounding plants.
Plants can be grown alongside the roses to improve the aesthetics of the flower bed, hide the more unsightly aspects, and bring extra height and color to a space. If you are planning any landscaping with roses, take time to consider not only the roses but also the plants around them. Your beds can get an extra lift and your roses could benefit from that extra protection against diseases and pests that can take the shine off your shrubs.
Best rose companions for aesthetics
There are a lot of fantastic options for companion planting roses in beds and borders. You can vary the height, the shape, and the form to bring drama and impact, while not diminishing the rose's blooms, but actually helping them stand out.
Sally Jenner, gardens expert for Homes & Gardens, recommends taking into consideration key aspects such as color and foliage to figure out what will work well alongside your roses. You also need to consider the types of roses as well to make sure you get full seasonal impact when designing a rose garden.
She says: 'Red and pink roses never fail to look great with purple, while warm rose shades – reds, oranges, hot pinks – blend surprisingly well into tropical schemes and will complement fiery Crocosmias and the exotic leaves of Bananas.'
'Other foliage partners to consider include the pale green and silver leaves of Nepeta and Stachys byzantina (available at Nature Hills), or the purples of Sedum 'Jose Aubergine' or Heuchera 'Obsidian'. All will help perk up the mid-green foliage of non-repeat-flowering roses, which is conspicuously dull once the blooms go over.'
The experts at David Austin Roses identify favorite summer perennials like Phlox, Geranium, Delphinium, Campanula and Penstemon as fantastic companions for roses. They add that if you grow repeat-flowering roses it can also open up the door for 'a second wind of creativity' come Fall.
Then the likes of Aster, Helenium, and Rudbeckia, can be used to complement the roses, or ornamental grasses like Miscanthus and Pennisetum can be planted nearby to add a bit of movement and structural interest to the border.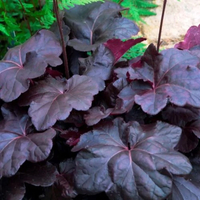 Best ground cover rose companions
You can utilize companion planting to help cover the uglier lower stems of roses, here is where low-mounding perennials and incorporating underplanting can come into play. In this regard it does need considering that roses do need space to bloom at their best, and cramming around the base of a shrub with other plants is a common rose growing mistake to avoid.
John Negus, gardens expert for Homes & Gardens, claims that 'roses will be enhanced by underplanting' and has a few recommendations for what would work best as companion plants. He adds that maybe only in formal rose gardens may it be best to leave the soil bare.
'You might consider Ajuga (available at Nature Hills), Cerastium, Lamium, and Alchemilla. You might also consider low-growing herbs such as marjoram, camomile, thyme and lavender.
'None of the ground cover plants mentioned above is particularly vigorous or competitive and all of them should be able to grow well alongside the roses.'
John has been a garden journalist for over 50 years and regularly answers readers' questions in Amateur Gardening magazine. He has also written four books and has delivered many talks over the years on horticulture.
Best companions for healthy roses
Companion planting can be a vital tool in helping to combat many common rose pests and rose diseases that otherwise try to spoil the stunning displays. Many flowers and herbs can be grown alongside the roses to not only add color and fragrance to backyard ideas, but ward off the likes of blackspot or powdery mildew.
If you have beloved roses that are prone to sickness, gradually introducing perennials among them is arguably the best line of defence. Salvias are fantastic rose planting companions, as the leaves contain sulfur, which is a natural fungicide that can prevent many common rose diseases.
Growing alliums as companion plants offers many of the same benefits, as their strong odor can ward off aphids and other rose pests while also helping to prevent rose black spot.
Growing lavender is another fantastic option to help keep roses healthy, this aromatic herb offers protection from aphids while also deterring larger pests, such as rabbits and deer, from potentially nibbling at your precious roses.
Bad companion plants for roses
Where there are good companions, there are bad companions for roses and some plants are simply not suited to growing alongside them. This includes fuschias, which want shade rather than the full sun that roses aspire for, bunchberry and ferns, the latter of which are aggressive growers and like lots of moisture.
There are also some edible crops that are not good companions for roses, including tomatoes, potatoes, peppers, and eggplant. As well as needing different growing conditions, the nightshade plants such as these can actually produce a toxin that negatively affects roses if planted in the vicinity.
---
There are so many options out there for companion planting roses, no matter what you are growing in your yard. Whether it is shrub roses in a border, or any of the best climbing roses to cover an unsightly wall or fence, there are advantages from companion planting for any scenario.
Not only could you give your floral displays an extra boost, but you could keep roses healthy. It is a potential win-win situation, so what is not to like?
Sign up to the Homes & Gardens newsletter
Decor Ideas. Project Inspiration. Expert Advice. Delivered to your inbox.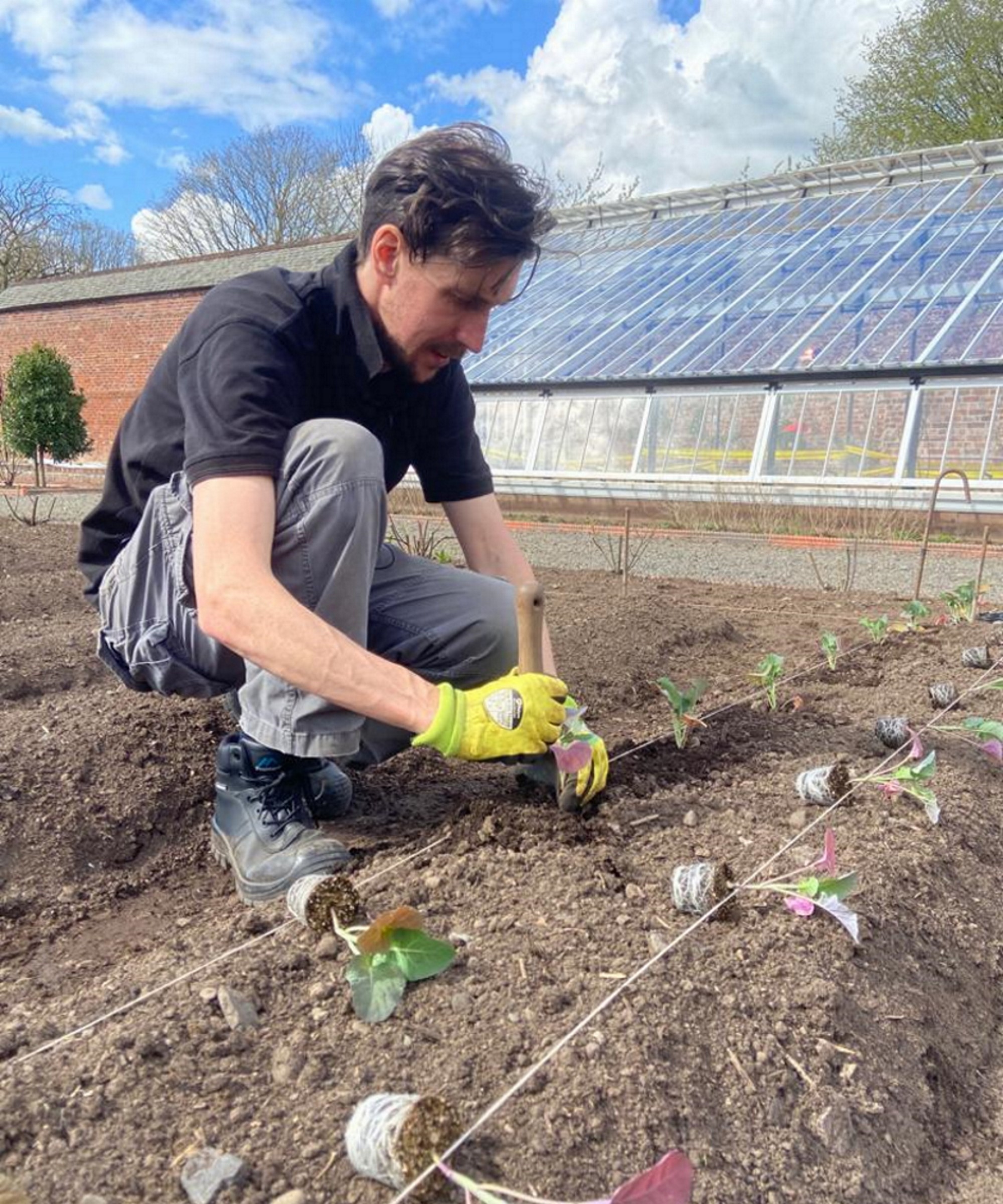 Drew's passion for gardening started with growing vegetables and salad in raised beds in a small urban terrace garden. He has gone on to work as a professional gardener in historic gardens across the UK and also specialise as a kitchen gardener growing vegetables, fruit, herbs, and cut flowers. That passion for growing extends to being an allotmenteer, garden blogger, and producing how-to gardening guides for websites.