Christie Brinkley's dining room shows her love of Bridgerton-inspired Regencycore
We just spotted 2021's must-know trend in Christie Brinkley's dining room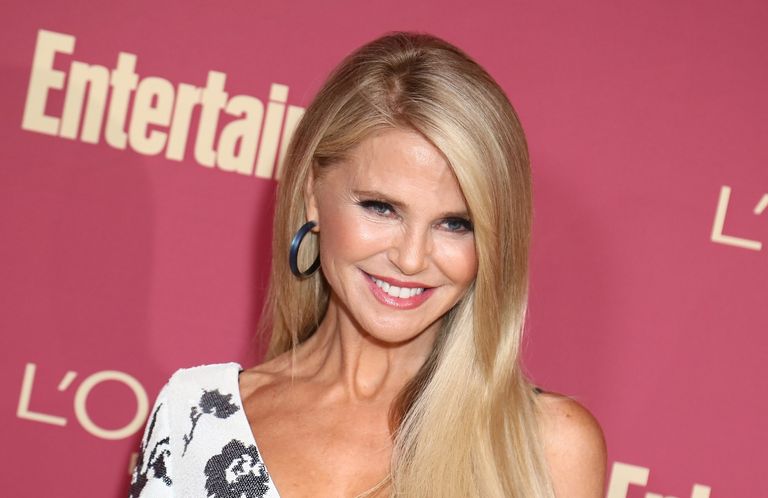 (Image credit: Leon Bennett/WireImage)
It used to be that our homes were part of our place in life – somewhere we'd resort to between work and sleep – and simply put: we weren't in them much often unless we had to be. A worldwide pandemic changed all of that. Now, we're not only constrained to our homes but looking for new ways to furnish them, and the unsung hero of inspiration on the tip of everyone's tongue?
Christie Brinkley.
The 67-year-old model was ostensibly leading the Regencycore trend long before any of our Bridgerton binges. According to Instagram, the mom-of-two has been a long-time fan of the historical glamour, careful color coordination, and regal patterns.
Her devotion is evident in her blue-and-white dining room chair with a gold-accented frame. It provokes the same Regency style – that was popularized in England in the early 19th Century – in an over-the-top fashion that remains reserved and subtle.
Now, the most intricate detail about Brinkley's interiors is the surrounding she has chosen to pair around this chair. Instead of opting for a complete set of matching chairs to correspond with her marble dining room table, she's gone ahead and introduced a vintage element into the room, opting for an array of different styles and wooden hues to complement her focal point.
It's genius – and for those looking to follow similarly, Christie Brinkley's dining room ensemble is an exceptional blueprint on how-to.
Master the art of Regency-inspired decor like Christie Brinkley by incorporating any of the five chairs below. It's the most effortless way to infuse Bridgerton vibes into your home while receiving her supermodel-stamp-of-approval too.
See: Regencycore – Bridgerton starts a whole new luxury trend for interiors
Begin with a chair that's reminiscent of a family heirloom
Flirt with a chair that's pretty and practical
Opt for a fluted frame
Forge forward fearlessly with this two-toned masterpiece
Live luxuriously in this leather-accented rendition
Brittany Romano wrote for Homes & Gardens as a U.S. Shopping Editor. A graduate of New England College, Brittany started her career as a freelance fashion market assistant at Marie Claire. She later joined AMI, where she designed a highly profitable commerce vertical. Noted for her award-winning content, she's covered everything from celebrity beauty hacks to the most lavish home decor.