Perigold and Diane Keaton have created an exquisite lighting collection – these are the must-shop pieces
The newly-released Diane Keaton x Perigold lighting collection will give your home the A-list-treatment it needs.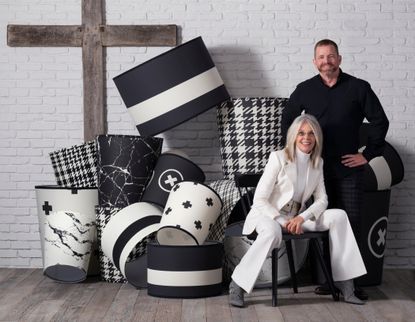 (Image credit: PR/Perigold)
Perigold (opens in new tab), the first-of-its-kind destination for luxury home furnishings and decor, announced their recent collaboration between luxury furniture manufacturer Aidan Gray and world-renowned actress and author Diane Keaton.
Starting January 28th, a curated selection of the collection will be available to purchase through Keaton Industries's online showroom at Perigold.
Keaton – and Gray – drew inspiration from the two-time Academy Award winner's life; her infatuation with black and white design, paired with statement-making decor, is visible throughout.
"Many of the shapes and patterns in the collection are reminiscent of what is in my home. It's about repetition and continuity," says Keaton.
The versatile collection can punctuate any space – from industrial chic to modern farmhouse styles, with the intent of every piece having the ability to mix-and-match. The main goal? For 'every shade [to] tell a different story,' Keaton further explains.
So, for anyone looking to style their home the Diane Keaton-approved way (opens in new tab)?
Now is your chance. For a limited time, you can shop pendant lights, barrel shades, and lighting accessories available at Perigold. Continue scrolling to see our top five must-have items from the newly-released collection.
1. The modern metal pendant that's worth the investment
Jasper Bell Pendant (opens in new tab) for $940, at Perigold
The configuration of this jasper pendant (opens in new tab) will be familiar to fans of modern farmhouse style and industrial-chic interiors. Constructed of metal —that has been treated to an enamel coating — the black and cream ornament on elegantly descends from a black cap.
2. This chic calcite choice
Industrial Pendant (opens in new tab) for $473, at Perigold
The crevices moving along the metal exterior of the calcite lavalière (opens in new tab) are a nod to the mineral of the same name, but the enameled metal surface it's captured on twists this elemental into a powerful scheme statement for any room needing a taste of patina.
3. The patterned pendant that will pop
Graphite Colander Pendant (opens in new tab) for $1,130 at Perigold
Emulate a farmhouse feel while making an impactful declaration with this patterned fixture. (opens in new tab) Made from metal — treated in an enamel coating —this black and cream fixture also features '+' repetitions throughout its base.
4. The marblelized must-have
Bell Pendant (opens in new tab)for $1,160 at Perigold
This calcite pendant (opens in new tab) perfectly combines industrial-chic interiors with modern farmhouse vogue. Mimicking the veining in the stone for which it is named after, this marble-inspired pendant is available in three sensational shades.
5. The petroleum composition
Flint Colander Pendant (opens in new tab)for $393, at Perigold
As mineral quartz, flint is the consummate comrade for igniting a burst out of entries, as this match (opens in new tab) will illuminate rooms while injecting character to spaces.
Still, want more? Check out additional Perigold x Diane Keaton pairings below:
Brittany Romano wrote for Homes & Gardens as a U.S. Shopping Editor. A graduate of New England College, Brittany started her career as a freelance fashion market assistant at Marie Claire. She later joined AMI, where she designed a highly profitable commerce vertical. Noted for her award-winning content, she's covered everything from celebrity beauty hacks to the most lavish home decor.