Trend alert: dining tables in 2022 are bold and colorful
Serve up vibrant color in your dining space – the perfect backdrop for super cool tablescaping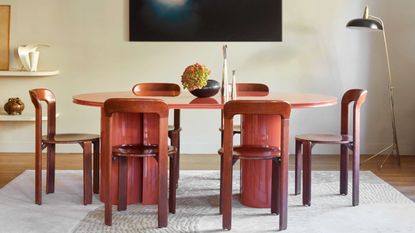 (Image credit: Studioparisien at The Invisible Collection )
It's official: bold dining tables are on trend for 2022. The rising popularity of open-plan living has meant that the dining room – as we once knew it – has become somewhat superfluous. However, since the pandemic, many are opting for broken-plan layouts, introducing clever ways to create multipurpose zones within a living space. And this has led to the rise of one of our favorite interior design trends for the year ahead.
Back-to-back years of neutrals has led many of us to opt for spirit-lifting shades throughout our homes, creating an interior aesthetic that really speaks to us. It's no wonder that, when searching for dining room ideas, many are seeking styles that are bursting with color and personality.
And so, we wanted to highlight some of our favorite joyful dining tables to help sprinkle some wonder over your dining experience.
If you're looking for small dining room ideas then we've got you covered. Our edit looks at various shapes, shades and materials for all your dining table decor idea needs.
1. Choose wood stain for pared-back color
When considering a colorful dining table, wood stains are a great option to add a warm and sophisticated pop of color – an ideal solution for those who aren't ready to for bold decisions.
'Opting for a stained finish means the grain of the table will show through, so you can have the rich color while still being able to appreciate the natural beauty of the solid wood top,' advises Henry Tadros, Director, L.Ercolani.
When it comes to styling, Henry recommends: 'Use complementary hues and don't let it get too noisy to ensure the table remains the focal point of the room.'
The Plank table, $1897.75/£1,440, L.Ercolani, is available in a number of shades from the firms Modern Tones Collection of stains that, as Henry describes, 'Subtly reinvent the brands heritage through Modernist color.' He adds, 'The new palette harmoniously complements the quality construction and natural materials we are known for, while breathing new life into my great grandfather Lucian Ercolani's classics.'
2. Opt for designs that use unexpected hues
'We noticed a burst of interest in colorful tables after the release of the Bell coffee and side tables by Sebastian Herkner which were launched by ClassiCon in 2012.' says Daniel Aram, Managing Director, Aram.
This rise in demand for color followed a period of popularity of mid-century design, where wood and materials in natural colors dominated. 'The increased demand for more color probably reflected a desire to move away a bit from the more mainstream natural finishes which tend to dominate. The popularity of the occasional tables saw the introduction of a dining table which has a glass base in different colour options,' explains Daniel.
The LC6 table, $4492.67/£3,409, Le Corbusier, Jeanneret & Perriand for Cassina at Aram, is a great way of mixing mid-century style with a contemporary injection of color. There are many examples of designers who have embraced this movement, as Daniel illustrates, 'Today, we see this interest in colorful dining tables continue with new releases such as the Smalto table in colored enamel by Barber Osgerby for Knoll, the Pli in colorful metal by Victoria Wilmotte for ClassiCon, the Liquefy colored glass table by Patricia Urquiola for Glas Italia and the NVL lacquered table by Jean Nouvel for MDF Italia.'
When asked how to style the LC6 table, Daniel suggests, 'The glass top highlights the architectural base instead of hiding it, unlike most dining tables. In open plan living spaces this hint of colour is often complemented by a sofa, lighting or other pieces in similar or tonal colors.'
3. Combine bold shades with natural materials
This year, we saw the launch of the Two Color table, from $1105.71/£839, Muller Van Severen for Hay. Available with a rectangular or circular top, this dining table is a simplistic design offered in various punchy and contrasting shades.
Mix this table with other bold hues for an all-out, vivid scheme or blend it with more pared-back shades, as Rolf Hay, Co-Founder of HAY, suggests, 'One of the strengths of this table is that despite it being so colorful, it's very versatile: You can combine it with equally colorful chairs, but you can also go the other way and combine more neutrally colored chairs. Both options will have a completely different effect on the look of the combined setting.'
The Two Color table was a collaborative process between Hay and design-duo, Muller Van Severen, who are 'known for their bold colour choices – one of the reasons why we are fans of their work,' adds Rolf.
When asked about upcoming plans for vivid design, Rolf shares: 'We are working on a new project with Muller Van Severen that is equally as colorful – planned to be launched in late summer of 2022.'
4. Make bold style decisions but don't rely on trends
'We tend to steer away from trends as such but after two years of pandemic life, I think people are craving cheerful, lively elements in their homes – and colorful dining tables are perfect for doing just that.' says Isabelle Dubern-Mallevays, Co-founder, The Invisible Collection
The Luco dining table, $14,565.27/£11,052, by Studioparisien at The Invisible Collection, with its chunky base and curved oval top, would make the perfect focal point within a dining space. It's boasts a vibrant colored lacquer finish that makes it feel very of-the-moment.
Isabelle says that a colorful dining table is the perfect anchor for an interior, 'bringing a personal touch to the décor and setting the tone for the wider scheme of the room. I particularly love how, as the heart of a tablescape, it can really define the way you dress your table for a dinner party – a beautiful centrepiece to entertain guests.'
'For me, a striking colorful dining table is best paired with more neutral accessories (plates, placemats and napkins) or otherwise enriched with maximalist details (colour matched to the table), for a true statement,' she adds.
The Invisible Collection has a roster of ever-evolving designers, Isabelle expands on this by adding 'With the likes of Campbell Rey, Vincent Darré, Chloe Negre & Laura Gonzalez all welcoming striking injections of color into their projects. Martin Brudnizki's capsule with And Objects just launched on the Invisible Collection with gorgeous shades of emerald green & bubblegum pink running through it – it's a total visual treat.'
5. Not ready to commit? Opt for accent shades
Jennifer Newman, Furniture Designer and Founder of Jennifer Newman Studio, describes her work as 'bold, adaptable designs that get noticed' and this Trestle table, from $3498.98/£2,655, by Jennifer Newman is no exception, with its chunky legs powdered coated in an eye-catching bright blue finish.
'We've seen customers being braver with dining table color over the last few years – a knock on effect from lockdown with many of us looking for brighter, statement colors to decorate the home with in an effort to keep optimism levels up.' explains Jennifer.
When talking about how to introduce color to your home, Jennifer advises, 'It doesn't have to be all over color, if you think it might be too overpowering – look for designs, such as our Trestle table, that have colorful legs or pedestals that will introduce a slice of colour that will act as an accent to the surrounding seating.'
6. Make a statement with sculptural shapes
One of the most notable, colorful dining table designs of the past few years is the Smalto round table, £4,176, by Edward Barber & Jay Osgerby for Knoll at SCP. The cylindrical legs and perfectly proportioned table top has been popular amongst the trend followers and design enthusiasts of the interiors world.
'This project for Knoll began with the idea of working with enamel, which was new territory for the studio. As well as durability, the enamelling process produces both intense colour and a quality of tactility,' explains Edward Barber & Jay Osgerby.
'In conjunction with the high gloss finish, these distinctive proportions create a strong, sculptural presence. The collection includes round and oblong variants and is available in five colorways. Because the enamel is impervious to water and will not fade in direct sunlight.'
Paul Higgins, Head of Retail, SCP, adds 'I think that strong choices of block color have the ability to change the nature of a space or an interior entirely.' Perhaps selecting your vibrancy of your dining table is a good place to start when considering your scheme.
Sign up to the Homes & Gardens newsletter
Decor Ideas. Project Inspiration. Expert Advice. Delivered to your inbox.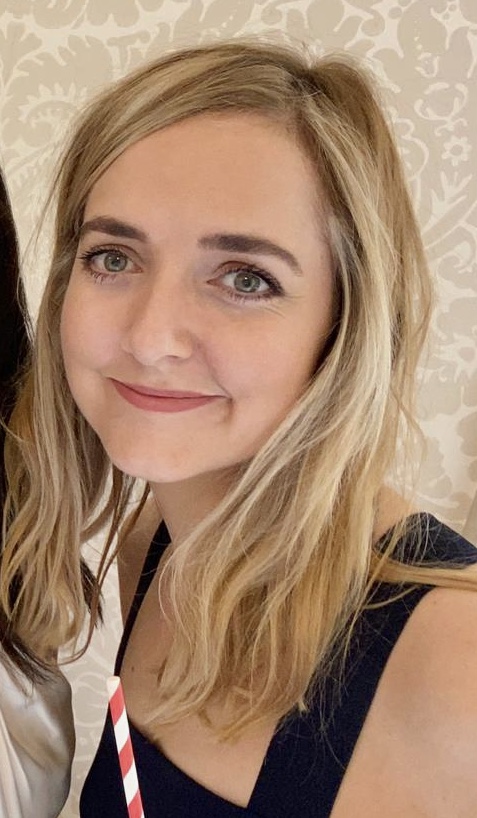 Jo Bailey has been Deputy Editor of Homes & Gardens since late 2021, overseeing all features for the print edition. Previously, she worked as the News & Shopping Editor across H&G and Livingetc - one of Future Plc's sister brands - this is where she learnt to discover the best news stories, latest trends and honed her understanding of Homes and Gardens' over 100-year-old brand.
Before joining Future Plc, she worked as an interior stylist for over ten years, specialising in commercial photo shoots for luxury clients such as; Design Centre Chelsea Harbour, The Romo Group, Christopher Farr Cloth and Heal's. She has worked closely with Homes & Gardens and Livingetc for over a decade, having styled and produced editorial shoots and events for both titles over the years.