The iconic Green Gables estate in California is on sale – here are 4 ways a tour of its stunning garden can inspire you
How to elevate your garden for summer - mansion-style...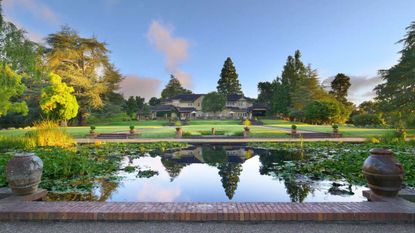 (Image credit: Christie's)
Sign up to the Homes & Gardens newsletter
Decor Ideas. Project Inspiration. Expert Advice. Delivered to your inbox.
Thank you for signing up to Homes & Gardens. You will receive a verification email shortly.
There was a problem. Please refresh the page and try again.
One of California's largest and most interesting estates, historic Green Gables in Silicon Valley, is on the market for a staggering £135 million.
The incredible property was the summer residence of the entrepreneurial Fleishhacker family of San Francisco. After the 1906 earthquake and a family trip to England, the family began buying land to build a compound that would emulate the thatched-roof homes they had seen on their vacation.
At 74 acres, and still in the Fleishhacker family, the property with its multiple homes and supporting buildings has come to market for the first time – 110 years after it was built.
The home was a collaboration between Mortimer Fleishhacker, Sr. and architect Charles Sumner Greene of the famous architectural firm of Greene and Greene. The property grew over the years to include seven homes, extensive gardens, woodlands, and a Roman-style pool idea that is the size of a football field.
See: Backyard ideas – decor inspiration for outdoor spaces
One of the most remarkable aspects of Green Gables is its expansive grounds, which combine a mix of formal gardens surrounding the main house and natural woodlands filled with native California shrubs and flowers. Majestic old-growth trees abound at Green Gables, including oaks, giant redwoods, blue spruce, Monterey pines, and eucalyptus.
The stunning landscaped gardens are surrounded by views to the Santa Cruz Mountains and, while we may not all enjoy that kind of vista, there's a number of things we can do to elevate our gardens like Green Gables this summer.
What better way to lift the spirits than tending to a beautiful garden to boost your mood? For people of all ages, the garden is a sanctuary and a place for exploring, creating, and experimenting – all of which are beneficial for mental wellbeing. Colorful flowers, blooming trees and home-grown food are all great for improving people's quality of life.
See below for four ways to elevate your garden this summer, inspired by Green Gables.
1. Introduce bursts of flowers in statement planters
There's nothing prettier than a flurry of pretty petals in your garden, and you don't have to be seriously green-fingered to get the look. There are a number of low maintenance flowers you can plant that will last all summer.
Peonies are very long-lived and bloom in the same spot for decades meaning they're a low maintenance flower that comes back year after year with no intervention needed. As well as being beautiful in color they are also drought resistant plants and slug resistant. Hydrangeas are also easy to care for with huge beautiful full heads in their full spring. Coming in many different colours, such as blue, green, pink, purple, red and white, these will definitely catch the eye of your garden guests this summer.
And the best way to show them off? Oversized planters for a statement look, like these corrugated tin troughs. If you don't have the space, smaller versions are just as chic.
2. Add a water feature
Green Gables boasts a stunning pond as well as a Roman-style pool. You can add timeless elegance to your garden simply by investing in a water fountain, which can help to reduce stress and boost your mood.
The motion and sounds of the water pouring down produces a soothing natural white noise that contributes towards creating a tranquil retreat.
3. Attract wildlife to your garden
If you have room to create a pond, it's a fabulous way to attract birds and wildlife to your garden, including birds, dragonflies and frogs, which can help your garden flourish. If you can't create a water feature, there are plenty of plants you can grow to attract bees, which contribute significantly to the reproduction and ecosystem of plants, with many plants relying on bees' pollination activities to aid their reproduction. Bees are significant pollinators for both wild and cultivated plants, and without them, a vast number of plants would not be able to survive.
According to Horticulture, hebe is a shrub that flowers abundantly and produces abundant nectar. When in flower, bees and other pollinators will throng around the hebe, enjoying the blooms. Along with many other flowering shrubs, it can provide for many species of bee throughout much of the year. Those with purple blooms are great, as bees can see purple more clearly than any other hue.
Borage is another of the very best flowering plants for honeybees and other pollinators. The flower structure makes nectar easy to source, and most significantly, the speed at which the nectar supply replenishes makes this such a beneficial plant. Borage refills with nectar far more quickly than many other flowers.
4. Create a stylish entertaining space
'Our gardens and outside spaces have been a lifeline over the past year,' says Adrienne Minster, CEO at Rated People. 'For many of us, outside spaces have gone from being somewhere we might spend a bit of time when the weather is nice, to an important extension of our homes, which have allowed us to see friends and family when it might not otherwise have been possible.
'After a long, hard winter, we predict there's going to be a surge in people wanting to make the most of their gardens this spring and summer – from creating areas perfect for entertaining friends and family, to building new patios, garden rooms and greenhouses.'
Investing in an elegant outdoor dining set will allow you to entertain friends in style and make the most of your outdoor space for most of the year.
Green Gables is listed for $135 million with Christie's. Pictures courtesy of Top Ten Real Estate Deals.
Sign up to the Homes & Gardens newsletter
Decor Ideas. Project Inspiration. Expert Advice. Delivered to your inbox.
Ruth Doherty is an experienced digital writer and editor specializing in interiors, travel and lifestyle. With 20 years of writing for national sites under her belt, she's worked for the likes of Livingetc.com, Standard, Ideal Home, Stylist and Marie Claire as well as Homes & Gardens.