How to choose a rug – 20 expert tips
From the color and style to the material and pile...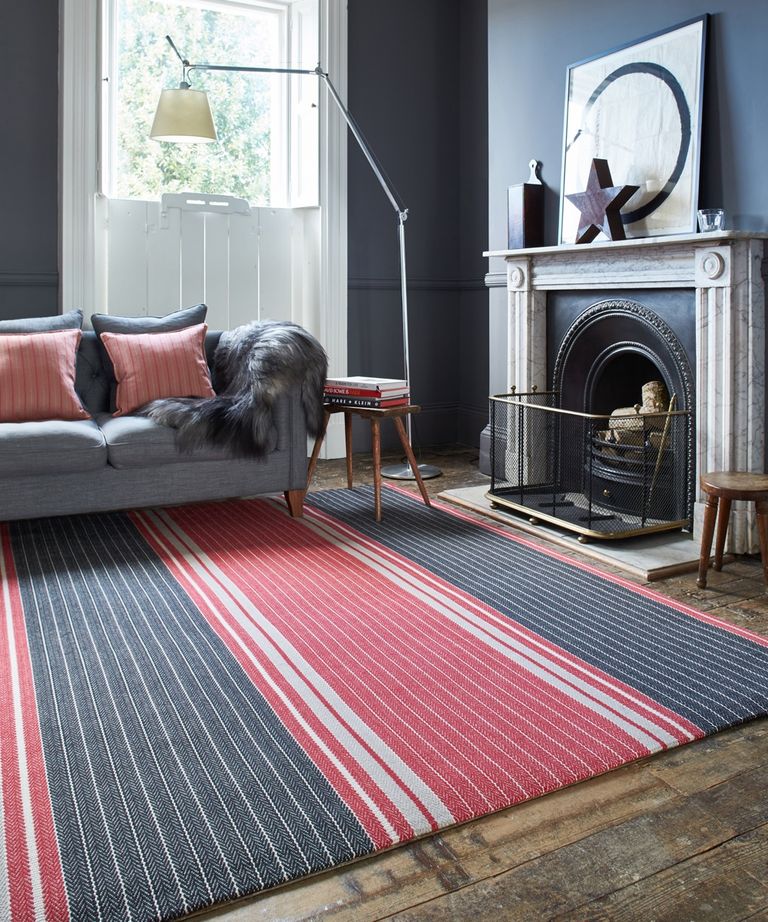 (Image credit: Roger Oates)
Rugs can instantly add design, texture and comfort to any space, but with so many options to choose from, there's a lot to consider when shopping for the perfect one. Thankfully, the experts over at The Rug Seller have put together some handy top tips on how to choose a rug that's perfect for you and your home.
If you don't know your cut pile from your flat weave, or your wool from your sisal, this guide will help you navigate the rug-buying process with ease.
See more: Carpet trends - the stylish new looks for fabulous floors
Daniel Prendergast, Design Director at The Rug Seller, shares the team's top tips for choosing the right rug for any space below. Get ready to rug up...
How to choose a rug – an expert guide
Choosing a rug isn't as simple as just liking its design – there are many considerations to take into account. Here, with the help of rug experts, we guide you through them.
1. Choose an accent rug
When focusing on how to choose the right rug for a space, firstly you need to identify the purpose of the rug. Accent rugs are the perfect accompaniment for a single piece of furniture. The rug should be approximately 10-15% smaller than the furniture it's meant to accent.
2. Unite a scheme with a cohesion rug
Cohesion rugs will bring together furniture in the same section of the room and, as the name suggests, create cohesion. The rug will need to be large enough to reach or sit under the front legs of any items of furniture within that section, in order to tie everything together.
3. Cover up hard flooring with an expansive rug
Expansive rugs make a room feel more carpeted, by covering a large floor space. When opting for an expansive rug, allow a significant border around each piece of furniture to avoid a cramped feel. This includes the space required to pull dining chairs out around the dining table.
4. Create a focal point with a statement rug
A statement rug will form a centrepiece in a room and therefore should be left clear of furniture. Bold patterns and colourful designs are eye catching, but shapes are also important. When thinking about how to choose the right rug, look at your space; where space allows, large round rugs can make a big statement, especially in living rooms.
5. Add comfort with hardwearing runners
Hallway runners are ideal for long, narrow interior spaces in the home and are commonly used in hallways, narrow kitchens or occasionally beside beds. They can be ideal to change the look of a room – by widening and brightening it to give the illusion of more space.
For hallway runners, opt for a durable fibre so it withstands the frequent footfall in the area. Wool and polypropylene are long-wearing and durable making them good choices for runners, or for a more natural fibre, opt for jute, sisal or seagrass.
6. Invest in cut pile for an expensive finish
Once you've identified the purpose of your rug, you'll need to consider the different weaves and textures available.
A cut pile rug is soft in texture and created by looped fibres which run through a backing material, usually done by machine. Hand knotted pile rugs are also available, these rugs are generally of a higher quality and therefore more expensive.
7. Pick loop pile for high traffic areas
Loop pile rugs are made up of uncut loops of yarn, making them the ideal option for high footfall areas, as the weave easily bounces back into shape. A thick-set loop pile rug is a stylish, yet practical option which will really stand the test of time.
Note, loop piles are not recommended for households with animals as claws can get caught in the loops and snap the pile.
8. Choose a braided rug for a laid-back look
Braided rugs are made by twisting together wool with strips of recycled fabric to create a rope, which is then sewn into a spiral pattern. Due to the spiral formation, braided rugs are often round or oval in shape.
9. Consider shag-pile for added comfort
Shag pile or 'shaggy' rugs are very deep and dense, making them a universally popular choice for adding extra comfort and texture to any room. Made from both natural and synthetic fibres, shag piles are universally popular and instantly add comfort to any floor.
10. Pick a flat weave for an authentic look
Flat weave rugs - often referred to as kilims - are tapestry weaves that have been found to date back to the fourth century. Flat weaves are made by interweaving warp and weft strands, creating an identical design on both sides. These rugs are lightweight and often reversable. The ultra- thin profile makes flat weaves popular for kitchens and conservatories.
11. Use natural materials – but pick the right one
Rugs are available in numerous materials, and there are pros and cons for all. When looking at how to choose the right rug, consider which material is best suited to the room you're shopping for.
Wool: Wool rugs are hardwearing and durable, insulate heat and have a premium feel, making them ideal for hallways, living rooms and dining rooms. Poor in rooms prone to damp and humidity, wool rugs should be avoided in bathrooms and kitchens.
Silk: Silk rugs are extremely soft and have tear resistant, luxury fibres to add sheen. Silk is generally more expensive than alternative materials and can be difficult to clean, but if it's luxury you're after, silk rugs are a great addition to living rooms and bedrooms.
Leather: Leather rugs are soft and durable, very easy to clean and often stain resistant, although cannot be used in humid or damp environments. If you're looking for a unique piece, a leather rug could make a real statement in a living room or home office space.
Sheepskin: Naturally, sheepskin rugs are incredibly fluffy, warm and soft underfoot, making them perfect for bedrooms and some living rooms. Being 100 per cent natural, professional dry cleaning is recommend.
Cotton: Cotton rugs are strong, stable and have soft fibres, meaning they will work well in almost any room of the house, including kitchens and dining rooms. Cotton rugs do have a tendency to become felted over time and can attract dirt easily – but don't let this put you off as they are generally easy to wash.
12. Source synthetic materials for durability
Chenille: Chenille rugs are available in natural cottons, as well as synthetic materials. Chenille is a thick, heavy material with a luxurious pile, perfect for living rooms – although should be avoided in high traffic areas.
Synthetics: Synthetics rugs a good, durable all-rounders; they're inexpensive, easy to clean and are generally fade and stain resistant. As a whole, synthetic rugs don't have the same quality and feel and natural materials, but they are suitable for every room of the house.
Polypropylene: Polypropylene is the most stain resistant option, as well as being fade resistant and extremely durable, making the material a popular choice for rugs in dining rooms, living rooms, bedrooms and hallways. Although a great all-rounder, polypropylene fibres do tend to get matted and crushed over time.
Viscose: Viscose rugs have many similarities to silk rugs, but at a fraction of the price. Soft to touch with a silk-like feels and sophisticated sheen, viscose rugs work well in living rooms and bedrooms but should be avoided in any high traffic areas and rooms susceptible to water and moisture.
13. Pick plant-based materials for eco-friendliness
Sisal: Sisal rugs and mats are a practical choice for anywhere in the home, making them a popular choice for kitchens, hallways and conservatories. Sisal is grown in plant form in South America and Africa and is anti-static with a slightly coarse texture. Although easy to maintain, sisal can be difficult to clean.
Jute: Jute rugs are made from jute plants, grown in Asia and are a popular pick for kitchens, utility areas and conservatories. Although softer to touch than sisal, jute is slightly less durable and therefore not a great option for high footfall areas of the house.
14. Choose colors to suit your scheme
A rug is one of the easiest and quickest ways to inject a large expanse of color into the home. There's no time-consuming painting or decorating, just pop it on the floor for an instantly refreshed room. Rugs come in every color imaginable, so choose as much or as little colour as you feel comfortable with – anything from a classic grey to a vibrant rainbow.
If you're looking for a soft tone, powder pink and baby blue rugs are becoming increasingly popular. These colors are a perfect for a spring or summer update, especially for shaggy rugs or those that have a bit of sparkle weaved through.
At The Rug Seller, we're also seeing homeowners getting more daring with how they use color in the home. Either with surprising combinations or introducing vivid tones that bring richness and depth to rooms.
15. Pick out patterns that complement the room
Pattern is similarly experimental with many homeowners mixing and matching patterns within a room scheme. Extroverts and more established color-fans love the eclectic and flamboyant look.
Throw out the rule book by mixing stripes, florals, checks, geometrics; in fact, any pattern, in any scale can be combined. As with color, adding a patterned rug is a great way to refresh a room, without committing a new design to the whole space.
If you're looking to make a statement in any room, forget your usual boundaries and choose a fun rug that evokes a smile. Geometric and art abstract prints are set to be a hot trend this year with more and more designs becoming available, including The Rug Seller's La Reve Multicolour collection.
Remember, patterns don't have to be bold and bright, a simple pattern get add a touch of elegance to a room. As more and more people look to incorporate mindfulness into their homes, we're seeing an increase in 'wellness' as a choice interior trend. With wellness, pattern is subtle, clean and soft, mixing neutral greys and earthy tones and off-whites with pastel shades. The Rug Seller's Boho Scandi Afella Shaggy Rug is the perfect choice for a subtle pattern in neutral tones.
16. Find a rug for outdoors
The popularity of outdoor rugs is all part of an overall trend where people are increasingly treating their outdoor spaces with the same consideration as their interiors. Used to extend living space beyond the house, rugs allow homeowners to get cosy and creative outdoors. Outdoor rugs are also quite practical – bringing less dirt indoors from underfoot and covering 'less than perfect' grass.
Advances in the materials used and construction of outdoor rugs means they're very long-lasting and can easily withstand whatever the Great British weather throws at them. But they will need to be properly cared for to stop a build-up of mud and mildew to extend their life.
Often outdoor rugs are manufactured from weatherproof material, some being completely waterproof. Polypropylene is a popular manmade fibre that's often used for outdoor products because it's affordable, durable and easy to clean.
17. Find the right rug shape
From round rugs to hall runners with a patchwork layout, choose a shape that creates impact. When thinking about how to choose the right rug, consider the flow of the room and how the space should be filled.
18. Check for ease of cleaning
Rugs are a brilliant addition to homes, protecting flooring, providing comfort and bringing color and cosiness to rooms – but they can be magnets for dust and dirt. It's vital to clean rugs regularly to prevent a build-up of microbes, so don't just rely on an annual spring clean.
Without regular cleaning, dirt, mould spores and pollen particles can collect in rug fibres, as well as dust mites (microscopic creatures that can worsen allergic symptoms). Certain types of rugs will stand up to stains better than others. Man-made fibres are more repellent to stains. Nylon rugs can be steam cleaned. There are also water resistant and wipe-clean rugs.
Rugs can be cleaned quickly and easily, but if you're looking for a low maintenance option, The Rug Seller's range of Buddy rugs are colour fast, machine washable and quick drying.
19. Pick a pet-friendly rug
Pets love rugs, but rugs don't always love pets. Animal hair, chewing, scratching and other little 'accidents' can ruin a rug, but there are steps to take to reduce damage from furry friends. Choose a rug that's suitable for animal owners. Dogs love to dig in a high pile rug so short pile rugs are preferable (and easier to clean).
If you have pets, remember dark colours will hide stains and scratches. Consider a deep clean once a year, this will help to rid rugs of deep stains and bacteria that have worked their way too far into the rug to be removed with a vacuum or other regular cleaning.
20. Ensure the rug is slip-proof
Any how to choose the right rug guide wouldn't be complete without considering the surface you're planning to lay the rug on. Rugs can slide on smooth surfaces such as wood, tiles and vinyl, and the pile of carpets can also cause travelling – all potential hazard in the home.
Anti-slip underlay can prevent any slipping problems, whilst also acting as a shock absorber, which will reduce wear on the rug. Underlays are very simple to lay, can easily be cut to size and are often machine washable.