Prabal Gurung spotlights artisans across the world in his latest Etsy collaboration
The latest Prabal Gurung home goods collection features everything from planters to pillows and is available at Etsy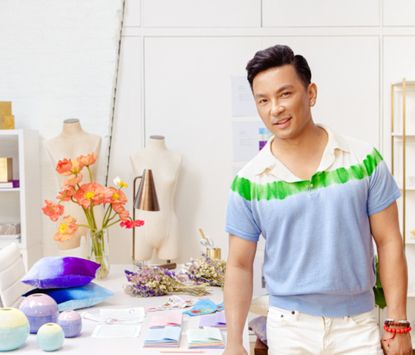 (Image credit: Etsy)
Prabal Gurung has exquisite taste. The Nepal-born designer has dressed some of the world's most powerful women – from Michelle Obama to Vice President Kamal Harris – and while his stunning silhouette speaks for themselves, Gurung has never been short of words of the obstacles minorities face.
Since the early aughts, he has called for diversity and inclusion within the fashion industry – most recently penning an op-ed for CNN earlier this month regarding the anti-Asian sentiment happening across the United States.
Now, he has teamed up with Etsy to release a home decor line, tapping into the secret sauce of advocacy and design to co-create one-of-a-kind pieces from a global group of sellers.
'Our world is stronger when it's colorful – literally and metaphorically,' says Gurung, and every piece in this line is representative of that.
It includes everything from the best candles to the chicest ceramics – take a look below at our top suggestions from the Prabal Gurung Creator Collab (opens in new tab).
1. Start with this bold ombré blue pillow
Prabal Gurung Creator Collab, Velvet Pillow (opens in new tab) starting at $131, at Etsy
An opulent, soft hand-painted silk/viscose velvet cushion cover (opens in new tab) in an ombre pale delphinium blue to deep midnight blue. So tactile and soft to the touch, you'll want to snuggle up to this cushion all day, every day.
2. Keep tableware timeless with this chic ceramic choice
Prabal Gurung Creator Collab - Stronger in Color Tableware (opens in new tab) starting at $70, at Etsy
Prabal Gurung knows we're stronger in color, so what better way to furnish your tablescapes than with these gorgeous green ceramic choices (opens in new tab). Designed with vibrant green brushed texture, with true gold rim, shoppers can select from bowls, mugs, and plates.
3. Or go for a more elaborate ensemble
Prabal Gurung Creator Collab - Graffiti Rose Hand Painted Tableware with Gold Accent (opens in new tab) starting at $85, at Etsy
With a lively spring floral design and sparkling gold accent, each piece (opens in new tab) starts with a ball of raw porcelain, which is thrown on a potter's wheel, individually hand-painted, and dipped in a clear durable glaze and fired to 2,000 + °F. They are finally accented with a truly rich gold luster in a third firing.
4. Showcase candlers with this haute holder
5. Showcase plants with this perfectly printed pot
6. Elevate your home office by adding this personal touch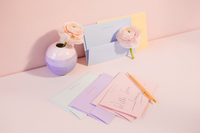 (opens in new tab)
7. Top off tablescapes with this dreamy detail
Brittany Romano wrote for Homes & Gardens as a U.S. Shopping Editor. A graduate of New England College, Brittany started her career as a freelance fashion market assistant at Marie Claire. She later joined AMI, where she designed a highly profitable commerce vertical. Noted for her award-winning content, she's covered everything from celebrity beauty hacks to the most lavish home decor.