7 geometric furniture designs from Sofa.com to bring this modern trend to your home
Go big, go bold with shape-shifting geometric designs – think angular designs that celebrate simplicity and modernity at its finest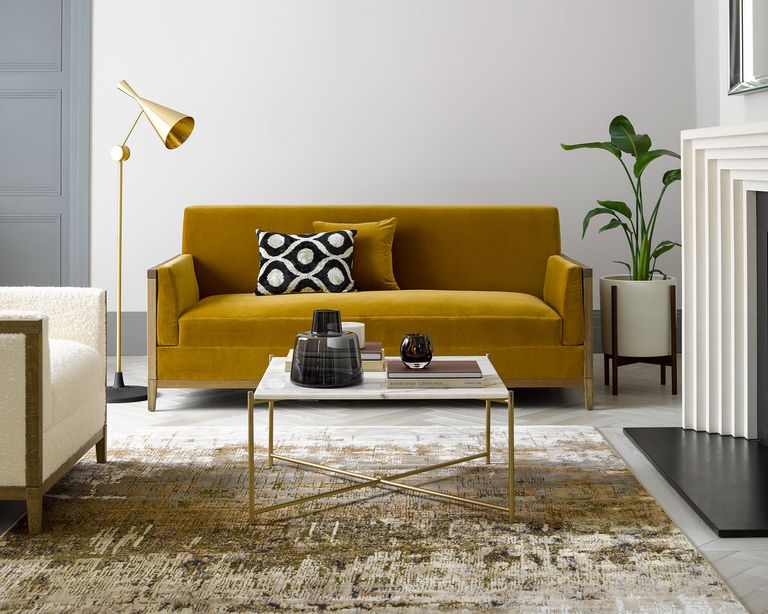 (Image credit: SS22 Chester 2.5 seat sofa in Nefertiti Cotton Matt Velvet, £1,490, Chester Armchair in Alpaca Textured Boucle, £920, Taylor Table, £590, Sofa.com)
With simplicity and geometric detailing at the centre of their latest launch, Sofa.com's highly-anticipated range of geometric furniture designs are all about sleek silhouettes and strong, angular shapes.
Launched into prominence throughout western schemes in the roaring 1920s, geometric designs lent themselves to the bold, angularity of Art Deco design. Across their latest range, Sofa.com introduces a selection of luxurious designs with striking formations to their vast collection, for those looking to simulate the influential geometric trend in their own homes.
We took a look at Sofa.com's (opens in new tab) range, and discovered a wealth of angular furniture inspiration for all areas of your home to create a luxurious, welcoming and indulgent interior, from mid-century sofas to angular coffee tables. Find out how to bring the geometric furniture trend into your own home with the help of Sofa.com's beautifully handcrafted collection.
1. Introduce curvaceous design
Not since Eileen Gray, Le Corbusier and Marcel Breuer has there been a greater fascination with the simplicity and possibilities of this cylindrical form. With the emphasis today on the living room as a family space, used for socialising and relaxing, regimented rows of units and clinical design can look a little stark. The answer? Curves. The circular Electra Coffee Table (opens in new tab) with open storage – a must-have for family life – will lift the layout and soften the overall look of your room, adding a bold design focus or a subtle touch of shaping to your décor.
2. Sink into stylish seating
Getting the sofa right in a living room is one of the biggest challenges in design. What sofa you choose needs to be stylish and contribute to the personality and harmony of the space.
A modern twist on a classic shape, the Chester sofa (opens in new tab) is unrivalled in style and substance. Angular design and mid-century style schemes are without a doubt two of the biggest sofa trends we're seeing for 2022. From basic shapes like triangles to more complex patterns, geometric designs add symmetrical simplicity to any room.
The beauty of simple, geometric designs mean they are perfect for embracing bold colours in your home. The clean lines of the Chester sofa will undoubtedly look striking in bright colourways, just like it's shown in Nefertiti cotton matt velvet, also new for SS22.
Like Scandinavian design, the main purpose of mid-century modern style is to improve daily life. Furniture is therefore not only about stylish elegance, but also about functionality – it should be durable and serve a purple. The beechwood frame is guaranteed for life, so this truly is a piece of furniture that will stand the test of time.
3. Store in style
As we cast our minds backwards for the sense of comfort and assurance that familiarity brings, for 2022, we'll also be breathing new life into mid-century pieces and translating them into the 21st-century aesthetic. This is where the Sorrento and Amalfi Chest of Drawers come into focus.
Although mid-century style was driven by advances in technology, it was also inspired by the natural world, and wood is the most widely used material for furniture. Sofa.com's Sorrento (opens in new tab) design echoes the sentiments of a classic mid-century chest of drawers – a piece to house personal treasures – and modernised it with a mirrored flip up top that can be folded away at a moment's notice.
While your bedroom might not be on show to visitors as often as other rooms, making sure you keep the clutter in check will ensure a relaxing environment for unwinding at the end of the day.
4. Sit back and relax
Rocking chairs are having a comeback, and these new fashion-forward pieces will make you crave a rocker of your own. Designed with comfort and style in mind, Sofa.com's charming Phoenix Rocking Chair (opens in new tab) beautifully re-imagines an age-old concept for modern living.
This stylish seating will provide a comfortable retreat for weary feet, an indulgent vantage point for television viewing pleasure – and a relaxed hotspot for sociable sharing and informal entertaining.
Available in 98 fantastic colour options, the Phoenix Rocking Chair can be styled to suit any space. For a cosy yet contemporary aesthetic, be sure to style your chair with a blanket or cushion in a contrasting colourway.
5. Work in sumptuous seating
Sculptural and curvaceous design is making a comeback, and it is about time, too. Versatile and adaptable, curves work in any type of living room, traditional or contemporary. And with its boutique feel, who could resist the undisputed elegance of the Edie Armchair (opens in new tab)?
Think about symmetry when styling your seating, too. Symmetry in interior design is introduced to create balance and a feeling of calm – ideal for enhancing a space in a mid-century modern living room. If the architecture of your home is strong and distinctive, a symmetrical layout will ensure that your scheme remains stylish yet cosy.
And let's not forget about the indulgent fabric that is velvet. There is a depth and richness that only velvet can bring, keeping it safe from the vagaries of fashion and ensuring its role as a staple of elegant interior design.
When styling the Edie Armchair, play around with design ideas – patterned cushions look stunning with acid bright piping or choose a plain with a clashing back. Whichever combination you choose, we guarantee that this velvet piece will offer a truly tactile experience.
6. Make your home office supremely chic
It can be easy to think of functionality first when assessing a desk for your home office. But while a desk must be ergonomic, it should satisfy your sense of style in the same way as every other piece of furniture in your home.
When contemplating a home office scheme, function – such as furniture and storage – must be central to your design, but does not have to be visually dominant. Choosing an eye-catching focus, such as this statement Hans Desk (opens in new tab), which can also double up as a console table once the laptop and notebook have been neatly hidden away, will distract from the room's purpose and make it feel as considered as a living space.
Designed with abstract angles, a monochromatic finish and a triangular corner unit to boost storage potential, the Hans Desk is a statement all on its own. After all, what you create at your desk is a work of art, so why shouldn't your desk stand out too?
7. Go for a modular masterpiece
Coffee tables are the finishing touch of a living room. Often the last piece of furniture to be bought – after seating and storage – coffee tables are often, even unintentionally, the focal point of a living room, so getting the perfect one is a must.
Introduce a timeless design-led piece to your lounge with Sofa.com's Astaire Coffee Table Set (opens in new tab), which can be beautifully personalised with your favourite wood, leather and fabric options.
This clever design also separates out into two geometric coffee tables and a slender oak table top, allowing for greater flexibility for your living space – perfect for modern life. Pair it with the Chester sofa, finished in an Ochre or Butterscotch, to add extra warmth to the heart of your living space.
To bring the geometric trend into your home, discover simplistic and beautifully handcrafted furniture designs for every interior at Sofa.com (opens in new tab). Simply choose a style, select your size and pick from their wide range of exquisite fabrics to create something that's truly fabulous. Your piece will then be handcrafted especially for you and delivered to your door by their friendly delivery team within 5-7 weeks.
As the UK's first-ever home interest magazine, Homes & Gardens has been shaping British style for 100 years. Our core pillars are inspirational interiors, stylish decorating, beautiful gardens and fascinating stories. With the values of timeless style and considered elegance at our heart, we show an affection for heritage whilst also championing the future, from emerging designers to latest trends. The Homes & Gardens website brings all our beautiful content online, with a focus on stunning room ideas, expert advice from interior designers, architects and design professionals, and more practical expertise, too, on caring for and improving your home. Our website is updated and added to daily and we're delighted to welcome more than 6 million readers monthly. Of course, we've assembled a cracking team of experts in their fields to deliver all this stunning inspiration to you, and we'd love to introduce them. Their contact details are below, too.