Subscribe to Period Living magazine – and make a saving every month
Save on a subscription to Period Living, and enjoy a monthly dose of beautiful homes and gardens, decorating inspiration, expert restoration advice and much more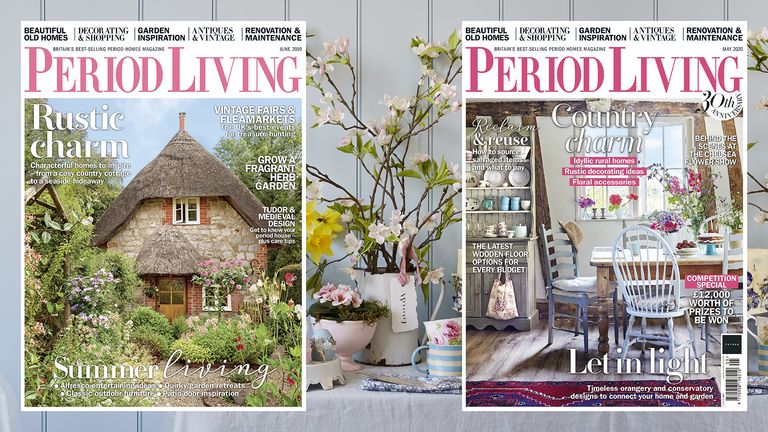 (Image credit: Period Living)
Period Living is Britain's best-selling period homes magazine, and is an essential read whether you live in an old house or just love interiors full of vintage charm.
Subscribing to Period Living means you'll never miss an issue, as we'll deliver it straight to your door every month. We ship internationally, so you can enjoy the magazine wherever you are in the world.
Each month, the magazine is packed with inspiration and advice for your home and garden, providing all you need to know about decorating, maintaining and improving an older property, as well as features on antiques and vintage, heritage days out and crafts.
Why subscribe to Period Living?
From characterful Tudor cottages to elegant Georgian townhouses and charming Victorian farmhouses, Period Living offers the most delightful selection of homes, inspiring you with new ideas and design solutions for your own property.
It shares the very best brands to help you decorate and furnish your house, alongside the work of many independent businesses and designer-makers.
Every period home deserves a beautiful garden, so the magazine offers expert planting solutions and glorious garden case studies.
You will also discover trustworthy advice on home renovation, as well as maintenance and restoration of original features.
That's in addition to advice on buying antiques, craft ideas, fascinating special features, heritage days out, nostalgic recipes and much more.
Taking out a subscription to Period Living is the best way to ensure you don't miss out on any of this unique content.
The magazine also makes a great gift, so why not treat someone special to their own subscription?
Enjoy a preview of a recent issue below:
Image 1 of 18
Image 1 of 18
Image 2 of 18
Image 3 of 18
Image 4 of 18
Image 5 of 18
Image 6 of 18
Image 7 of 18
Image 8 of 18
Image 9 of 18
Image 10 of 18
Image 11 of 18
Image 12 of 18
Image 13 of 18
Image 14 of 18
Image 15 of 18
Image 16 of 18
Image 17 of 18
Image 18 of 18
As editor of Period Living, Britain's best-selling period homes magazine, I love the charm of older properties. I live in a rural village just outside the Cotswolds, so am lucky to be surrounded by beautiful homes and countryside, where I enjoy exploring. I am passionate about characterful interiors and heritage-inspired designs, but I am equally fascinated by a house's architectural elements – if I spot an elegant original sash window or intricate stained-glass front door, it fills my heart with joy. It's so important to me that original features are maintained and preserved for future generations to enjoy. My other passion is my garden, and I am slowly building up my planting knowledge, and becoming more confident at experimenting with growing my own. As well as editing Period Living, I am also co-editing the Country Channel of Homes & Gardens. In my previous roles, I have worked on Real Homes and Homebuilding & Renovating, wiriting about modern design and architecture, so my experience is broad – but my heart belongs to period homes.