Cook smarter with the latest range cooker technology from Stoves
Promotional feature with Stoves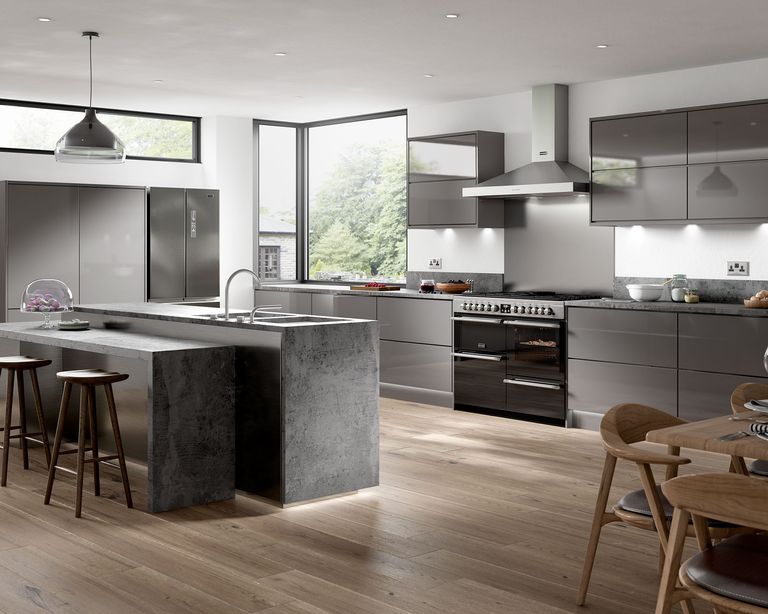 (Image credit: Stoves)
If you are planning a smart, new kitchen, or are on a mission to impress your friends and family by taking your culinary skills to the next level, you need the right tools for the job – and a new, modern range cooker from Stoves should be at the top of your wish list.
With over 100 years at the forefront of British kitchen engineering and innovation, Stoves sets a high standard, and you can see that in the design and performance of the Stoves Deluxe range.
Stoves has 900mm, 1000mm and 1100mm models that come with splashbacks and hoods to match. For smaller kitchens, the 550mm and 600mm cookers are ideal for getting the look of a range, but are space-efficient.
Stoves range cookers are incredibly versatile and deliver unbeatable results. From dishes for amateur cooks to gourmet chef-style meals, the ovens will cook any meal to perfection – easily, safely, and quickly.
Quad Oven with Proflex Splitter™
This clever element converts the Tall Titan Oven into two separate Equiflow™ fan ovens. A genius solution, the Proflex™ Splitter allows you to effectively cook with four ovens.
Enjoy clever tech with Stoves Umbra Glass™
Ticking both boxes when it comes to style and functionality, Stoves Umbra Glass™ is black when the oven is off – perfect for a sleek, smart kitchen look – then transparent when cooking, meaning you can keep an eye on your baking without opening the door.
'We share the cooking in my family, which means we often have a few different dishes on the go at one time,' says Homes & Gardens' Editor-in-Chief Lucy Searle. 'It's very useful to be able to see how everyone's meals are progressing, without continuously opening the oven doors.'
Make meals quickly with Stoves Steam & Infuse™
Not only does steaming your food from the inside out optimise the taste and texture of your food, steam cooking has another big plus point for busy families: steam can cook food up to 20% faster, so you can get meals served up in no time.
'We are a very time-poor family,' Lucy says. 'With the Steam & Infuse oven, we can speed up cooking time, which is very useful.'
Cook to the max with the Quad Oven™
The Quad™ Oven has everything you need. Its four oven cavities – the Maxi-Grill™ conventional oven; a multifunction oven with 11 different cooking functions; the Equiflow™ fan oven, and an electric slow cook oven – offer maximum versatility and high performance. Available from AO.com, Wren Kitchens, John Lewis & Partners, and other premium independent retailers.
Discover more at stoves.co.uk (opens in new tab)
As the UK's first-ever home interest magazine, Homes & Gardens has been shaping British style for 100 years. Our core pillars are inspirational interiors, stylish decorating, beautiful gardens and fascinating stories. With the values of timeless style and considered elegance at our heart, we show an affection for heritage whilst also championing the future, from emerging designers to latest trends. The Homes & Gardens website brings all our beautiful content online, with a focus on stunning room ideas, expert advice from interior designers, architects and design professionals, and more practical expertise, too, on caring for and improving your home. Our website is updated and added to daily and we're delighted to welcome more than 6 million readers monthly. Of course, we've assembled a cracking team of experts in their fields to deliver all this stunning inspiration to you, and we'd love to introduce them. Their contact details are below, too.