Homes & Gardens presents: Wake up with... Daphne Oz
Master your morning routine the Daphne Oz way – with a kick of caffeine, focused fitness and cool confidence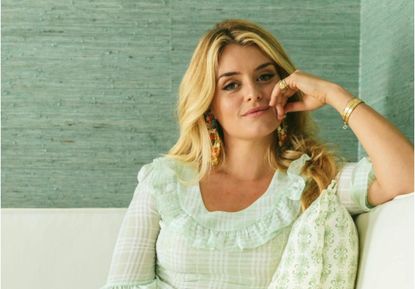 (Image credit: Joda Group)
Daphne Oz is an Emmy award-winning television host, New York Times best-selling author, and co-owner of Loum Beauty. Despite all the success of the multi-hyphenate, one word sums up her personality best: relatable.
That was especially evident during our recent phone call when she shared her morning routine for our fourth installment of 'Wake up with...'. Even with some noisy neighbors and a bit of construction, our conversation quickly had a friendly feel.
Coming from a large Turkish family herself, Daphne instantly related to my larger-than-life Italian family. She enthusiastically embraced every topic of discussion with the same warm and friendly candor she's best known for.
Whether she's inspiring Instagram-worthy indulgences or motivating fans to work out (on the best exercise bikes) – Daphne is a vehicle for inspiration.
See: Wake Up With... — bookmark this page to see how more famous faces start their morning routines.
Shop Daphne Oz's Morning Essentials
Daphne Oz has spent her career focusing on 'figuring out the best ways to achieve and enjoy wellness,' so when she found out that she teamed up with Weight Watchers Re-imagined as their newest ambassador – there couldn't have been a better match.
As a busy mom-of-four, Daphne's purpose is to 'feel great inside and out – without adding stress to her life,' and the easiest way to go do that? 'Good food,' which also happens to be one of her go-tos.
Don't believe us? Check out her morning essentials that master her mornings – without sacrificing flavor.
1. A chic coffee maker
2. These personalized packs
Shop Daphne Oz's skincare saviors
Beauty
Want more Daphne Oz? Check out her best-selling books below:
Brittany Romano wrote for Homes & Gardens as a U.S. Shopping Editor. A graduate of New England College, Brittany started her career as a freelance fashion market assistant at Marie Claire. She later joined AMI, where she designed a highly profitable commerce vertical. Noted for her award-winning content, she's covered everything from celebrity beauty hacks to the most lavish home decor.