Cuisinart Custom 14-Cup Food Processor review: ideal for large meals
While not for everyone, the Cuisinart Custom 14-Cup Food Processor is ideal for large-batch processing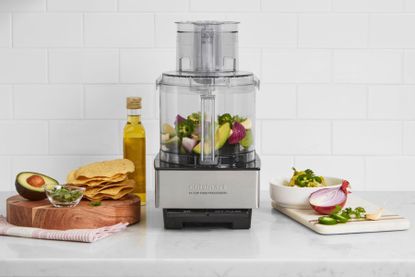 (Image credit: Cuisinart)
Designed for large meals and heavy-duty use, the Cuisinart Custom 14-Cup Food Processor won't shy away from any tasks, but may be a bit too bulky for some kitchens
Reasons to buy
+

Heavy-duty design

+

Large capacity work bowl

+

Extremely powerful

+

Dual-size feed tube

+

Easy to operate

+

Easy to clean
Reasons to avoid
-

Heavy

-

Smudges easily

-

Higher price than some
If you've ever lamented that your food processor bowl was too small to accommodate a recipe, you'll understand the appeal of the Cuisinart Custom 14 14-Cup Food Processor. The most common food processor capacities are 8 and 10 cups, but this high-end model from Cuisinart is significantly larger, holding up to 14 cups of ingredients in its bowl. Not to mention that it's powered by a 720-watt motor, which makes quick work of even the toughest nuts and vegetables.
The Cuisinart Food Processor is more expensive than many other models, but it has a heavy-duty design that's ideal for large-batch recipes. If you're making salsa for a crowd or even processing cheesecake batter, this appliance is up to the task, but is its bulky, oversized form too much for your average kitchen? We wanted to see how it stacks up against other popular food processors, so I tested it against the Nutribullet 7-Cup Food Processor and Ninja Professional 9-Cup Food Processor to see whether it was worth the splurge.
During several weeks of testing, I used the food processors to make everything from pesto and energy balls to banana ice cream and sliced vegetables. The Cuisinart certainly blows away the competition when it comes to capacity and sheer power, but at the end of the day, this appliance isn't right for everyone.
Cuisinart Custom 14-Cup Food Processor: specs
Power: 720W
Capacity: 14 cups
Size: 7.9 x 11 x 14.8 inches
Weight: 17.3 lbs.
Included: Stainless steel standard slicing disc (4mm), medium shredding disc, chopping/mixing blade, detachable disc stem, spatula, instruction/recipe book
Unboxing
The Cuisinart 14-Cup Food Processor was packed with a combination of styrofoam, cardboard, and plastic wrapping, and despite the appliance's large size, the box was fairly compact.
The thing that stood out to me the most as I unboxed this food processor was its weight. It's significantly heavier than both the other models I tested, weighing in at around 17 pounds. The base is quite substantial, and I imagine someone like my mother, who is disabled, would have trouble moving this appliance around the kitchen and in/out of storage.
Making pesto
The first recipe I made using the Cuisinart Food Processor was good old pesto, and I actually used a recipe from the appliance's manual. (I've found Cuisinart recipes to be quite good in the past.) I cut the recipe in half simply because I didn't have enough basil for a full batch, and I didn't need that much of the sauce anyway.
After adding in the first few ingredients, including pine nuts, garlic, and grated cheese, I realized just how massive the work bowl is. The contents barely covered the bottom of the bowl! The blade still managed to chop everything up just fine, and I liked how easy it is to press the paddle-style buttons on the front of the base. This food processor only has one speed and a pulse button, and these functions made it extremely easy to operate.
Even after I added in 2 cups of tightly packed basil and the olive oil, the quantity of pesto still looked measly in the 14-cup bowl. Despite my small batch, the food processor did a perfect job chopping everything into uniform pieces, and I was able to easily remove the blade to scoop the pesto out. The spatula that comes with the food processor proved to be extremely handy, as it has a sharp corner on one side that's ideal for cleaning out the corners of the bowl.
Making energy bites
I frequently use my food processor to make energy bites, so that was the next recipe I tackled using the Cuisinart Food Processor. Again, the bowl was larger than necessary for the roughly 3 cups of ingredients, which included oats, coconut flakes, peanut butter, honey, and chocolate chips. I could easily double the recipe with space to spare.
The serrated chopping blade made quick work of my energy bites, getting the ingredients to the perfect crumbly consistency after just a minute of operation. However, one thing I did notice while making this recipe is that the paddle-style buttons are easy to accidentally press as you're working around the appliance. At one point, I pushed the pulse button when putting down a measuring cup, but the good news is that if the chute is open or the lid is off, the machine won't start. Points for safety!
After I added and processed all the ingredients, I took the blade out to scoop the dough into balls. Only then did I realize the consistency was still too dry and I needed to add more peanut butter. Usually it's challenging to get a food processor blade back into the bowl once you've removed it, but I was actually able to get the blade back in fairly easily to process the additional ingredients. This was likely because the bowl wasn't filled to the top with ingredients, but it was convenient nonetheless.
Slicing and spiralizing vegetables
Another common use for food processors is shredding or slicing vegetables, so I decided to use the Cuisinart to prep vegetables for my salad. While most food processors have reversible discs with shredding on one side and slicing on the other, this model actually has separate discs for each function. It's not necessarily a big deal, but in my mind, extra accessories just means more pieces I have to store.
To set up either one of the discs, you have to attach it to the "disc stem," which serves as the central spoke inside the work bowl. The disc twists onto the stem easily, and from there, it's just a matter of putting the stem onto the motor head. I really like that this food processor has a smaller feed tube inside the larger chute—it's the perfect size to accommodate a skinny vegetable like a carrot, and it makes it easy to feed the vegetable in straight.
Both the shredding and slicing attachments chewed through a full-length carrot in a matter of seconds, leaving my veggies prepped and ready to go. I do wish the appliance came with a disc that made thin slices, though—the brand sells additional discs that you can use with this appliance, but they're surprisingly expensive at $40 or $50 apiece.
My only other note regarding the slicing and shredding discs is that they're somewhat tricky to get out of the food processor. Other models I've used had finger holes that allow you to safely grasp the disc, but for this appliance, the instructions say to "Place two fingers under each side of the disc and lift it straight up"—easier said than done. It took me a little finagling to get the discs out, but I'm sure I'd get used to it eventually.
Making lemon bars in the Cuisinart Custom 14-Cup Food Processor
The final recipe I made with this food processor was a batch of tasty lemon bars. The crust of this recipe, which includes flour, lemon zest, toasted almonds, and butter, is made in a food processor, which saves you the hassle of cutting in the cold butter by hand. After pulsing the dry ingredients a few times to mix them up and chop the nuts, I added in a stick and a half of cold butter cubes. I pulsed a few times, then pressed the "on" paddle to let the machine run for a minute.
Within 30 seconds or so, the dough had reached that perfectly crumbly stage, and it was ready to be pressed into the baking pan. This process probably would have taken me several minutes working with a manual pastry cutter, but it was quick and painless to do in the food processor.
Cleaning
I don't enjoy washing dishes by hand, so I was happy to find that Cuisinart actually recommends putting the detachable pieces of this food processor into the dishwasher. Everything came out of the wash cycle looking as good as new, but I will note that the stainless steel base does get fingerprint smudges quite easily. Luckily, they're easy enough to buff out if it bothers you.
When it's time to store this appliance, the brand says never put the blade or discs on the motor shaft—likely a safety precaution. I did find that both discs and the blade can be stashed inside the work bowl, which makes it easy to keep everything together, and I opted to simply keep the bowl off the base to heed the brand's recommendations.
Should you buy the Cuisinart Custom 14-Cup Food Processor?
While it's a well-made and easy-to-use machine, the Cuisinart Custom 14 14-Cup Food Processor definitely isn't for everyone. First of all, it's extremely expensive, retailing for $250, and its 14-cup capacity was larger than necessary for all the recipes I made in it.
However, I can see this appliance being useful for someone who frequently does big-batch cooking. If you regularly double or triple the size of recipes to accommodate a large family or frequent hosting, the extra-large size of this appliance may be worth the splurge.
About this review, and the reviewer
Camryn Rabideau is a freelance writer and product reviewer who has been testing small kitchen appliances (as well as other home goods) for several years. She's tested everything from toasters to oil infusion machines, and as an avid baker, she loves trying out any gadgets that promise to make her creations more delicious or easier to bake.
Camryn does her product testing from her small homestead in beautiful Rhode Island. When she's not tinkering around with the latest home gadgets, she spends her time tending to her animals, working in her garden, or crafting.
Contributing Reviews Editor
Camryn Rabideau is a writer and product reviewer specializing in home, kitchen, and pet products. In her five years as a product tester, she's tested hundreds of items first-hand, including many, many kitchen appliances for Homes & Gardens. Camryn does her product testing from her small homestead in beautiful Rhode Island.