Instant Vortex VersaZone air fryer review: can this clever air fryer really do it all?
The Instant Vortex VersaZone can function as a dual-zone air fryer, as well as one large cooking drawer. But does it work?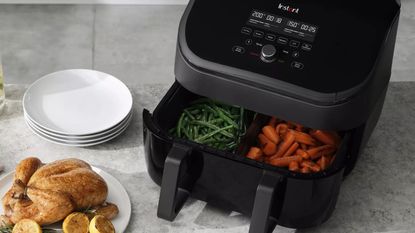 (Image credit: Future / Millie Fender)
The lastest innovation from Instant is VersaZone, a removable inner section that can turn your air fryer into a dual-zone cooker. The Instant Vortex VersaZone exceeded expectations, and while it's one of the more expensive air fryers you can buy, our Reviews Editor thinks it's a perfect choice for families.
Reasons to buy
+

Simple controls

+

Double the options

+

Can cook large cuts of meat in one

+

Easy to clean

+

Heat isolation exceeds expectations
Reasons to avoid
-

Not the most energy-efficient option

-

Cooking is a bit slower than usual

-

Takes up a lot of counter space
You can trust Homes & Gardens. Our expert reviewers spend hours testing and comparing the latest products, helping you choose the best for you. Find out more about how we test.
Sign up to the Homes & Gardens newsletter
Decor Ideas. Project Inspiration. Expert Advice. Delivered to your inbox.
Thank you for signing up to Homes & Gardens. You will receive a verification email shortly.
There was a problem. Please refresh the page and try again.
Featuring Instant's latest innovation, the Instant Vortex VersaZone has the potential to be the air fryer that really does it all. Many of those on the search for the best air fryer end up option for a dual zone, which offers the chance to cook different foods at different temperatures simultaneously. However, when you opt for a dual zone, you're limited with the size of the dishes you can place in each cooking section.
To give buyers the flexibility to cook large meals in a regular air fryer without missing out on dual-zone technology, the Instant Vortex VersaZone has created a removable middle section and two separately controlled heating elements to give users even more options. With a total capacity of 9 quarts, this air fryer could genuinely replace your oven. But because you can control this in 4.5-quart sections, you don't have to fire up the whole air fryer if you're cooking a meal for one or a side dish. If you're looking for an air fryer upgrade, this could be perfect.
I tested the Instant Vortex VersaZone for a month in my own kitchen, and while it's a little noisier and slower than my all-time favorite air fryer (also an Instant model), it might just be the ideal air fryer for a family home.
Instant Vortex VersaZone specifications
Swipe to scroll horizontally
| | |
| --- | --- |
| Capacity: | 9 quart |
| Cooking modes | Air fry, roast, broil, bake, reheat, and dehydrate |
| Temperature: | 95-450°F |
| Size: | 17.4 x 17.4 x 14.9 inches |
| Weight: | 19 pounds |
| Cleaning: | Nonstick tray and basket, dishwasher-safe inserts |
First impressions of the Instant Vortex VersaZone
The Instant Vortex VersaZone is well-packaged. The packaging was largely polystyrene which was a bit disappointing as it's less environmentally-friendly. My first impression was that this is a hefty but attractive air fryer, and then I noticed a scratch over the front of the control panel. I wasn't sure how this had happened as the fryer was well-protected in shipping, but when speaking to brand reps I was assured that this flaw is covered by Instant's warranty as the product arrived damaged.
To control this air fryer you need to double-tap the central button, which toggles between single and dual-drawer controls. The remaining controls are touch-enabled, meaning you can opt for your setting of choice and then tap on time or temperature buttons to adjust using the rolling dial.
One thing I struggled to wrap my head around is that there are two handles on the generous 9-quart drawer. It's quite unwieldy, and if you're someone who prefers to tip their food onto the plate, you'll struggle to do that with the Instant Vortex VersaZone. Best to use kitchen tongs, which creates a little more washing up.
What the Instant Vortex VersaZone is like to use
What the Instant Vortex VersaZone is like to use
A reader requested that I review this product. They wanted to know if there was any heat leakage when cooking on the single-drawer mode, so I decided to put it to the test. I cooked a selection of chicken nuggets in one side, and while I didn't turn the other side on, I put a chicken nugget in the other side to see if it would cook.
After 20 minutes of cooking at a medium-high temperature, my nuggets were well-cooked, if a little less crisp than what I'd usually expect from my go-to air fryer, the Instant Vortex 6-in-1. As for the nugget I'd placed in the side I wasn't using, it had thawed from frozen but was not hot to touch. The insert underneath it and the divider were both very hot, and I suspect that the heat did 'leak' into the side I wasn't using, which is why it took my nuggets a little longer to crisp up.
During day-to-day use, I did notice that I had to turn the timer up a little when cooking on a single-drawer. It's not the most energy-efficient, but then, it's a lot more efficient than cooking a meal for one in a really large cooking drawer, which would also waste energy.
When cooking pork belly, I set the air fryer into single-drawer mode and laid the longer cut of meat across the full length of the basket. It crisped up really nicely, and the rendered fat sat below the insert which meant the meat a bit leaner than if I'd cooked it in an oven tray.
Another thing I really enjoyed about the Instant Vortex VersaZone is that it fits a small cooking tray inside the basket. I was able to add nachos into the base when I removed the main insert, which cooked a lot faster than they would have in the oven.
Cleaning
Cleaning the Instant Vortex VersaZone
As with most Instant air fryers I've tried, the removable inserts can go in the dishwasher, as can the basket. With that being said, you'd need a large dishwasher to fit the basket inside, and it's probably a lot easier to wash by hand. The basket is lined with nonstick, meaning it wipes clean easily. The control panel does smudge a bit when you touch it with oily fingertips, so spray it down with a little cleaning spray and clean with a microfiber cloth to keep it smudge-free.
How does it compare?
The Instant Vortex VersaZone is significantly larger than my go-to air fryer, so it was unlikely to cook as fast as the Instant Pot Vortex Plus 6-Quart 6-in-1 Air Fryer. It's also a lot louder, and because it lacks the in-built filter that prevents cooking smells from entering your kitchen, the VersaZone is also more prone to creating an odor. With that being said, it's a perfect option to bridge the gap between the Instant Vortex Plus and the Instant Vortex Dual Zone, with is another one of my favorite air fryers.
If you're trying to choose between a VersaZone and a Dual Zone air fryer, I'd advise you to ask yourself if you'd make full use of the large cooking tray. In my two-person house, I don't really need a 9-quart air fryer, but it's perfect for a large family who want to cook generous cuts of meat or enough sides for a big gathering without having to mess around with fiddly buttons on both sides of the air fryer. For smaller households who are more likely to use the dual-element on a daily basis, I'd probably stick to a dual zone.
Should you buy the Instant Vortex VersaZone?
Should you buy the Instant Vortex VersaZone?
Here at Homes&Gardens, we've tried pretty much every Instant air fryer. I can personally say it's my favorite air fryer brand, and I've tried dozens of air fryers over the years. The VersaZone isn't my favorite model I've tested, but as someone that doesn't live with a large family, I don't think I'm the target market. What I can say is that this air fryer exceeded my expectations, and it's probably the most broad-appeal air fryer on the market. Can the VersaZone do it all? Actually, yes it can! However, it doesn't cook smaller portions as well as a single-drawer, small capacity air fryer.
About this review, and the reviewer
Millie Fender is our Editor for all things small appliances at Homes & Gardens. She spends a lot of time testing everything from toasters to air fryers in her own apartment and recommending the very best ones to readers.
Millie put this air fryer to the test for a number of weeks to make fries, bacon, and roasted vegetables. She will keep this review updated with any thoughts on how it compares to other models on the market.
Sign up to the Homes & Gardens newsletter
Decor Ideas. Project Inspiration. Expert Advice. Delivered to your inbox.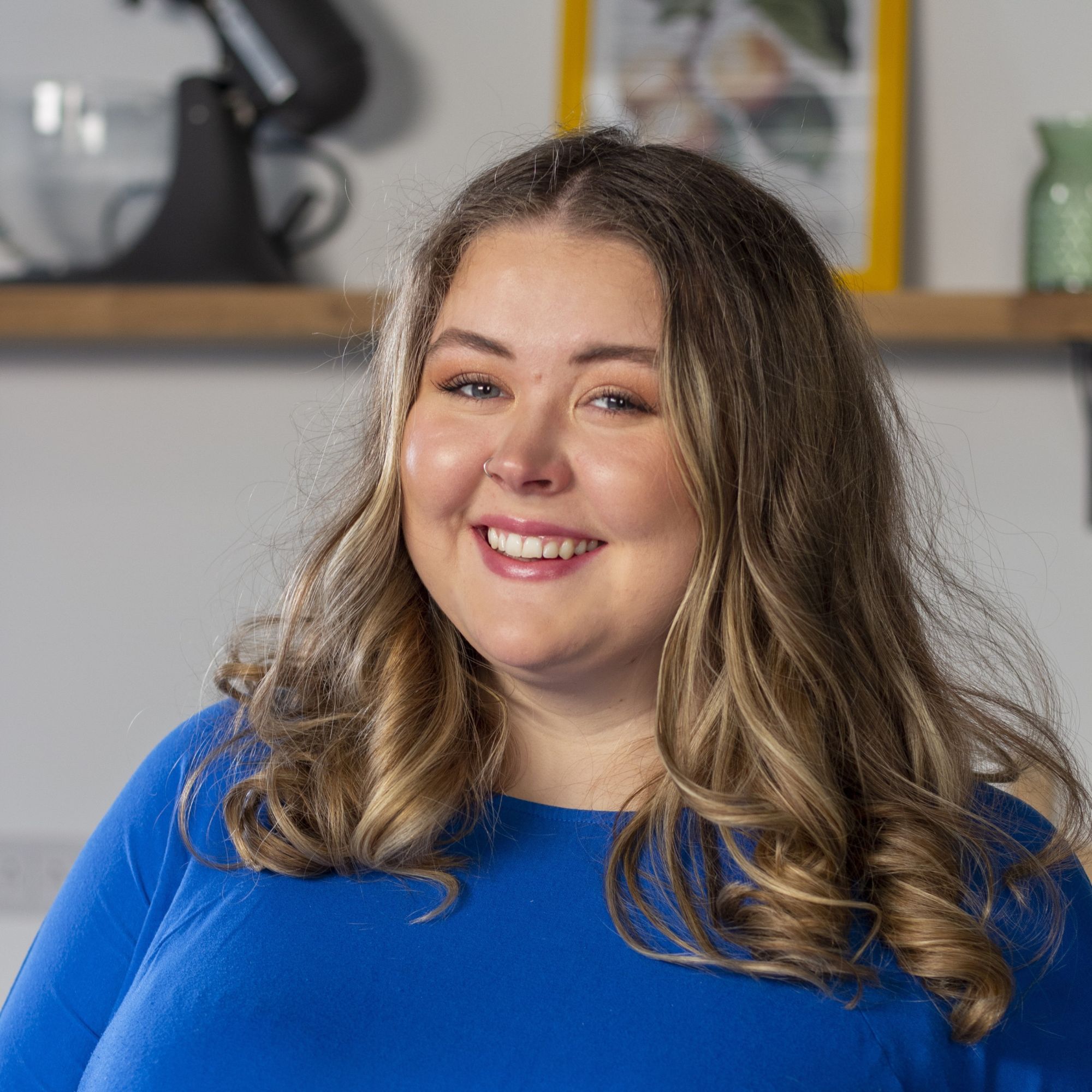 Millie Fender is Head of Reviews on the Homes and Gardens Ecommerce team. She specializes in cooking appliances, such as the best kettles, and also reviews outdoor grills and pizza ovens. Millie loves to bake, so she will take any excuse to review stand mixers and other baking essentials. When she's not putting products through their paces in our dedicated testing kitchen, Millie's reviews are conducted at home, meaning she uses these products in her own day-to-day life.