Morning Coffee Maker review: Wake up right with this hi-tech coffee maker
The Morning Coffee Maker single-serve machine offers minute precision that other machines can't match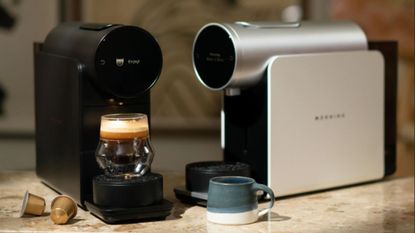 (Image credit: Morning)
An astonishing single-serve coffee maker that's perfect for coffee snobs – but might be overkill for the average kitchen
Reasons to buy
+

Simple to use

+

Customisable temperature, roast, and pull options

+

Fantastic coffee

+

Clear display

+

Handy app
We've all met a coffee snob or two in our lives. It's impossible to stop them launching into a well-worn rant about against single-serve coffee makers, and before your eyes glaze over in utter boredom you'll hear the usual complaints. Single-serve coffee is too same-y. Coffee makers take all the fun out of a brew. Ultimately, they say, it's not proper coffee.
Enter Morning, whose coffee maker is trying to change all that. Originally funded through Kickstarter, their coffee maker offers total precision in your pod coffee. This machine lets you control the temperature and length of your coffee to the exact degree. It's unlike any other pod coffee on the market. Morning go so far as to say that this machine is 'the new standard in the home coffee experience'.
We can't let a claim like that go untested, so we brought the Morning Coffee Maker into the Homes & Gardens test kitchen and put it through the wringer. It more than stands up to the best single-single serve coffee makers, and it could almost compete with your local barista.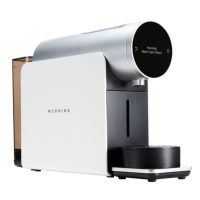 Morning Coffee Maker | $392 at Morning
This ingenous single-serve coffee maker was a fast favorite on test, serving up personalised coffee exactly as you want it.
About this review
About this review
Alex David
Alex is Head of eCommerce at Homes & Gardens, and tested this machine with Millie Fender, our expert Head of Reviews. Alex has spent several years testing home and garden products for titles such as Good Housekeeping and BBC Gardeners' World. Coffee machines are one of his favourite products to test, as this review needed an entire day in our test kitchen trying out as much espresso as his heart rate could allow. There's worse ways to make a living.
Morning Coffee Maker Specifications
Dimensions: L40.2 cm x W10.2 cm x H25.5 cm
Weight: 9.9 lb / 4.5 kg
Water tank capacity: 28.7 fl oz / 850 ml
Capsule compatibility: Nespresso Original capsules and third-party compatible capsules
Used capsule bin capacity: 8–10 capsules
Adjustable cup height: 15 cm (with drip tray), 25 cm (without drip tray)
Settings: 10
Mobile app: Works with iOS devices running version 10.0 and later, and Android devices running version 5.0 and later.
Max pressure: 20 bar
Temperature control: 75°C–98°C, in 1°C increments
Connectivity: Wi-Fi & Bluetooth
Unboxing the product:
This machine comes in a sleek modern box. There's no unnecessary polystyrene to deal with, just a little plastic wrap. It also has a handy quick start guide and a few capsules included so you can get started right away.
First impressions of the Morning Coffee Maker
This machine feels high-end even as you set it up. This thing looks incredible on a countertop, and it will especially suit modern, understated Scandinavian kitchens. It might look a little too sci-fi in more traditional, country kitchens, but I think it fit our test kitchen perfectly. You have to run a cleaning cycle to flush it out before the first use, but this is simple and quick, if a little noisy.
User experience:
This machine is an absolute joy to use. One of the first things I noticed was the futuristic OLED screen. This is be controlled with a dial that surrounds the screen, which is easy to use — think back to the wheel on old iPods. You can pick from 10 different preset types of coffee and precisely control the temperature, amount of coffee and water.
There's even more versatility on the app, where you can control the flow of the coffee as it leaves the machine. Morning has partnerships with a range of roasters from around the world. Not only can you buy your pods from them through the app, but the app also has customized coffee profilers from each roaster, so you can drink their coffee exactly as intended.
The Morning is a relatively quiet machine, too, which is a welcome feature when making coffee in — well, the morning. I also love the width of this machine. It's perfect for fitting snugly between cereal boxes or other appliances, so this is a good option if you're short on counter space.
However, there's two minor criticisms. The water tank has an average capacity at 28.7 fl oz, and could be a little bigger. I also found the capsule bin a little small. If you drink as much coffee as my family does, that bin will fill up quickly.
Coffee quality
Compared to the mediocre coffee from other, cheaper machines, the short black espresso produced by the Morning was simply in a different league. This was my favorite of the many, many espressos we tried on our testing day. After about 10 seconds, we had deep, indulgent, strong black coffee with none of the nasty burning or acidity that you often find with single-serve coffee. It was great fun to play with the settings and turn out even more coffees exactly as I like it. I genuinely had to pull myself away from this thing and get back to work.
Cleaning and maintenance
As I mentioned above, this machine needed cleaning on the first use, and this was a quick and easy flush through the pipes. It doesn't mark easily, but a few of my colleagues had given this machine a look by the time I got my hands on it, and the corners of the drip tray had already picked up some little coffee stains and debris. There's also some dripping once the machine has finished pouring.
How does it compare?
The adjustability of this machine blows other single-serve machines out of the water. I'm a big fan of the Nespresso Vertuo Next — it's the coffee machine I use at home — but while the Vertup pods deliver great coffee, you're stuck with whatever size and roast Nespresso sends you. With this machine, you can use original Nespresso pods (or pods from other roasters, as these pods are now something of an industry standard) and personalise the length, temperature, and even pour profile of your coffee. Because you can save these recipes on the app, you can have your morning coffee exactly as you like it every day. However, that functionality doesn't come cheap. It's about $200 more than the market average for a single-serve machine.
Should you buy the Morning Coffee Maker?
Yes, if you're nuts about coffee but don't have the time or money to invest in a full espresso machine. The Morning makes it simple to hone your coffee and get it exactly as you like it without the need for all the grinders and tampers and filters you usually need for proper espresso. It was my standout favourite on the last round of testing.
However, if you aren't chasing the perfect coffee, this machine might be overkill. When it's 6am and you're desperate for a little something to perk you up, you probably won't care about the drawdown phase on your short light roast, and being able to adjust it might not be worth an extra $200.
As Head of eCommerce, Alex makes sure our readers find the right information to help them make the best purchase. After graduating from Cambridge University, Alex got his start in reviewing at the iconic Good Housekeeping Institute, testing a wide range of household products and appliances. He then moved to BBC Gardeners' World Magazine, assessing gardening tools, machinery, and wildlife products. Helping people find true quality and genuine value is a real passion.