Best dumbbells: 7 perfect picks to turn your home into a gym
We've found the best dumbbells — from space-saving "selectorized" to old-school favorites, here are all the best buys to invest in.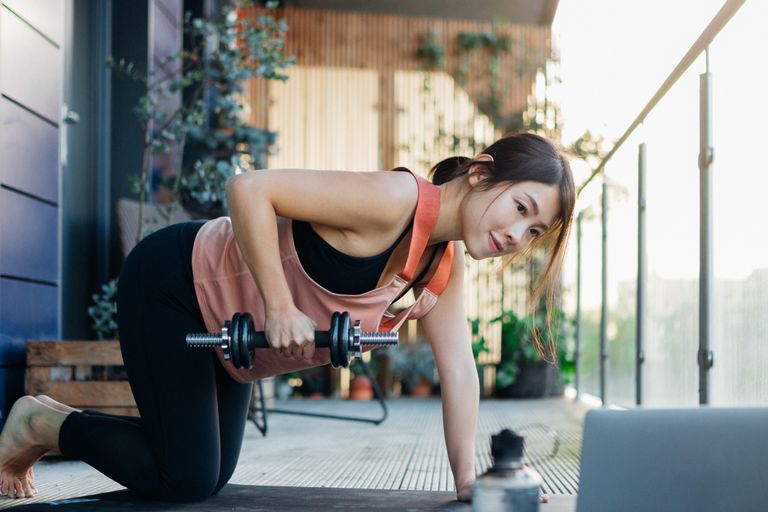 (Image credit: Getty Images)
In the market for the best dumbbells? You should — working out at home is here to stay: Recent surveys show that even as gyms reopen, a staggering number of adults plan to supplement or even replace their gym habit with at-home exercise.
But if you're used to navigating through a well-stocked gym, with every piece of exercise equipment you can imagine at your fingertips, deciding what sort of equipment to stock in your home gym can be a real head-scratcher. What offers the best balance of home-appropriate pricing, size, effectiveness, and "set it and forget it" convenience?
When it comes to strength training, dumbbells are a perfect choice. They're incredibly versatile, don't take up a lot of space, and cost less than almost any other top-notch strength-training equipment. And whether you're doing supersets with the big weights or getting larger results from the smaller hand weights in a Barre-style workout, using dumbbells can help transform your body fast.
Continue reading for our picks of the seven best dumbbell sets for any home gym and workout style.
The best dumbbells for working out at home
1. Bowflex SelectTech 552
Best adjustable dumbbells: The Bowflex SelectTech 552 contains an entire gym's worth of dumbbells in two small packages.
Specifications
Weight range: 5 - 52.5 pounds
Textured handles?: Yes
Coated?: Coated plates
Stand included?: Optional add-on
Reasons to buy
+Good build quality+Easy dial-adjust weight selection+Coated weight plates are quiet+Replaces 15 pairs of dumbbells
Reasons to avoid
-Overkill for some users-The stand is an add-on purchase
We love the Bowflex SelectTech 552 because they're priced (and designed) to be accessible to a wide variety of people. If the whole family is into lifting weights, these adjustable dumbbell sets may be the only equipment you'll ever need.
What we like about it
The Bowflex SelectTech has a very easy-to-use, dial-adjust mechanism on the outside of each weight: Turn the dial to the number of pounds you want to lift, pull the dumbbell handles out of the cradle, and like magic, the right number of weight plates will come along.
Just one pair of these adjustable dumbbells replaces 15 sets of weights by adjusting from 5 to 25 lbs in 2.5-lb increments, then from 25 to 50 lbs in 5-lb increments, all crowned by the final 52.5-lb setting.
The Bowflex SelectTech 552 also draws high marks for its build quality, and the coated weight plates mean these adjustable dumbbells are much quieter in use than most competing models.
A slightly flattened bottom side to the weight plates means these dumbbells won't roll away if you set them down, but you'll want to keep them in the purpose-built cradles (included) anyway.
Things to note
Although these adjustable dumbbells are an excellent fit for most serious lifters, they could be overkill for anyone who wants just two or three sets of dumbbells to work out with.
On the other end of the spectrum, really hardcore weightlifters might want to upgrade to the Bowflex SelectTech 1090, which adjusts from 10 to 90 pounds in 5-lb increments.
Both SelectTech models come with cradles designed to hold the dumbbells -- or any of their weight plates not currently in use -- securely. You can just place those cradles on an appropriately sturdy table and call it good. If you want a dedicated stand to keep the cradles and weights at an easy handling height, it's available as an add-on purchase.
2. AtivaFit GlideTech Adjustable Dumbbell
The best light adjustable dumbbell: If you want the convenience of adjustable dumbbells, but don't need a heavy weight
Specifications
Weight range: 5.5 - 27.5 lbs
Textured handles?: Yes
Coated?: No
Stand included?: Cradles included, no stand
Reasons to buy
+Easy to handle+Straightforward adjustment mechanism+Good value
Reasons to avoid
-Can be a little noisy-A little finicky to re-rack-Labeled in kilograms
If you like the idea of the Bowflex SelectTech 552 but don't need that much weight, consider the lighter AtivaFit GlideTech adjustable dumbbells and their straightforward pull-pin adjustment mechanism.
What we like about it
We love the straightforward adjustment mechanism on the AtivaFit GlideTech dumbbells: Just pull the single pin on each weight, slide it to the amount of weight you want to use, and make sure the pin is seated firmly in place before you heft the weights.
Each dumbbell adjusts from 2.5kg to 12.5kg -- about 5.5 lbs to 27.5 lbs -- so they're very manageable (and affordable) for anyone who doesn't need heavier weights.
Finally, these weights have a flattened bottom side, so they're not going to roll away from you -- although you'll want to keep them racked in the purpose-designed cradles that come with the weights.
Things to note
The individual plates on these dumbbells aren't coated, so you can expect a little noise as you move the weights around -- and there are a few complaints about it being a challenge to get the weight plates aligned with the cradle as you put the weights back down.
The weights are labeled in kilograms, not pounds, so you might need to keep a calculator handy until you get used to the conversion. And, heads up, each "set" of weights is just one dumbbell — so for the most versatile workout options, you'll want to order two.
3. CAP Barbell 40 lb. adjustable cast iron dumbbells
Best classic adjustable dumbbells: These mini "barbell dumbbells" are tops in dependable, old-school adjustability.
Specifications
Weight range: 3 - 20 lbs (and beyond)
Textured handles?: Yes
Coated?: No
Stand included?: No
Reasons to buy
+Simple, straightforward+No delicate moving parts+Works with any standard weight plates
Reasons to avoid
-Relatively slow to adjust
While there's no denying the old-school look and feel of these CAP Barbell adjustable dumbbells. They get the job done in charming style, without putting a hurt on your wallet.
What we like about it
These "barbell dumbbells" are as straightforward as they look: Load them up with the appropriate number of weight plates, screw the end collars in place to hold the weights securely, and get down to business. You get all the adjustability in the world with no moving parts or hidden adjustment mechanisms to worry about.
These dumbbells adjust from 3 lbs (the handles only) to 20 lbs each, but you can easily expand on that by using any standard weight plates. "Standard" means weight plates with a 1-inch diameter hole in the middle; Olympic weight plates, which have a 2-inch hole in the middle, won't work with these handles.
Things to note
While we love the functional, old-school simplicity of these dumbbells and the fact they don't require much grip strength to adjust, they are a little slower to adjust than the dial- or pin-adjust mechanisms you'll find in the Bowflex and AtivaFit models.
4. CAP Barbell 150-lb dumbbell set
Best basic dumbbell set: This no-frills dumbbell set will get you started on some serious workouts.
Specifications
Weight range: 5 - 25 lbs
Textured handles?: Yes
Coated?: Rubber-coated ends
Stand included?: Optional add-on
Reasons to buy
+Rubber-coated ends+Great selection of starter weights
Reasons to avoid
-Serious lifters may need heavier weights-No rack included
The CAP Barbell 150-lb dumbbell set highlights the beautiful simplicity of working with dumbbells: Just grab what you need and start lifting, with confidence that the rubber-coated ends will help protect your furniture and floor.
What we like about it
This is one of the best deals you'll find on basic dumbbells — a basic, straightforward type of equipment that is in enormous demand during the pandemic.
We love that the ends of the weights are hex-shaped, which means they won't roll around. Instead, they make a great, stable base for exercises like the renegade row and can even double as push-up handles. The knurling (texturing on the handles) makes it easier to hold these dumbbells securely but isn't so extreme that it'll tear your hands up.
This selection of weights (5, 10, 15, 20, and 25 lbs) is perfect for most folks who are just getting into or maintaining a serious lifting habit.
Things to note
Once the heaviest 25-pound weights in this set start feeling easy, you'll want to start adding heavier weights, which you can purchase a la carte. This set also doesn't come with a rack to help keep your dumbbells from collecting into a pile on the floor — but you can easily add one on.
We like the Akyen A-Frame dumbbell rack, which holds up to 570 pounds in a very small footprint. So as you get stronger, you'll have plenty of rack capacity to swap out those lighter weights for heavier dumbbells.
5. CAP Barbell coated dumbbells
Best a la carte dumbbells: for those who don't need many weights, or want to add on to an existing set
Specifications
Weight range: Up to you
Textured handles?: Yes
Coated?: Rubber-coated ends
Stand included?: Optional add-on
Reasons to buy
+Save money, space by buying only what you want+Dependable and durable
Reasons to avoid
-In very high demand
Not every workout requires a full range of weights; in fact, some only require one or two pairs of dumbbells, or maybe even a single dumbbell on its own. That's when a straightforward, a la carte product like CAP Barbell's rubber-coated dumbbells really shines.
What we like about it
Buying your dumbbells a la carte means you only pay for what you need -- and you don't have to give up storage space for the extra dumbbells in a set that you'd never use.
We like these dumbbells in particular because their rubber-coated ends help protect your furniture and floors from dings and scratches, and they're relatively easy to find during a time when the fitness equipment is in very high demand.
Things to note
Because fitness equipment is in such high demand right now, it's sometimes challenging to find the right-size dumbbells. If you see that the weights you need are available, we recommend that you pounce on them right away!
If you find that your collection of dumbbells just keeps growing to the point the previously mentioned A-frame rack just isn't enough, consider a stadium rack, like the Marcy multilevel storage rack, to keep them organized.
6. Fitness Alley Neoprene Dumbbells With A-Frame Rack
Best neoprene-coated dumbbell set: These weights are easy on your hands, furnitures and floors. The perfect choice for light strength-training workouts
Specifications
Weight range: 2 - 10 lbs
Textured handles?: Neoprene coating on handles
Coated?: Entirely neoprene coated
Stand included?: Yes
Reasons to buy
+Ideal for light workouts+Neoprene coating is easy on hands+Hex shape means they won't roll+Stand included
Reasons to avoid
-Serious lifters will need heavier weights-Relatively pricey per pound
The Fitness Alley neoprene dumbbell set is the perfect choice for light strength-training workouts that won't tear up your hands, furniture, or floor.
What we like about it
The neoprene coating on these dumbbells makes them easy to hold, even when you're soaked in sweat, and reduces the likelihood of putting scratches or dings in your floors or furniture.
We also love the space-saving A-frame storage rack, and that the hex-shaped weights won't roll around when you put them down or use them as a base for on-the-ground exercises.
Finally, the bright, cheerful colors on these weights make it easy to distinguish one weight from another at a glance.
Things to note
While these are a great set of weights for beginners or anyone deliberately working with lighter weights, serious lifters will want a set that includes heavier options. And, there's no denying that these weights are pricier per pound than their non-neoprene-coated competitors.
If you're not focused on the neoprene coating, you can sometimes save significant money by purchasing weights with a standard rubber cap on the ends.
7. Primozu FIT Neoprene Dumbbells
Best light dumbbells for Barre: 1 to 5 lbs is often all you need
Specifications
Weight range: 1 - 5 lbs
Textured handles?: Yes, neoprene throughout
Coated?: Yes, neoprene
Stand included?: No
Reasons to buy
+Neoprene coating is easy on your hands+Ideal weight range for Barre, therapeutic exercises, etc.+Takes up limited space
Reasons to avoid
-No storage rack-Round shape can roll
Primozu FIT neoprene dumbbells are the perfect addition to your Barre workouts, therapeutic/mobility exercises, or anything that requires light, easy-to-handle weights.
What we like about it
It's no secret that a good Barre workout can be very challenging -- even if the heaviest dumbbell you heft is 2 or 3 pounds.
This set of 1- to 5-pound weights hits the sweet spot for Barre, mobility workouts, therapeutic exercises, and any other workouts that focus on using fine technique and just a little bit of weight to make you sweat.
The neoprene coating is gentle on your hands, floors, and furniture, and if you don't need the whole set of weights you can buy individual pairs on their own.
Things to note
While these weights are small enough that they won't take up much space, we do wish they came with a storage rack — especially because their round shape makes it easier for them to roll around when you set them down.
How to buy the best dumbbells
How much weight do you need?
The size of your dumbbells is determined by how much space you have for storing them, your current fitness level, and what kind of workout you're doing. In fact, many of today's popular workouts can be done with just two pairs of dumbbells (a heavy pair and a light pair) and some exercises can be done with just one dumbbell.
With that in mind, it makes sense to start with what you can manage now, and either buy a small set of dumbbells that allows you room to grow or add on extra weights "a la carte" as you get stronger.
If you need a place to begin your shopping, women are often comfortable starting with a pair of 5- to 10-pound weights, and men are often comfortable starting with a pair of 10- to 20-pound weights. But don't let that limit you if you feel strong enough to lift more.
If you're already an experienced lifter, you'll probably be able to lift anywhere from 20-pound to 50-pound dumbbells, again depending on your fitness level and what type of exercises you're doing. If you regularly need dumbbells that weigh more than 50 pounds, you're really getting into hardcore lifting territory and will need to purchase a relatively expansive -- or at least relatively heavy -- set of dumbbells.
Of course, there's always an exception, and one of the biggest is Barre-style workouts, which are notorious for making even big, burly men suffer from little tiny weights. For these fiercely challenging, targeted workouts you'll often use no more than a set of 2- to 5-pound weights, and maybe one 8- or 10-pound weight for the absolute heaviest exercises. A similar range of weights may come in handy for doing therapeutic or mobility exercises.
Do you need coated dumbbells?
If your budget allows, rubber- or neoprene-coated dumbbells are a great choice. The coating helps protect your furniture and floors from dumbbell-induced nicks and dings, and also reduces the amount of noise that can result from moving your dumbbells around.
Do you prefer round or hex-shaped dumbbells?
For the most part, this does come down to personal preference. The only real difference between hex-shaped and round dumbbells is that hex dumbbells are less likely to roll and shift when you put them down, or when you do certain ground exercises that require you to balance on the dumbbells, such as renegade rows.
Dumbbell types to avoid
It's hard to go wrong with a utilitarian dumbbell set. But you should beware of any adjustable dumbbells that don't have a secure and sturdy weight selection/containment mechanism. If one of the weight plates were to fall off during an overhead exercise, it could cause you serious harm.
We also recommend staying away from plastic dumbbells filled with sand. They're relatively fragile, and if one breaks you'll be left with sand all over your floor.
Useful accessories
You don't necessarily need anything other than a set of dumbbells, and a soft yoga mat to lie on, to get a good workout. But your exercise options expand exponentially if you purchase a flat or adjustable weight bench. This frees you up for a greater range of motion and helps you get into positions that would be impossible to manage on the floor.
Another useful accessory is a storage rack: Yes, you can pile your dumbbells in the corner, but sorting through them quickly gets old. If you have a set of three to five dumbbell pairs, an A-frame storage rack is a great way of keeping your dumbbells organized without using a lot of floor space. If you find yourself collecting (and actually using) more dumbbells, it's worth investing in a stadium-style rack that lets you store dumbbells in several flat-tiers.