Best soundbar: the best speakers for your home theater
Our choice of the best soundbars for upgraded sound at home, from Sonos, JBL, Bose and more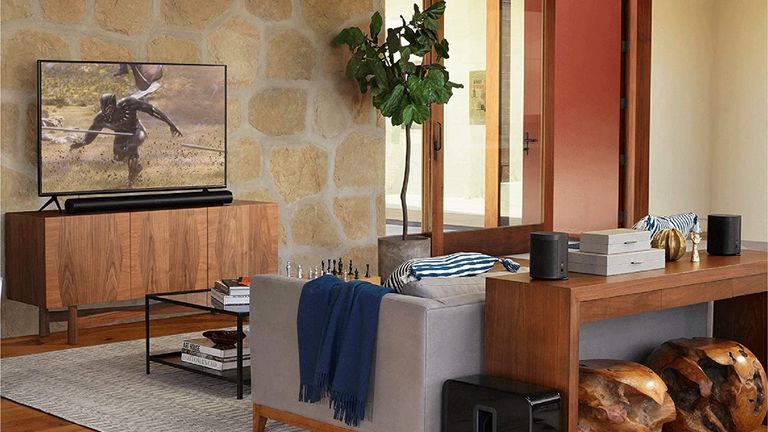 (Image credit: Sonos)
Many of us have invested heavily in our televisions over the years, with new and bigger models coming out all of the time and tempting us to create a more cinematic experience in our homes. That's more true than ever, with trips to the theater more limited than they used to be, and the next step in this journey is to invest in a fantastic soundbar for your living area.
As televisions have gotten flatter, audio has suffered, but this can be rectified with one of the soundbars listed below. We've looked at the most popular brands and options and rated them by their size, value, aesthetics and features.
Scroll down to see what we thought, and for some additional information and advice on how to choose the best soundbar for your home. And, while some of the below do incorporate Alexa and Google Assistant, check out our ranking of the best smart speakers for more.
Best soundbars 2021
1. Sonos Arc Smart Soundbar
Best soundbar with Dolby Atmos
Specifications
Dimensions: 3.4 x 44.9 x 4.5in
Weight: 13.7lbs
Dolby Atmos: Yes
Extras: Built-in Alexa and Google Assistant
Reasons to buy
+Dolby Atmos+Built-in Alexa and Google Assistant+Enhanced Trueplay tuning
Reasons to avoid
-Very expensive
With its good looks and a plethora of great features, the Sonos Arc easily tops our list of the best soundbars. Dolby Atmos, custom elliptical woofers and angled side tweeters all combine to give you amazing sound, and Enhanced TruePlay tuning means the speaker will adapt to the space it's in to deliver optimized audio.
It's also got in-built Alexa and Google Assistant smarts, which means the Arc does a whole lot more than just boost your TV audio. Use it as a smart speaker and smart home hub, setting schedules, timers or just asking it questions when you're hands are too full to Google it on your phone.
The big downside here is the price, which edges near $800. But if you're passionate about getting the best sound possible along with flexible smart features and future-proofing with regular updates from Sonos, then it's a fantastic option that doesn't just get our nod of approval, but was also awarded top marks by our friends at What HiFi.
2. JBL 2.1-Channel 300W Soundbar System
Best soundbar with subwoofer
Specifications
Dimensions: 2.3 x 38 x 3.3in
Weight: 12.5lbs
Dolby Atmos: No
Extras: Wireless subwoofer
Reasons to buy
+Great price
Reasons to avoid
-No Dolby Atmos
Much more towards the budget end of the spectrum than our first choice is the JBL Bar 2.1, which comes in the form of a soundbar and wireless subwoofer for boosted bass. While it lacks Dolby Atmos, it does still impress with four mid-range drivers and a pair of tweeters to compliment the external sub.
And you can use the soundbar as more than just an extensive of your TV, connecting other devices to it via USB or Bluetooth. The speaker also looks great, with a mesh front that allows it to blend into the décor even when the display is lit, and minimal controls on top to control volume and more.
3. Bose Smart Soundbar 300
Best smart soundbar
Specifications
Dimensions: 4 x 26.5 x 2.2in
Weight: 9lbs
Dolby Atmos: No
Extras: Built-in Alexa and Google Assistant
Reasons to buy
+Lightweight+Also a smart speaker
Reasons to avoid
-No Dolby Atmos
If you're interested in integrating smart home tech into your daily living, but also want excellent sound for movie nights, sports and TV streaming, the a good smart soundbar is definitely the way to go. The Bose Smart Soundbar 300 is a brilliant Alexa and Google Home speaker in its own right, allowing you to control your home cinema using just your voice.
Designed to fit snuggly underneath the TV (or mounted to the wall if you prefer), Bose is also very keen on allowing its customers to expand their audio set-up over time. To that end, the Smart Soundbar 300 is completely compatible with a lot of other Bose speakers, giving the option to create a multiroom sound system.
4. LG SN7Y 3.1.2 Wireless Soundbar
Best soundbar for LG TV
Specifications
Dimensions: 2.5 x 35 x 4.6in
Weight: 25.7lbs
Dolby Atmos: Yes
Extras: Wireless subwoofer
Reasons to buy
+Dolby Atmos+AI Sound Pro adaptive audio
Boasting Meridian speaker technology on top of Dolby Atmos and DTS: X, the LG SN7Y 3.1.2 Wireless Soundbar really does go the extra mile to create a surround sound, cinematic experience. It also supports 4K pass-through and its AI Sound Pro feature means you audio experience will be adapted to your space.
We should note that the LG SN7Y is heavier than other soundbars on this list so, if you want yours mounted to the wall rather than on a TV stand, bear that in mind. In contrast to this, the wireless subwoofer that comes along with it has a nice, slim design that will fit into even smaller spaces.
5. Samsung S60T
Best soundbar for Samsung TV
Specifications
Dimensions: 30 x 4.9 x 2.5in
Weight: 6.3lbs
Dolby Atmos: No
Extras: Built-in Alexa
Reasons to buy
+Lightweight+Also a smart speaker
Reasons to avoid
-No Dolby Atmos-Chunky design may not suit all TV set-ups
Perhaps the speaker that gets the most points for aesthetics, the Samsung S60T is a beautiful soundbar that offers built-in Alexa functionality, wireless music streaming over Wi-Fi and - most importantly - impressive audio quality that will make your next streaming session infinitely better.
It's also a good option for those who don't want to (or can't) find space for an external subwoofer. The S60T is an all-in-one option, even if its' chunkier design may make it sit slightly awkwardly under most TVs. We'd recommend mounting it to the wall, eliminating this problem.
Homes & Gardens rating: 4 out of 5 stars
Are soundbars better than speakers?
Generally speaking, soundbars are more economical than speakers due to the fact that they pack a lot of power into a smaller space. Even if they include wireless external subwoofers, it's easier to find space for a single bar and secondary unit than it is for a complete sound system comprised of multiple speakers that need to be placed in a certain array.
Soundbars have also evolved to convincingly mimic the effect of a surround sound system, so you won't be missing out. Look for a product with Dolby Atmos if you really want your sound to fill the room.
Are soundbars good for music?
Soundbars are an excellent choice if you want a multi-functional speaker that can play music and podcasts as well as enhance the sound for your TV. Many can be connected to your phone or laptop via Bluetooth or Wi-Fi for wireless streaming from Spotify, Apple Music or any other service, and you should also look for a soundbar that has specific 'music' that change the levels based on what you're watching/listening to.
Where should soundbars be placed?
The traditional, and most obvious, place to put a soundbar is on your TV unit in front of your set. Because of this, soundbars are designed to sit here comfortably without blocking any of the action, but they can also be mounted to the wall if you're after a more minimalist design. Like your TV, it's smart to put your soundbar in the center of a room directly in front of where you tend to sit, but don't worry too much about this - a lot of products can now adapt to the space they're in.