Music room ideas – 10 ways to enhance musical creativity at home
Tune into the best music room ideas that boost creativity and musical inspiration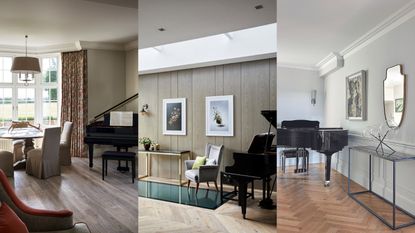 (Image credit: Future)
Whether you're a musical maestro or a complete novice with a penchant for creating recordings, a music room will provide the perfect place to practice, play and entertain friends and family.
Create a personalized setup that limits distraction, encourages creativity, and offers everything you need to practice, teach, listen, and create music. These music room ideas will help you design a space that not only inspires but enhances your home.
Music room ideas
We've curated a selection of creative solutions to craft a marvelous music room that you can be proud of, whether that be alongside existing home decor ideas or within its own space.
1. Combine a library and music room together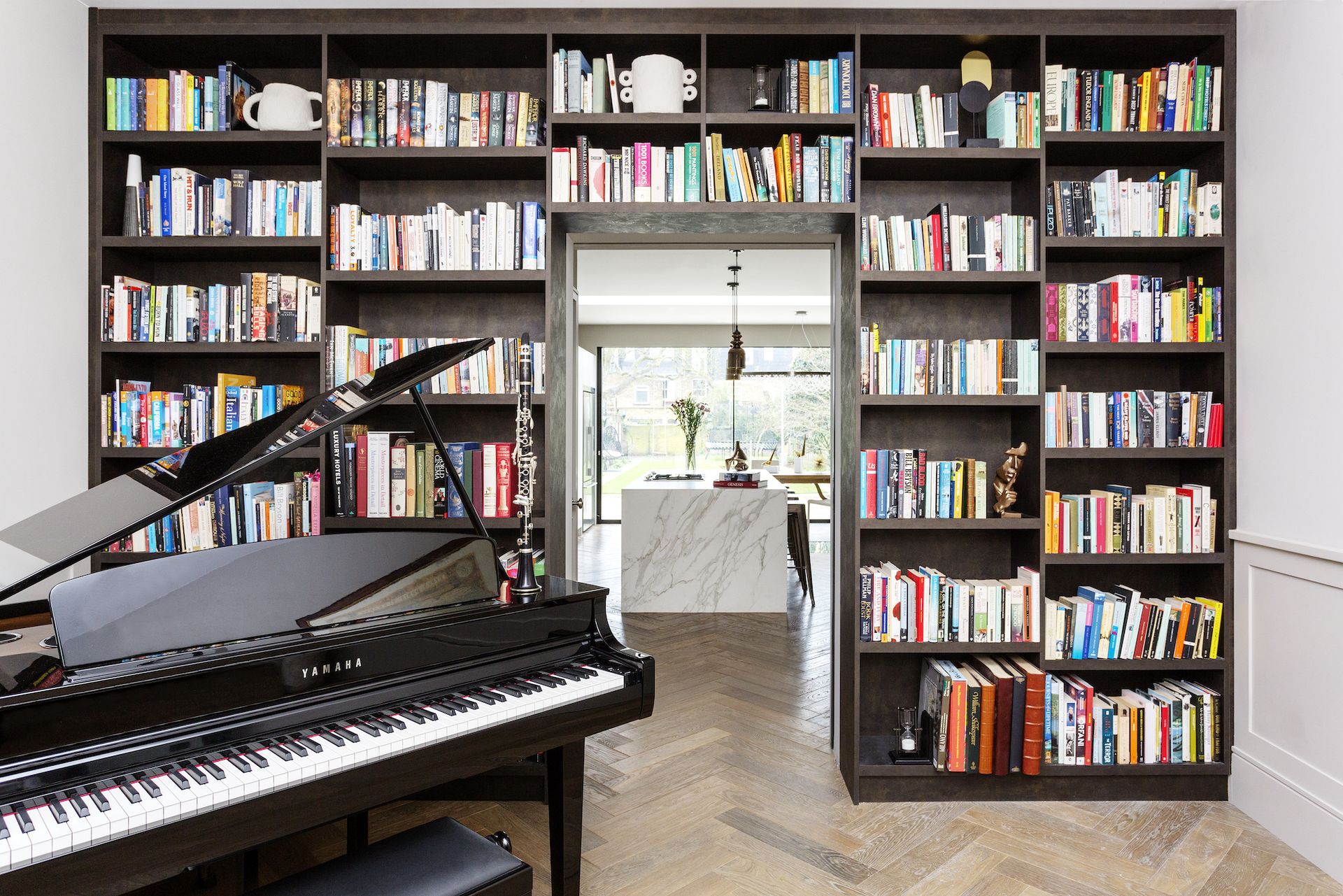 'In this library and music room, the two functions happily support each other,' says Caroline Milns, head of interior design at Zulufish. 'The books and favorite objects on the bespoke burnished timber shelves offer creativity and inspiration, as well as a very practical acoustic function, absorbing the sounds within the room. In return, those who are enjoying reading in the library have the added treat of listening to music whilst they relax.'
'In addition, double doors that lead to the kitchen and dining room just beyond, offer flexibility – with the option of being open, so that those in the kitchen and dining can also enjoy the music, or closed, to allow concentration and private practice for the musician.'
2. Place your piano in the dining room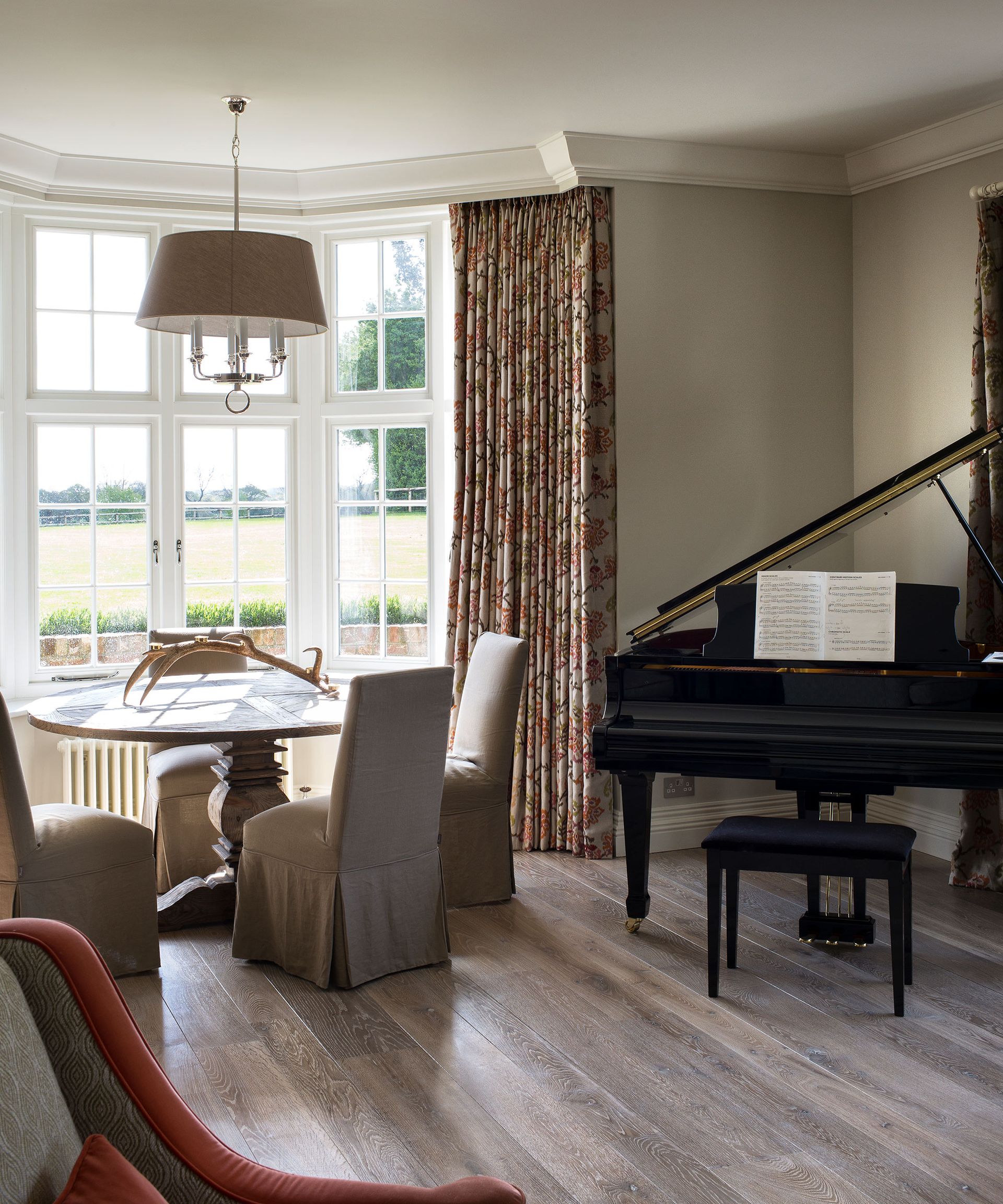 'If you love entertaining then keeping your piano in the dining room to entertain guests can work well,' says Andrea Childs, editor, Country Homes & Interiors. 'Recitals later in the evening and impromptu performances by guests can be a delightful addition to a dinner party.'
3. Create a 'walk-through' music room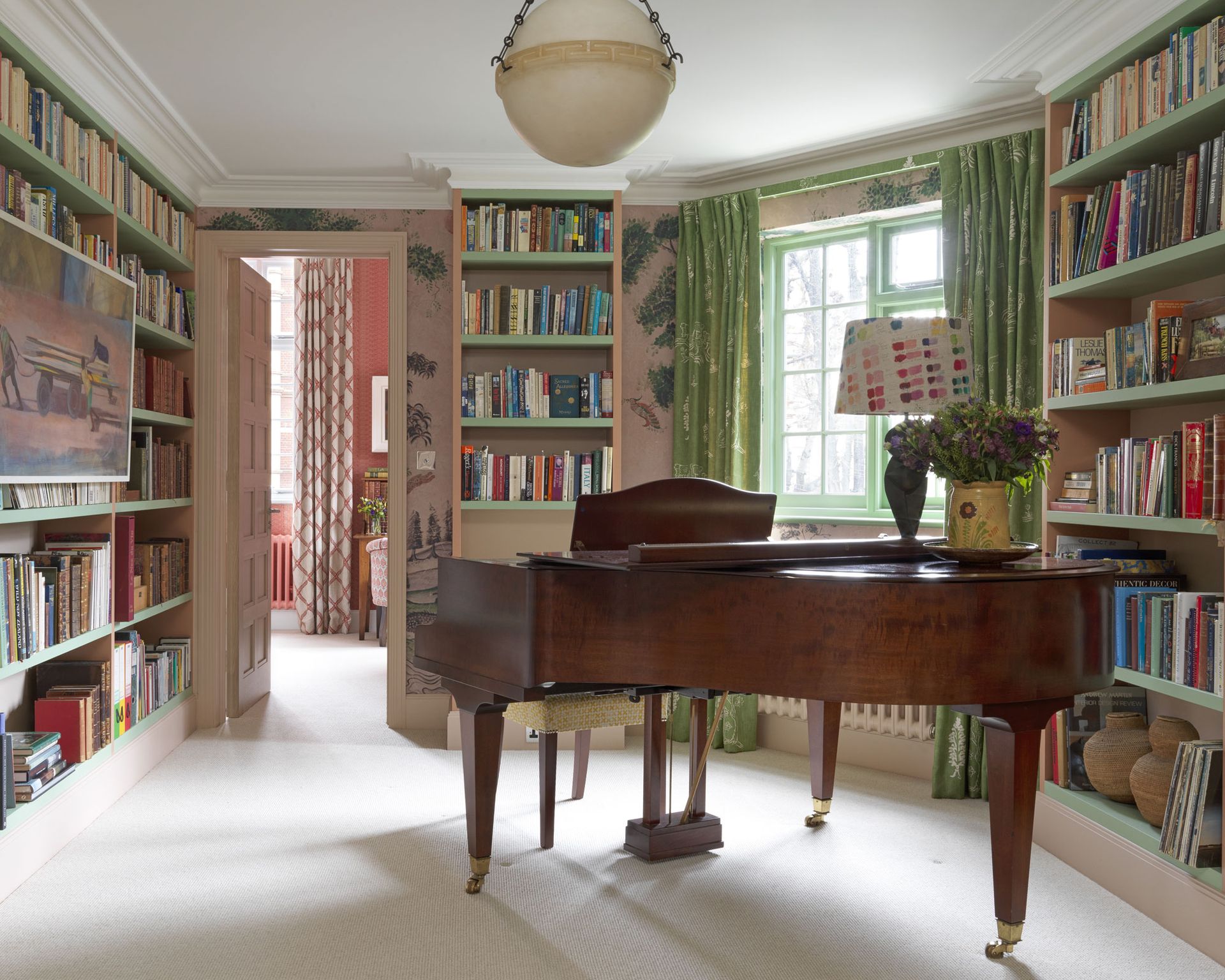 'Sometimes there are spaces that can be awkward – those you walk through rather than use properly, they tend not to have a real purpose and are more of an interior design challenge,' says Melanie Griffiths, editor, Period Living. 'However, they make great music rooms, as you can see here.'
4. No space? Use a guest room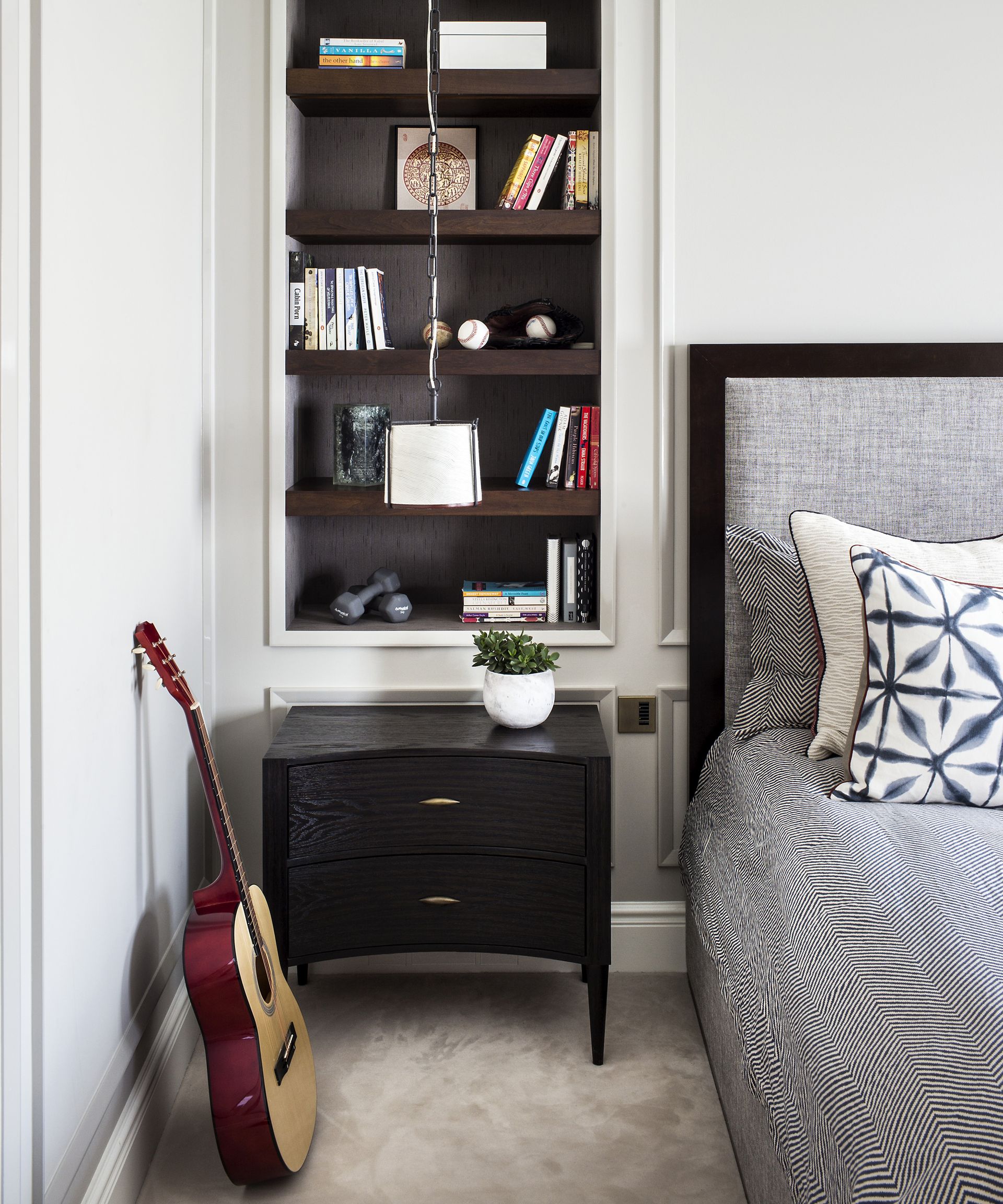 If you're new to music and are starting to build up a collection of instruments then a guest room can suffice initially. Guitars can be lent up against walls, or hung and can add a decorative element to am existing room scheme.
5. Give your music room walls an upgrade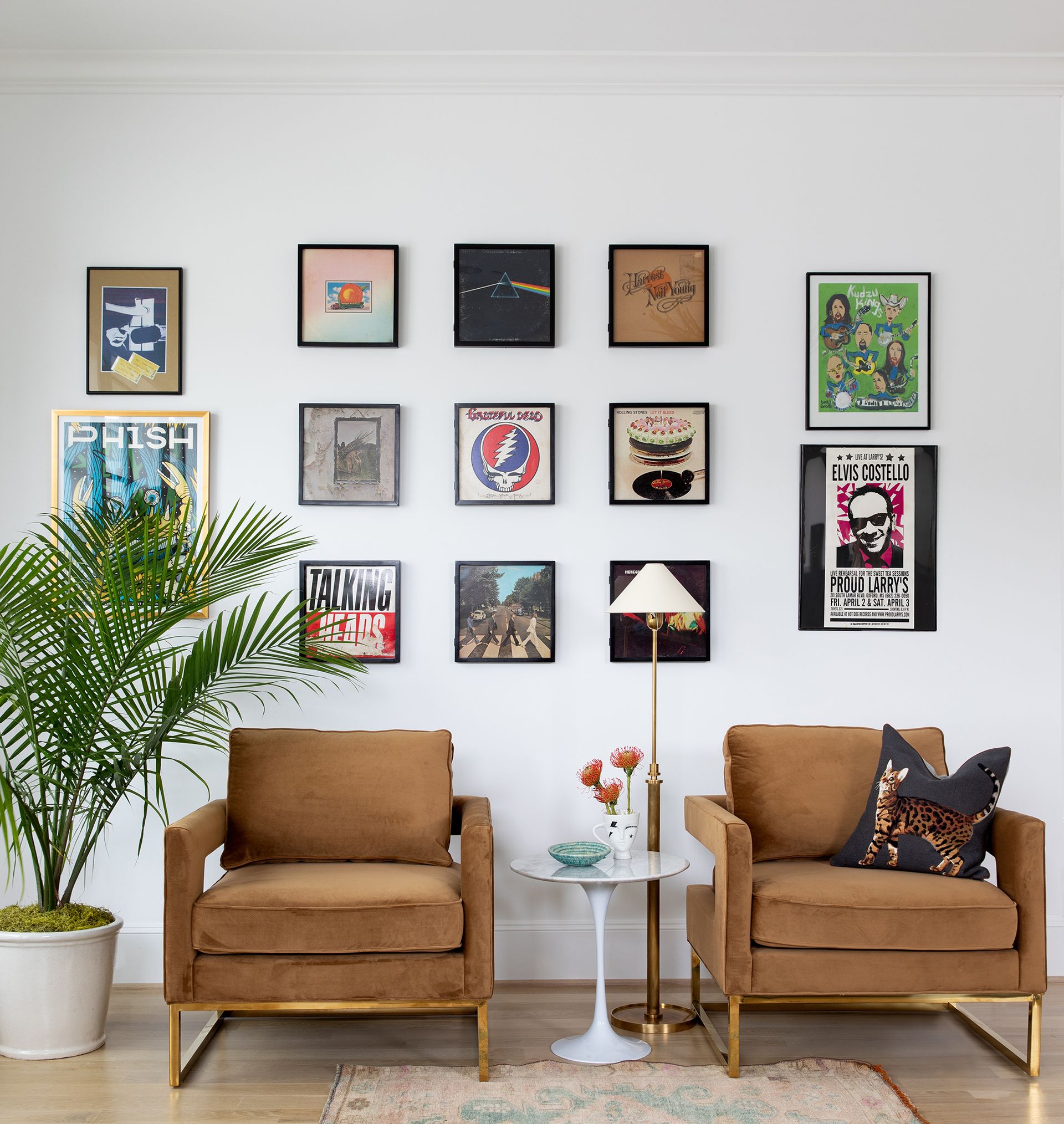 'In this room, I used clients' album covers and music posters as gallery art,' says Mary Patton, founder and creative director of Mary Patton Design. 'I treated the collection as one large art installation, and therefore I styled the room around it as I would a painting – with plenty of visibility. Consider the color and scale of the collection when adding decor to the room.'
6. Custom cabinetry is ideal for a music room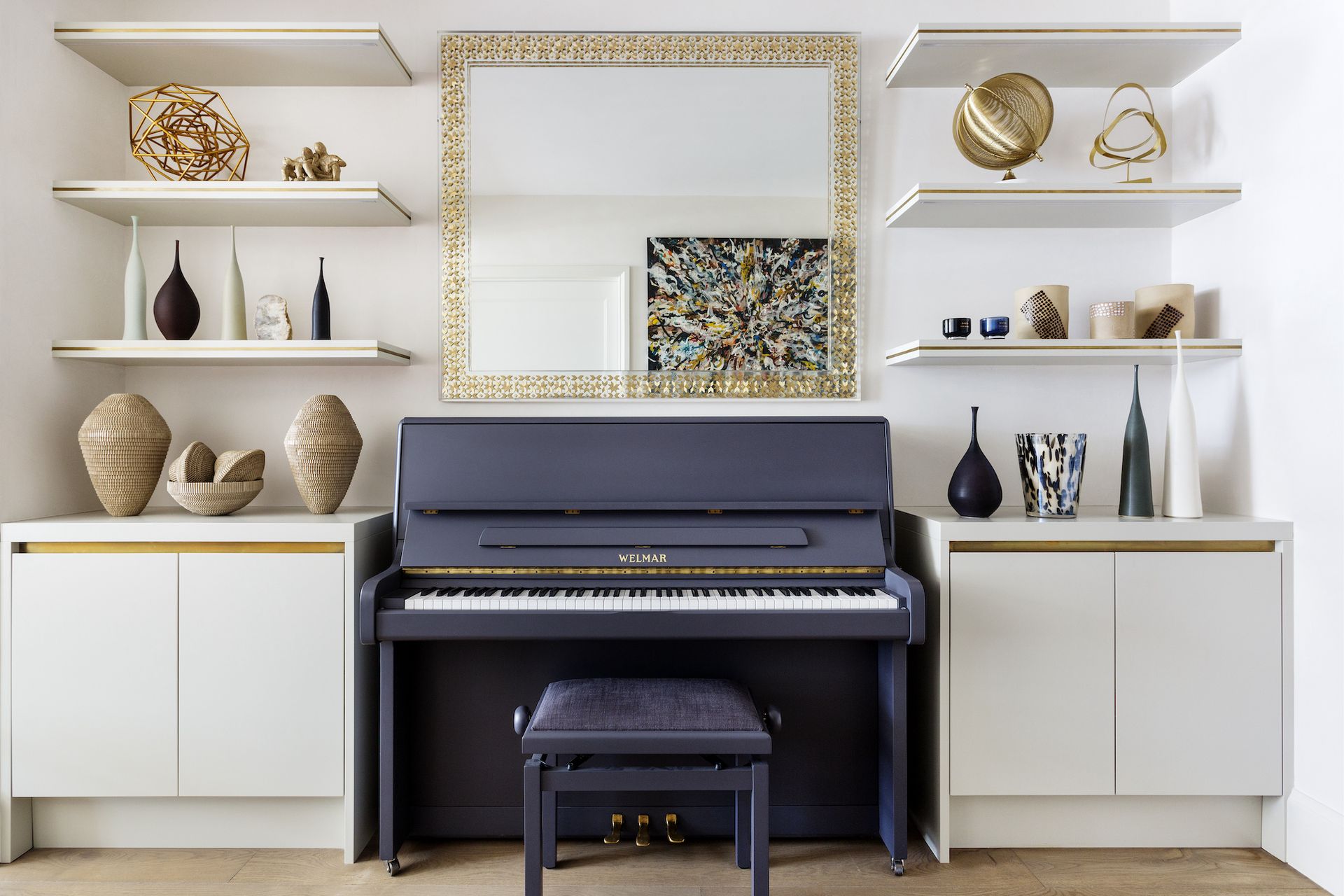 'Creating a light-filled and calm space is so important for the enjoyment of your music, encouraging and inviting you to take time to practice, as well as offering a sense of escape and focus, allowing your creativity to thrive,' says Caroline Milns, head of interior design at Zulufish.
'Musical instruments can often be rather large to fit into a space comfortably and opting for a custom shelving unit such as this, which envelopes the piano, will ensure it instinctively feels part of the room, whilst storage nearby allows your music sheets and books to be easily stored away but also ready to hand when needed.'
'The addition of a mirror above the piano will provide a connection and view into the room for those whilst practicing, as well as naturally adding more light as it bounces and refracts within the space.'
7. A space for music and books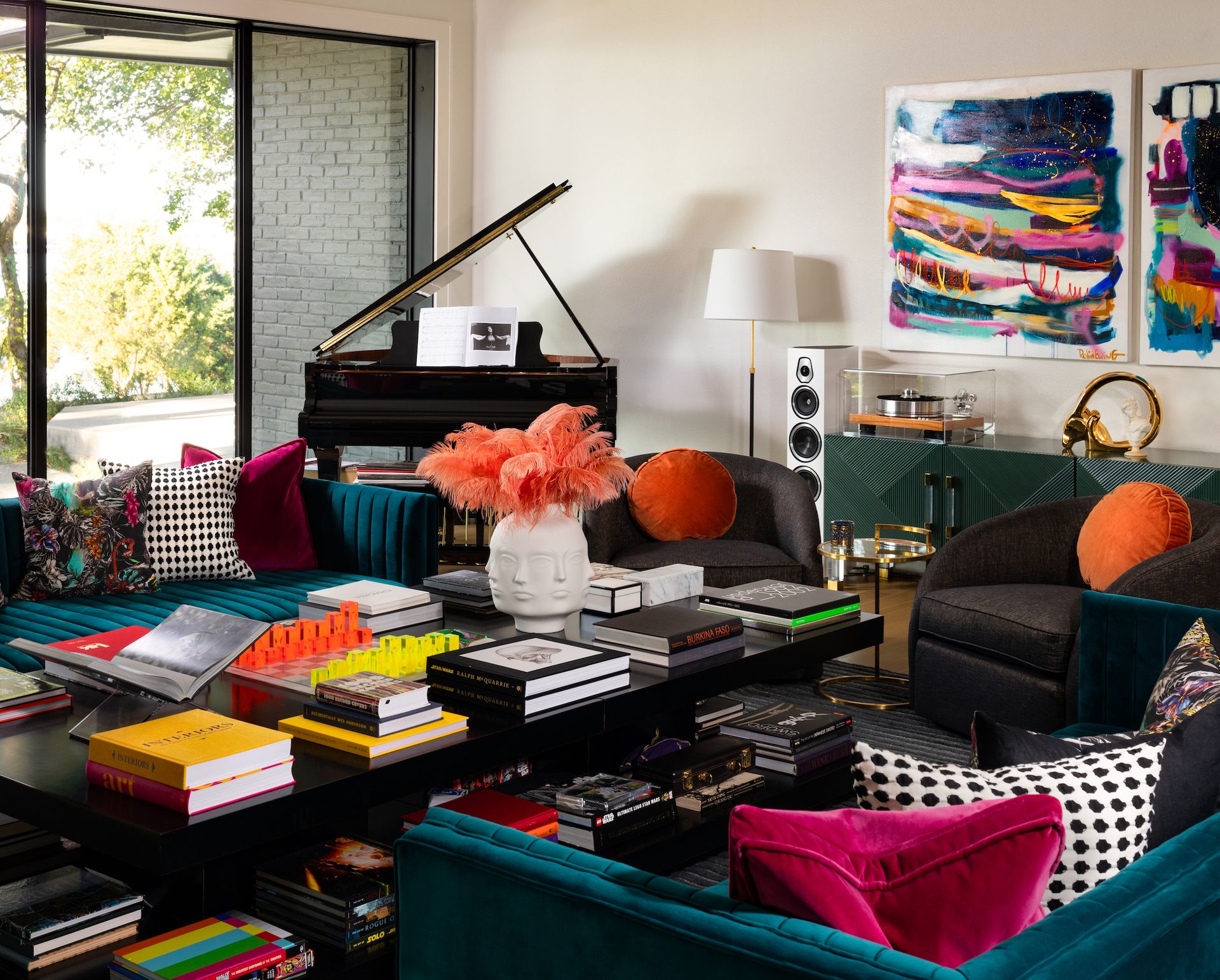 'We don't all have the space for a dedicated music room, but there are ways to incorporate musical elements within a living room instead,' says Lucy Searle, global editor in chief, Homes & Gardens. 'Whilst 'full' visually, this room still fits in a piano and sideboard with a record player and speakers, we believe these multi-faceted spaces are the way to go.'
8. Create a music listening space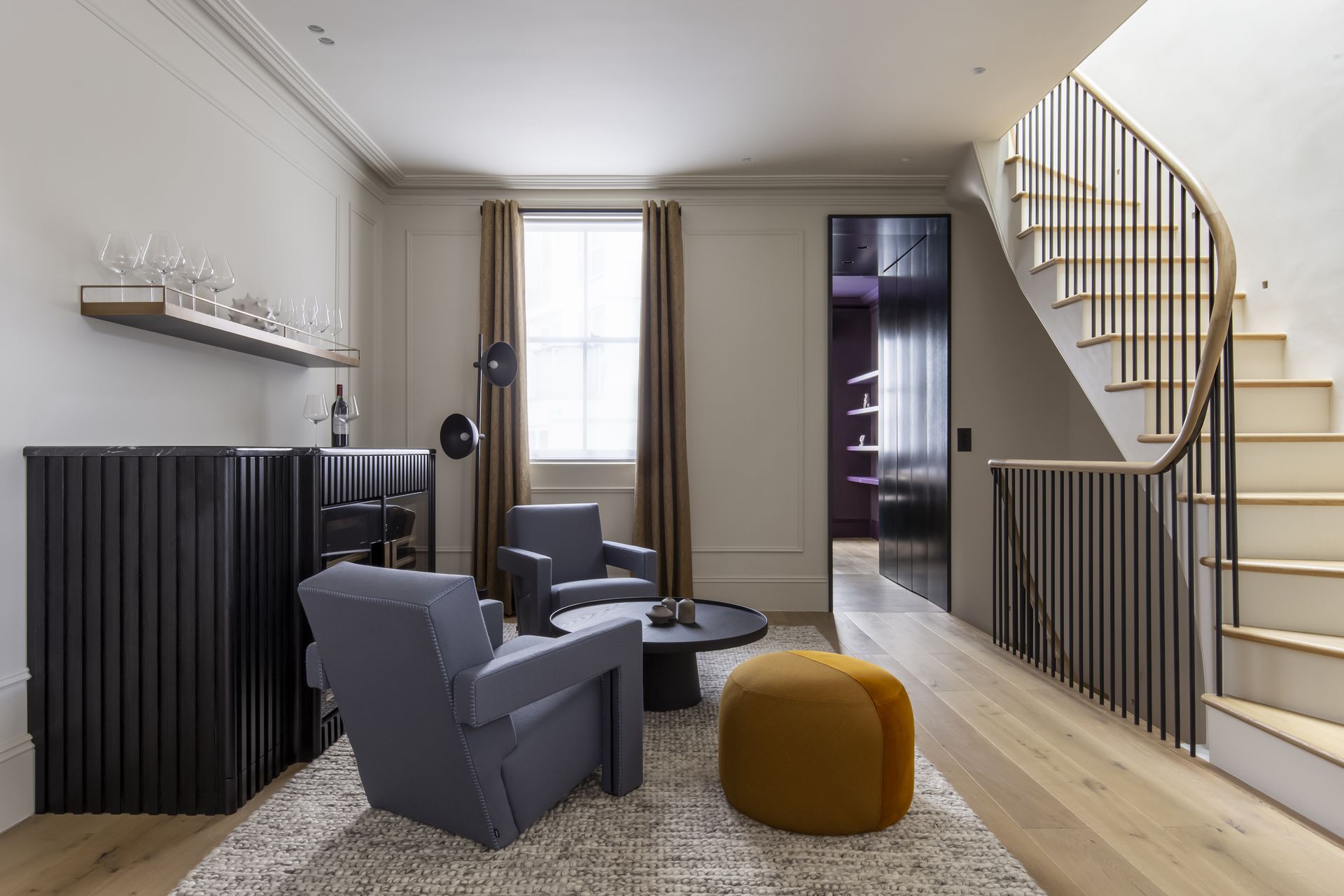 'As a studio, we love to create spaces that will fill clients with joy,' says Tom Rutt, director of TR Studio. 'Small and defined entertaining nooks are a great way to bring in a little space away from hobbies and pleasures. In our project JB Mews, our client was a wine connoisseur and music lover. We defined a small area on an upper floor by installing a bespoke drinks cabinet and wine fridge designed and made by the studio.'
'Home tech was incorporated with ceiling speakers and audio-visual equipment discreetly built in. To create a cozy yet sophisticated ambiance we added statement and comfy wool easy chairs and added texture with rugs and cushions.'
9. Use every available space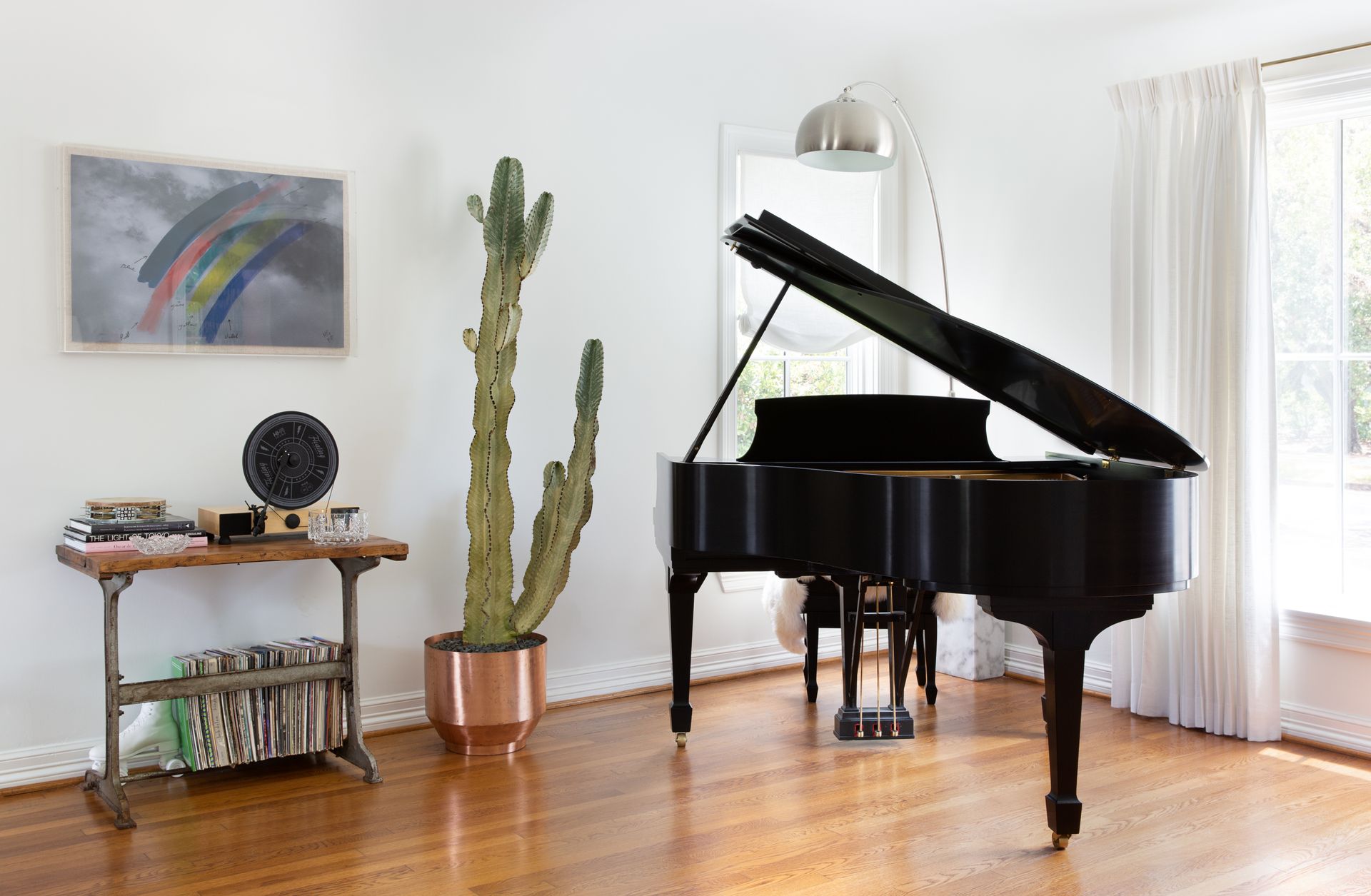 'If you don't have the space for a music room, make a music corner. A dedicated space to share your music has as much function as a full music room,' advises Mary Patton, founder and creative director of Mary Patton Design.
10. Create a corner for musical enjoyment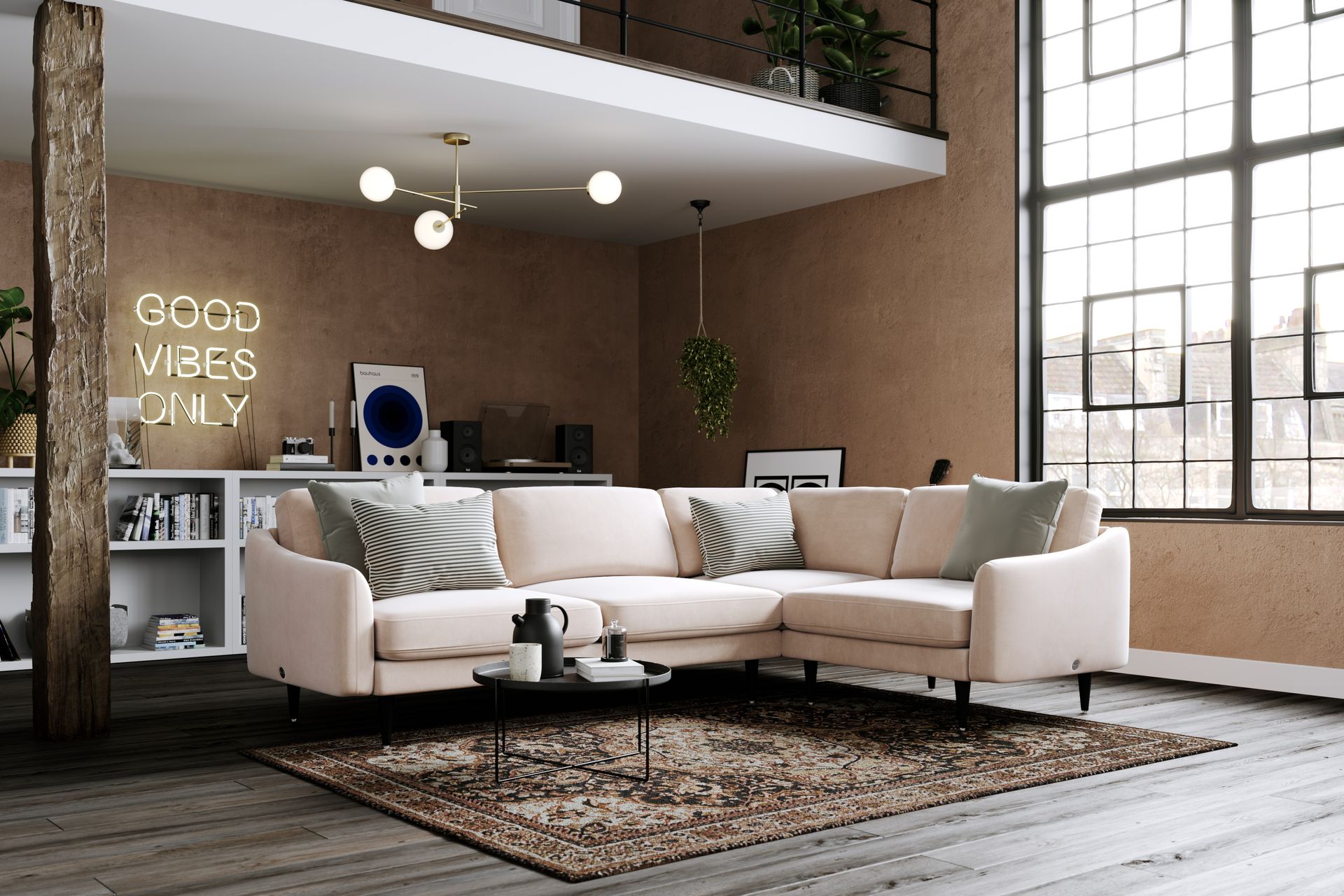 'Whether it's a room for making music, movie marathons, or just simply somewhere to sink into the couch and settle in for the evening, getting the perfect couch makes all the differenceDani Burroughs, head of product for Snug. 'Corner sectionals work wonders in sociable spaces, it maximizes space in even the smallest of rooms, meaning that no matter if it's one person or a group, there's space to lounge in ultimate comfort.'
The best thing to put in a cozy corner of a music room is plenty of texture and warm colors. Using texture in interior design can determine how a room looks and feels, from warm and cozy to cool and contemporary.
Sign up to the Homes & Gardens newsletter
Decor Ideas. Project Inspiration. Expert Advice. Delivered to your inbox.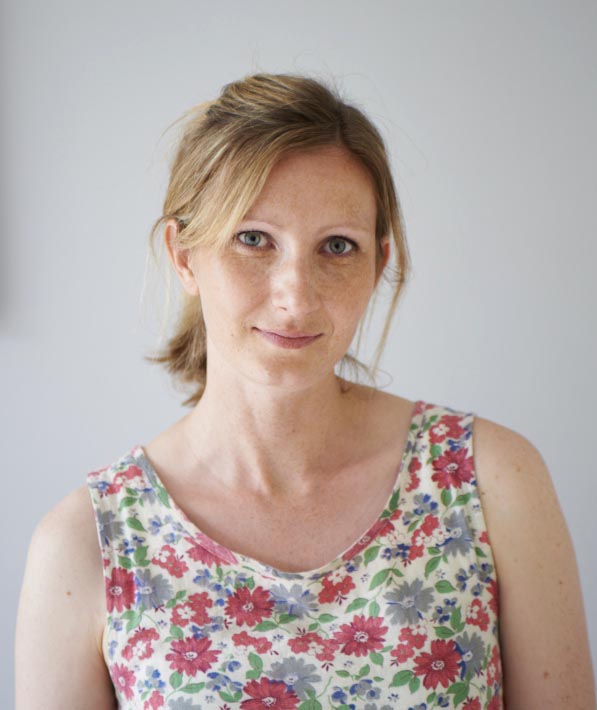 Sophie has been an interior stylist and journalist for over 20 years and has worked for many of the main interior magazines during that time, both in-house and as a freelancer. On the side, as well as being the News Editor for indie magazine, 91, she trained to be a florist in 2019 and launched The Prettiest Posy where she curates beautiful flowers for modern weddings and events. For H&G, she writes features about interior design – and is known for having an eye for a beautiful room.