Best surround sound system – get the home theater system you deserve
The best surround sound systems that mean you can stop relying on your TVs speakers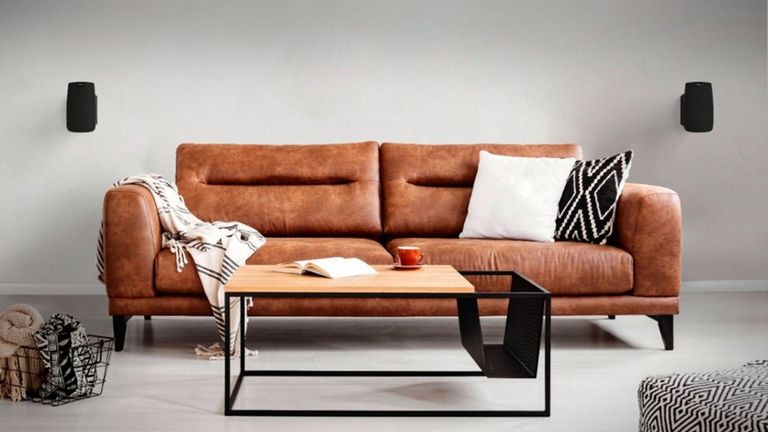 (Image credit: Klipsch)
Many of us believe that we need to settle for whatever sound comes from our televisions, even if it's poor. A standard soundbar goes a long way towards improving this, but true audiophiles (and cinephiles) know that only the best surround sound system can recreate the cinema experience at home.
But choosing the right setup for you and your home can be tricky, and picking the best home theater system will depend on the size of your home, whether you want something wired or wireless, and what you like to watch.
We've taken a look at some of the most popular speaker systems, soundbars and more and ranked our favorites below. But if you want something simple, check out our guide to the best soundbars. Keep scrolling to see what we thought.
The best surround sound systems 2021
1. Sonos Arc
Best surround sound bar
Specifications
Components: Soundbar
Surround sound: Dolby Atmos
Bluetooth?: No
Smart connectivity: Alexa, Google Assistant, Siri
Reasons to buy
+Built-in Alexa and Google Assistant+Connect other Sonos speakers+Adapts to space
Reasons to avoid
-Subwoofer sold separately
The ultimate Dolby Atmos soundbar, the Sonos Arc is an amazing speaker that mimics the 3D audio benefits of a true surround sound system in a single, great-looking package. This saves space around your living area but also means you won't have to deal with trailing wires.
Trueplay technology allows the soundbar to adapt its output to the space its in, so placing it in a smaller space will get you a different result than if the speaker was placed in a large, cavernous room. It can also sense when it has been mounted, adjusting the bass levels to prevent any impact.
The soundbar also works as a smart speaker so you can control your home with in-built Alexa and Google Assistant. Control your TV's sound without scrambling around for the remote, using your voice instead. And if you want a multi-room experience, you can connect other Sonos speakers to form a wider system.
2. Definitive Technology ProCinema 6D 5.1-Channel Home Theater Speaker System
Best home theater system
Specifications
Components: 5 x speakers, subwoofer
Bluetooth?: No
Surround sound: Yes
Reasons to buy
+Largest number of speakers+True customisable surround sound
Reasons to avoid
-No Bluetooth or smart features-Audio receiver required
Get the full sonic experience from your home theater system with something like the Definitive Technology ProCinema 6D set, which includes not just a center speaker and subwoofer, but four speakers to place around your space for the maximum audio experience.
As a more traditional surround sound system, the ProCinema 6D offers more customisation, allowing you to change up your speaker system whenever you want. The only catch is that you'll have to purchase an audio receiver if you don't already have one, meaning an additional cost.
3. Klipsch HT50 Home Theater Surround Sound System
Best budget home theater system
Specifications
Components: 5 speakers
Surround sound: Yes
Bluetooth?: No
Reasons to buy
+True customisable surround sound+Good price
Reasons to avoid
-No Bluetooth or smart features-Slightly old-fashioned design-Audio receiver required
If you're looking for a more traditional home theater system, then the Klipsch HT50 is a five speaker set that can be positioned to your liking around the room. Simply position the main speaker in a center position, and place the other four speakers around where you usually sit to watch TV.
The design of the speakers is a little old-fashioned, and you won't get any of the fancy smart home integration or Bluetooth connectivity present in other products on this list, but there's something about being able to adjust your surround sound system as you go, rather than relying on Dolby Atmos or other similar tech.
4. Sennheiser Ambeo Soundbar
Best 5.1 soundbar
Specifications
Components: Soundbar
Bluetooth?: Yes
Surround sound: DTS-ES, DTS 96/24, Dolby Digital, Dolby Digital Plus, Dolby TrueHD, DTS-HD, Dolby Atmos
Reasons to buy
+Good surround sound
Reasons to avoid
-Large and heavy
Another standalone soundbar, the Sennheiser Ambeo uses technology including Dolby Atmos to mimic a 5.1.5 channel sound system for your home. The speaker has 13 high-end drivers, built-in equalizer and AMBEO 3D technology to allow users to get the best experience possible.
The only real potential issue with the Ambeo is its design which, while it looks attractive, is large and bulky enough that it may not sit well in front of a television. This makes mounting the soundbar pretty essential for the best experience, but the sturdy design looks great in most spaces once you've found the best setup.
5. LG SN11 7.1.4 Wireless
Best 7.1 home theater system
Specifications
Components: Soundbar, subwoofer, 2 x speakers
Surround sound: DTS Digital Surround, DTS-HD High Resolution Audio, DTS-HD Master Audio, DTS:X, Dolby Atmos, Dolby Digital, Dolby Digital Plus, Dolby Surround, Dolby TrueHD
Bluetooth?: Yes
Smart connectivity: Google Assistant
Reasons to buy
+Built-in Google Assistant
Reasons to avoid
-Doesn't work with Alexa
The best of both worlds, the LG SN11RG 7.1.4-Channel system splits the difference between a soundbar and traditional surround sound system by giving you the best of both - a Dolby Atmos soundbar with wireless subwoofer and a pair of rear speakers as the cherry on top.
The set-up also has Google Assistant built-in (no Alexa unfortunately), giving you even more value, and DTS:X support means the sound you hear will be adapted to the space you're in for a more immersive experience. You can even play music and podcasts from your phone via Bluetooth.
What is the difference between a soundbar and a true home theater system?
You may have noticed a mixture of soundbars, speaker systems and bundles on this list. Soundbars featured all mimic surround sound with technology including Dolby Atmos, allowing for the same immersive experience you've become accustomed to in a movie theater. With this, you'll be able to hear sound from your TV from all angles including overhead, even though it's all coming from a single bar.
True surround sound still relies on older technology, but allows for more customisation for the user. Comprised of a set of multiple speakers that need to be placed strategically around the room, the downsides are that they're usually wired and require an audio receiver to work.
Are surround sound systems wireless?
It's rare to get a completely wireless audio system because of the power required to get the best sound output, but that doesn't mean you need to resign to having a lot of trailing wires in your living space. Soundbars, for example, are designed to sit underneath a television set or be mounted to the wall, hiding any wires, and accompanying subwoofers often connect wirelessly.
That said, if you have your heart set on a multi-speaker set-up, you will have to contend with how to hide the wires as best as possible. Take this into account when deciding where to place your speakers.
Caroline has worked with the Homes and Gardens team since the start of 2021, bringing her background in technology with her. She's passionate about incorporating smart devices into the home without compromising on style, and her own interior design style has evolved over the years to reflect this.