Best miscanthus varieties – 15 ornamental grasses for soft, naturalistic planting
Elegant and easy grow ornamental grasses bring a soft and natural look to summer and fall borders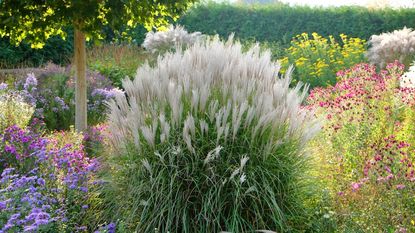 (Image credit: Alamy/Alamy / blickwinkel)
Ornamental grasses are all the rage, and with so many varieties suited to a wide range of climates and garden situations, miscanthus are a top pick. Sometimes known as silver grass, these plants are dependable, varied and valuable, and are a key ingredient if you're interested in planting a prairie garden.
With varieties small enough for a pot on the deck, to large enough for a back-of-the border specimen, miscanthus grasses bring together two main features – foliage and flowers.
In spring, slender shoots emerge from the tightly clumping plants and develop into long narrow leaves up to 4ft long and up to 12in across. In some varieties the leaves are toothed along the edge and gloves are recommended.
There is a central white stripe running down through each leaf in some varieties, while in others there are white margins to each leaf. In a few, the leaves are cross-banded horizontally in yellow.
In the fall, many varieties develop bright and fiery, red and orange and golden yellow tones.
The flower heads emerge from late summer to late fall, in the form of feathery plumes in white, beige, pink or mahogany. As the weeks pass the plumes tend to become fluffy and mature into biscuit tones, sometimes remaining in place through the winter.
Flowering is most prolific in areas with hot summers and where fall comes late, in areas with cooler summers and an early fall some varieties may not flower at all.
'Graceful and robust, miscanthus are favored for their luxuriant foliage and silky terminal panicles,' say the experts at California's Digging Dog Nursery. 'Striking as singular specimens, miscanthus are also excellent when massed in the perennial bed or a mixed border. Attractive throughout most of the year, with yellow, purple, scarlet and burgundy fall colors, they fade to a lovely warm ivory in winter.'
Key miscanthus facts
Ease of growing: Easy to grow
Plant type: Hardy perennial ornamental grass
Mature size: 4-8ft
Growth rate: Strong or medium vigor
Soil preference: Happy in any good soil that is acid or neutral
Best growing in: Full sun
Time to plant: Spring
Peak seasons: Spring, summer and fall foliage, late summer and fall flowers
Hardiness zones: USDA zones 5-7
Scientific name: Miscanthus
Common names: Chinese silver grass, Eulalia grass, Suzuki grass
15 of the best miscanthus varieties
Adagio
One of the smaller varieties, and available to order from Nature Hills, this 'Adagio' miscanthus has narrow foliage held upright plus slender white flowerheads in late summer and early fall, then turning beige.
Good for The middle of the border, and containers
Growth rate Medium
Hardiness USDA Zone 6
Height 4ft
Cabaret
Exceptionally wide foliage features a broad, central white stripe along its length. Pink flowers in late fall after hot summers. A little less hardy than most.
Good for Dramatic foliage effect
Growth rate Strong
Hardiness USDA Zone 7
Height 8ft
Cosmopolitan
Dark green foliage has white edges with a pale, slim, central vein and looks good until very late. Flowers reliably in mid to late fall.
Good for The best tall variegated variety
Growth rate Strong to medium
Hardiness USDA Zone 6
Height 8ft
Encore
Coppery plumes open in late summer, then fade to a pretty tanned cream often with a late repeat display. Each dark green leaf has a narrow white central stripe.
Good for Dependable early flowering in cool climates
Growth rate Strong
Hardiness USDA Zone 6
Height 6ft
Ferner Osten
Slender, olive green leaves turn orange in fall, arching mahogany flowerheads open above the foliage from late summer and mature to silver.
Good for Impact at the back of the border
Growth rate Medium
Hardiness USDA Zone 6
Height 51ft
Fire Dragon
A vivid combination of green foliage that bursts into fiery red and orange in fall, at the same time topped with silvery plumes creating a dramatic fire-and-smoke look. Hardier than most. You can shop for 'red dragon' miscanthus at Nature Hills.
Good for Intense fall color
Growth rate Medium
Hardiness USDA Zone 4
Height 6-7ft
Flamingo
A fine blend of pinkish red summer flowers presented in elegant arches, which mature into silvery seedheads. The long lasting, white striped foliage develops bright fiery tones in the fall.
Good for Good foliage and flowers on one plant
Growth rate Medium
Hardiness USDA Zone 5
Height 5ft
Gracillimus
A variable plant with narrow leaves, a slim white central stripe and very late brownish flowers that only appear after hot summers. Widely available, but 'Morning Light' is a better choice.
Good for Large plantings or screens where cost is an issue
Growth rate Strong
Hardiness USDA Zone 6
Height 7ft
Kleine Fontäne
Bright green leaves feature a slender white central stripe, the whole plant turning gold in fall. The red, late summer plumes mature to silver, arching elegantly.
Good for Flower and foliage combination
Growth rate Medium
Hardiness USDA Zone 6
Height 51ft
Kleine Silberspinne
Dark green, centrally striped leaves are held right angles to the stems and turn to red, orange and gold in fall, the rosy plumes open from late summer then turn brown.
Good for Holding its color into winter
Growth rate Medium
Hardiness USDA Zone 6
Height 4ft
Little Zebra
The neatest of the yellow-banded varieties, with the bands closer together than in other varieties and retaining their color better than most. The upright growth carries dependable reddish fall plumes.
Good for Containers, small-scale foliage plantings
Growth rate Medium
Hardiness USDA Zone 5
Height 3-4ft
Morning Light
Distinctive growth arches out at the top, showing off the bright white edges to the leaves. Pinkish red plumes open in mid-fall, but mainly after hot summers.
Good for Elegant, back-of-the border specimen
Growth rate Strong
Hardiness USDA Zone 6
Height 6ft
Red Chief
Arching green leaves turn golden in fall, then mature to biscuit brown all through winter. Deep red plumes fade to silver and last through winter.
Good for Winter color
Growth rate Medium
Hardiness USDA Zone 6
Height 4ft
Strictus
The creamy banded patterning of the foliage is very striking and the plant holds its leaves well into winter. Growth is narrow and upright, and may produce reddish flowers in fall. Sometimes called porcupine grass, from the spikey look and the banded leaves, the 'strictus' variety is available from Nature Hills.
Good for Crowded borders
Growth rate Medium
Hardiness USDA Zone 6
Height 61ft
Yakushima Dwarf
Very good, neat variety with narrow foliage and pinkish beige plumes opening from mid fall. 'Elfin', 'Starlight', and 'Little Kitten', available to buy at Nature Hills, are similar.
Good for Containers, the front of mixed borders
Growth rate Slow
Hardiness USDA Zone 6
Height 32in
FAQs
Is miscanthus deer resistant?
Generally speaking, yes. At New Jersey's Rutgers University, the Agricultural Experiment Station has been studying which plants are resistant to deer browsing and which are not. The result is that they have graded a large number of popular, and not so popular plants, in one of four categories.
Miscanthus fall into the 'rarely damaged' category, the top rate for deer resistance, which means exactly that. Miscanthus are rarely damaged, partly because many varieties have small, very sharp teeth along the edges of the leaves.
Is miscanthus invasive?
Miscanthus is increasingly seen as a potential invasive, especially in the east. It has been noted as invasive in twenty five states, DC, and also in Ontario.
It spreads by seed but it's often said that some varieties are sterile and never produce seeds. However, the Chicago Botanic Garden researched thirty four varieties and found that only four varieties failed to produce seed: 'Cabaret', Little Nicky ('Hinjo'), and the rarely seen 'Silberpfeil' plus elephant grass (Miscanthus x giganteus).
Research also suggested that in more favorable growing areas 'Cabaret', Little Nicky ('Hinjo') and 'Silberpfeil' would probably also produce seeds and only elephant grass (Miscanthus x giganteus) would never produce seeds. But of course elephant grass, once established, can spread strongly at the root.
In areas with cool summers, many varieties of miscanthus will not flower and so will produce no seeds and so will not spread. If in doubt, only grow foliage varieties that do not flower in your area.
Can I grow miscanthus in a container?
Yes. Almost all miscanthus can be grown in pots. In fact they have a useful feature that makes them especially valuable for container growing.
Varieties that are naturally shorter will thrive in pots and may well mature at their usual height, especially if fed and watered regularly. However, most taller varieties will also grow well in containers, but will simply mature as shorter plants.
It pays to plant taller varieties in concrete, terracotta or stone pots because their weight will help prevent the pot blowing over in a gale. Choose a soil-based planting mix, and try to keep the pots consistently moist as if they dry out the plants will tend to lose their lower leaves which spoils the display.
---
Planted with care and respect for your local environment, miscanthus grasses are hard working without requiring too much attention. If you are planning to add some to your yard, it might be useful to know when to cut back ornamental grasses, so you can properly maintain the size of your plants.
Sign up to the Homes & Gardens newsletter
Decor Ideas. Project Inspiration. Expert Advice. Delivered to your inbox.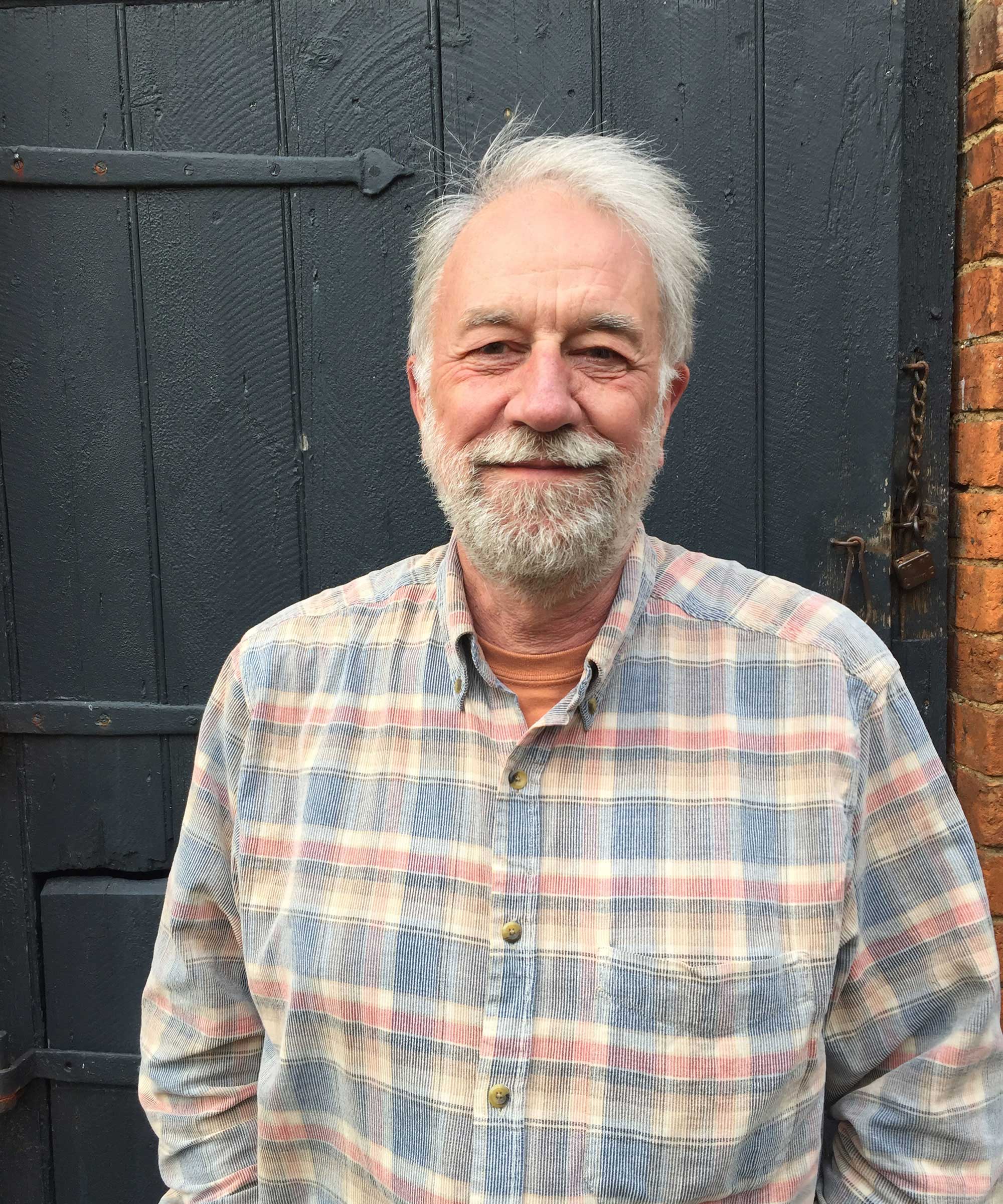 Graham Rice is a garden writer who has won awards for his work online, and in books and magazines, on both sides of the Atlantic. He is a member of a number of Royal Horticultural Society committees and the recipient of the 2021 Garden Media Guild Lifetime Achievement Award. He gardened in Pennsylvania for 20 years, but has recently returned to his native England.