How to plant a prairie garden – capture the soft and muted naturalistic look that's so right for now
A combination of beautiful native flowers and translucent grasses that sway gently in the wind is the essence of prairie planting – and it's easy to recreate in your own yard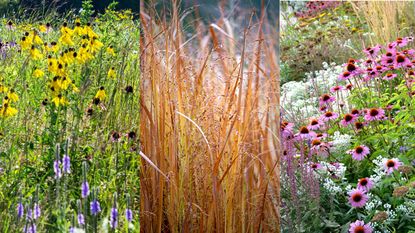 (Image credit: Jen Tepp/Jacky Parker Photography/Beekeepx/Getty Images)
Prairie planting is big news right now, with the signature look comprising grasses and flowering perennials planted in a loose, airy mix. Although this unstructured style is often associated with expansive areas of grasslands, the naturalistic feel can also be achieved in smaller yards.
The trick to getting the look right in your own backyard is to choose plenty of each variety of flower or grass, and repeat plant them in a free-flowing style that celebrates form, structure and texture.
Often set against a backdrop of grasses that shift and ripple in the breeze, the stems and leaf forms of individual flowers are as important as the shape and color of the petals.
Structurally dramatic seedheads are also a key element of the prairie planting look once flowers fade, and are beneficial to wildlife. If you're looking for a more sustainable form of planting it is a natural fit.
We share expert advice on how to plant a prairie garden, and pick out some of the best flowers and grasses to include to help you get the look.
How to create informal drifts of color and texture
Creating drifts of color and texture is easy when you're discovering how to plant a prairie garden. By intermingling or massing repeat plantings of perennial flowers and ornamental grasses, you will end up with a tapestry of color and texture. The rule of grouping five plants together is a good one to follow to create informal swirls through your planting scheme.
Choose plants of different textures, heights and forms to achieve the look, with a harmonious color palette, such as pale yellow and purple to further define your planting. Airy plants with architectural stems, daisy-like flowers that seem to float, and ornamental grasses are all key components in drift planting.
Think about adding interest throughout the growing season, too. Find out how to drift plant with bulbs, mixing in perennial bulbs such as alliums, for example, to ensure you nail how to plant a prairie garden and get the growing season off to a good start.
5 perennial flowers for prairie planting
Make native wildflowers your go-to when choosing perennial flowers for naturalistic planting designs. When planning a prairie garden, always take into account your local environmental conditions and choose species that are native to your area.
To help you get started, here are five favorite native prairie plants chosen by horticultural experts.
1. Black-eyed Susan
USDA growing zone: 3-8
Height: 2-3 feet
Botanical name: Rudbeckia
One of the most popular perennials in North America, black-eyed Susan is a natural for prairie planting. This native flower is easy to grow and blooms all summer long, plus it is one of the best flowers for bees, butterflies, and other beneficial insects to boost your garden's biodiversity.
'Rugged durability, extreme heat tolerance, and summer-long flower power make this the perfect prairie plant,' says horticulturalist Gail Pabst, who works for the National Garden Bureau. 'Black-eyed Susan can be found naturally and thrives in all 48 contiguous states and all 10 provinces of Canada.'
Black-eyed Susan plants are host to the silvery checkerspot butterfly caterpillar, and they are also called 'pioneer plants' because they are one of the first plants to grow back after a fire. 'There are many different types and flower colors,' says Gail. 'They attract bees, butterflies, and birds, and the seed heads provide food for birds in the winter.'
The most popular variety is 'Goldsturm'. Gail also recommends 'Prairie Sun', 'American Gold Rush', and 'Cherokee Sunset' as some of her favorite cultivars.
Gail is a passionate horticulturist with over 25 years' experience in the industry. She is an avid home gardener too and loves to try out the newest varieties and techniques. Gail's work with the National Garden Bureau and the All-America Selection has helped her to continue their mission of inspiring, teaching and growing in gardening with others.
2. Tickseed
USDA growing zone: 2-11
Height: 2-4 feet
Botanical name: Coreopsis
Known colloquially as tickseeds, these pretty daisy-like flowers produce masses of flowers right through summer and into fall if you plant them in a sunny spot. They are reliable plants for prairie-style gardens, and the flowers are long-lasting, blooming from summer through to first frost.
'Coreopsis is a genus of flowering plants in the Asteraceae family,' says Gail Pabst. 'It is native to the Americas, with over 80 species found naturalized in the region. The flowers are typically daisy-like, with a showy ray of colorful petals surrounding a central disk of flowers. The flowers come in a variety of colors, including yellow, orange, red, and pink.'
Tickseed is a popular choice for prairie planting because it's easy to grow and its small scale blooms integrate well with other flowers. It will self-seed, so it works for meadowscaping too. It's also a pollinator magnet, attracting bees and butterflies to its blossoms and birds to its seeds, so a great choice for a more sustainable yard.
3. Prairie phlox
USDA growing zone: 3-9
Height: 1-2 feet
Botanical name: Phlox pilosa
Phlox is a wide-ranging North American native perennial that is known for its vibrant flower colors, long blooming season, and ease of care. It is one of the classic American perennials.
The prairie phlox variety has clusters of pale pink or lavender flowers and a pleasant scent. In addition to prairie phlox there are several other varieties of phlox including border phlox (paniculata), meadow phlox (maculata) and creeping phlox (subulata).
'Phlox are easy-to-find wildflowers stretching from Florida and Quebec to Alaska, and they are a common fixture in woodland, prairie, and meadow landscapes,' says Gail Pabst. 'Phlox are highly attractive to butterflies, making them a great choice for a garden for pollinators.'
Prairie phlox is good at withstanding powdery mildew, which is a common problem with many varieties.
4. Yarrow
USDA growing zone: 3-9
Height: 1-3 feet
Botanical name: Achillea
Yarrow is a native flowering perennial from the grasslands that likes full sun and heat. It is resilient during dry spells, and will flower abundantly if you remember to water it just a little throughout the summer months.
The flattened shape of their textured flowers contrasts well in a prairie planting scheme, as they appear to float above other stems. The dark green, finely divided, feathery leaves are a sweet addition to the mix too.
If you want your prairie planting to multiply quickly yarrows are a good choice. 'Yarrows can make significant patches once established,' says horticulturalist Jenny Rose Carey. 'They are classic plants that add flat-topped, plate-shaped flowers from late spring through summer.'
There are several species and lots of cultivars to choose from including Achillea millefolium, which is the common yarrow with off-white blooms that grows wild. As a result of breeding you can now get this variety in a range of colors.
Horticulturalist Jenny Rose Carey is author of The Ultimate Flower Gardener's Guide, and former senior director at the Pennsylvania Horticultural Society's Meadowbrook Farm.
5. Bee balm
USDA zone: 4-9
Height: 1-4 feet
Botanical name: Monarda didyma
Flamboyant bee balm is a late-summer bloomer with vibrant flowers that's well worth adding to your prairie garden. The tufted flowers in pink, red or purple will soften the look of the planting and work especially well when combined with ornamental grasses, plus phlox, coreopsis, black-eyed Susan and yarrow, the other flowers we've mentioned here.
'A favorite of pollinators, bee balm displays the most delightful whorl of disc-shaped flowers with thin, tubular petals that spider out,' says horticulturalist Jac Semmler, author of Super Bloom, available to order on Amazon. 'The bract highlights the pincushion pad of the flower. The flowers sit on top of long thin stems that rise from a clump, and when planted in a mass offer a sea of scented blooms.'
They make it onto our list of the best flowers that attract hummingbirds too, so even more of a reason to include them in your prairie garden ideas. Plant bee balm in rich, well-drained soil in a sunny spot where they'll get plenty of sunlight every day.
Jac Semmler is foremost an experimental gardener and plant lover. She tends to 'super bloom', a creative plant practice that brings dynamic living beauty and diversity to urban spaces, landscapes and creative projects. Jac is a qualified educator, respected horticulturalist and botanical guide, and often shares her ideas at festivals as well as on radio and podcasts.
5 ornamental grasses for prairie planting
As well as being low-maintenance and reliable, ornamental grasses add grace and movement, so are a key element when considering how to plant a prairie garden. They have flower panicles that billow on the breeze, and wonderful color once they take on their fall hues.
Designers love using them as a key element in creating a naturalistic look, and now you can too. There are a huge variety to choose from, so we've selected five of our favorite types for you to get started with.
1. Miscanthus sinensis (Chinese Silver Grass)
USDA zone: 5-9
Height: up to 8 feet
This elegant ornamental grass has graceful foliage that arches gently at the tips to create a fountain-like effect. The plumes of silver, buff, purple or pink flowers in late summer will complement your prairie planting, even more so when the foliage turns golden-bronze in fall.
There is a big selection of Miscanthus sinensis cultivars to choose from, including compact varieties as well as taller architectural clump-forming ones. Look out for cultivars like 'Dronning Ingrid' with dark red flowers and silver-plumed 'Kleine Silberspinne'.
All types love a well-drained sun-baked prairie border, where they will weave through the flowers to create a light and airy effect.
2. Calamagrostis (Feather Reed Grass)
USDA zone: 4-8
Height: up to 8 feet
This spectacular, ornamental grass forms dense clumps and has erect flower panicles that turn a pretty golden color in fall that last through winter. Use it as a backdrop for loose prairie-style plantings with late-flowering perennials such as echinaceas and rudbeckias.
Fast-growing and easy to maintain, this pretty grass thrives in well-drained soil in open, sunny borders. There are plenty of varieties to choose from, with the majestic 'Karl Foerster' one of the most popular cultivars for prairie and meadow planting. The feathery pink-purple plumes in fall will weave perfectly into the naturalistic look.
3. Stipa tenuissima (Mexican Feather Grass)
USDA zone: 7-11
Height: 1-2 feet
The silver-blonde fronds of Mexican feather grass will create movement and lightness in your prairie garden as it shifts in the breeze. Each seed is tipped with a long silky filament that creates a soft, floaty look that's almost transparent. It combines well with airy flowers like cosmos and echinacea.
Stipa can be evergreen or deciduous, is ideal for a sunny spot, and likes well-drained soil. This US native will naturalize in your prairie planting as it self-seeds, forming elegant clumps of arching, feathery panicles.
4. Panicum virgatum (Switch Grass)
USDA zone: 5-9
Height: 3-6 feet
This graceful, late-blooming switch grass is a more compact alternative to Miscanthus. Native to the North American prairies, its upright habit makes it a useful vertical accent in prairie planting.
Panicum virgatum is an undemanding perennial that likes a sunny position and well-drained soil. The dense clumps of blue-green leaves turn a pretty amber color in fall, adding a delightful accent that's accentuated by the flower spikelets. Some cultivars add burgundy tones (try 'Shenandoah') and vivid yellow-orange (try 'Prairie Sky') in autumn.
A new cultivar from ornamental grass champion Piet Oudolf is 'Purple Tears', a heavy bloomer with showy, purple seeds heads that offers outstanding sweeps of color and movement in prairie planting combinations.
5. Pennisetum alopecuroides (Chinese fountain grass)
USDA zone: 6-9
Height: 2-3 feet
Pennisetum alopecuroides is a highly decorative ornamental grass that offers year-round interest in prairie gardens. It's a low-maintenance plant, which quickly forms a clump, so is ideal for filling gaps in your planting. It will add texture, color and contrast if your aim is a naturalistic look.
The grassy foliage is neat, but stays quite inconspicuous until the fluffy flower heads appear during late summer, looking rather like squirrels' tails. There are dwarf varieties of this grass available too, which are a great choice if you're creating a prairie planting combination in a border.
Providing easy care year-round drama, look out for popular cultivars like 'Hameln', which is eye-catching right through winter, and 'Little Bunny', a compact variety perfect for small gardens.
FAQs
When is the best time to establish a prairie garden?
The best time to establish a prairie garden is in spring. The soil is starting to warm up and anything you plant will have months to grow and thrive.
More specific planting times vary according to the plants or seeds you've chosen, so be sure to check planting information carefully. It's a good idea to draw up a calendar if you've chosen lots of different varieties that require staggered planting.
Dig the soil to prepare it for planting. Make sure it's free of weeds, especially invasive types such as couch grass, bindweed and dandelions. Incorporate plenty of well-rotted compost too.
How do I plant seeds in a prairie garden?
Sowing seeds is a key part of how to plant a prairie garden and it's easy to do. It simply means scattering them. It's a good way of ensuring attractive prairie planting combinations as your flowers and grasses will be woven together naturally rather than planted in carefully designed drifts.
You can either buy a prepared seed mix designed for prairie planting, or choose a selection and mix them yourself but if you decide to customize remember the seeds will all need to have the same germination times. You will need to mix in a carrier such as sand or sawdust before scattering your seeds. You might be interested in how to make wildflower seeds bombs too.
Prairie garden planting is about choosing more sustainable garden ideas that benefit both the environment and local wildlife. If you love the idea of prairie planting it could be time to say goodbye to your lawn and consider instead no-grass backyard ideas. This will give you a great space for rewilding projects with native local plants.
Sign up to the Homes & Gardens newsletter
Decor Ideas. Project Inspiration. Expert Advice. Delivered to your inbox.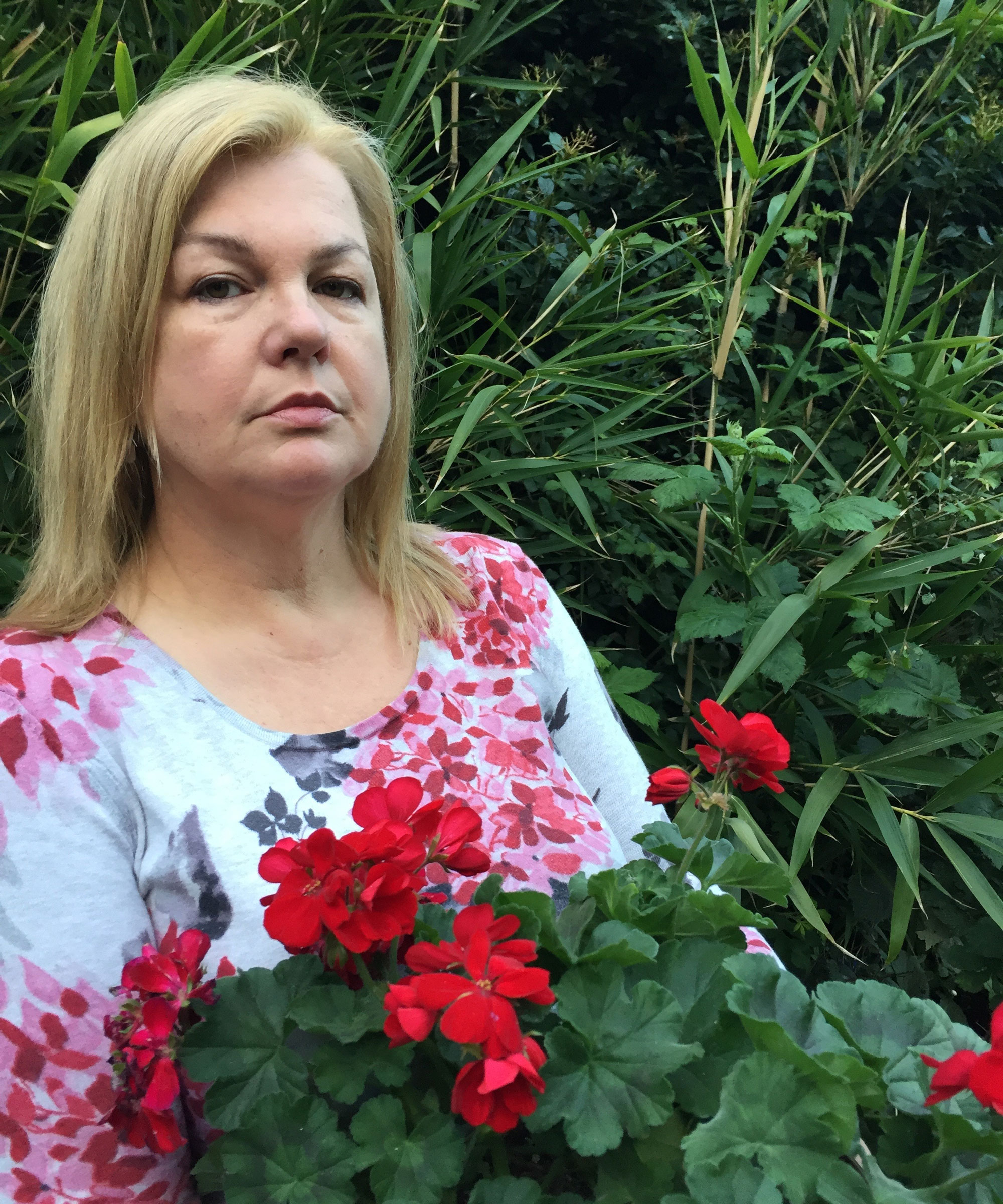 Lifestyle journalist Sarah Wilson has been writing about flowers, plants, and garden design and trends since 2015. Having already studied introductory garden and landscape design as well as a course in floristry she is currently adding to her list of qualifications with an RHS Level 2 course in the Principles of Plant Growth and Development. In addition to homesandgardens.com and livingetc.com she's written for gardeningetc.com, Modern Gardens and Country Homes & Interiors magazines.