Best way to clean pool tiles – 7 steps to remove scum, algae and calcium
Pool tile cleaning is essential to maintain a hygienic, inviting pool, and it doesn't have to be a time-consuming task if you follow our expert tips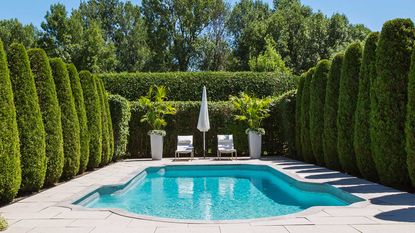 (Image credit: Perry Mastrovito / Image Source / Getty Images)
Sign up to the Homes & Gardens newsletter
Decor Ideas. Project Inspiration. Expert Advice. Delivered to your inbox.
Thank you for signing up to Homes & Gardens. You will receive a verification email shortly.
There was a problem. Please refresh the page and try again.
Knowing how best to clean your pool tiles has never been more timely, it being the height of summer, your pool tiles are likely to get dirtier, faster.
Although dirty pool tiles are a sign of a well-used and heartily enjoyed pool, they are unappealing, and are an early clue that your pool's water needs cleaning, or that the balance of chemicals is off.
Cleaning pool tiles is one of the basics of knowing how to look after your backyard swimming pool, and it can be done in seven simple steps. We spoke to experts to find out how.
How to clean pool tiles – and how often
Pool tiles can quickly become stained or dirty because of the natural oils and sun cream on your skin, mineral deposits, calcium build up, and a chemical imbalance in the water. These all adhere to the tiles, dulling their appearance.
Tiles along the waterline are often the first to become stained, so as soon as you notice any discoloration, make time for cleaning. This will mean that you will likely need to clean your pool tiles once a month – and it's far better to do so than having to tackle a bigger, deeper, pool tile cleaning job at the end of the summer.
It can take anywhere from an hour to half a day to clean pool tiles, depending on the size of your pool, the condition of your pool tiles, and whether you also need to clean grout. Make sure to consider the type of tiles you have in your pool to find the most prudent and appropriate cleaning method.
1. Remove debris from the pool
The first essential step to complete before you start on your pool tiles is to get your pool net out and remove debris you can from the pool, such as leaves, grass, flies, and any dead algae. If you don't have a for-purpose pool net with a wide mouth, we like the Professional Pool Nets for Cleaning from Walmart.
Another method we highly recommend using for all pool users is a pool vacuum. Since maintaining a debris-free pool can often be a time consuming task, and frankly boring, having an automatic pool vacuum can save you quite a bit of time and effort and mean that you can keep your pool clean as regularly as every day with a click of a button. Using yours daily should also mean your pool tiles are less likely to experience a stain build up.
Some more of our favorite options are below.
Pool Blok Pumice Tile & Concrete Cleaner
$6.97
This tile and concrete cleaner can tackle pool rings from chemicals and water scales, and is a step up from chemical cleaners in its effectiveness.
Dolphin Nautilus CC Plus Robotic Pool Vacuum Cleaner
Was $899, now $799
This robotic pool vacuum cleaner's power lasts for two hours, so you don't have to think twice about leaving it to clean the depths and sides of your pool.
2. Drop the pool's waterline
It's especially important to clean the waterline tiles in your pool since not only are they the most on display, but also they can be permanently damaged by calcium scale build up that comes about when water evaporates off the pool's surface leaving calcium deposits on the tile, if not regularly cleaned.
But how best to do this? Dropping the waterline of your pool will allow you to clean the waterline tiles without the pool's water obstructing the task. This is where much of the residue builds up which, if left uncleaned, can lead to bacteria developing in the water.
To do this you can use a pool pump, or failing that you can use a garden hose. You needn't waste the water: you can drain pool water on to your lawn in certain situations.
If you are using a submersible pool pump, you simply need to attach a drain hose to the pump which should then be placed in the pool. Once it is plugged in the hose will drain the water.
If you have a filter with a multiport valve, such as this Multiport Valve, AquaPro AL50, 4-Way from Walmart, this can also be used to lower the pool's waterline by draining water through the pool's drainage port.
Hubert Miles, certified pool and spa inspector through NACHI says, 'You do not need to drain your pool for routine tile cleaning completely. Lowering the water level to just below the tile line is sufficient.'
Hubert Miles is a certified pool and spa inspector through NACHI, and is the owner of Home Inspector Insider. Hubert is based in Covering Horry, Georgetown, Williamsburg, Florence, Darlington, Marion, Dillon, and Clarendon Counties
3. Get scrubbing
Once the pool's waterline has been lowered, grab a brush with stiff bristles and get scrubbing!
You need quite a hardy brush to tackle the dirt and the stains on your pool tiles, but make sure to be careful to avoid damaging the tiles by brushing them too roughly – use a circular motion to reduce the risk of creating scratch lines, especially when cleaning glass tiles. A for-purpose pool tile cleaning brush, such as this top-rated buy from Amazon is a wise buy for getting good results while protecting tiles.
4. Use a pumice stone
Despite what its name might suggest, a pumice stone is actually a light and easy to use cleaning tool that should make cleaning your tiles a quick job.
Hubert Miles advises, 'Pumice stones can effectively remove mineral deposits and calcium buildup on pool tiles. They can target stubborn stains and deposits. Pumice stones require careful handling as they can scratch the tiles.'
The In The Swim Pumice Cleaning Stone from Walmart can be used alongside a brush without damaging tiles, though as with all cleaning methods, always test first on a small area and avoid using it on more easily damaged tiles, such as fiberglass or vinyl.
5. Use water pressure
'If using a brush or pumice stone raises some concerns about the potential of scratching your tiles, there is another alternative that may also appeal to those of you who would prefer not to put in the elbow grease that scrubbing your tiles by hand requires, and that is by using a pressure washer,' advises Millie Hurst, Solved Section Editor and cleaning expert at Homes & Gardens.
'The Westinghouse ePX3100 Electric Pressure Washer is Amazon's top buy currently; using a pressure washer means you can clean your pool tiles from a distance with precision and speed. Start off on a low setting and clean a test section to see how your tiles and grout fair. If it causes any damage to your tiles then reconsider this method, but if not get stuck in!'
If you have a pool, a pressure washer is undoubtedly the best tool for the end-of-season clean, too.
Millie Hurst is Section Editor at Homes & Gardens, overseeing the Solved section, which provides readers with practical advice for their homes. Millie has written about and tried out countless cleaning and DIY hacks in the six years since she became a journalist, and has worked in both London and New York.
6. Use cleaning products
Using tile cleaner is a once-a-season solution to getting pool tiles gleaming, and should be done once your pool is drained, since the tiles need to be dry for the tile cleaner to be most effective. Follow manufacturers' instructions, but the basic premise is: apply the tile cleaner, wait a few minutes, scrub with a brush, then rinse.
This might be a pool tile cleaning method you want to use at the start and end of the season since draining the pool completely should only be done as a last resort.
Certified pool inspector, Hubert Miles recommends, 'A mild pH-neutral cleaner specifically designed for pool tiles effectively removes common stains without harming the pool's water chemistry. Look for cleaning products that are formulated explicitly for swimming pool tiles. These cleaners are formulated to tackle the challenges without harming the water pH balance. Wipe Out 6012 is a best seller on Amazon.
'You could also use a mixture of 1 part vinegar to 3 parts water can work well for mild stains. The acetic acid in vinegar can help break down mineral deposits and grime', continues Hubert.
7. Remember to rinse
The final step (provided you haven't already used a pressure washer to clean your pool tiles) is to give them a final rinse and wipe to make sure you've got every last bit of dirt off your tiles.
You may need to repeat the debris-removal step but an efficient pool filter will help with this.
FAQs
How to prevent pool tiles getting stained?
Having the correct chemical balance in your pool is important to keep your pool tiles clean; for this you may need to know how to shock a pool, but you should also ensure that you regularly check the pool's chemical levels with Swimming Pool Test Strips from Walmart.
If your pool doesn't have enough chlorine then algae can develop, along with a harmful calcium build up on your pool tiles, which can cause them to look bleached. The right amount of chlorine, however, will keep your pool tiles cleaner for longer. The ideal pH level for pools is between 7 and 7.6.
---
Not only is a swimming pool a great way to cool off, a place to exercise and the hub of summer fun, but it's also a design feature and should be treated as such. This means keeping it as clean and pristine as possible so it acts to elevate your yard. More than that, though, regular upkeep will save you maintenance costs in the long run and improve your pool water's hygiene levels.
Sign up to the Homes & Gardens newsletter
Decor Ideas. Project Inspiration. Expert Advice. Delivered to your inbox.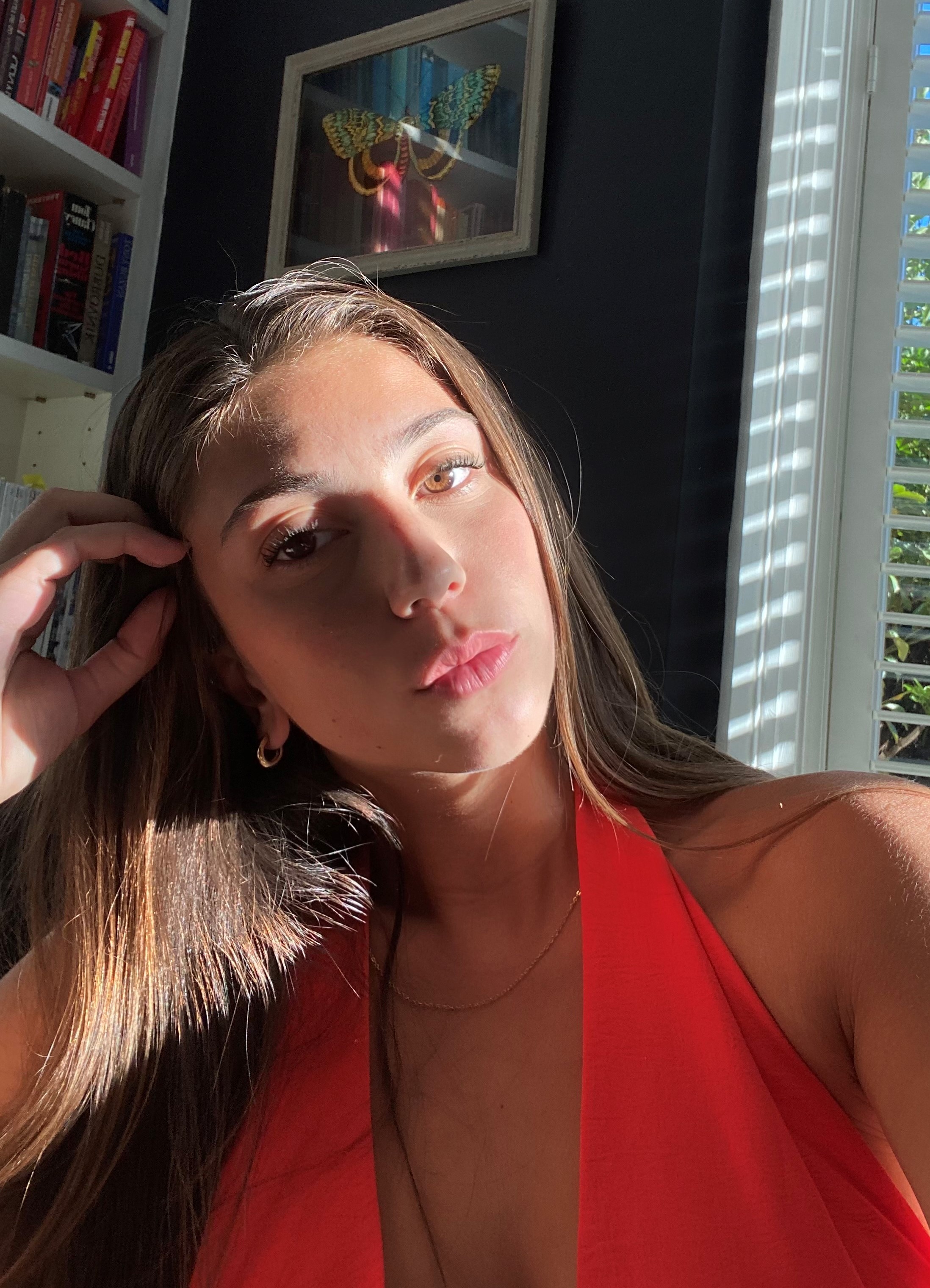 Lola Houlton is a news writer for Homes & Gardens. She has been writing content for Future PLC for the past five years, in particular Homes & Gardens, Real Homes and GardeningEtc. She writes on a broad range of subjects, including recipe articles, reviewing products, writing 'how to' and 'when to' articles. Lola now writes about everything from organization through to house plants. Lola is a graduate student, who completed her degree in Psychology at the University of Sussex. She has also spent some time working at the BBC.