Houseplant propagation mistakes – 11 common errors that can kill your cuttings
How many are you guilty of making?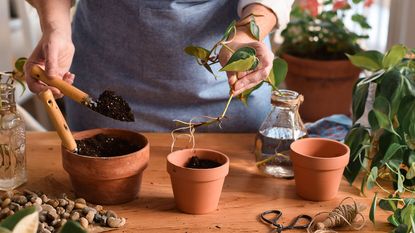 (Image credit: JulieAlexK/Getty Images)
Sign up to the Homes & Gardens newsletter
Decor Ideas. Project Inspiration. Expert Advice. Delivered to your inbox.
Thank you for signing up to Homes & Gardens. You will receive a verification email shortly.
There was a problem. Please refresh the page and try again.
Avid members of the houseplant community will know all too well how expensive indoor plants can be. Continuously expanding your collection is not usually a budget-friendly exercise. But, with the power of propagation, you can grow more of your favorite plants at almost no cost.
Propagating may seem relatively simple – just popping a cutting in a glass of water – but there are many ways the process can go wrong. From using blunt tools to cutting in the wrong place, it's easy to slip up and ruin the chance of your cutting growing well.
'There can be lots of reasons why your plant cutting might fail and not develop into a new plant,' says Beth Murton, head of gardens for Homes & Gardens. 'It's always disappointing if you don't get the results you'd hoped for, but by learning the most common houseplant propagation mistakes you can look to improve your methods and increase your chances of getting more free indoor plants.'
Madison has turned her years-long passion for plants into a career writing for both digital and print publications. She covers everything from the latest trends to general plant care advice, all while caring for her own ever-growing plant collection. She regularly propagates her houseplants as a means of increasing her collection without having to spend money on buying new plants.
Houseplant propagation mistakes you need to avoid
Make sure you avoid these 11 common mistakes if you want to grow strong and healthy plants.
1. Taking cuttings from an unhealthy plant
Before you can consider propagating, you need to have the right houseplant for the job. And the first question to ask is whether it is healthy enough to propagate.
For the highest chances of success when propagating, the parent plant should be actively growing. Any stress from inadequate care or the wrong environment will limit the cutting's potential for rooting. Taking cuttings at this time may also lead to more stress in the parent plant, depending on the cause of the problem.
Claire Akin from Houseplant Resource Center provides some advice for problems to look out for. 'If your plant is dropping leaves, if it has brown spots, if it isn't actively growing, you're going to have a hard time propagating it.'
2. Taking cuttings at the wrong time
Health is not the only component of growth. Season is also vital to consider before propagating. Most houseplants are actively growing during spring and summer, making these the ideal times to propagate.
'You need to start with a healthy specimen, preferably one that is within its growing season and actually putting out new growth. That means that the auxins or the plant growth hormones are flowing within your plant and that it is more likely to grow roots and propagate,' says Claire Akin.
That doesn't mean that plant cuttings taken out of season won't root at all. But, your chances of rooting will be greatly reduced. Or, the roots will develop far slower than they would in spring and summer.
3. Using dirty tools
When you're ready to take your cuttings for propagation, you'll likely grab your trusty pair of shears. Before you get to work, make sure you clean those pruning shears properly first.
Few people look forward to garden chores. It's inherent in the name 'chore', describing something that is probably boring but unfortunately beneficial. In the case of propagating, this preliminary clean can prevent the spread of disease to both your new cuttings and the parent plant.
Co-owner of Fraser Valley Rose Farm Jason Croutch believes this mistake can make a big difference to propagation success or failure. 'Start with a clean sharp pair of pruners. You don't want to be introducing any bacteria or fungus that will then turn into rot organisms on your cuttings.'
4. Using blunt tools
Jason Croutch warns that using blunt tools is also a common indoor plant propagation mistake. Sharpening your shears is not a garden chore that needs to be done as frequently as cleaning, but it is still an important task to put on your annual garden maintenance list.
Sharp shears ensure clean cuts at the base of your cuttings, keeping transport systems for water and nutrients open within the stem. Clean cuts also heal faster on the parent plant, limiting risks of stress, long-term damage, and even pest and disease problems.
'You also want a clean cut because if you crush the bottom of that stem, it's going to reduce your chances of success,' says Jason.
A sharpening tool, such as the Felco sharpening tool from Amazon, is ideal for ensuring your pruning tools are sharp and ready for use.
5. Cutting in the wrong place
With a healthy plant and well-prepped tools, you can finally get to cutting. This is where another potential mistake creeps in, and one houseplant owners make often – cutting in the wrong place.
Stem cuttings need to be removed just below a leaf node, the point where the leaves emerge from on the stem. This is the section of the plant that has the ability to produce roots. The exact spot and length of your cutting will depend on the houseplant you are dealing with, but all stem cuttings will need to be removed with a node intact in order to root.
'The further you go from that node, the further you are away from the tissue that can differentiate and create the callus at the bottom of your cutting. Even a quarter of an inch can make a big difference in success or failure,' says Jason Croutch.
6. Rooting in the wrong soil mix
To root your cuttings, you can root in water or soil. Rooting in water allows you closely monitor root growth, but rooting in soil generally produces stronger roots better accustomed to soil conditions, limiting later chances of transplant shock.
If you are going the soil route, the right soil mix is essential. Many gardeners make the mistake of rooting in regular garden soil or standard potting soil, which often isn't light and airy enough to encourage root growth.
Experts at University of Maine recommend a combination of coarse sand, potting soil and vermiculite, or a mixture of peat and perlite. 'It is important to choose the correct rooting medium to get optimum rooting in the shortest time. In general, the rooting medium should be sterile, low in fertility, drain well enough to provide oxygen, and retain enough moisture to prevent water stress.'
7. Forgetting to replace the water
Although rooting in soil has its benefits, most houseplant growers choose to root in water. Watching the roots grow is much more exciting than leaving them to their own devices. Plus, they make a unique interior décor feature while you wait to transplant.
But, if you choose this method, it's important to be aware of the maintenance involved and not make a common water propagation mistake. For your cuttings to develop roots, they need oxygen and clean water. Over time, oxygen in the water will dissipate and the stagnant water can attract bacteria that impact the health of your cuttings.
It's best to top-up or change the water every few days. Top-up more often if the water is evaporating quickly, leaving the bottom of the cutting exposed. Around once a week, clean the container thoroughly before putting the cutting back to prevent bacterial growth that can inhibit root development.
8. Rooting all cuttings in water
The ease of rooting in water makes it an attractive option when propagating houseplants. However, this ease leads gardeners to make another common houseplant propagation mistake – rooting absolutely every plant they want to propagate in water.
Many houseplants, especially vining plants like the popular pothos, root well in water. But others with different growth habits may take far longer to root in water than they would in soil, or have a higher chance of rotting before they even get a chance to root.
I've propagated low maintenance indoor plants such as ZZ plants in both soil and water. The cuttings in soil developed tubers far quicker than those in water. In fact, it took the cuttings in water several months longer to develop tubers, and many cuttings rotted before that point.
Ann from Geeks of Green suggests experimenting rather than choosing water for every cutting. 'I usually like to experiment with cuttings and have gathered that many plants root excellently in soil mixes and don't need to be unnecessarily dunked in water. I know we like to see roots grow, but if you mean business and want optimum success with cuttings then think twice as to which cuttings you want to water propagate'.
9. Keeping cuttings in low light
We all know how vital sunlight is for plant growth – even the best low light indoor plants need sunlight after all. But when it comes to propagating, for some reason we tend to forget about or ignore this essential component, placing our cuttings in any bright area and hoping they will grow regardless.
As new root growth requires plenty of energy, lighting for your cuttings is just as important as it is for the parent plant – perhaps even more. A room with low light or even a windowsill facing the wrong direction can dramatically slow growth, or stop roots from forming at all.
Matthew from TechPlant tested this by placing cuttings from the same plant on a windowsill and under grow lights. As expected, the cuttings under grow lights developed stronger roots and didn't experience any rot compared to the other cuttings.
'I think this experiment shows how important it is that you give your cuttings good light. My theory is that a lot of people are putting cuttings in windowsills or in a room that just isn't lit very well and the plants are really struggling to stay alive,' says Matthew.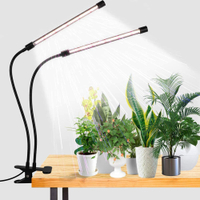 LED grow light for indoor plants | $35 from Amazon
Designed to replicate the effect of full sunlight at midday, this handy grow light is a good way to give your houseplant cuttings an extra boost. It can be clipped on to any surface, and the flexible neck means you can easily direct the light towards your plants.
10. Forgetting about temperature
Another environmental condition to be aware of is temperature. Just as seedlings require warmth to grow and germinate, houseplant cuttings need warmth to develop roots.
Cold temperatures or excessively cold water will slow root growth or completely inhibit it if conditions persist. Your cuttings will likely start to rot before they can develop roots in these cases, ruining your propagating efforts.
According to Claire Akin, there is no need to overdo it – moderate temperatures are ideal. 'I'm not taking hot. 75˚F or so. You don't want them to get too hot but you also don't want them to get too cold.'
She recommends using a seedling heating mat under your pots or glasses if temperatures are too low inside your home.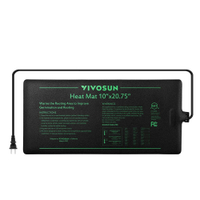 Vivosun waterproof seedling heat mat | $29.99 at Amazon
Give your cuttings a touch of extra warmth to help them grow with this simple heat mat. It will maintain temperatures between 68-86˚F, creating the ideal environment for growth. It's waterproof so can simply be wiped down after use too.
11. Waiting too long to transplant cuttings
If you've been successful up to this point and have healthy cuttings with plenty of roots, make sure you avoid this last mistake – waiting too long before transplanting seedlings into soil.
The roots that cuttings develop in water are slightly different from soil roots. They are thinner and more delicate as they grow without much resistance. As long as the roots are small when transplanting, they have the ability to adapt to soil conditions quickly.
However, if you leave your cuttings in water for too long to develop extensive root systems, the chances of transplant shock increase dramatically when moving the plant to soil.
I made this mistake when propagating my Monstera deliciousa. I enjoyed the look of the cutting so much in the vase that I decided to leave it a little while longer than I typically would. The roots eventually grew to fill the bottom of the vase completely, making transplanting into soil risky if I wanted to keep the cutting alive. I instead decided to keep the cutting in the vase to grow in water long-term, adding small amounts of fertilizer to the water to sustain growth.
As fun as it is to watch the roots grow through a clear glass, it's better to transplant when the roots are around an inch long. This will produce the strongest possible root system and a healthy plant overall.
FAQs
Why did my houseplant cuttings fail?
Cuttings can fail for a number of reasons, usually related to an incorrect environment. Make sure your cuttings are getting a full day of bright indirect light and that they are in a warm area. Failure can also occur if cuttings are taken from an unhealthy plant experiencing stress.
Which houseplants are easiest to propagate?
Vining houseplants are some of the easiest houseplants to grow from cuttings as they have the ability to produce roots at many points along the stems. Pothos (Epipremnum aureum) and heartleaf philodendron (Philodendron hederaceum) are two great options that root quickly in water or soil.
Whether you're hoping to propagate a snake plant or take cuttings from a fiddle leaf fig, avoiding these common mistakes should give you the best chance of growing your indoor plant collection successfully.
Sign up to the Homes & Gardens newsletter
Decor Ideas. Project Inspiration. Expert Advice. Delivered to your inbox.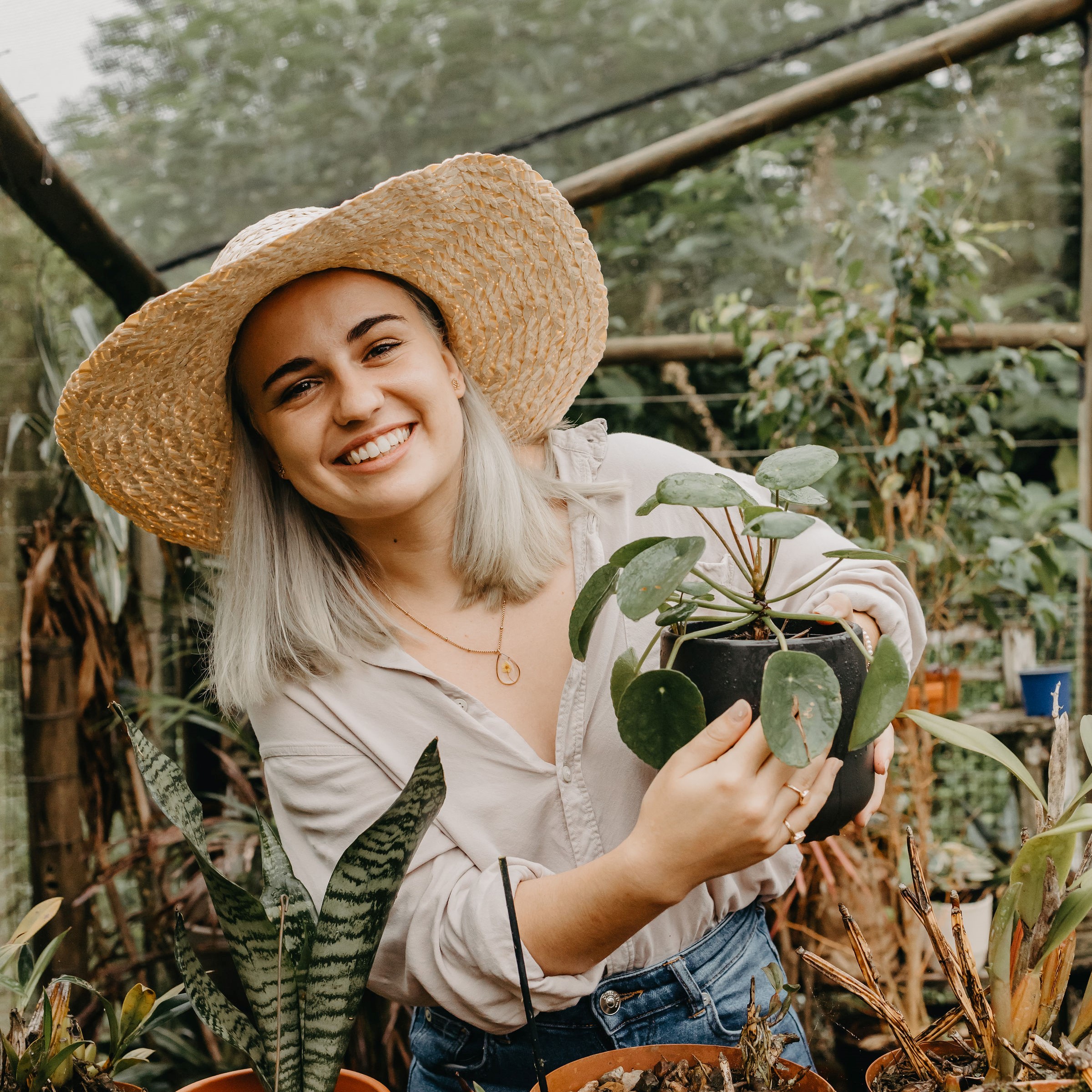 Contributing Editor, Gardens
Madison is a garden writer and editor, covering all things outdoors and lifestyle. After completing a BA in History and Political Science, she transformed her years-long passion for plants into a career writing for both digital and print publications. As garden editor of several print titles, Madison focuses on trends and developments in the continuously expanding gardening industry. When not typing away at her desk, she tends to her ever-growing houseplant collection and travels frequently, photographing and reporting on gardens around the world.