This hillside garden was transformed with naturalistic, sustainable planting – take a tour
The stunning views over the South Downs inspired the naturalistic and sustainable planting design of this hillside garden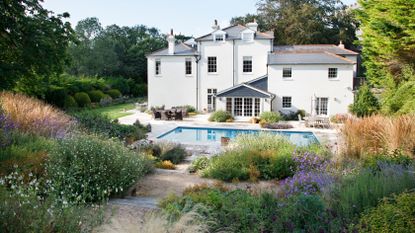 (Image credit: Annaick Guitteny)
Cradled in the folds of an undulating landscape, the romantic and sustainable hillside planting of this beautiful garden was inspired by the untamed wild beyond the garden's shelter-belt of beech hedging and mature trees.
The planting includes mounds and drifts of perennial flowers, grasses and shrubs in heightened tones of nature's more muted palette. This naturalistic planting design replaced the previously unimaginative slope of unmown grass, and illustrates the possibilities of sloping garden ideas.
Garden designer Nigel Philips' ethos was 'to seek inspiration from a garden's site,' of the South Downs in West Sussex.
Be inspired by how he achieved this.
Nigel's plan in the design of this sustainable garden was to emulate and augment the surrounding South Down's natural flora with loose and wild planting of grasses and daisy-headed flowers on the tree-shaded hillside margins.
Moving inwards, to the sunbaked heart of the incline, there is a riot of color and texture, and a greater concentration of billowing Mediterranean plants, which are suited to the exposed and arid conditions which prevail.
The brief was to smother the slope of the garden in 'fairytale' planting, drawing visitors through to a large raised garden terrace, some three meters above, commanding spectacular views over surrounding countryside.
A key in how to design a sloping garden is to use engaging planting to lure visitors upwards. This is helped by the garden color scheme. 'The client wanted to introduce strong colors and vibrant reds, which work brilliantly when woven through a matrix of deeper blues, rich purples and burnt oranges,' explains fellow designer, Vanessa Boal.
Voluminous perennial planting part consumes the deliberately offset, almost unseen, timber and hoggin steps, which Nigel introduced to complete the energizing, immersive experience of scaling the mount.
'The steps align with carved out terraces, creating more stable, flat planting spaces, filled with topsoil to give young plants and hungrier ornamentals, echinacea, helenium and geums a head start on otherwise pretty inhospitable terrain,' he explains.
Sun-loving, drought-tolerant planting, ornamental grasses, erigeron, perovskia, nepeta and salvia thrive on literally nothing on this free-draining chalk.
The top terrace planting is decidedly calmer, greener, more traditional in character; roses, clematis, luxuriant hydrangeas and a wisteria-clad pergola framing bucolic views are among the patio planting ideas.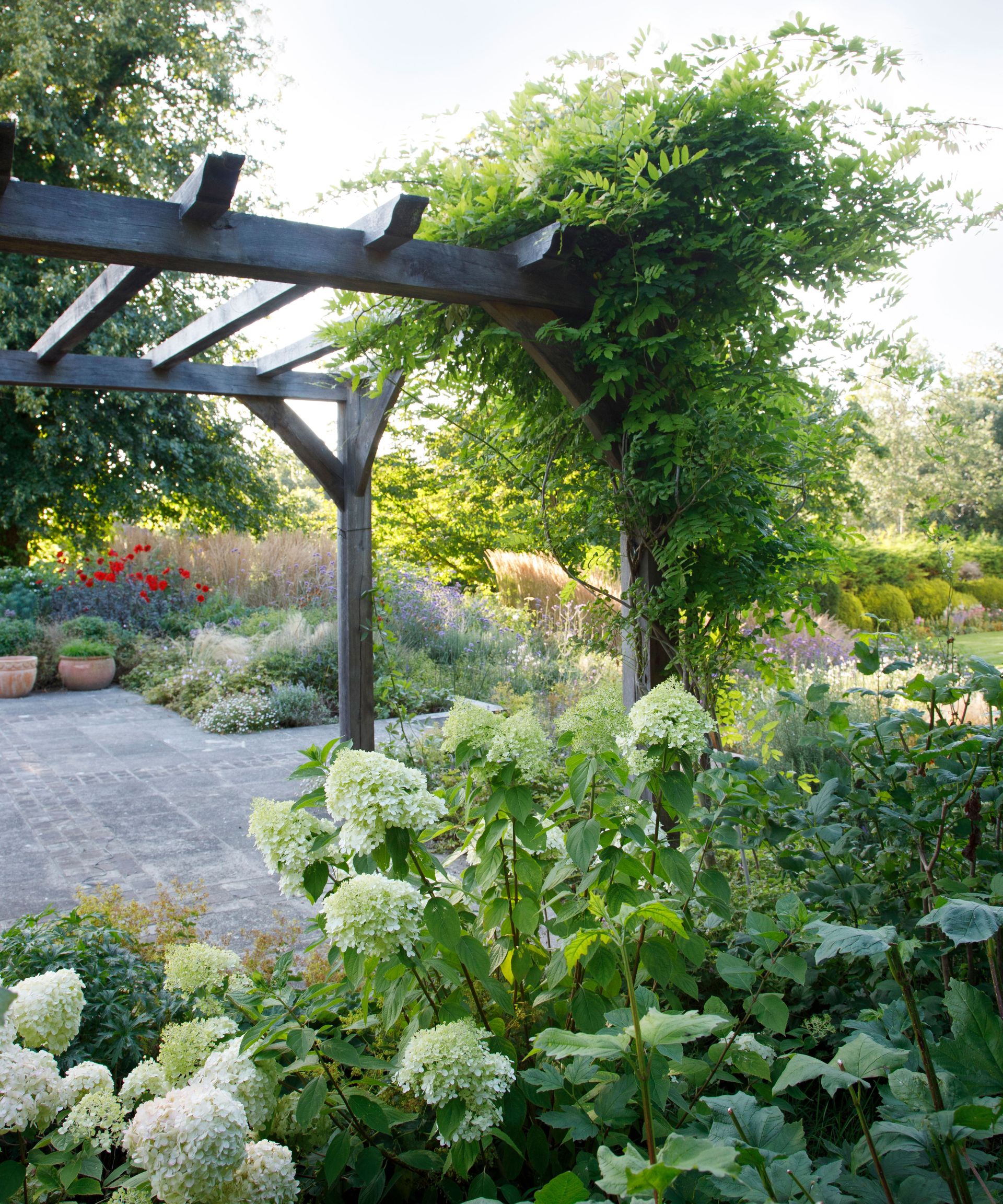 The original ground-level site was virtually plant-sterile, with the house and pool embedded in extensive, stark, hard landscaping.
'We dug it all up and created a series of geometric garden pockets, squares and rectangles of flowering, fragrant and herbaceous plants,' says Nigel.
These flower bed ideas are strategically designed to embellish the view from inside or to soften and divide a variety of outdoor seating areas.
Serving as a lesson in how to design a parterre garden, a quartered 'parterre' rose garden decorates the vista from the owner's office. She 'chose beautiful fragrant roses', in keeping with the parterre's jewel-like palette; ruby-red Rosa 'Darcey Bussell' are complemented by diamond-white Centranthus ruber 'Albus' and amethyst Salvia nemorosa.
More natural-looking sandstone slabs were inlaid with rectangular 'carpets' of sets or tiles to bring yet more texture and interest to the still ample terraces – an effective patio idea.
A lavish, long pastel-coloured herbaceous border, overruns the length of the house.
It is romantic in feel but with a clever twist: the border comprises repeat, hillside-link plants, Perovskia 'Blue Spire,' Alchemilla mollis and Geranium 'Johnson's Blue,' with different colorways or varieties of the same genus deployed on the hillside, Echinacea purpurea and Geranium 'Dreamland' and 'Orion'.
'The hillside planting is relatively simple with repetitive but bold use of the same plants, sometimes in different varieties, which tends to hold the entire scheme together,' explains garden designer Nigel Philips of this country garden idea.
In summer, this quintessentially traditional English garden with roses and mown lawns is dramatically eclipsed by the riot of color and texture of more Mediterranean-style perennials cascading down the hillside.
This contemporary interpretation was wholly inspired by, and complements, the natural vernacular of the surrounding countryside
'By drawing inspiration from the rolling countryside and understanding the site and the owners wishes, an exceptional garden has been achieved.'
Sign up to the Homes & Gardens newsletter
Decor Ideas. Project Inspiration. Expert Advice. Delivered to your inbox.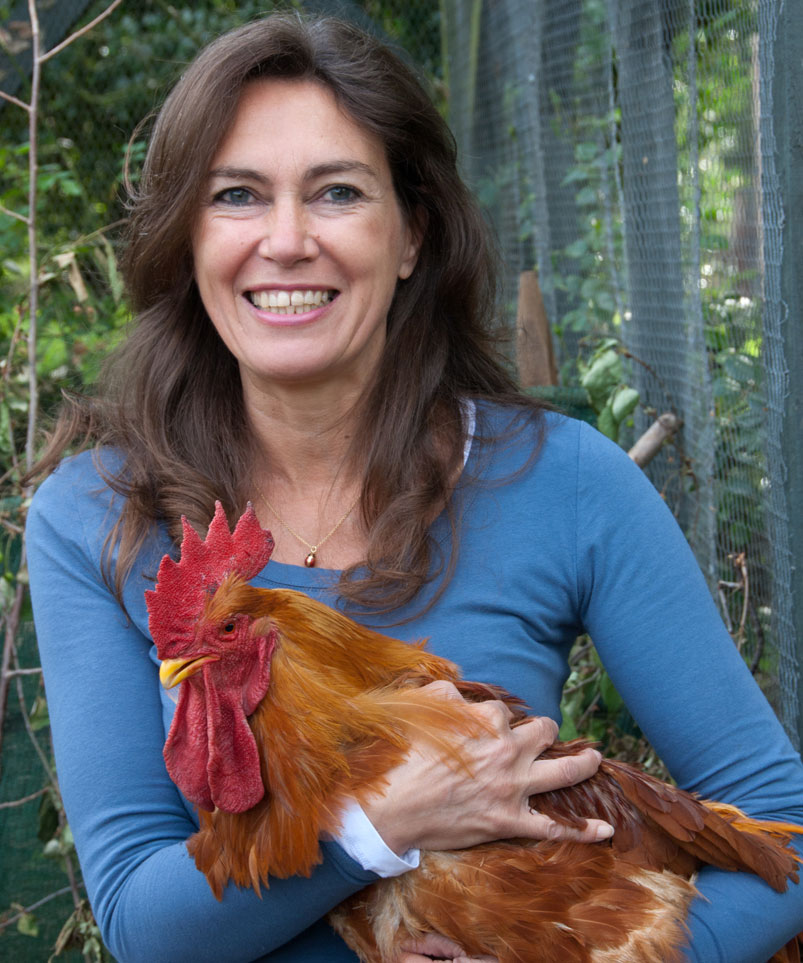 A creative freelance writer, stylist and photographer, Jacky Hobbs has created home and garden features for prestigious lifestyle magazines for over two decades.
An earlier career travelling the world as a fashion and homeware buyer developed her passion for lifestyle, interiors, vintage, travel and later gardens.