Sarah Raven's favorite dahlias, and her tips for looking after them
We can't get enough of dahlias at the moment so we've asked florist and plantswoman Sarah Raven to share her top varieties for this season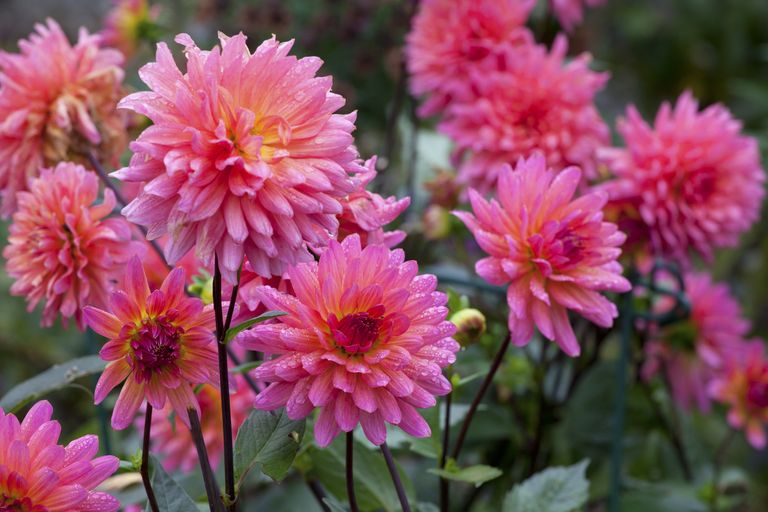 (Image credit: Leigh Clapp)
Bright and bold dahlias are having a renaissance. These botanical favourites are filling Instagram feeds and the fact they're back in fashion means there's more variety than ever to choose from.
See: How to grow dahlias – a step by step guide to growing dahlias from tubers
There's no bigger fan of dahlias than florist and plantswoman Sarah Raven. Every year the gardens of her Sussex home Perch Hill are filled with masses of these brilliantly colored blooms.
Eminently attractive to bees, dahlias have dark foliage that is an excellent backdrop to other shrubs and flowers both in the border and in bouquets.
'Dahlias are getting bigger and blowsier year on year,' says Sarah, 'with colours soft and romantic to go with it. And in perfect contrast, the dark port-wine reds are always popular, stopping any combination from becoming sickly-sweet.'
Dahlias will keep flowering as long as you keep picking them, so there's no better excuse to fill your house with either single stems or big bunches as the mood takes you.
Sarah Raven's favorite dahlias
'I couldn't be more proud of this collection,' says Sarah. 'Chosen from vast trial fields to bring home to Perch Hill, to grow, trial and evaluate, these varieties have out-performed all others.
'Not just in terms of beauty, but in vase life and general ease of growth and productivity. I truly love all eight.'
1. Mango Madness Dahlia Collection
'Sweet, but not too sweet, with a good waft of smoke and crimson richness to stop this fruity-colored collection from ever becoming cloying.'
2. Café au Lait Dahlia Collection
'Morphs from ivory to peach, coffee to cream. A popular choice at the moment, and can often be seen in summer bridal bouquets. The soft, creamy blooms can reach 25cm across – they look equally spectacular in the border and the vase. A true crowd pleaser.'
3. Parisien Chic Dahlia Collection
'A beautifully well-turned out bunch of dahlias, in crisp, clean colors, like a posse of catwalk beauties, a little distant and cool, but undeniably alluring. You will see these bursting into bloom from the beginning of July.'
4. Dahlia 'Floorinoor'
'A bizarre and hugely pretty dahlia in all its stages, from bud to fully open flowers. Rings of flattened petalsencircle a denser central group of shorter, tubular petals.'
5. Dahlia 'Preference'
'I first spotted this in a Dutch friend's garden five years ago, but we could not get enough tubers until this year. Very pointy petals give a spiky appearance to this cactus variety.'
6. Dahlia 'Cornel'
'True Venetian velvet pompoms, a dahlia cut flower and border classic, which has been around for years,' says Sarah. 'You will get months of flowering, five to be exact, out of these bright red pompoms that are ideal for vases.'
7. Dahlia 'Omega'
'Part of the bumper Ascot hat brigade, Omega is head-turningly beautiful growing in the garden and picked for a bowl or vase.'
8. Dahlia 'Thomas A. Edison'
'Dahlia 'Thomas A. Edison' is a true show-stopping dahlia and one of my long-standing favourites. Mix with other dahlias, or plant with veg.'
Sarah Raven's tips for caring for dahlias
Dahlias, which grow fresh from tubers every year, aren't very good at pushing up through herbaceous plants, so the easiest way to grow them is to give them their own bit of space. There are also some that are perfect for growing in pots.
1. Stake medium-to-tall dahlias using bamboo canes placed in a circle around the plant, and wrap with twine.
2. Water during dry spells and feed with a high potassium fertiliser, such as tomato or comfrey, every week or so.
3. Deadhead regularly for best results.
I've been Gardens Editor at Homes & Gardens, Country Homes & Interiors and Living Etc magazine since 2020 and have had the pleasure to develop working relationships with some of the country's top garden designers such as Charlotte Rowe, Butter Wakefield and have been exposed to an array of rich garden content and expertise. 2020 saw an increased appetite for quality gardening inspiration and expertise in both print magazines and digital and what I am most passionate about when it comes to gardening are the positive effects it has on our mental health to grow and care for plants. Keeping our patches alive with greenery is great for the environment too and help provide food and shelter for wildlife. Finally, I find it to be such a wonderful opportunity to tap into our creative sides and I believe that garden design has as much as a place in our love of the home as interiors.