What color flowers should you plant to attract hummingbirds? The experts reveal – plus 5 choices to try
Welcome more of these feathered friends to your yard by using their favorite hues to inform your planting choices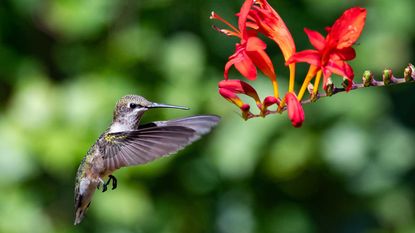 (Image credit: David Nelson / Alamy Stock Photo)
Q: I want to attract more hummingbirds to my yard this year. I plan to put out a feeder, I've invested in a bird bath, and I also want to grow more flowers to provide valuable nectar. Are there any particular colors that attract them that I can incorporate into my new planting scheme?
These are all great ways to attract hummingbirds to a yard, but for even more chance of success, focus on using plenty of hot colors – specifically, red.
'Hummingbirds are known to migrate toward anything that has a red hue, such as red feeders and red flowers,' reveals Tammy Poppie, an expert from OnTheFeeder.com. 'This is why most hummingbird feeders you see are red.' Tammy Sons, horticulturist and CEO of TN Nurseries, agrees, saying how orange and pink can also attract them. 'These colors are more visible to hummingbirds,' she says.
More than 25 years ago, Tammy hung her first bird feeder outside her kitchen window. Since then, she learned how to attract wild birds to enjoy them and observe their behaviors. Today, Tammy shares her passion for backyard birdwatching at OnTheFeeder.com, where she inspires others to experience the magic of birds up close.
5 hot-hued flowers that hummingbirds will love
To up your chances of spotting these birds in your plot, plant flowers that attract hummingbirds. These are all vibrant and nectar-rich blooms – plus they happen to be beautiful additions to a garden, too.
1. Bee balm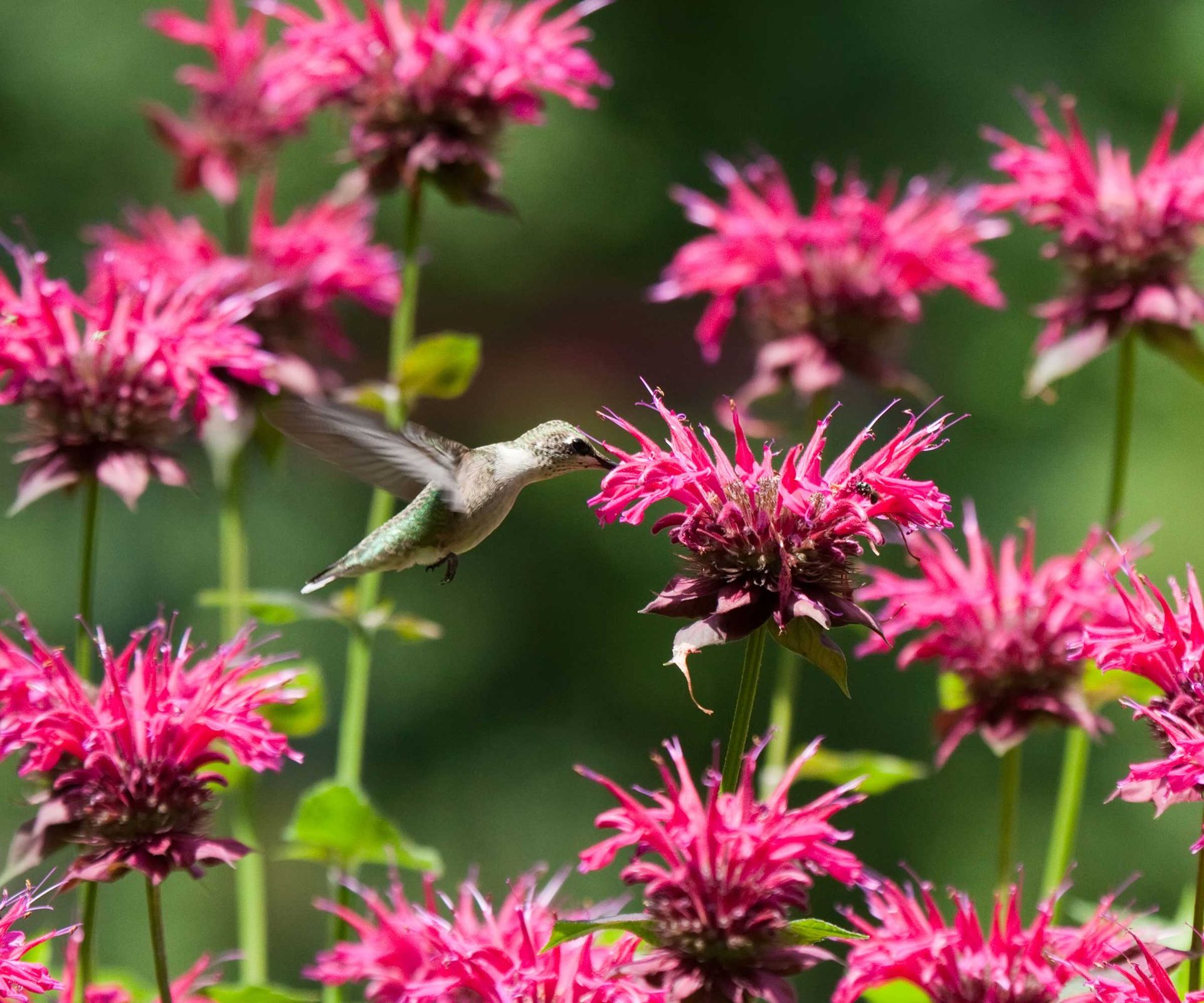 Tammy Poppie recommends bee balm for attracting hummingbirds. As its name suggests, it's an excellent plant for attracting pollinators, too. Another selling point of this plant, besides its fluffy-looking, pinkish-purple flowers, is the aromatic leaves.
There are varieties of bee balm which range from raspberry red to lilac. Smaller varieties, such as 'Balmy Purple' bee balm available from Nature Hills, are particularly well-suited to container gardens. Give them plenty of sun and rich soil to help them thrive.
2. Red cardinal flower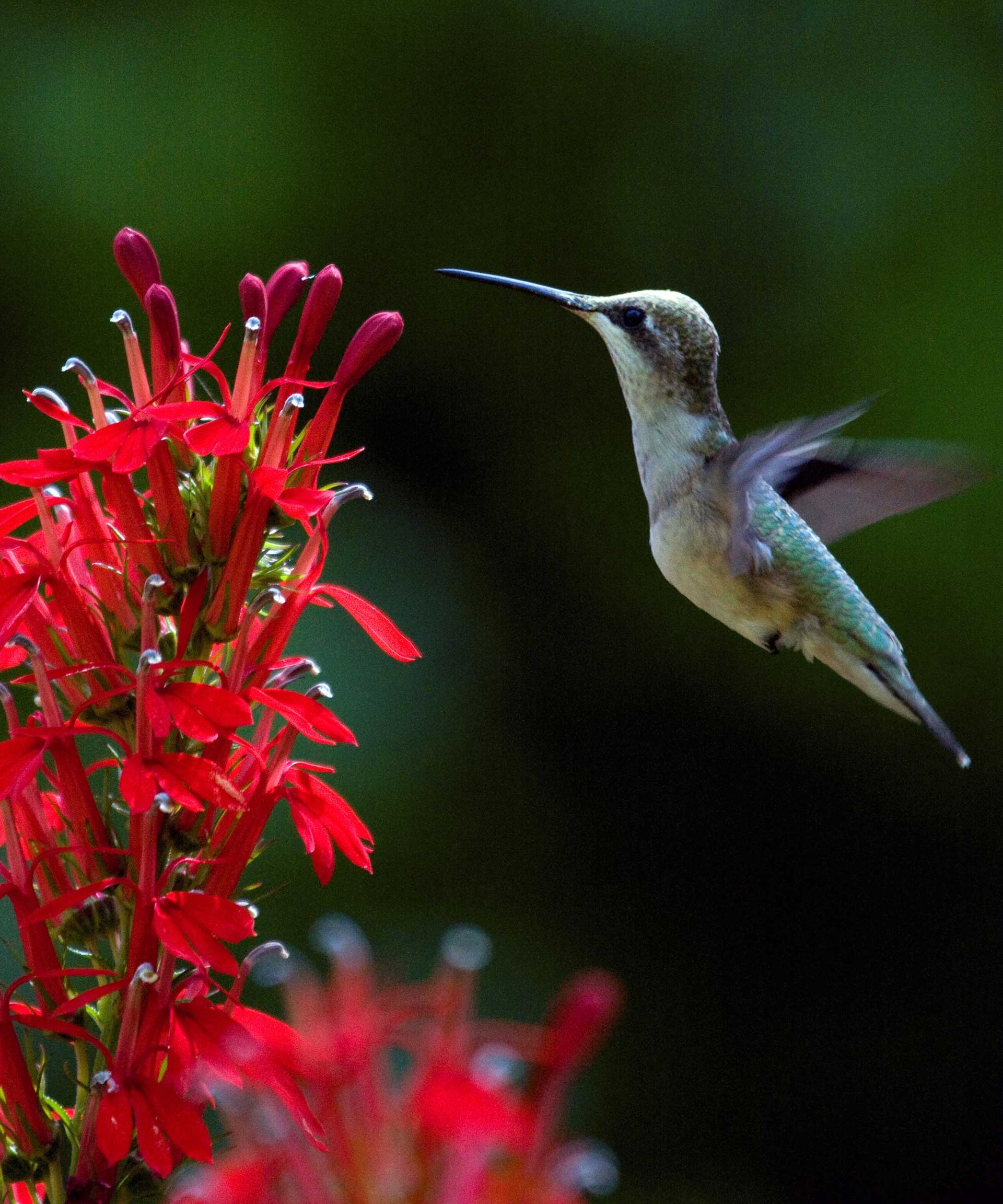 Tammy Poppie and Tammy Sons both recommend the red cardinal flower, otherwise known as Lobelia cardinalis, for attracting hummingbirds to a yard. This perennial has clusters of brilliant red blooms in the summer and prefers moist soil and full to partial sun. It grows to around 3ft in height.
You can buy red cardinal flowers from Nature Hills. Be aware that it's highly toxic to humans and pets, though.
3. Crocosmia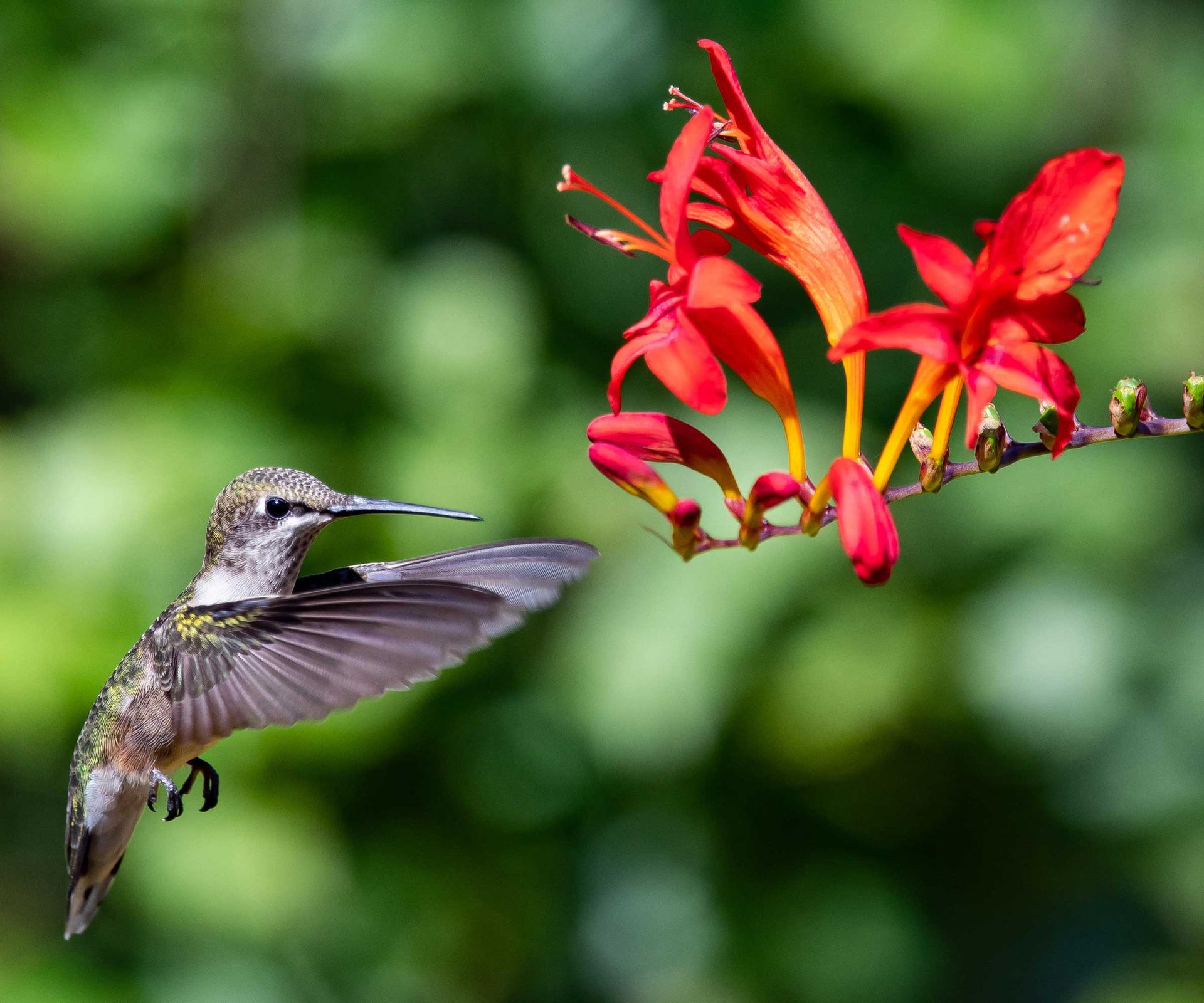 Grow 'Lucifer' crocosmia in your yard for its scarlet blooms and architectural, arching stems to encourage more hummingbirds, as well as butterflies, to your plot. It also makes a beautiful addition to cut flower gardens.
A tall plant, it does best at the back of a border – in full sun and well-drained soil. Other fiery varieties are well-matched to large containers, such as 'Carmin Brilliant'.
4. Butterfly weed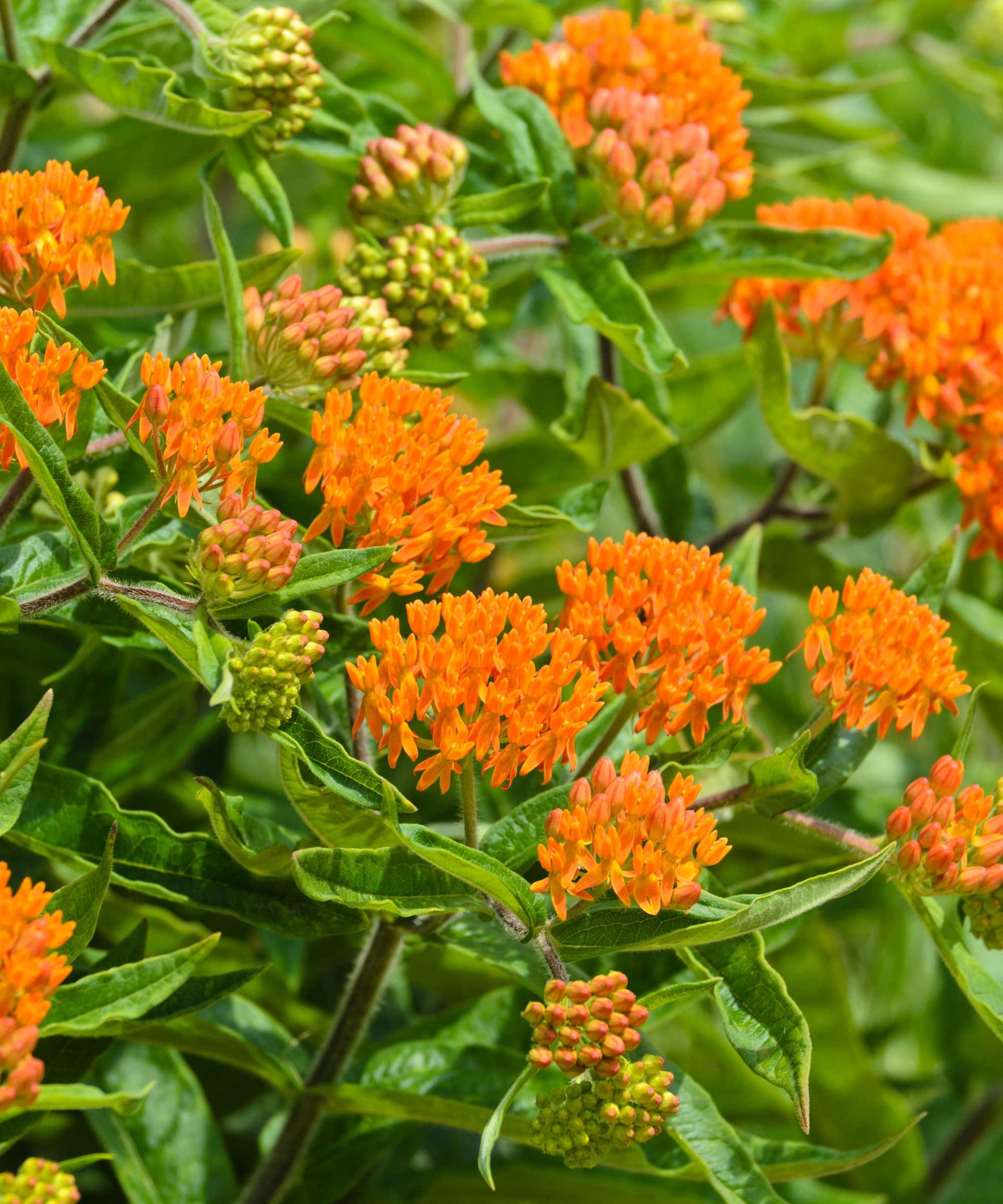 Butterfly weed (Asclepias tuberosa) isn't just a great choice for butterfly gardens – it's also good for attracting hummingbirds, according to Tammy Poppie. Don't let the name put you off: it's not an invasive plant, the bold orange blooms are glorious, and it's deer-resistant, too.
Plant butterfly weed somewhere sunny to help it thrive. Once established, it's a drought-tolerant plant that hardly needs any maintenance at all. You can buy butterfly weed from Nature Hills.
5. Red hot pokers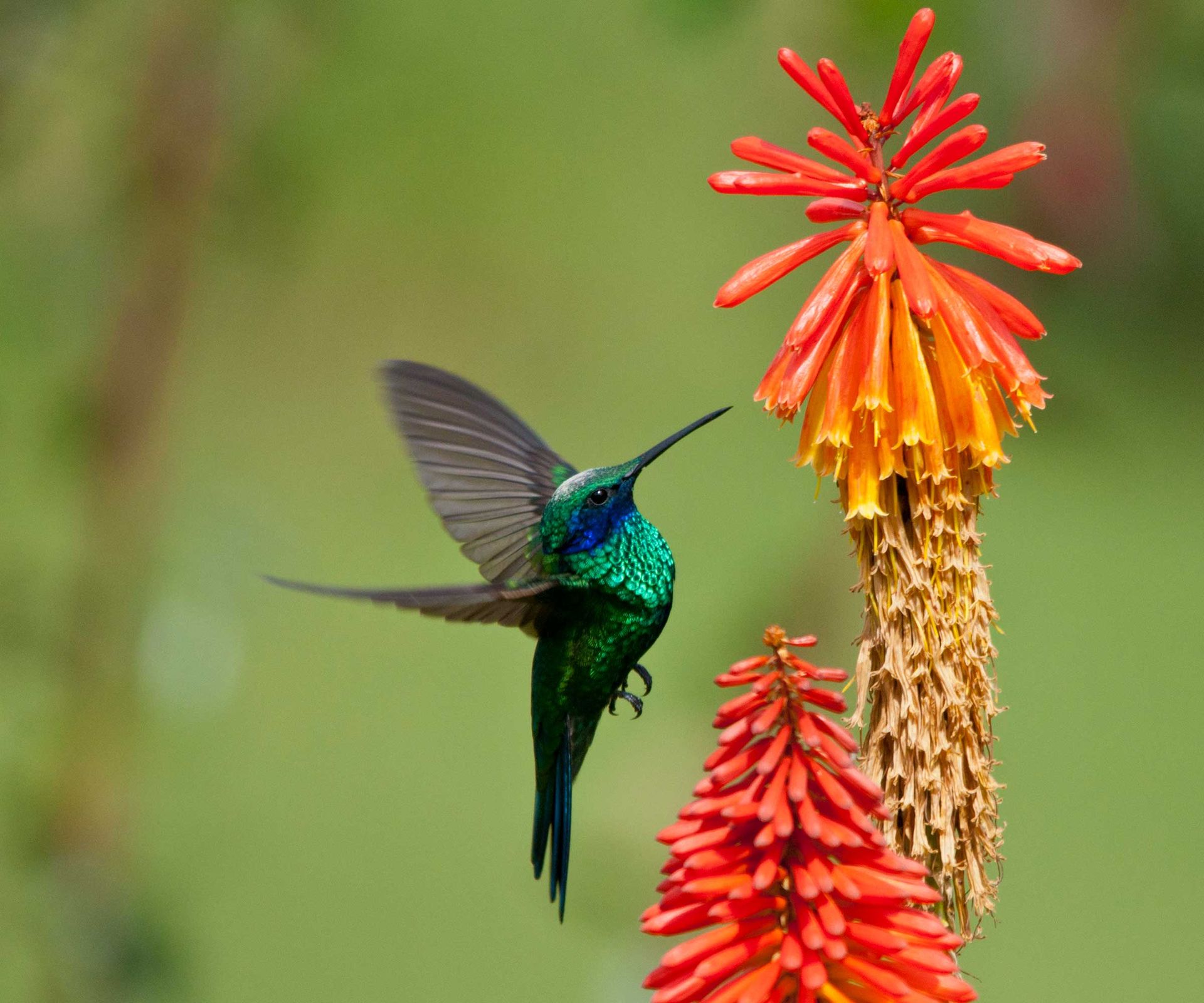 Red hot pokers, or kniphofia, are tall, showy plants with a long flowering season. Their fiery hues make them perfect for tropical-inspired gardens, and hummingbirds love them. They will encourage more butterflies and bees to your plot, too.
Plant this easy-care perennial somewhere with plenty of sun and well-drained soil.
---
As well as planting these nectar-rich flowers and putting out a red bird feeder to provide homemade hummingbird food, you can also tie red ribbons around branches and railings. The result will be a colorful haven that no passing feathered friend will be able to resist.
Sign up to the Homes & Gardens newsletter
Decor Ideas. Project Inspiration. Expert Advice. Delivered to your inbox.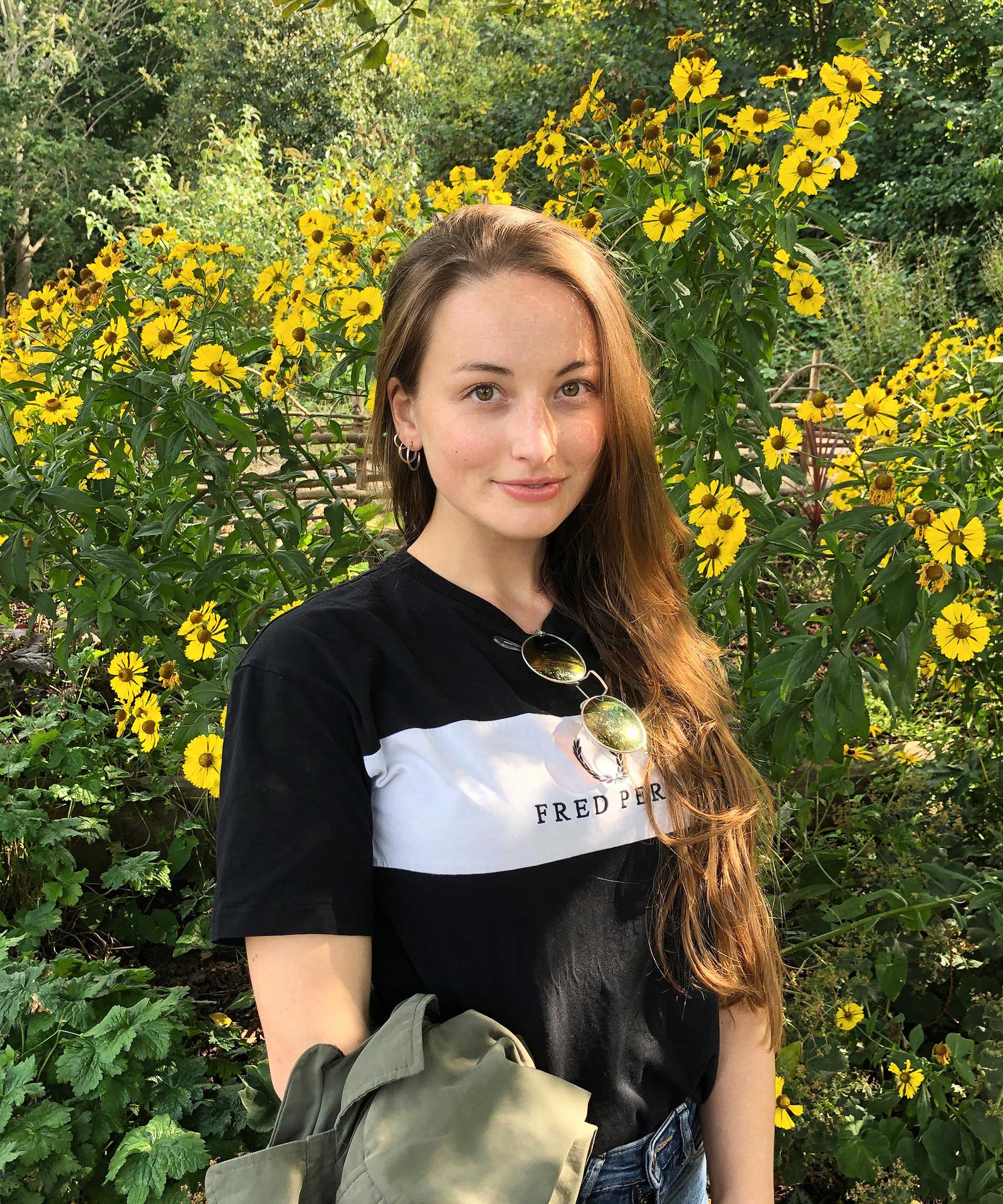 Freelance Gardening Writer
The garden was always a big part of Holly's life growing up, as was the surrounding New Forest where she lived. Her appreciation for the great outdoors has only grown since then; over the years, she's been an allotment keeper, a professional gardener, and a botanical illustrator. Having worked for Gardeningetc.com for two years, Holly now regularly writes about plants and outdoor living for Homes & Gardens.