What is a garden hoe used for? Get to grips with this essential outdoor tool
These versatile tools are a must-have for every gardener – here's how to use them for the best results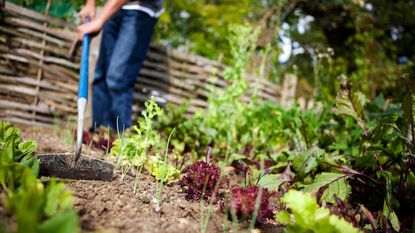 (Image credit: cjp / E+ / Getty Images)
A garden hoe may be traditional and require a little elbow grease to use, but it's a must-have for your outdoor-maintenance toolkit.
They consist of a handle attached to a blade, which is most commonly used to slice through garden weeds. But these flexible tools can be used for another task: sowing seeds. In other words, a garden hoe is incredibly useful for spring garden jobs and beyond – but it's important to know how to use one correctly for the best results.
How to use a garden hoe
Using a garden hoe for weeding:
'The key to keeping on top of weeds is to do it little and often, which in my case means running a sharpened hoe blade over the beds every week,' says Ruth Hayes, a gardening expert for Homes & Gardens. 'This is better than forking and digging as it doesn't activate buried weed seeds. It cuts off the weedlings and I leave them to rot down and feed the soil.
'I make an exception for perennial weeds such as dandelions, which need digging up root and all,' Ruth adds. Either method is a much more eco- and wildlife-friendly solution than using pesticides.
They are particularly well-suited to tending to plants in rows. The correct movement you'll need to use depends on the type of hoe you have (there's more on that below), but you'll either need to pull the blade, or sweep it backward and forward, through the very top of the soil.
Ruth is horticulturally trained and has qualifications from the Royal Horticultural Society. She spends her days writing about and photographing key gardening jobs.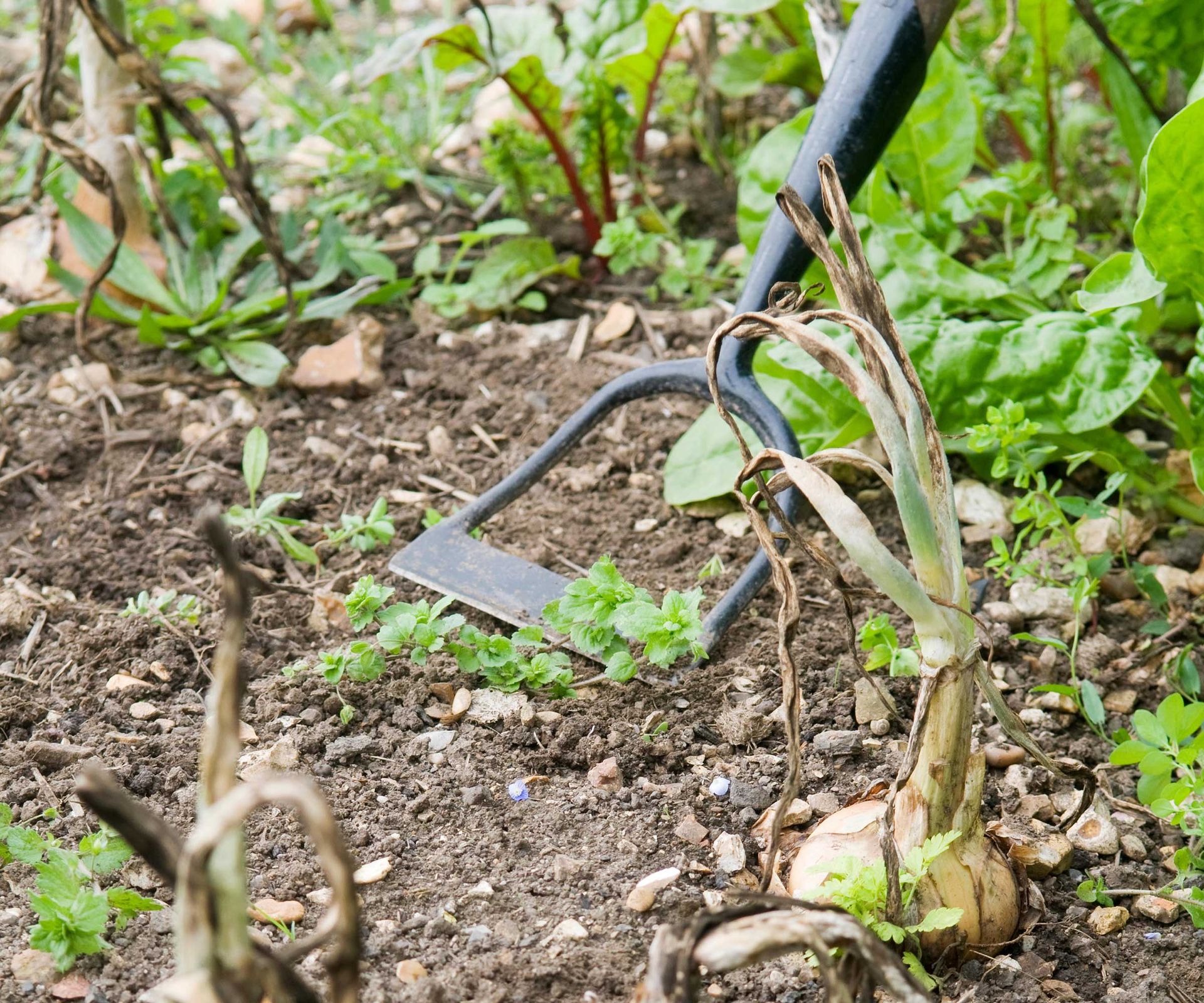 Using a garden hoe for sowing seeds:
Depending on the variety, garden hoes can make light work of planting seeds directly. The side of the blade can be used to create a shallow trench, and once you've sown your seeds, the flat of the blade can then be used to cover them up with soil.
Using a garden hoe for breaking up soil:
Nancy Trautz Awot, Burpee's Horticulture Specialist, also explains how a garden hoe can be used to turn over soil and break up any clods of dirt. This can be useful when preparing new flower beds or vegetable gardens.
The different types of garden hoe explained
There are a few different types of garden hoe, with each one more suited to specific tasks than others. Each type often calls to be used at a slightly different angle to be most effective and easy to use.
While most garden hoes are long-handled to relieve pressure on the back as you work, the shorter-handled 'onion hoes' are useful for flower beds that are tightly planted, as they give you a little more control. Use them in conjunction with a kneeling pad, such as this Gorilla Grip one from Amazon, to make the process more comfortable.
Aside from this, other types of garden hoe include the Dutch hoe, the draw hoe, and the stirrup hoe. The Dutch hoe can be used in a sweeping motion, backward and forward, to slice through weeds with its wide blade. Similarly, the stirrup hoe can be pushed and pulled through soil, and is particularly good at tackling more stubborn weeds.
The draw hoe is a little more basic: the blade or 'paddle' sits at a 90-degree angle to the handle and is often used with a chopping and dragging motion. It's the most widely-known type of gardening hoe, says Nancy, and is also known as a paddle, draw, chopping, or planter hoe. It's 'great for breaking up large areas of soil and chopping out big clumps of weeds,' as well as moving soil around.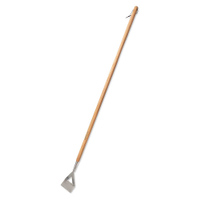 Spear & Jackson Stainless Steel Dutch Hoe | $68.85 from Amazon
Awarded 'Amazon's Choice' with great customer ratings, this Dutch hoe features a weatherproofed ash handle and a rust-resistant blade.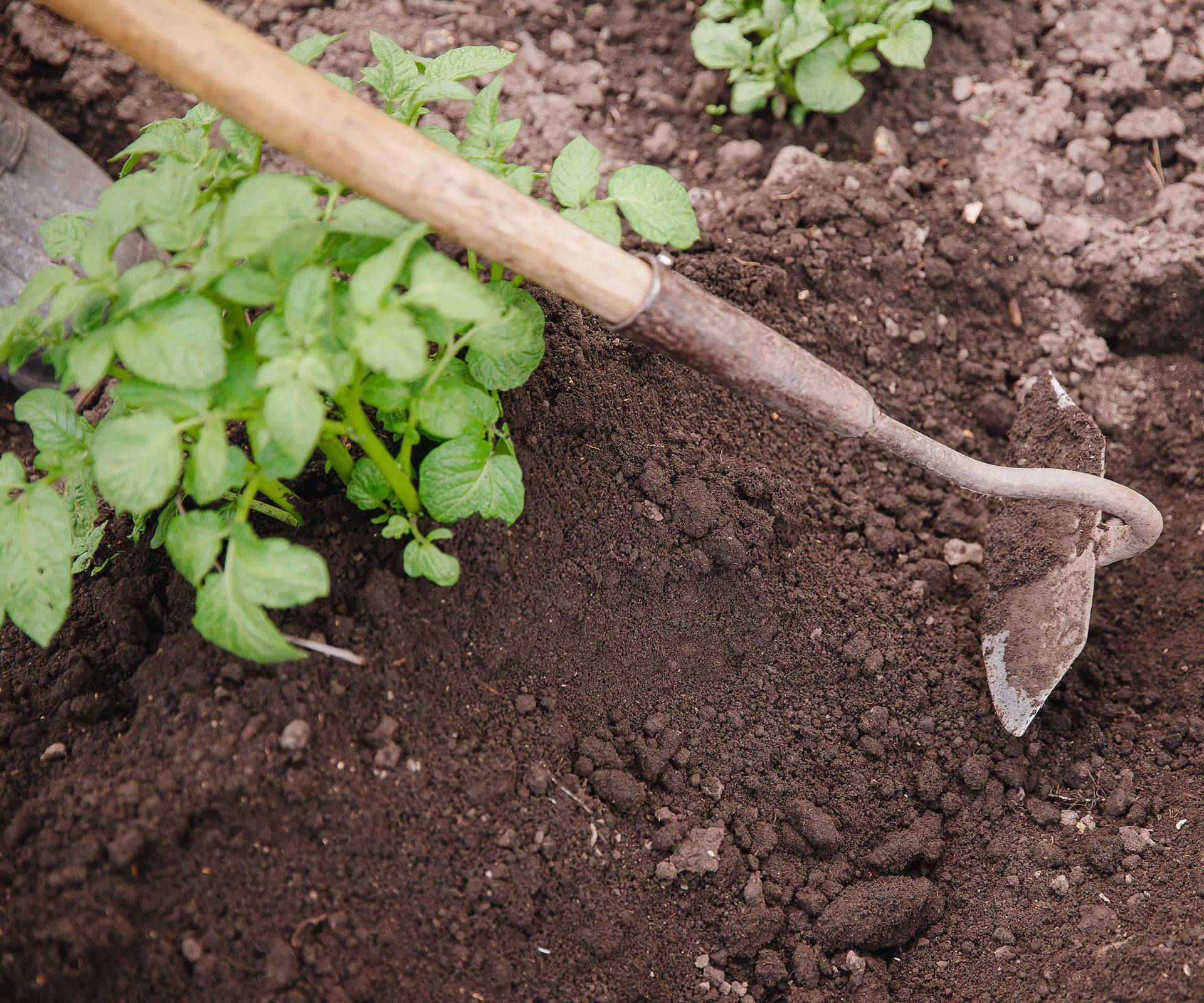 ---
Once you start using a garden hoe, you'll wonder how you ever did without it. Just remember to keep the tools clean and sharp by using a sharpening stone or a metal file.
Sign up to the Homes & Gardens newsletter
Decor Ideas. Project Inspiration. Expert Advice. Delivered to your inbox.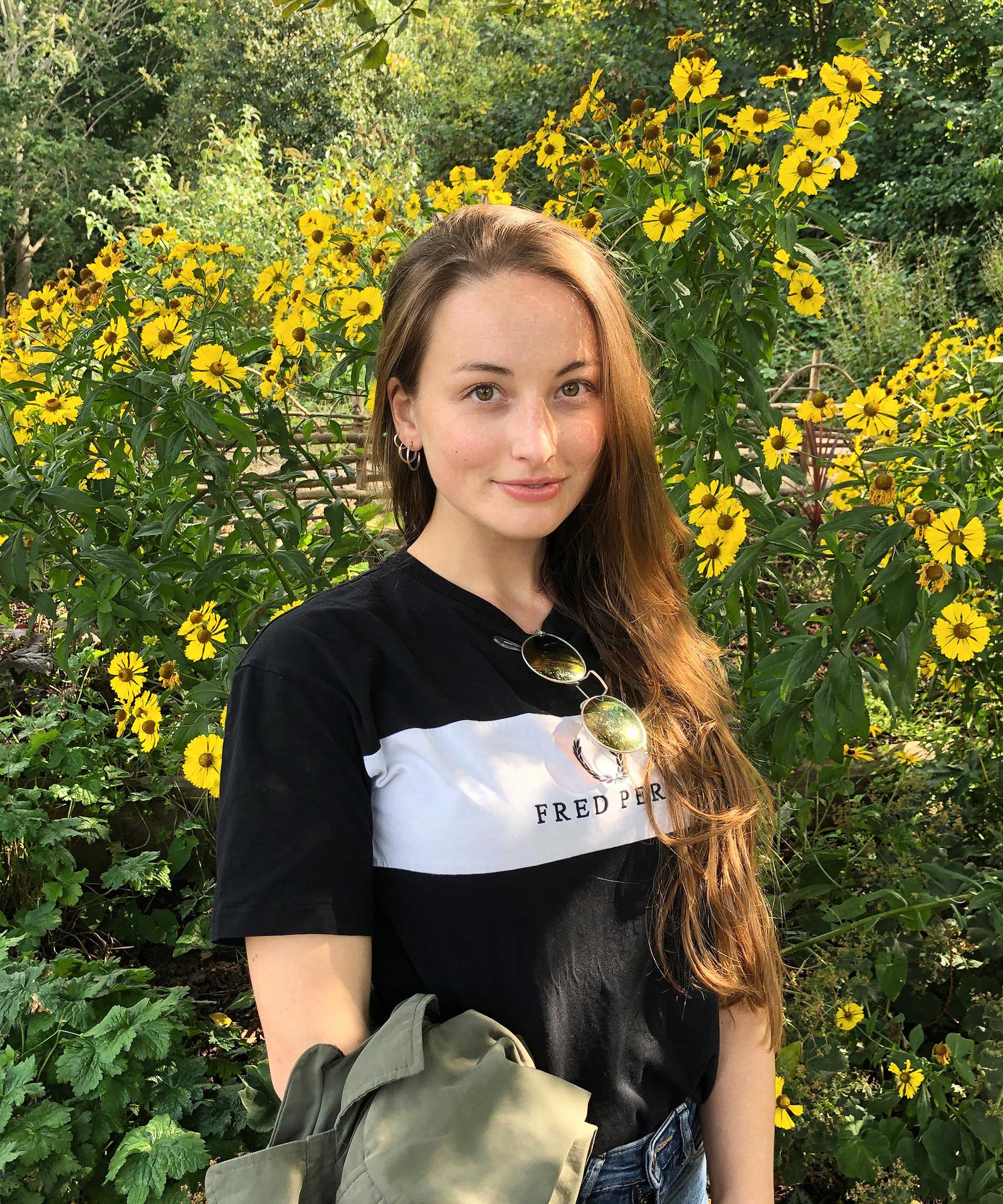 Freelance Gardening Writer
The garden was always a big part of Holly's life growing up, as was the surrounding New Forest where she lived. Her appreciation for the great outdoors has only grown since then; over the years, she's been an allotment keeper, a professional gardener, and a botanical illustrator. Having worked for Gardeningetc.com for two years, Holly now regularly writes about plants and outdoor living for Homes & Gardens.