What to plant in April – the best flowers, vegetables and fruit to grow this month
You are spoilt for choice for what to plant in April, so here are some of the best flowers, vegetable crops and fruit to grow this month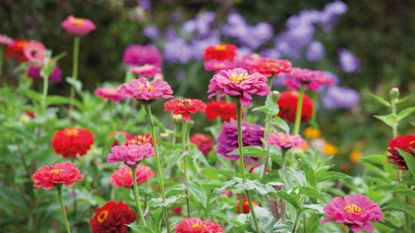 (Image credit: Sarah Raven / Jonathan Buckley)
With spring in full swing, there is ample choice for what to plant in April and much to look forward to and do in the gardening schedule.
As the ideal conditions for cultivating and sowing arrive, and the soil starts to warm up, the planting year can get off to a good start.
Along with what to plant in April, there are plenty more jobs to be getting on with as you finalise your garden ideas – not least checking for any pests and diseases, keeping on top of weeding, continuing to divide perennials, and pruning and pinching out flowers where needed. So get busy gardening!
What to plant in April – veg crops to sow now
April is the best time to plant most vegetable seeds after the last threat of frost has passed in the zone where you live.
'In the Kitchen Garden, we start off most sowings in April. It's an exciting and rewarding month for gardening, with plenty to look forward to,' explains Mr Mitford, kitchen gardener at Hawkstone Hall .
Below are some of our top picks for vegetables to plant in April:
1. Beetroot
'Beetroot is the winner. April is the perfect time for sowing Beetroot as then it will be they ready in the summer,' says Mr Mitford.
Available in a variety of shapes and colors, 'beetroot is the perfect cool-weather vegetable,' agree the experts at Urban Farmer Seeds.
All Zones can sow beets now for a fast, early summer treat.
Be sure to sow your beetroot seeds in loose, fertile soil. 'Try spreading the sowing over a number of weeks, with 2 to 3 weeks in between each sowing. This way you will have a longer harvest period as part of your vegetable garden ideas,' suggests Mr Mitford.
2. Cucumber
Fast growing vine and bush cucumber plants can produce a true bounty of fruits for a summer harvest.
It is easy to get to grips with how to grow cucumbers, but 'take care to pick a variety of cucumber for the space you have in your backyard,' say the experts at Urban Farmer.
Plant cucumbers direct outdoors after the last frosts and once the soil has warmed up a little.
'Cucumbers thrive in warmer environments, so if you have a greenhouse, you can start them earlier,' explains Mr Mitford.
3. Baby kale
Sow seed beds now with brassicas for later transplanting to their final growing space in June and July.
'Baby kale is one of the easiest brassicas to grow. Sow in nutrient-rich soil and give the plants plenty of water – they should start producing baby greens in just a few weeks, ' says Mr Mitford.
Baby kale – which are the young leaves of a young kale plant – and other brassicas prefer soil with a pH of 6–7.5.
Consider companion planting your baby kale crops alongside other beneficial crops to deter pests or attract beneficial insects.
'You could also try sowing baby kale seeds well-spaced in large pots or containers,' adds Mr Mitford.
Flowers to sow in April
Continue to sow hardy annuals outdoors, as well as native wildflowers and sweet peas at the base of supports.
'There's so much going on in April, and so many jobs to do. Any undercover sowing is now urgent,' explains plantswoman Sarah Raven.
Sarah recommends some of her favourites to sow under cover this month for fantastic cut flowers this summer and fall.
1. Zinnia elegans
'Zinnia elegans are one of my very favorite families of flowers for cutting, with a long picking season and excellent vase life,' says Sarah.
'There's nothing nicer than a jumble of colors of zinnia flowers in a jug on the kitchen table. The flowers are spectacular, huge and long-lasting, and our 'Giant Dahlia Mix' is a wonderful mix of oranges, reds, pinks and yellows,' she adds.
Zinnias are one of 'the best flowers that smart gardeners can put to work in their gardens,' according to the experts at the Chicago Botanic Garden.
Even the most inexperienced gardener can quickly learn how to grow zinnias, and the tall Zinnia elegans are a classic choice for the back of the border, and the zinnia of choice for cut flowers.
'We sow zinnias under cover around the middle of April, sowing seeds in guttering to avoid root disturbances when planting out,' explains Sarah. Depending on the hardiness zone you live in, it can be too cold to plant them out before that, 'as they hate cold nights and won't grow,' Sarah adds.
She advises gardeners to harden off seedlings before planting out Zinnia elegans after the spring frosts.
'Pinch out the tips as you plant to encourage more flowers. They should flower from July until October.'
2. Tithonia rotundifolia – Mexican sunflower
Tithonia rotundifolia 'Torch' is one of Sarah's favorite summer and fall flowers, 'with luxurious, orange flowers with petals of plush velvet for fall picking,' she explains.
Sow seeds of the Mexican sunflower under cover now and plant out in May to July. They grow best in hardiness zones 5-10 and are a great choice if you're planning a cut flower garden.
'They like lots of sun and grow tall so may need staking. They will flower four months after sowing, usually between July-September. I like to plant or arrange them with black dahlias,' adds Sarah.
3. Lagurus ovatus – bunny's tail grass
Almost irresistible to touch, as its common name suggests, the flowers of Lagarus ovatus resemble fluffy miniature rabbits' tails.
'It is ideal to use as an upper-storey in any cut flower bunch and container,' explains Sarah, and also makes a tactile addition to garden borders that will be adored by all generations.
Easy to grow, sow bunny tail grass under cover in April for flowers in May and June. 'Birds love lagurus, and it is happy grown in pots, too,' adds Sarah.
4. Xerochrysum bracteatum – strawflower
'The whole strawflower brigade is one of the trendiest things you can grow right now, because they look good dried all through the year and, home-grown, give you the most sustainable decorations and vases ever,' says Sarah.
She singles out the 'Salmon Rose' cultivar for its mix of 'every tone of coffee, peach and salmon,' which is beautiful harvested and used fresh as a cut flower.
Sow strawflowers indoors in April in a spot enjoying full sun. 'Sow seed thinly, pressing gently onto the surface of compost and keep moist.
'Once seedlings emerge, which should be within 1 to 2 weeks, pot them on and move to a cooler position before planting out in May-June, after the last frosts,' Sarah advises.
Enjoy the blooms of strawflowers from July to October.
Fruits to plant in April
There are many different types of fruit trees and bushes that can be planted now, but some definitely grow better in certain zones. So be sure to check if the climate in your garden zone is suited to the chosen fruit plant.
You have to work for your fruit crops, as 'fruit trees and bushes need continuous care from spring to fall, including pruning, fertilizing, checking for pests and disease, and then finally harvesting, ' advise the experts at Urban Farmer Seeds.
'You need to protect new buds from late frost, too,' advises Mr Mitford.
1. Cranberries
A staple of summer tarts as well as the festive dinner table, cranberries can be planted as bare root shrubs in early spring.
Cranberries prefer a sunny position with good air circulation and a moist, acidic, well draining soil. If your soil is heavy clay then add in some organic matter.
'Dig a hole twice the size of the roots on plant, and then backfill the hole with soil adding in organic matter. Mulch around the plant in the first year only to keep moisture in, ' advise the Urban Farmer Seeds experts.
2. Peach
There's nothing quite like biting into a juicy and delicious ripe peach, and if it is from your own homegrown harvest it will taste even sweeter.
You can plant bare root peach trees or container grown plants in early spring.
Check first that peach trees will grow in your hardiness zone. Peach trees grow best in areas that enjoy hot summers but winter temperatures colder than 45°F as most varieties need to experience cold seasons in order to grow well.
Before choosing a peach tree, check if the climate where you live will meet the requirements of the desired peach variety.
They like a sunny, sheltered spot, in well-draining soil. Dig a hole as deep as the roots or root ball, but twice as wide as the spread of the roots.
Place the peach tree in the hole and then carefully refill with soil and gently firm it down.
Water the newly planted tree well in the first year – the equivalent of two gallons of water a week – and particularly during dry spells.
3. Strawberries
To enjoy a delicious summer harvest of strawberries, early spring is the time to sow seeds – the most economical method for growing strawberries – in small pots or trays filled with multi-purpose compost.
Cover the pots or tray with a clear plastic bag, or place in a propagator and keep in the humid environment until they start to germinate.
The young strawberry plants should be ready to replant in their permanent position within a couple of months.
'Strawberries prefer full sun in fertile, moist, well drained soil. They should be planted at a distance of 12" (30cm) apart,' advises Sue Sanderson from Thompson & Morgan.
There are a number of methods for how to grow strawberries and an alternative is to plant them from bare root runners in April.
Sign up to the Homes & Gardens newsletter
Decor Ideas. Project Inspiration. Expert Advice. Delivered to your inbox.
Rachel is senior content editor, and writes and commissions gardening content for homesandgardens.com, Homes & Gardens magazine, and its sister titles Period Living Magazine and Country Homes & Interiors. She has written for lifestyle magazines for many years, with a particular focus on gardening, historic houses and arts and crafts, but started out her journalism career in BBC radio, where she enjoyed reporting on and writing programme scripts for all manner of stories. Rachel then moved into regional lifestyle magazines, where the topics she wrote about, and people she interviewed, were as varied and eclectic as they were on radio. Always harboring a passion for homes and gardens, she jumped at the opportunity to work on The English Home and The English Garden magazines for a number of years, before joining the Period Living team, then the wider Homes & Gardens team, specializing in gardens.