Take a tour around Britain's oldest home – built in 1584
There has been a dwelling on this site since 1016, long before the magnificent Elizabethan manor was built. Each passing century has left its legacy here. Royal visitors, and illustrious architects and designers are all part of the story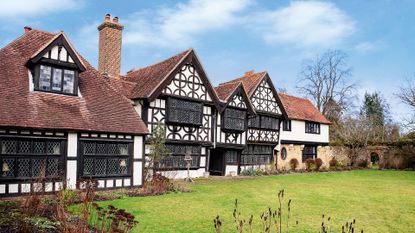 (Image credit: Julia Currie)
Timbered, moated and with a visitors' book that reads like a Who's Who of the past thousand years, Great Tangley Manor is thought to be Britain's oldest continuously inhabited house.
Read on to discover its unique story, and to find out more about its royal visitors and links with key players in the Arts & Crafts movement.
See: World's best homes – tour the globe's most beautiful houses
The story begins in 1016, when a Saxon dwelling existed on the site, believed to have belonged to King Harold's younger brother. Domesday Book records that the ownership of the manor transferred to Odo, Bishop of Bayeux, a half-brother of William the Conqueror. The end of the 1100s almost brought the end of Great Tangley when a fire nearly razed the house to the ground.
It was rebuilt as a medieval hall house, and it's said that King John used it as a hunting lodge and came here after signing Magna Carta. The Elizabethan era brought more changes, and in 1584 it became the magnificent timbered manor still standing today.
See: Traditional living room ideas – classic decor looks for walls, floors and furniture
Great Tangley remained a magnet for famous and influential visitors, many of whom left their calling cards in an unusual way, as current owner Anne Powell-Evans explains: 'Visitors would etch their signatures into the windows, and these can still
be seen in the original glass. The oldest signature is John Carrill's, dated 1633, and the 17th-century diarist John Evelyn made his mark in 1641. A little later in history there were more royal visits, and King George V and Queen Mary both signed the windows of the dining hall with a diamond ring.
Other visitors to Great Tangley were not so keen to advertise their presence. 'During our renovations we discovered a priest hole in the study fireplace,' says Anne. 'This was thought to be a Catholic household and in the 1650s the priest would have dropped into the hiding place from the floor above, in an attempt to escape Cromwell's men.'
It was an astonishing find and Glyn was keen to open it up but Anne's instinct, as always, was to tread lightly on the secrets of the past. 'The day after we found the priest hole, every single clock in the house stopped at 12.40am – and we have about nine clocks,' she says.
'I took that as a sign that we should leave well alone, and even though I don't believe in ghosts – at least not the wafty white ones – there's definitely a strong historical presence here. In the old nursery, people have heard children whispering. And the thick oak door to the study has been known to swing open on its own with no one there, even when the latch was firmly fixed shut.'
See: Traditional kitchen ideas – timeless ways to create a stylish look
Even with the weight of its history to hold it back, the house hasn't stood still. New wings were added in the 1880s, by then owner Wickham Flower, who employed architect Philip Webb to extend the house and to advise on the garden design. His great friend, William Morris, supplied some of the furnishings and the library remains exactly as Webb and Morris designed it.
Webb, Morris and Flower founded the Society for the Protection of Ancient Buildings (SPAB) and thanks to their involvement, this ancient building escaped the heavy hands of other Victorian developers.
See: Traditional bedroom ideas – classic ways to combine tradition, luxury and comfort
Webb's Arts and Crafts influences are easy to pick out. The timber-roofed bridge over the moat, and the panelled library and music room, were all designed by Webb, while the interiors furnished by Morris are still visible today - including a Morris tapestry inspired by the plants in Great Tangley's gardens, that hangs by the stairs in the dining hall today. And lighting any banquets is a huge baronial style light fitting, also added by Morris in the 1880s.
Anne and Glyn's connection with Great Tangley began in 1997. 'We were looking for a bright, light barn, but the chance to own this historic property was too good to pass up,' says Anne.
'We already knew the house, and I've always loved history, so it seemed the right thing to do, even though it didn't exactly fit our brief.' The house had been divided in two in 1959, so at that point the couple owned half of the manor. It was in good condition, with its original timbers, windows and roof, but Anne and Glyn have had to work hard to keep it that way.
Of all the repairs that have taken place on Glyn and Anne's watch, surely the most significant restoration was to reunite the two halves of the manor when their neighbour died in 2005. 'He was a delightful old gentleman and had been very keen that we should buy his half of the house,' says Anne.
'Goodness knows why, but we did it.' She laughs it off, but it was a decision founded on love for the house and its history, and driven by Anne and Glyn's desire to do the right thing by all who have loved and cared for the property before them.
'We've never regretted it, not for one minute. In some ways I feel the house doesn't belong to us, it belongs to the community,' she explains. 'We're caretaking it, and we're just a little blip in a thousand years. It's our job to maintain it as best we can, in the way that the people who built each bit would wish it to be maintained.'
The plan for the second half of the manor was to run it as an occasional holiday let and to host events to help fund the ongoing repairs. Anne and Glyn renovated the kitchen, bathrooms and bedrooms in the guest accommodation. They also added a glass-box extension to enclose a courtyard garden at the back of the house, working closely with English Heritage on their plans, which won them a design award.
The ethereal, almost-ghostlike glass walls gently reference the centuries of signatures in the older leaded panes, but Anne won't be inviting her visitors to etch their names. Under Anne and Glyn's custodianship the house continues to look to the future. 'There's always something that needs repairing and all these things require some level of sacrifice,' says Anne. 'But we don't mind because we love it so much and it's so lovely to be here.'
Karen is the houses editor for homesandgardens.com and homes editor for the brand's sister titles, Period Living and Country Homes & Interiors, and an experienced writer on interiors and gardens. She loves visiting historic houses for Period Living and writing about rural properties for Country Homes & Interiors, and working with photographers to capture all shapes and sizes of properties. Karen began her career as a sub editor at Hi-Fi News and Record Review magazine. Her move to women's magazines came soon after, in the shape of Living magazine, which covered cookery, fashion, beauty, homes and gardening. From Living Karen moved to Ideal Home magazine, where as deputy chief sub, then chief sub, she started to really take an interest in properties, architecture, interior design and gardening.