The Great Escape: this Montana new build is the blueprint for every family's dream vacation getaway
For designer Kylee Shintaffer, this luxe new build project was all about creating a place where one family could truly get away from it all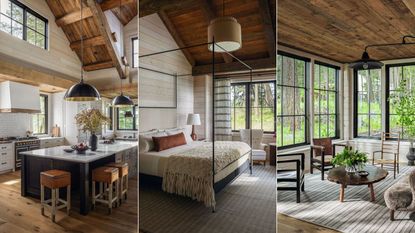 (Image credit: Eric Piasecki/Kylee Shintaffer)
Surrounded by magnificent aspen, cedar, tamarack and pine trees, this secluded new build in Bigfork, Montana, is as striking as it is effortlessly natural – luxurious, yet rooted by a rustic minimalism that connects it seamlessly to its environment.
The antithesis of city living, the property, a five-bedroom home with separate two-bedroom barn, was built as a dream escape for new empty-nesters – a Texas-based couple in their fifties.
'Located in their favorite vacation destination, it was designed as a place to disconnect – large enough for their four college-age children to all stay; for them to pursue the outdoor life they love; and a space for them to eventually retire to,' says Seattle-based creative director and principal designer, Kylee Shintaffer.
We take the tour.
The secret to the home's success is the combination of rustic and refined: the exterior, a mix of rough-sawn cedar planks, finished in a cool, light-grey wash, contrasts gently against warmer reclaimed wooden timber rafters and trusses, a striking steel roof and dark-stained windows.
While inside, white-washed cedar panelling offsets darker timbers that add character and depth. 'The constant push and pull of light with dark, rustic with modern, bridges the two design ideas and stops the home from feeling too perfect or formal,' says Kylee.
The vaulted, open-plan living area sits at the heart of the house. 'The family love to cook together, so behind the bespoke kitchen design, we have carefully balanced function and beauty,' says Kylee.
A statement kitchen island and sculptural lights are offset with softer, more organic forms and fabrics – foraged branches and tactile wool plaids, mixed with buttery leathers, cozy sheepskins, earthy plains and simple stripes.
Furniture, an inspired mix of old and new, sits alongside handcrafted pieces, designed to Kylee's exacting designs, including a handmade dining table flanked by rush benches and vintage French chairs; a distinct live-edge office desk; exquisite bed frames; and beautiful walnut banquettes.
Meanwhile, in the butler's pantry, a favorite heirloom shopkeeper's cabinet adds an element of practicality and fun. 'We created a new walnut back and painted the interior burnt orange, which has introduced a contemporary edge to a classic design,' says Kylee.
Sculptural collections of classic, mid-century and primitive ceramics are accompanied by unique lighting, sourced from among others, Pinch.
This attention to detail and the introduction of inspired decorative quirks, such as the unexpected informal seating areas, raises the comfort and intimacy of the home. 'The family love to read, play games and catch up – so these cozier pockets make stays feel relaxed and memorable,' says Kylee.
After days of hiking, hunting, boating, kayaking and paddle boarding, the bedrooms are delightfully cocooning: the main suite and a guest suite are on the ground floor, with three further upstairs guest bedrooms and a pair of whimsical, curtained sleeping nooks on the landing – space for extended get-togethers and future grandchildren sleepovers.
Cultivating the best of the land, with the rawness of nature and graceful luxury, Kylee has created a distinctive sense of place that matches the values and passions of her clients.
'The family were a joy to work with and their special home will grow effortlessly with them as their lives continue to evolve.'
Words / Ali Heath
Interior design / Kylee Shintaffer
Interiors journalist, stylist, interior designer
Ali Heath is a UK-based interiors journalist, stylist, creative consultant, interior designer, and author and has over 17 years freelance experience, working with prestigious interior magazines, newspapers, and private clients. Her work is featured regularly in many leading interior titles, and she is represented internationally by Living Inside agency, in Milan. Ali is the author of interiors book Create, publishing June 2023. Her first bestselling book, Curate, was published in 2020 and Ali is Contributing Editor and Creative Consultant for the new book from The White Company, The Art of Living with White, published in September 2022.