Johnny Cash's 'quiet home' sells to a fan for above the asking price – we take a tour
Built by Cash in 1961, the California house sold to a fan for way above the asking price – we take a tour of the property before it sold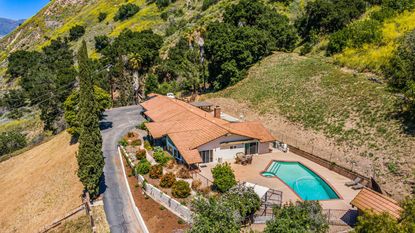 (Image credit: Mark Corcoran for Douglas Elliman Realty)
Built in 1961 by Johnny Cash, this quiet home retreat has recently sold for $55,000 over the asking price to a fan. Boasting 4,500 square feet in rural Casitas Springs, California, the house was the ideal spot for the rock star to escape his rock'n'roll lifestyle with his wife and children.
The property, now considered one of the world's best homes, went on the market in June for $1.795 million and recently sold for $1.85 million. The home was built to Cash's exact specifications after he purchased the land to create an idyllic secluded sanctuary for his wife and three daughters.
Here, we take a tour of the property.
Johnny Cash's home in California
The heart of the home features a spacious family room, still decorated in a traditional 'Johnny' style with country motifs. The curved-brick fireplace idea with custom wood built-ins dominates the space, while an original wall-mounted turntable speaks to the house's musical past.
The home contains five bedrooms, built to comfortably accommodate Johnny's family in privacy.
The home layout contains two his-and-hers master bedroom suites due to Johnny's unsociable night-owl working regime and three bedrooms for his children.
Outside of the home, luxury amenities include a pool with an outside barbeque for entertaining and sweeping, panoramic views of the Ojai Valley.
The backyard also speaks to the family's desire for privacy, with tall oak trees for privacy and evergreens sheltering the home as well as year-round flowers providing plants for fall color and signs of life throughout the winter.
The outside of the property has become famous in its own right as long-term residents reminisce about Johnny's impromptu rock performances outside of the house for residents in the valley below. Locals recount stories of Johnny setting up speaker systems outside of the property to treat fellow residents to private concerts of their own.
Arguably the most important element of the house is the home studio.
Oozing with history, the wood-paneled studio was home to the recordings of some of Johnny's biggest hits and has been preserved in perfect condition, maintaining the history of the property.
Beside the gardens, the house sits on six acres of land, surrounded by the beloved hills, fields, and trees of the valley. Situated at the end of a private driveway, the home was constructed to fit in with the landscape, as opposed to stand out.
Chiana is a junior writer for Homes & Gardens having joined Future plc as a new graduate in 2022 after achieving a 1st class degree in Literature at university. She first became interested in design as a child after spending her summers helping her parents redecorate her childhood home. As a long-time reader of Future's homes titles, Chiana is constantly finding new inspiration at work as she focuses on emerging trends, how-to's, and news pieces.