Step inside this joyful London apartment that's awash with color and pattern
Bold fabrics, bright colors and flea market finds ensure Cath Beckett of interior design studio Yellow London's apartment is full of personality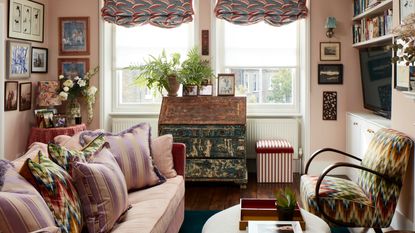 (Image credit: Matt Clayton)
Sign up to the Homes & Gardens newsletter
Decor Ideas. Project Inspiration. Expert Advice. Delivered to your inbox.
Thank you for signing up to Homes & Gardens. You will receive a verification email shortly.
There was a problem. Please refresh the page and try again.
Interior design studio Yellow London, founded by Cath Beckett and Liv Wallers, are on a mission to create eye-catching and comfortable interiors layered with color and pattern.
So it's no surprise that Cath's own home, a two-bedroom flat in Notting Hill, London, the location of many of the world's best homes, is an expression of her personality, with confident layering of bold fabrics, bright colors, antique furniture, family heirlooms, bespoke pieces and flea-market finds, all presented with humor and warmth.
This project was a gradual one. 'I started with nothing but didn't buy everything at once, it probably took around 6 months or so, and about 8 months from planning to completion,' Cath says. 'My aim was to incorporate lots of color and pattern, and create a cozy home that you'd find difficult to leave.'
Kitchen
The kitchen cabinets were already in place when Cath bought the flat. Kitchen ideas to inject personality included incorporating a bronze tinted mirrored backsplash and adding purple shell knobs on the base units and orange glass ones on the cabinets above.

Living room
Cath's living room ideas involved injecting color and pattern. Pink walls complement a sofa in a darker pink velvet, alongside a scalloped ottoman designed by Cath and upholstered in cream boucle. Cath incorporated lilac silk striped cushions with a trim for an eclectic touch. Adding to the layered look and unafraid to mix pattern and color, Cath chose blinds in a pink and red fan print. A pair of horse lamps, a family heirloom passed down to Cath from her grandmother, introduce extra personality to the room.
Cath's must-have was a really comfortable living room sofa. 'The living room is very centered around the sofa, it takes up a lot of the room, but because of the low back doesn't feel like it takes over. That was the first thing in the room, followed by the armchairs,' she explains.
'I think the living room would have to be my favorite room. There's a lot going on and a lot to look at. I am very pleased with the cloud ottoman, which I had made. It turned out much better than expected.'
Colorful fabrics are a starting point for Cath's schemes. The living room includes two 1950s Bentwood armchairs reupholstered in a striking zig-zag fabric, which sit on either side of the fireplace and set the tone for the room.
Dining room
The small but high impact dining room is a standout feature of the flat. Dining room ideas include covering the walls, ceiling and stairs in a bold and brightly patterned wallpaper for a punch of fun.
The cocoon of color is added to with an orange table and bench from Newark Antiques Fair that pair comfortably with the maximalist patterns. 'I did quite a big haul from Newark Antiques Fair, including the orange beer festival table and bench,' reveals Cath.
'The dining room is particularly over the top. This room spends most of its life as an overdressed drying room, then moonlights as a dining room every now and then. It's a great space to be in, especially in the evening.'
Bedroom
The patterned wallpaper in the hall provides a similar effect to the dining room wallpaper. 'I had collected a few things I definitely wanted to use, so it was a matter of where and how to link it all. The wallpaper in the hall is a favorite and the colors flow into the other rooms,' says Cath.
The table lampshade in the guest bedroom picks up the pink tones throughout the house and helps to lighten up the room.
Cath incorporated eye-catching glass globe lights, which are perfect for breaking up the hues of the guest bedroom.
Main bedroom
Cath's bedroom ideas included a statement headboard fabric. Cath and Liv visited the Svenskt Tenn showroom when they were working on a project in Stockholm, and this is where Cath found the fabric depicting cheery colorful tulip blooms.
The fabric was the initial starting point for the main bedroom and it ties in perfectly with the bespoke red lacquer bedside tables. The mix of patterns and colors creates a characterful bedroom space.
Bathroom
The joyful vibe continues through to the bathroom. Bathroom ideas to give the space personality included painting the walls in a fresh blue, then adding high impact rainbow striped tiles and Cath's collection of framed vintage prints.
The bathroom was the last room to be decorated. 'I tried to not do too much to it, so left it fairly neutral, but it eventually had to go, especially when I found the tiles, which are a particular favorite,' reveals Cath.
'I'm very happy with the flat and not bored with anything yet,' Cath sums up. 'I like changing up the odd piece of art when I find something I love, something else then has to get moved.'
Interior design/ Yellow London
Photography/ Matt Clayton
Sign up to the Homes & Gardens newsletter
Decor Ideas. Project Inspiration. Expert Advice. Delivered to your inbox.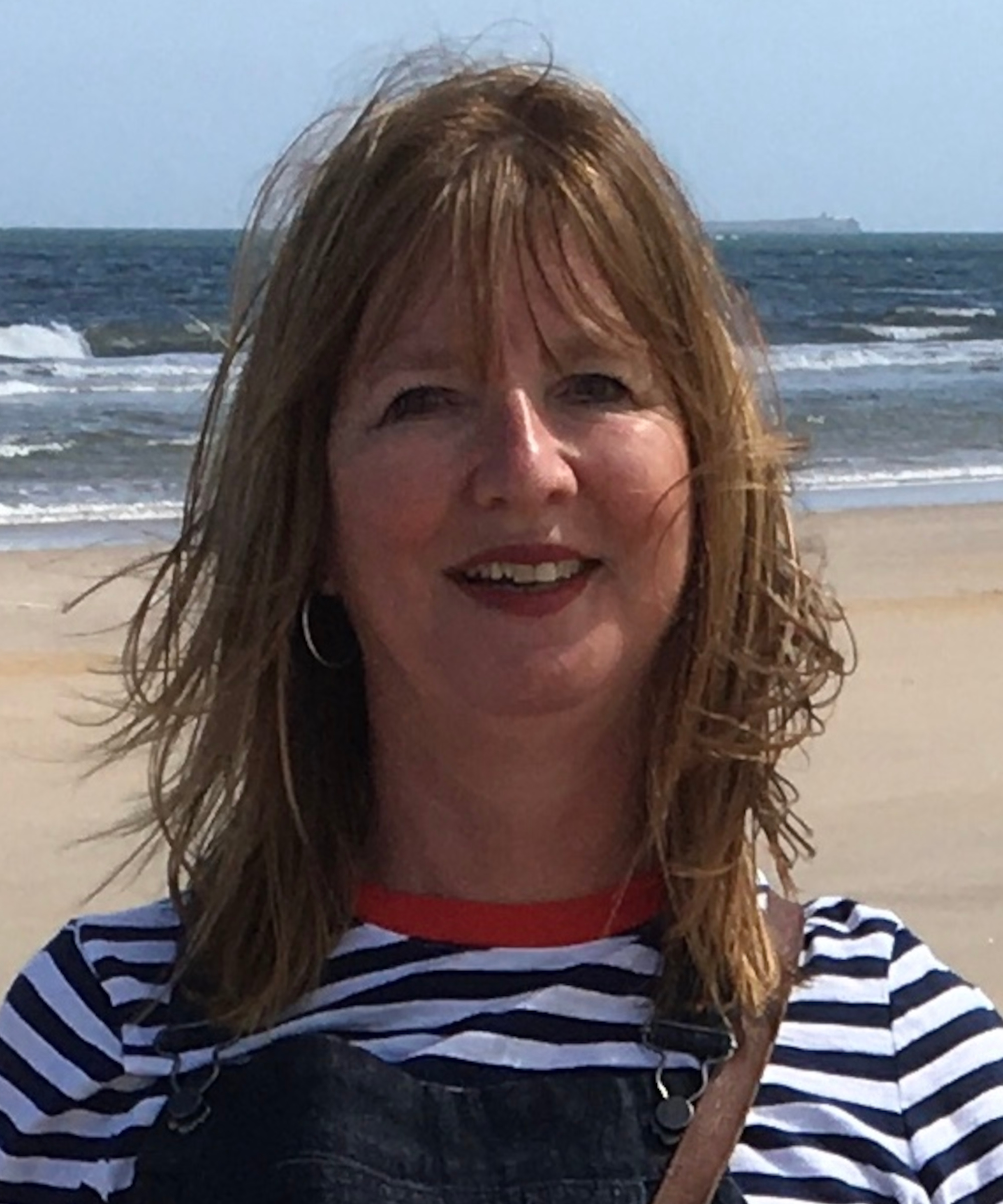 Interiors have always been Vivienne's passion – from bold and bright to Scandi white. After studying at Leeds University, she worked at the Financial Times, before moving to Radio Times. She did an interior design course and then worked for Homes & Gardens, Country Living and House Beautiful. Vivienne's always enjoyed reader homes and loves to spot a house she knows is perfect for a magazine (she has even knocked on the doors of houses with curb appeal!), so she became a houses editor, commissioning reader homes, writing features and styling and art directing photo shoots. She worked on Country Homes & Interiors for 15 years, before returning to Homes & Gardens as houses editor four years ago.