This grand ocean-front home was built to entertain and has four kitchens to prove it
This luxury estate around a Maryland home is all about hosting in style – four kitchens, a wine cellar and bar say it all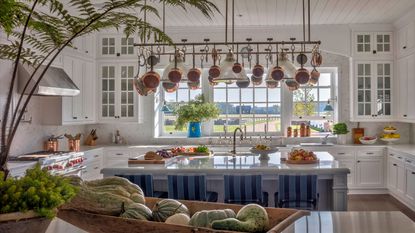 (Image credit: Durston Saylor)
A luxury residential compound, set on more than 150 acres of land in Maryland's idyllic Eastern Shore, was the long-held dream of its owner David Williams, CEO of a digital marketing firm. For years he had been planning and curating artwork and accessories for his future home, which was to be a place where family, friends and colleagues could gather for holidays, celebrations, conferences and reunions.
Now complete, the private sanctuary encompasses immaculately kept landscaped gardens and breathtaking views of the water around the estate's ten buildings. A Georgian-inspired farmhouse-style main house is at the center with guest houses, a pool house, entertaining barn, pottery studio, potting shed, and a carriage house arranged around it on a symmetrical grid of pathways. The sheer scale, attention to detail and luxury finishes involved in all spaces make this one of the world's best homes.
It's surely got to be one of the world's best places to stay as a guest, too, with not just one kitchen but four dedicated cooking and preparation spaces and of course every need and comfort provided for.
Owner David worked with Purple Cherry Architects to design the estate, bringing his own specific vision for each structure and the estate as a whole. The results of this collaboration are magical.
We spoke to Purple Cherry Architects' founder and principal, Cathy Purple Cherry, who gave us her 10 good reasons why this home is the perfect place to entertain guests – and explained those four kitchens.
1. Main kitchen
Anyone looking for kitchen ideas will be spoilt for choice with this dream project of a house. The impressive and spacious main kitchen is a good starting point.
Two expansive kitchen islands provide sociable gathering places, practical work surfaces and snacking areas. Gleaming copper pans hang from a custom Ann Morris pot rack adding extra sparkle but also grounding the room with a sense of rural domestic history. There's a dedicated coffee station, beverage area, breakfast table, and an incredible custom six-foot stainless sink. Large windows and an attached screened porch allow connection with the home's beautiful setting, while an upscaled potted plant (everything here is upscaled) turns one kitchen island into a tropical oasis.
Cathy Purple Cherry says her client briefed 'a space that offered serving, standing, and sitting spaces, creating the dynamic of combining all three functions in a very large kitchen area'. Bravo – they nailed it.
What more could you want in a kitchen? Three more kitchens anyone?
2. Pizza kitchen
In the basement of the home, a dedicated pizza kitchen includes zinc table countertops for preparation, open shelving and, of course, an authentic brick wood-fired pizza oven. This home is ready to cater for its guests' every whim, be that pizza, or maybe something rustled up in kitchen number 3…
3. Butler's pantry and prep kitchen
What is a butler's pantry? I hear you ask. Well, this one adjacent to the main kitchen provides extra food preparation and storage space. The central butcher's block nods to traditional farmhouse style, while a subway tile backsplash, stainless steel appliances and industrial-style pendant light give a more utilitarian flavor. Herringbone flooring provides a neat and practical finish.
4. Guest kitchen
Kitchen number 4 shows that Purple Cherry Architects and homeowner David really did think of everything for his guests. This homey kitchen is for their exclusive use, perfect for families or guests who want to cater for themselves for a night or two. Pale wood open shelves and flooring give a midcentury look that is mirrored with the dining chairs and vintage wall and pedant lights. In the center of the room a custom zinc island can be used for dining and prep.
Just as it is in the main entertaining spaces, every design and furnishing detail has been carefully planned and beautifully executed to create a most thoughtful and harmonious look.
5. Double-height bar
Looking for home bar ideas? Go big, go high – that's certainly what happened here. Cathy at Purple Cherry explains: 'The client wanted one end of the home to be the "playful end" for activities such as darts, pool, and gathering around a distinctive bar area.' This two-story, light-filled bar in the main home features Douglas fir trusses and a hidden door to a basement wine cellar. This really is architectural perfection and the perfect addition to the home's luxurious offering for its guests.
Key pieces include large hanging lanterns from Currey & Company, pendants from Restoration Hardware and barstools from Hickory Chair.
6. Formal dining room
There's no shortage of beautiful spots for pre-dinner drinks – whether in the double-height bar, or outside in the landscaped gardens, but for dinner itself this is the place to be. Dining room ideas for formal entertaining feature a palette of warm tones, varied layers of textures and natural materials. 'All adds up to a sense of cozy spaciousness to create an elegant allure for the dining room,' explains Cathy. Purple Cherry sourced a 1st Dibs custom table from Peterson Antiques, Ralph Lauren chairs, and a striking pair of chandeliers from Visual Comfort to complete the look.
7. Living room with ocean view
Living room ideas were off to a head start here with the beautiful architecture and ocean-facing aspect of the room. Floor-to-ceiling windows and French doors with Cremone bolts allow for an abundance of natural light and unobstructed water views. To aid relaxation for guests and their hosts, the living room's look and color palette are pure coastal. Go-to pieces for that include the Ralph Lauren sofa, Hickory Chair armchairs, EJ Victor sofa side table, and Visual Comfort chandelier, sconces, and table lamps.
8. Library for quieter moments
Home library ideas don't necessarily have to be about filling a room with wall-to-wall bookshelves. This calm quiet corner is more about having somewhere comfortable to sit and enjoy a good book and we like its style. Custom millwork and alcove shelves and display spaces give this smaller room real personality.
Key items include O. Henry House wingchairs with Fabricut Fabric, Visual Comfort chandelier and sconces, and a Lee Industries cocktail ottoman.
9. Bedroom with ocean view
All good hosts need a relaxing space to rest after a busy day and bedroom ideas for the primary bedroom take their cue from the architecture – a private balcony accessed through two sets of French doors, with a fireplace between them. The room's calm coastal palette softly merges into the seascape beyond.
10. The estate – 150 acres of ocean-front land
Spanning more than 150 acres of land and a total of 44,000 square feet of luxury, the private estate is set in beautifully landscaped grounds. At the back of the house, pictured above, a large pool terrace offers plenty of space for dozens of guests.
The impact of the setting is immense, as Cathy explains: 'The approach to the estate offers the quintessential Eastern Shore farm experience. Guests pass through farm fields, barn clusters, expansive meadows, and farm ponds. Then, just before arriving at the main house, guests are greeted by twelve black pastoral sheep grazing in a dedicated pasture complete with a custom stone sheep shed.'
Now that's how to set the tone for a farmhouse-inspired home.
The home's traditional exterior features front porch columns, symmetrical windows and rooflines, and curved eyebrow dormers.
'The idea was to reflect a traditional classically proportioned, classically detailed Georgian home, but casual in nature with the addition of painted brick, vertical board and batten, and horizontal shiplap' explains Cathy Purple Cherry.
'The roof is a white cedar shake which helps to soften the structure and blend it into the environment. The goal was that the main house appeared to have evolved and been added onto over the years, thus the change in the materials on either side of the four chimneys in the center mass,' she adds.
While from the outside the house is imposing and on a huge scale, the inside story is quite different, and Cathy explains why: 'We knew we needed to implement design solutions that helped to humanize the large-scale spaces found throughout the main house. The beautiful millwork details help divert attention away from overall gross heights or dimensions and refocuses it on the beauty of the microscopic design. This generates a real emotional feeling of warmth, comfort, and hominess within an environment and I could not be more proud of the finished results – inside and out.'
Architecture and interior design: Purple Cherry Architects
Builder: GYC Homes
Landscape architect: Campion Hruby
Photographer: Durston Saylor
Stylist: Helen Crowther
Karen is the houses editor for homesandgardens.com and homes editor for the brand's sister titles, Period Living and Country Homes & Interiors, and an experienced writer on interiors and gardens. She loves visiting historic houses for Period Living and writing about rural properties for Country Homes & Interiors, and working with photographers to capture all shapes and sizes of properties. Karen began her career as a sub editor at Hi-Fi News and Record Review magazine. Her move to women's magazines came soon after, in the shape of Living magazine, which covered cookery, fashion, beauty, homes and gardening. From Living Karen moved to Ideal Home magazine, where as deputy chief sub, then chief sub, she started to really take an interest in properties, architecture, interior design and gardening.