4th of July party ideas: 13 ways to host the most spectacular celebration
Cue the fireworks — you're about to throw a five-star celebration with these 4th of July party ideas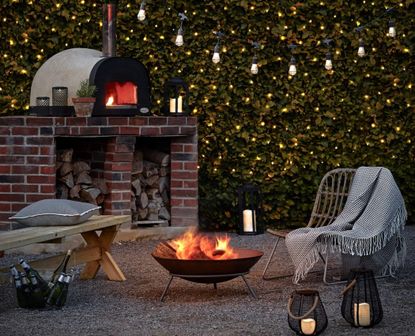 (Image credit: Amazon)
After spending over a year in our homes, away from loved ones, we can't think of a better way to re-enter society and celebrate than with a 4th of July party — and we're going to need ideas.
America's birthday is the perfect reason to go all out — and whether you're heading to a family cookout or taking on hosting duties yourself, we have everything you need to commemorate in style.
From star-spangled straws to patriotic plates, and don't forget the best patio furniture, we've curated a list of everything you'll need to throw a party in the USA.
Your five-star celebration is just a click away — continue reading to see everything you need to host the event in your own back yard.
1. Make sure there is seating for all
Wade 6 Person Dining Set with Cushions | Was £1,039.99, now £989.99 at Wayfair (opens in new tab)
A major concern for hosts is making sure there is enough seating to go round. This large dining table comes with six chairs, but to up the seating you could swap some of the seats for a bench to park a few more people. It is solid acacia, weather resistant and comes with the cushions
2. Up your grill game
Serve up a feast everyone will remember by making sure you have the best grill at your disposal. After all July 4th is all about BBQ meats and veggies and a big table of salads. If guests offer to bring something along why not invite them to whip up some sides, while you take care of the grill.
3. Choose a subtle table runner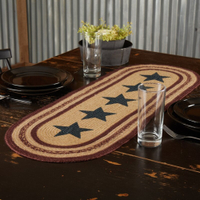 (opens in new tab)
Brunswick Geometric Oval Independence Day Table Runner (opens in new tab) l Was $21.95, Now $14.99, at Wayfair
A subtle statement is often more impactful than an over-the-top one, and this table runner (opens in new tab) is living proof of just that. The braided jute material is perfectly on-trend with the summer season, while the woven red, white, and blue pattern – featuring stars and stripes – is just enough without being overwhelming.
4. Keep your glassware simple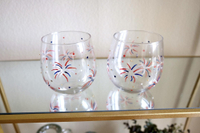 (opens in new tab)
Hand Painted Fourth of July Wine Glasses (opens in new tab) for $19.75, at Etsy
Your glassware will vary contingent on whether or not this celebration is purely an adult get-together or if it's child-friendly, but either way, this choice (opens in new tab) is gorgeous and our go-to. The intricate hand-painted detailing is sensational, while the stemless structure is suitable for both wine and beer drinkers.
5. Stay hydrated with this drink dispenser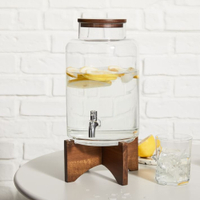 (opens in new tab)
Pure Drink Dispenser (opens in new tab) for $69.95, at west elm
The 4th of July is notorious for being hotter-than-ever, and one way to beat the heat is by having a water dispenser (opens in new tab) on hand, making this is our top pick. The solid acacia wood lid and stand create a natural feel that's warm and welcoming anywhere.
6. Stay on trend with these patriotic plates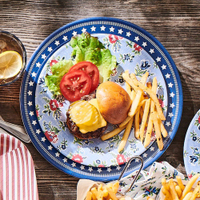 (opens in new tab)
4th of July Star Dinner Plates (Set of 4) (opens in new tab) for $40, at Sur La Table
Durable, dishwasher-safe, and scratch-and-shatter-resistant, hold our drinks; we've found the ultimate trifecta, making this fun, festive dinner set (opens in new tab) a no-brainer.
7. Invest in these stylish seats that will last long after the party ends
8. Accessorize tablescapes with this assorted set
9. Keep these grill baskets on hand
Flex Grill Basket with Rose Wood Handle (opens in new tab) for $29.65, at Sur La Table
This ultra-stretchy, oversized grilling basket (opens in new tab) features a unique spring-like design that makes it perfect for grilling fish, delicate fruits or vegetables, pork chops, chicken breasts, or even bread.
10. Add some traditional American spirit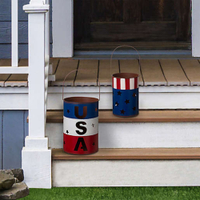 (opens in new tab)
Glitzhome 2-Piece Metal Patriotic Lantern Set (opens in new tab) l Was $39.99, Now $31.99, at Bed Bath & Beyond
Show your American spirit with these patriotic-inspired lanterns (opens in new tab). Featuring red, white, and blue painted iron lanterns — in large and small sizes — the star-shaped cutouts and curved handles are easy to carry and even better when showcasing the best candles.
11. Cover tables in the most appropriate of ways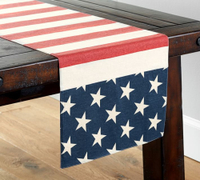 (opens in new tab)
American Flag Linen/Cotton Table Runner (opens in new tab)for $69, at Pottery Barn
Modernizing the flag has become a bit controversial over the years, but if you are still looking to pay your respects to America the brave, the most appropriate way is to opt for this flag-inspired table runner (opens in new tab). Not only will it keep crumbs and debris at bay, but it will elevate any wooden table display in seconds.
12. Brighten up your space by stringing lights
Lights4fun, Inc. Red, White & Blue LED Lights (opens in new tab)l Was $39.99, Now $27.99, at Amazon
Every 4th of July party will inevitably face the sun setting, and without adequate preparations, it could put a damper on your celebrations. Fortunately, we've found this LED light set (opens in new tab)with 20 battery-powered bulbs and a timer set to keep the good times going all night long.
13. Step up your décor game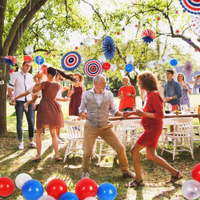 (opens in new tab)
38-Piece Patriotic Party Supplies (opens in new tab) l Was $19.99, Now $17.89, at Amazon
How many 4th of July decorations are too many 4th of July celebrations? When it comes to America's birthday, the limit does not exist — go all out for the occasion and bring along this 38-piece decoration set (opens in new tab). It's the only way to throw a party in the USA!
Brittany Romano wrote for Homes & Gardens as a U.S. Shopping Editor. A graduate of New England College, Brittany started her career as a freelance fashion market assistant at Marie Claire. She later joined AMI, where she designed a highly profitable commerce vertical. Noted for her award-winning content, she's covered everything from celebrity beauty hacks to the most lavish home decor.