Daybed ideas for small spaces – 10 smart and space-saving daybed designs
Create a stylish design feature and comforting area to sit and relax with our daybed ideas for small spaces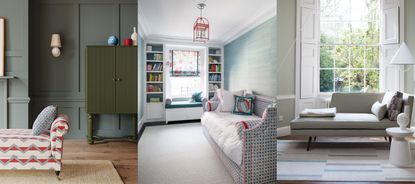 (Image credit: Future | Ginny Macdonald Design, photography Raquel Langworthy | Damian Russell)
Our daybed ideas for small spaces prove that this versatile piece of furniture can beautifully integrate into homes of all shapes and sizes.
Daybed ideas are not typically something you would think could fit into homes with more compact, smaller rooms, however, there are many designs that can help bring style, comfort and functionality to your small spaces.
A daybed is truly versatile furniture item, a cross between a sofa, bed and chaise longue, they can provide an area to sit, relax or recline in comfort, ideal for providing extra seating in a living room, as well as creating a spare bed for your bed ideas.
Daybeds can come in a variety of styles and sizes, from flat, Roman designs, to larger, more dramatic and ornate structures that feature beautiful upholstery, canopies and cushions, so there are options to suit all interior tastes and practical requirements.
Daybed ideas for small spaces
We have curated a collection of daybed ideas for small spaces, from contrasting designs to different areas to place them in the home, to show you how this ancient and timeless furniture piece can elevate your design scheme.
1. Style your daybed to be a central seat space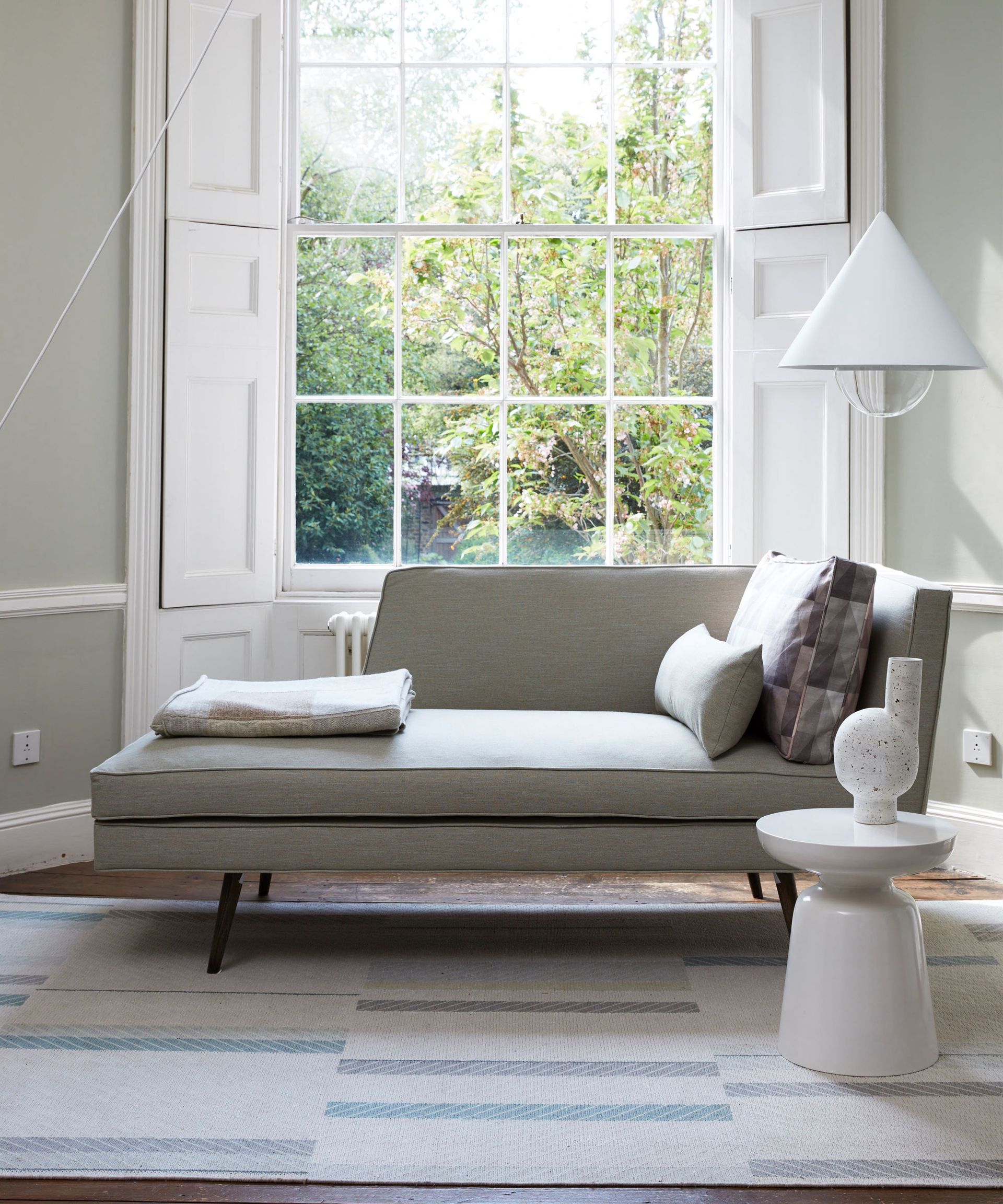 For many, a daybed is seen as more luxurious way to bring in additional seating to a room, or act as a more statement design piece, however, for a smaller room, why not choose a daybed design that can become an integral, central seating area in your home – a good option to explore for your living room seating ideas.
In this bright living room, the gray, asymmetrical daybed has been elegantly styled so that it feels effortlessly integrated into the space. With the stylish, low hanging white cone pendant light and sleek, glossy white stool placed nearby, the overall look helps to create an inviting and stylish seating zone that has a beautiful presence in this living room.
2. Choose an adaptable and adjustable design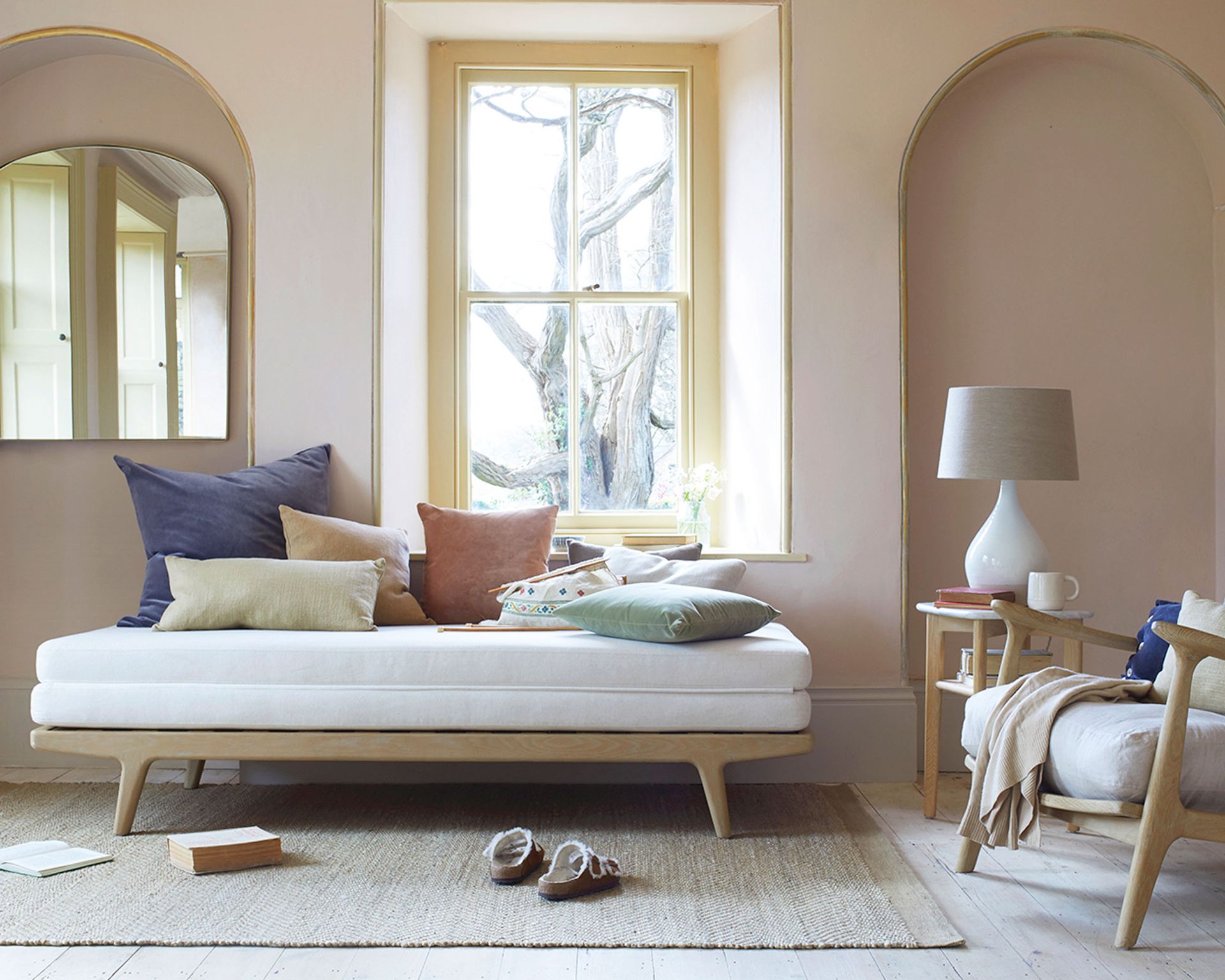 Choosing a daybed design that can transform into a spare bed is a great option for the modern home, saving on space in a small guest room or living room area.
The Tip Top oak daybed from Loaf embodies a simple, organic design, defined by a comforting cream linen seat cushion and a warming, solid light oak frame. The flat daybed also features a pull-out mechanism so it can be changed into a bed when required.
Sarah Peake, creative director at Studio Peak states when trying to save on space in a room, 'dual-purpose furniture is key. In compact single bedrooms we often design beds that can function as daybeds when they're not being slept in.'
Choosing a multipurpose daybed is an ideal option for a smaller space, rather than crowding your home with more furniture than you need, explore how you can save space with dual-purpose designs.
3. Use a daybed in a kid's room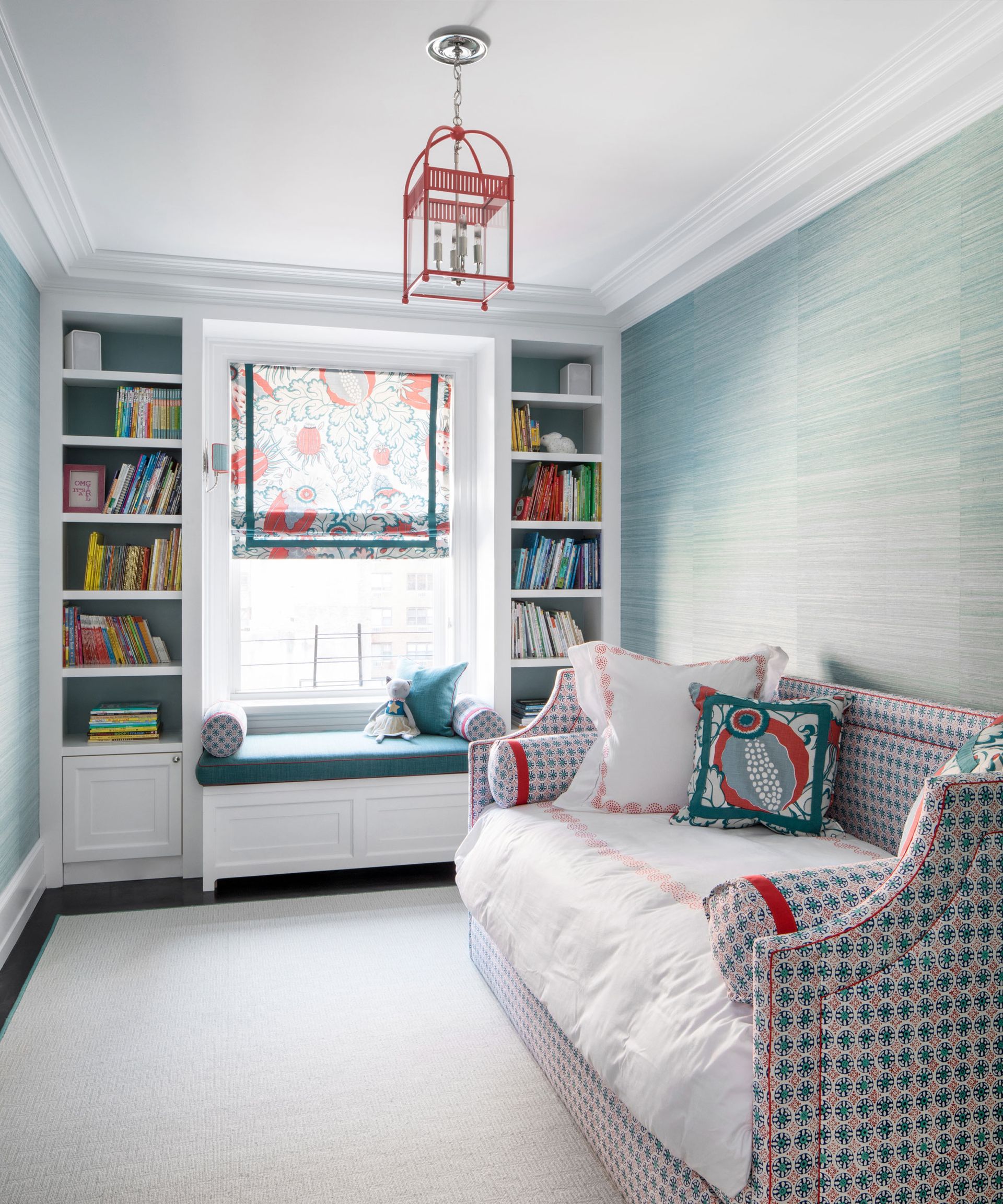 Whether it is for playroom ideas, or children's small bedroom ideas, daybeds are a popular option for a kid's room, providing a practical area to rest, play as well as sleep - with many also coming with practical underbed storage.
In this small girl's bedroom designed by Ginny Macdonald Design, the daybed not only creates a comforting area to sleep and relax, but the beautiful patterned fabric brings long-lasting style and visual interest to the space.
Pushed against the wall, the curvaceous, geometric design does not overwhelm the room, instead, the daybed effortlessly acts as the central design focus in the room, adding inviting color and texture and enhancing the blue and red theme.
Ginny Macdonald states of the room design in this family home, 'in the daughter's room, we opted for a window seat for reading with mom and dad, and designed the bed as a daybed, lengthwise against the wall to give her more room to play.'
4. Place a daybed at the foot of a bed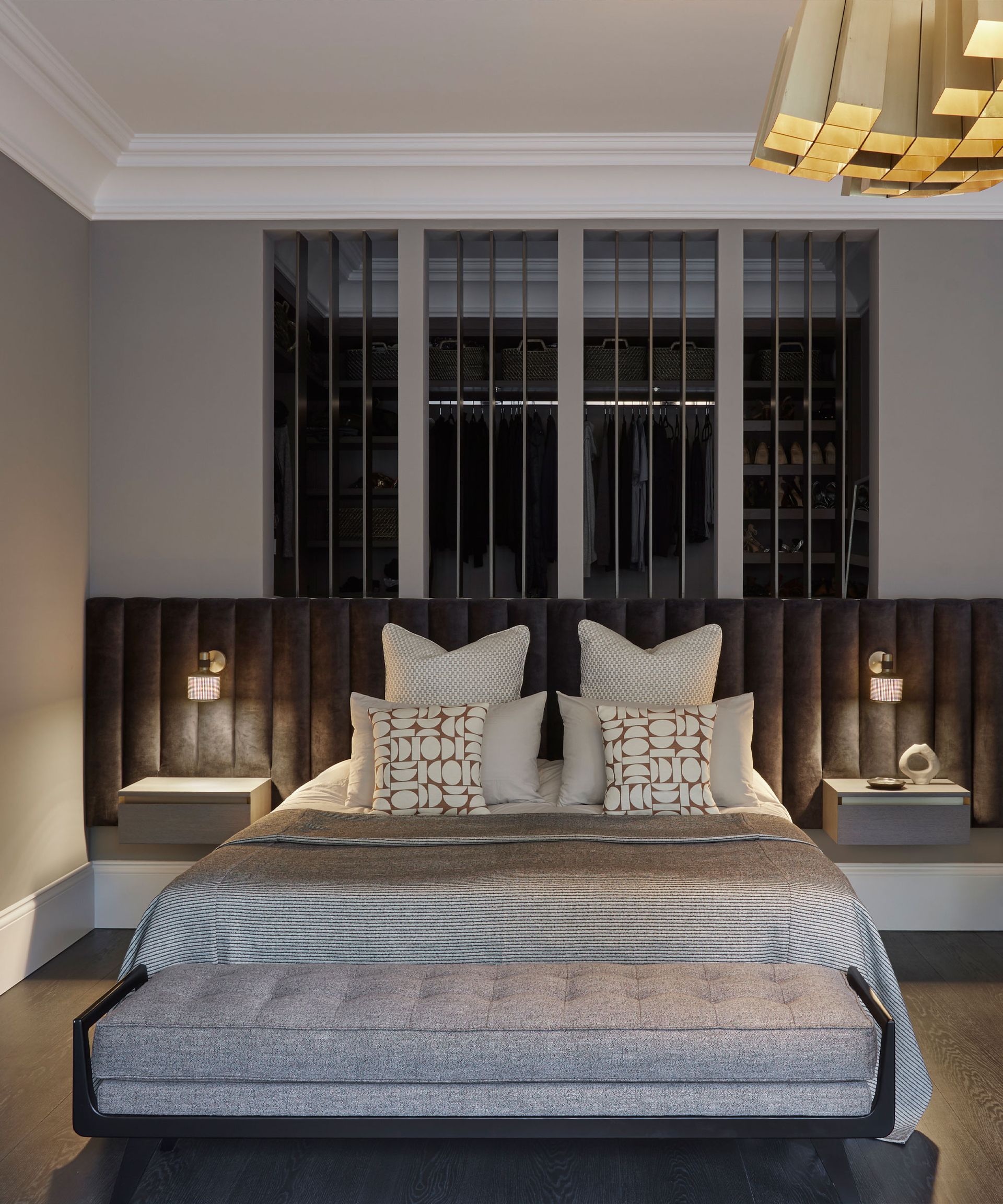 Placing a daybed at the foot of the bed is a popular choice for daybed placement ideas in the home, it not only creates a practical seating area in a bedroom, but can elegantly extend the bed design through added texture, shape and style.
Instead of using larger lounge chairs or sofas to create a seating area in a bedroom, a sleek daybed can be a good option.
In this Hampstead home in London by Cherie Lee Interiors, she explains the decision for using a daybed in this master bedroom, rather than bigger pieces of furniture.
'We wanted to specify a comfortable piece of lounge furniture for the master suite, we played around with various options but the room didn't led itself well to a conventional sofa, and two armchairs were not comfortable enough for the clients brief. We designed the bespoke daybed to allow the client to take in views of the garden, also creating a place to read in the mornings or evenings. The angle the daybed sits at allows views of the bedroom and gardens without the need to turn furniture around.'
5. Make a statement with your daybed design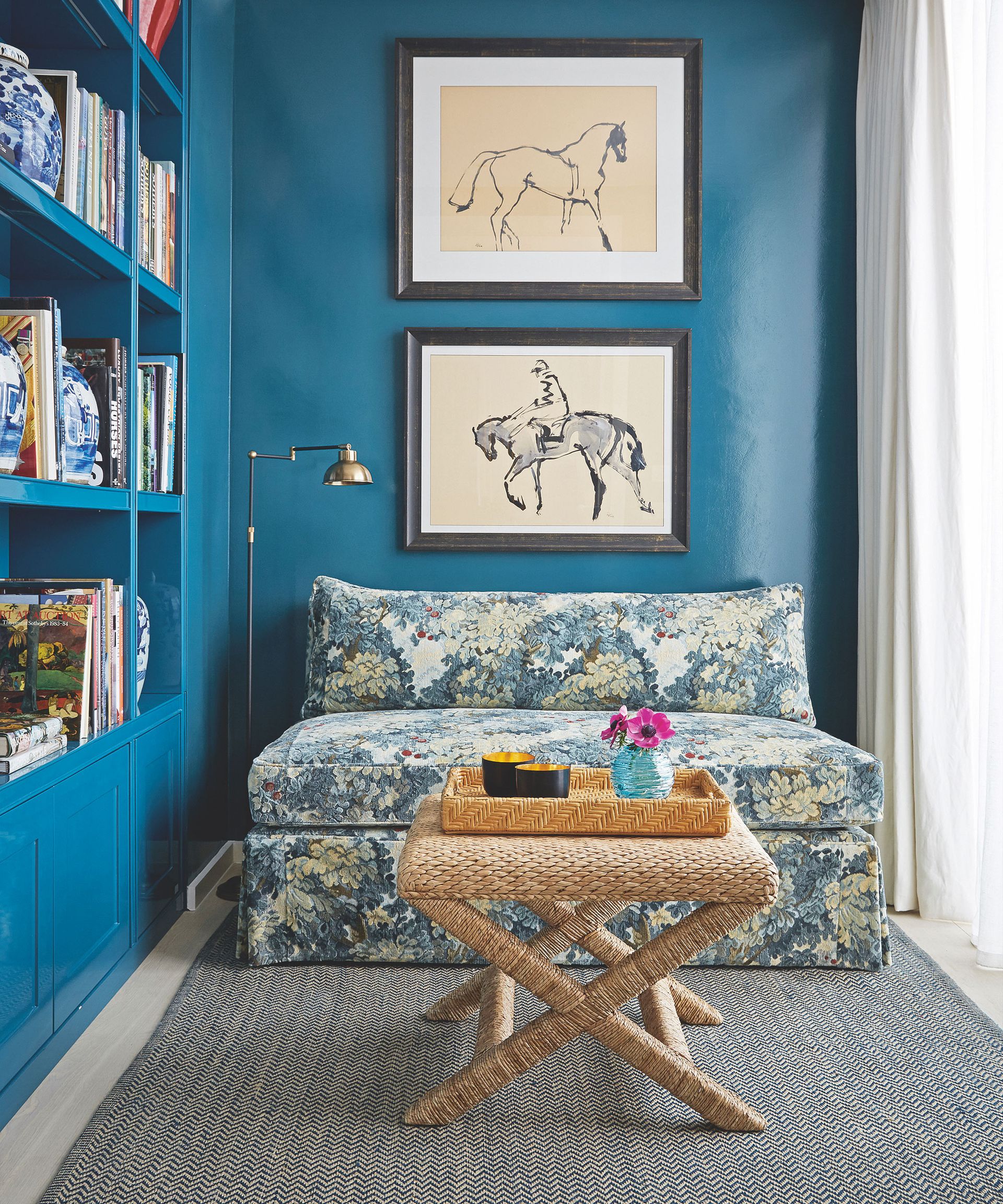 One way many interior designers make the most out of small spaces is embracing bold and colorful designs, creating an immersive space that feels stimulating, vibrant and unique - distracting you from the size of the room.
Interior designer Kate Guinness states, 'space challenged rooms are often the perfect places to make the boldest design choices, plus you will need far less wallpaper to cover a small downstairs loo or guest bedroom than a whole sitting room, so you can afford to spend more on something really fantastic.'
As shown in this beautiful blue living room, designed by Paolo Moschino for Nicholas Haslam, the large, floral patterned daybed design commands the space, working wonderfully with the vivid, blue painted walls to create a cozy and cocooning environment that feels elegant and sophisticated.
6. Keep things simple and relaxed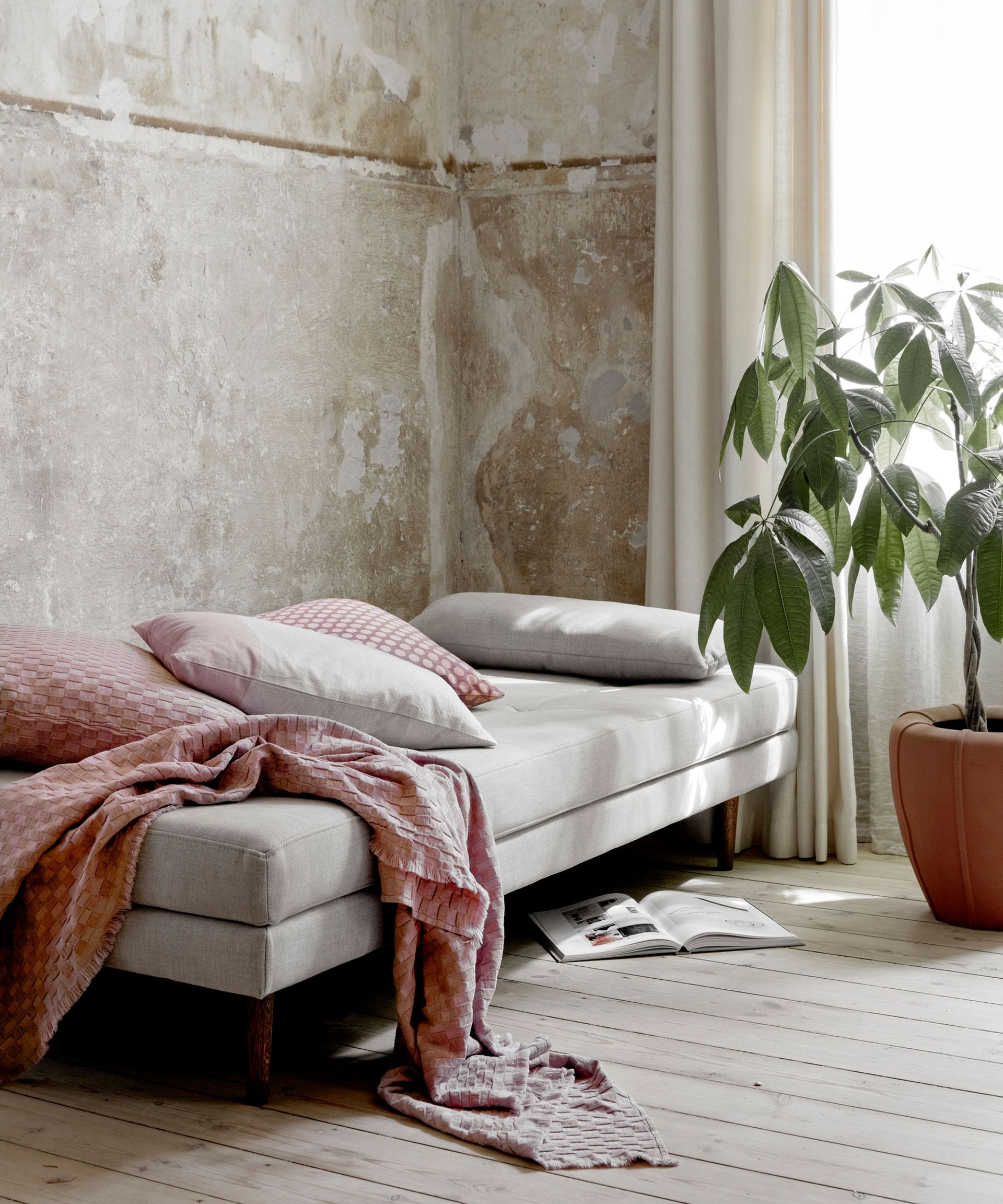 With a more subtle and understated presence, with a clean and simple silhouette that celebrates the functional essence of daybed design, ideal for smaller spaces, a low and inviting flat daybed embodies an elegant simplicity that can integrate into homes of all styles.
In this rustic, Scandi-inspired living room, the low, gray Air daybed by Danish brand Broste Copenhagen perfectly coordinates with the relaxed style and laid-back atmosphere in the space.
7. Enhance your sleep sanctuary with sculptural forms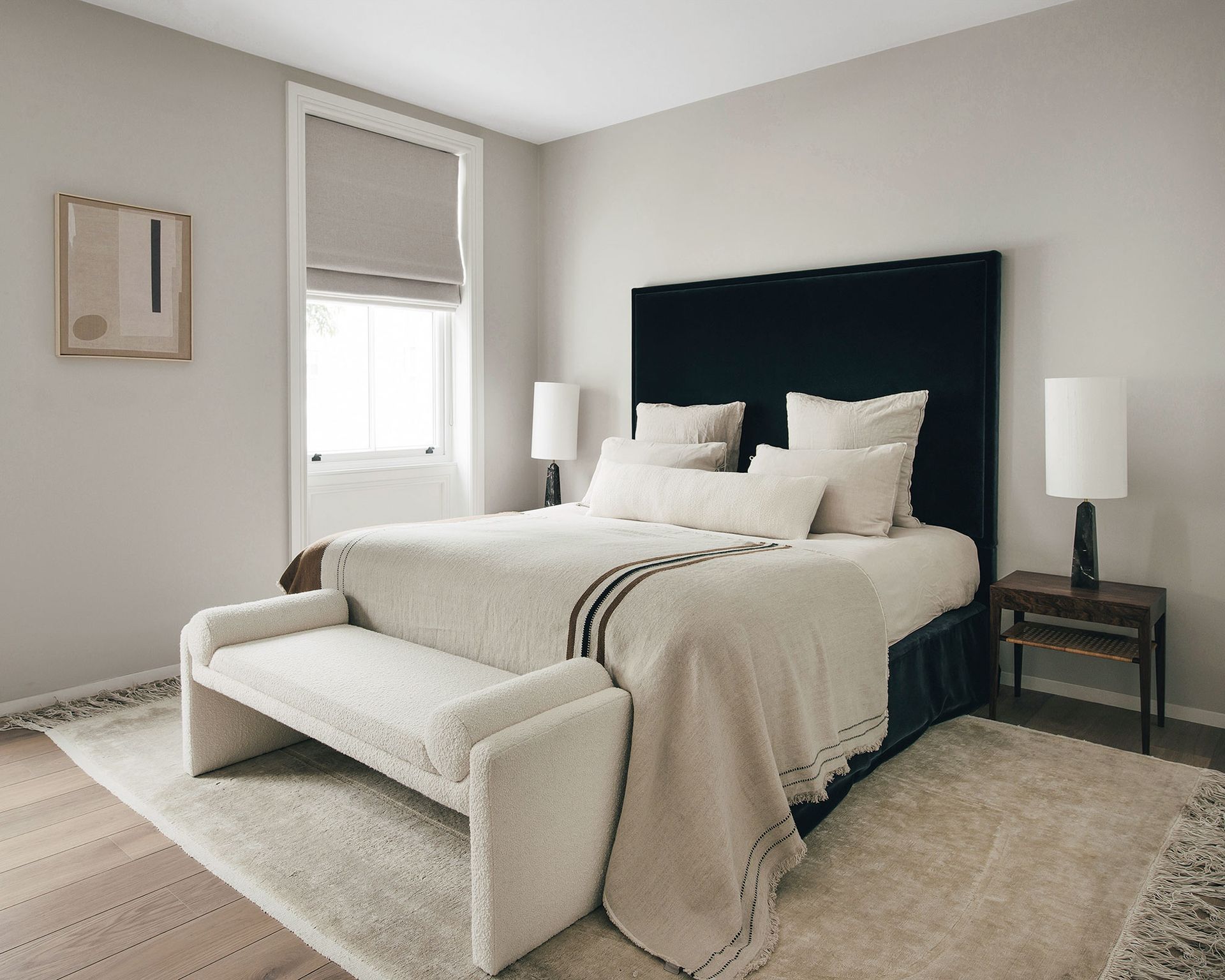 In this calming master bedroom, designed by Angus Reid, the design is defined by an uncomplicated and minimalist look, with the earthy, neutral color palette, helping to create a bedroom that feels spacious and serene.
The lighting and furniture have been carefully chosen, with only a select few pieces in the room, with the bed and small daybed bespoke pieces designed by Angus Reid Projects.
Sumptuous and stylish, the sculptural daybed adds subtle shape and beautiful texture to the room, upholstered in a soft Opio bouclé wool fabric.
Reminiscent of a classic Roman daybed design, with raised sections at each end, the seat is tactile and inviting; enhancing the feeling of comfort and tranquility in the room.
8. Use your daybed to create contrast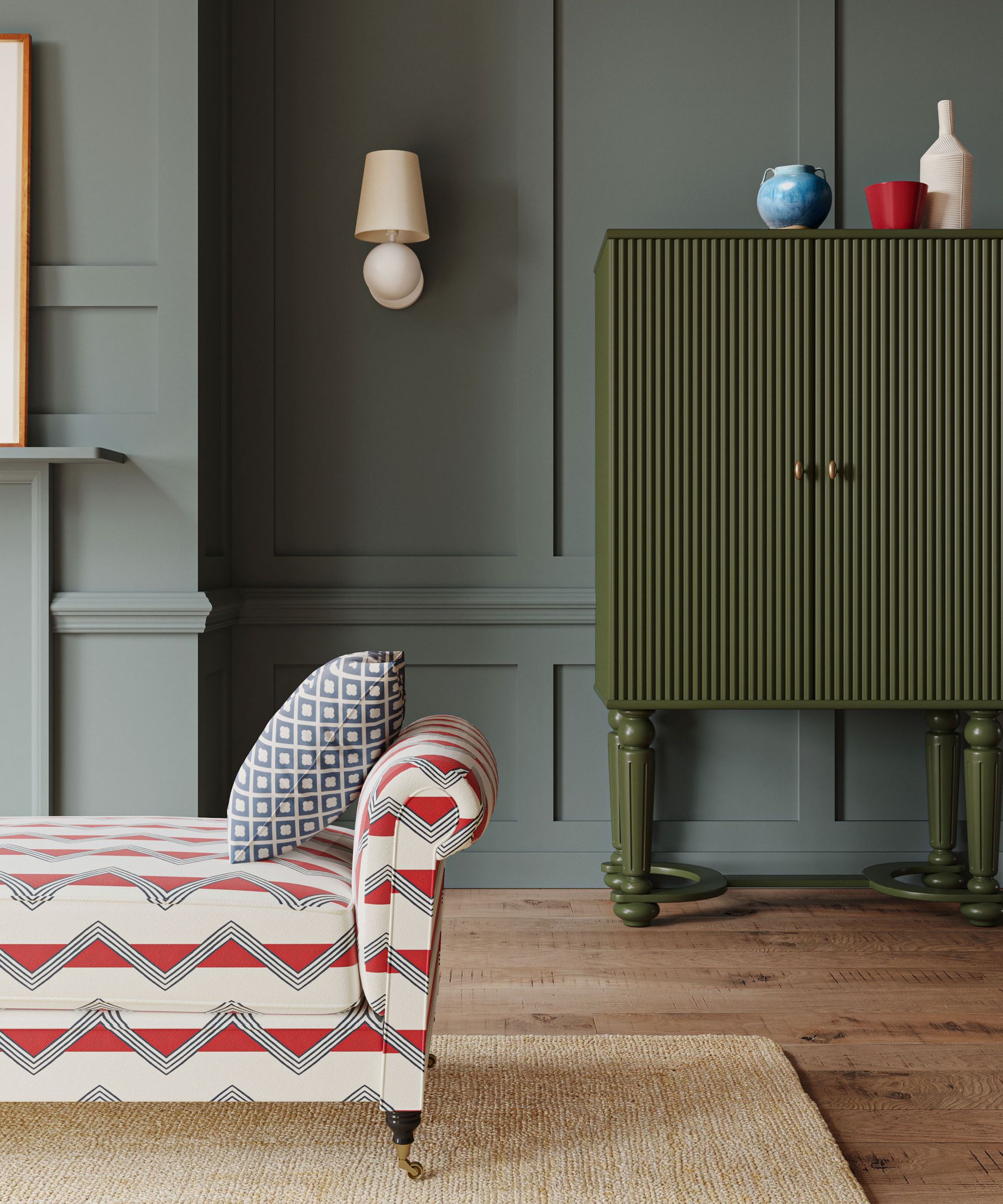 Many of us believe that when it comes to small spaces they need to be left uncluttered, neutral and simple, however, as we have discussed, for a stylish and original look, playing with scale, color and pattern, and embracing a bold and beautiful design, can transform the look and feel of small room.
In this modern living room, the red patterned daybed creates a stylish element of contrast in the green room design, drawing your focus to this seat space.
A daybed is not only an item that create a comforting seating area, but it can be used as a design tool to establish an eye-catching focal point and feature in a room; adding contrast, texture, pattern and color to the space.
9. Play with size and scale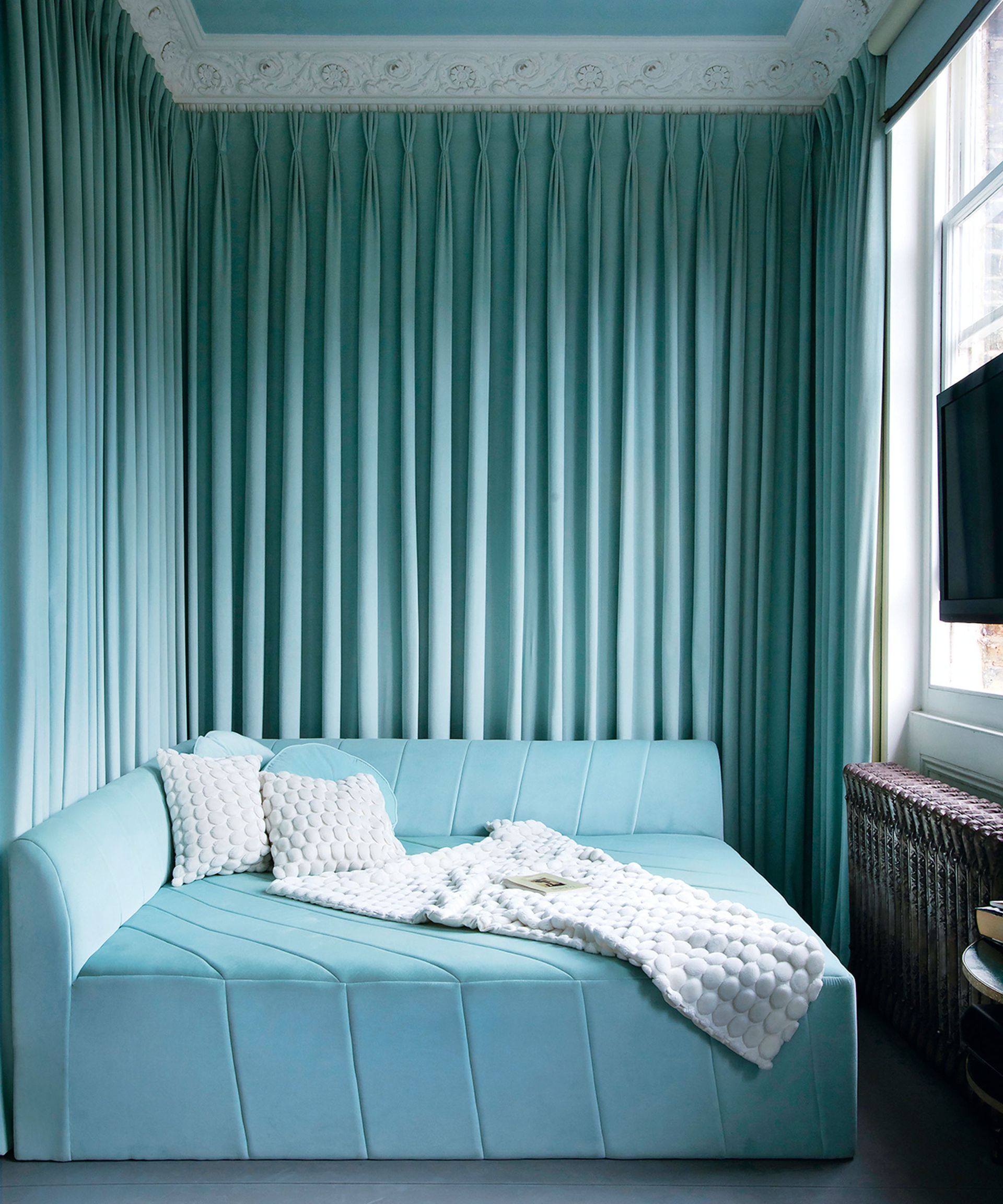 Tom Bartlett, interior designer at Waldo Works states, 'in a small space it's best for things to feel generous. This will need to be tailored to your home, ideas include a vibrant wallpaper in a bathroom or box rooms with luxurious floor-to-ceiling curtains, or an oversized sofa or daybed in a compact living room. Do at least one thing with gusto to make the space feel less mean.'
Sometimes the best way to enhance a small room is to pick an oversized piece of furniture, filling the space to make a striking statement.
As shown to maximum effect in this one-of-a-kind blue living area, the large, blue velvet sofa-bed cross daybed design works with the tactile floor to ceiling blue curtains and blue painted ceiling to create a futuristic and immersive design in this small space - a stunning example of what can be achieved for blue room ideas.
10. Use a daybed in a hallway or entryway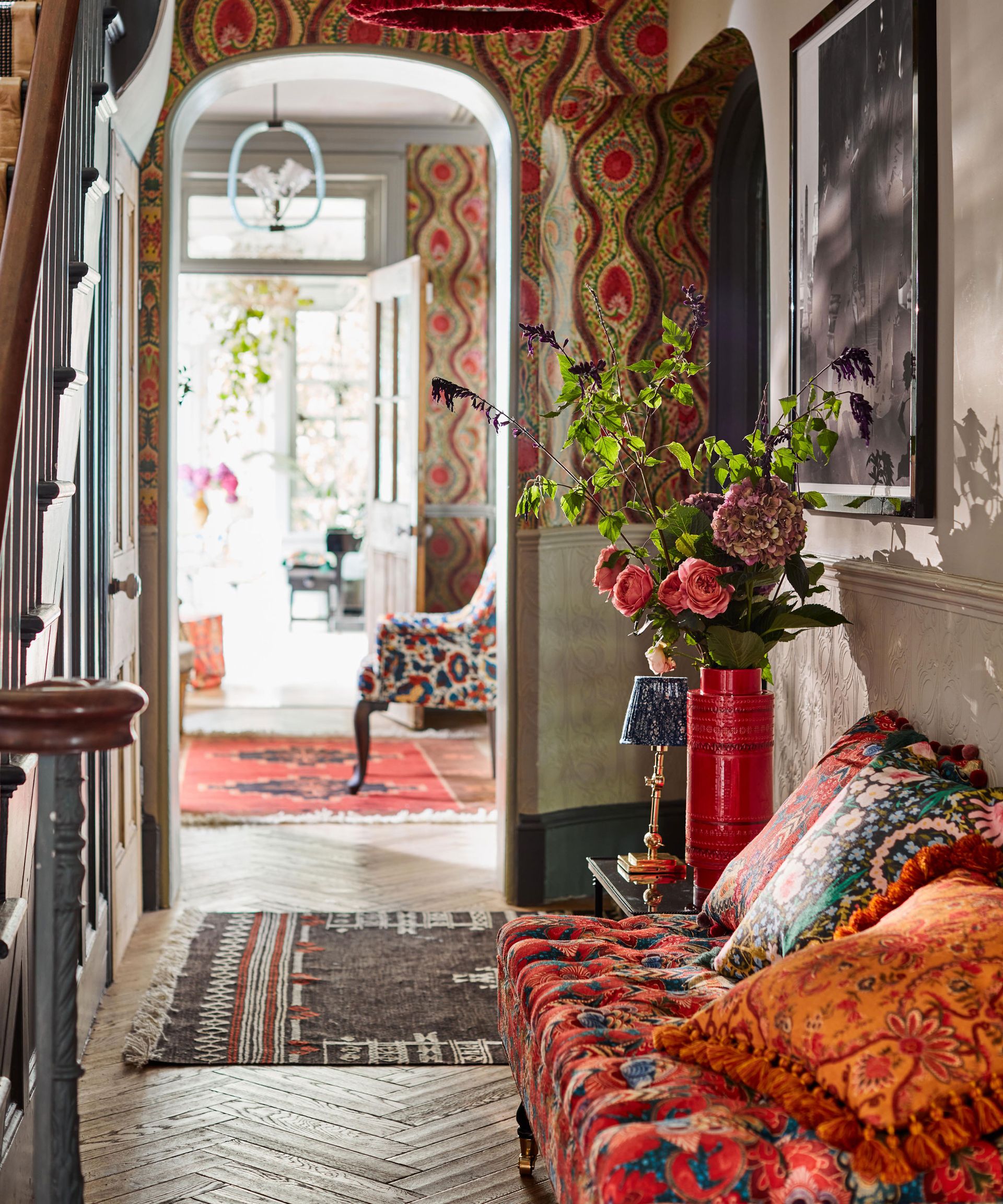 Often associated with bedroom and living room spaces, a daybed can be a practical way to create a seating area for your small hallway ideas and small entryway ideas.
Bench seating is a popular option for these transitional areas in the home, as it doesn't take up too much space, but a sleek daybed design can elevate your seating area one step further with beautiful material, color and pattern.
In this eclectic hallway, the low daybed from Mind The Gap, featuring a detailed red patterned design, works in harmony with the vibrant, uplifting color palette and use of texture and shape throughout the space, establishing a truly unique design.
A snug daybed that doesn't take up too much space when pushed up against the wall, this design greets you with inviting texture, comfort and style as your step foot into this home.
Are daybeds good for small spaces?
Daybeds can be a good option for small spaces. Whether you opt for an uncomplicated, flat design that neatly fits up against a wall, create a more striking, statement look in a small room with a colorful, large design, or choose a practical daybed that doubles up as fold out bed, there are so many options to choose from to best suit your small space.
No matter where you place a daybed in your home, your chosen design should ultimately feel united with your overall scheme and have a purpose within the space; whether that's for providing additional seating or to create a design feature through color, shape and texture.
Perfect for adaptable, modern day living, a daybed is a versatile, multipurpose piece that can serve many functions in homes both large and small.
Sign up to the Homes & Gardens newsletter
Decor Ideas. Project Inspiration. Expert Advice. Delivered to your inbox.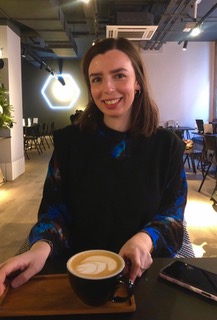 Zara joined Homes & Gardens in February 2022 as a Content Editor. After studying English Literature at University, she worked as an Ecommerce Website Editor, Content Writer and Buying Intern at multiple independent businesses within the luxury retail and lifestyle sectors. Her role at Homes & Gardens unites her love, experience and passion for the world of design and desire to create inspiring written content. She enjoys nothing more than discovering new trends, brands and products, whether that be in fashion, interior design or lifestyle.