Family room ideas with fireplaces – 10 beautiful looks for your social space
From traditional marble to contemporary paint ideas, enhance your family room with our family room ideas with fireplaces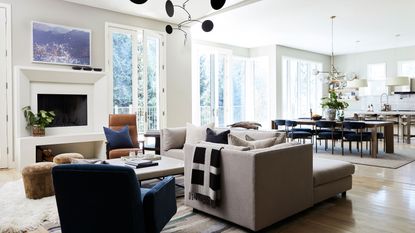 (Image credit: Alice Lane Interior Design, photography by Nicole Gerulat)
Sign up to the Homes & Gardens newsletter
Decor Ideas. Project Inspiration. Expert Advice. Delivered to your inbox.
Thank you for signing up to Homes & Gardens. You will receive a verification email shortly.
There was a problem. Please refresh the page and try again.
The family room is an informal, relaxed living space that should be defined by spending quality time with your friends and loved ones.
For centuries, fireplaces have created a central element in the home where people congregate together for warmth and light. For family room ideas, embracing and enhancing the fireplace in your designated family space will help to create a cozy and inviting environment that the whole family can enjoy.
A main focal point in a room, using our family room ideas with fireplaces can help you to effortlessly integrate and make the most out of this architectural feature in your family room design scheme.
Family room ideas with fireplaces
Whether you want to enhance the fireplace in your family room with wallpaper, or use a luxurious marble frame to add a touch of sophisticated elegance, we have gathered our top tips to help you with your family room ideas with fireplaces.
1. Paint your fireplace to match your walls
A great tip for family room paint ideas and an easy way to add a colorful, contemporary twist to the fireplace in your family room, using paint to incorporate the fireplace into your scheme will make for a bold, cohesive design.
In this family room space, the gorgeous red-pink shade creates a striking design. By painting the fireplace surround the same shade, the colorful impact is taken one step further and the original feature is brought to life.
Whether you choose to match your fireplace with the same paint color used throughout your family room, or choose another complementary paint shade, you can make your fireplace into a real statement piece with paint ideas.
2. Center your scheme around the fireplace
Centering your scheme and family room layout ideas around your fireplace is a simple design principle but one that is guaranteed to create a cozy and intimate family room space.
The fireplace is one of the the central gathering places in the home, providing warmth and an area to sit and socialize with friends and family.
'Fireplaces are often the main focal point in a room, so centering your scheme and your main seating area around the fireplace will create a natural, balanced design that makes the most out of this timeless architectural feature' says Homes & Gardens' Editor in Chief Lucy Searle.
3. Embrace a modern fireplace design
Whether you want to upgrade your traditional fireplace ideas, or are installing a new fireplace into a modern property for your family room ideas with fireplaces, choosing a contemporary design can make a real statement in a space.
In this family room by Alice Lane Interior Design, the bespoke fireplace is defined by a unique, framed design.
Alice Lane states, 'the design of the family room began with the fireplace design and rug selection. The client loves cozying up around the fireplace during the cold winters and wanted to incorporate storage for the cut logs.'
The rectangular, white paneled frame makes for a truly contemporary feature, with the large, blocked design matching the style and proportions of the family room.
4. Create contrast
A fireplace can provide a great area where you can inject an element of contrast into your family room, enhancing the feature as the central focal point in a space.
In this beautiful living space, the luxurious black marble creates a dramatic feature of the fireplace, forming an elegant contrast with the gray painted walls and the light palette used throughout the room. The use of this dark marble truly grounds the fireplace in this space, with added features such as the dark framed mirror and painted radiator enhancing this element of contrast.
5. Make your fireplace discreet
For a more minimal look for your family room ideas with fireplaces, there are many modern fireplace designs available that make this traditional architectural feature into more of a discreet element rather than the main focal point in a room.
In this open-plan family room, both the TV and fireplace effortlessly blend into the black painted feature wall – a bold and striking design that ironically also works well to hide certain elements in the room. The low fireplace still creates an element of coziness and comfort but in an understated and discreet way – a great tip to remember for family room TV ideas if you want your TV to also be a discreet feature in the room.
6. Use wallpaper to enhance your fireplace
'The chimney breast and the area of wall surrounding the fireplace provide the perfect platform for wallpaper ideas' says Jennifer Ebert, Homes & Gardens' Digital Editor.
A great way to add color and pattern to your family room, wallpaper is also a simple way to enhance a traditional fireplace with contemporary style – perfect for living room fireplace ideas.
In this cozy family room, the wallpaper enhances the unique, asymmetrical fireplace design, creating a stand-out feature wall. The elegant wallpaper also softens the sleek, built-in fireplace, as well as adding an element of color and texture to the family room space.
7. Frame your fireplace
When framing your fireplace, you can be both bold and subtle. Whether you build a bespoke wooden surround for added texture and height, or use clever paint ideas to enhance an original design, using techniques that frame your fireplace will ensure it becomes an elegant, eye-catching feature in your family room.
In this large family room space, designed by Jessica Bennett of Alice Lane Interior Design, she states, 'we wanted this space to feel more dressed up and fashionable. We started with the design of the new fireplace surround, creating drama and adding more height to the space.'
The large frame for this fireplace perfectly matches the height and grandeur of this space, with the soft cream paint used complementing the textured brickwork and natural palette used throughout the room.
8. Create an off-center, unexpected fireplace
Traditionally, fireplaces are placed in the center of a wall, however, to create a unique, unexpected design for family room ideas with fireplaces, why not choose an off-centered fireplace design.
Great for small family rooms where space is limited, being more flexible with the position of your fireplace can make more room and space for storage and seating elements.
In this family room, a bespoke wooden unit houses the fireplace in the corner. The design fits perfectly in this display and storage unit, balanced out by other items such as the TV and decorative accessories. The marble frame adds a luxurious touch and gives prominence to the fireplace whilst tying the feature together with the rest of the scheme.
Combining your family room furniture ideas with the placement of your fireplace can form a unique, stylish design statement in a room.
9. Pick a luxurious marble design
Long-lasting, durable and utterly beautiful, marble fireplaces gained popularity and were a typical design feature in grand homes of the Georgian era.
Luxurious and timeless, today the use of marble can integrate into homes of all styles, adding both a decorative touch and practical surround to your fireplace.
The white and gray marble used for the fireplace in this family room create a stunning contrast with the blue painted walls. With the marble tabletop on the metallic coffee table creating an elegant connection and enhancing the use of this material, the overall glamorous design embodies a unique mix of the old and new.
10. Use your fireplace as a platform for decorative designs
A fireplace mantel creates an inviting platform where you can get creative with decorative designs and create unique displays of objects and ornaments.
'Mirrors are a very popular decorative item that are often positioned on or above fireplaces. Mirrors can easily fill an empty wall space whilst enhancing the feeling of light and space in a room,' says Homes & Gardens' Editorial Director Sarah Spiteri.
The family room is also a space which should reflect your family identity and style, so using the fireplace to display photographs and personal items rich with memories and stories will ultimately create a unique design that sparks joy for the whole family.
How do you style a family room with a fireplace?
Having a fireplace in your family room provides not only a sophisticated focal point, but is a great starting point when thinking of family room ideas, as you can simply arrange your seating and furniture items around this architectural feature.
A fireplace can make a family room feel cozy, warming and inviting. Styling your family room ideas with fireplaces should be about creating an engaging space where you can sit and relax around this feature with friends and family.
Exploring the tips we have outlined in this article will help you to make the most out of the fireplace in your family room, and create a design that is long-lasting and bespoke to your family room space.
How do I update my family room fireplace?
A quick and easy way to update a fireplace in a family room is using paint ideas. From painting the surround, to creating a colorful feature wall around a traditional fireplace design, you can effortlessly refresh the fireplace with color and pattern.
Another way to update the family room fireplace is building a bespoke surround and mantel. From traditional wooden designs to modern geometric shapes, you can pick a refreshed design that enhances the design scheme in your home and family room.
Sign up to the Homes & Gardens newsletter
Decor Ideas. Project Inspiration. Expert Advice. Delivered to your inbox.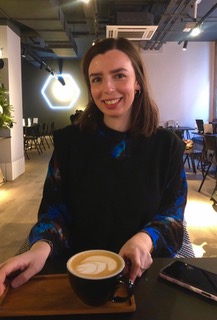 Zara joined Homes & Gardens in February 2022 as a Content Editor. After studying English Literature at University, she worked as an Ecommerce Website Editor, Content Writer and Buying Intern at multiple independent businesses within the luxury retail and lifestyle sectors. Her role at Homes & Gardens unites her love, experience and passion for the world of design and desire to create inspiring written content. She enjoys nothing more than discovering new trends, brands and products, whether that be in fashion, interior design or lifestyle.