Cleaning with tea tree oil – 7 expert-approved ways to use this natural disinfectant
Natural, safe and inexpensive, tea tree oil is a green cleaning kit essential – here's what you can do with it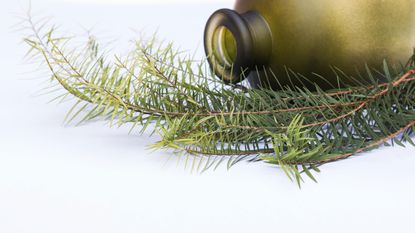 (Image credit: Alamy)
Sign up to the Homes & Gardens newsletter
Decor Ideas. Project Inspiration. Expert Advice. Delivered to your inbox.
Thank you for signing up to Homes & Gardens. You will receive a verification email shortly.
There was a problem. Please refresh the page and try again.
Despite what some may have you believe, you don't need chemical-laden products to keep your home spotless. All-natural solutions are just as effective and cleaning with tea tree oil is one of the most versatile, thanks to its antibacterial, antifungal and antiviral properties, not to mention its fresh-smelling scent.
Made from the leaves of the Australian tea tree, this essential oil is used widely in natural remedies across the health, beauty and wellness industries, so it really is a safe ingredient to use when it comes to green cleaning tips – good to know if you're after cleaning tips for allergy sufferers, too. However, there are a few precautions you'll need to take heed of before you get started.
'It's important to remember that while it's a natural cleaner, tea tree oil can be harmful if ingested or applied directly to the skin. Be sure to keep it out of reach of children and pets, and always dilute before using it on surfaces or fabrics', advises Karina Toner, operations manager at Spekless.
Cleaning with tea tree oil
Don't let that put you off though; it's just the same as any product you're coming into close contact with, do your research and ensure it works for you. Now that's covered, here are our top tips for cleaning with tea tree oil – you'll be surprised at what a great all-rounder it is.
While there are benefits to making your own solutions, we're not disparaging shop-bought cleaners altogether. There are plenty of natural versions out there, many of them with tea-tree oil as an ingredient, such as this Castile liquid soap at Amazon, for example. Before buying anything, always check out the labels; if you don't recognize the majority of the ingredients on there, it's probably best to steer clear.
1. Scent – and purify – the air
Ditching synthetic scents in favor of a homemade reed diffuser is one of the best ways to make your home smell nice. While tea-tree oil smells lovely in itself, it also purifies the air as it diffuses – no more lingering cooking smells to contend with, that's good news. Blend with other essential oils to create your perfect scent; chamomile and orange, eucalyptus and lemon, rose geranium and lavender are some of our favorite combinations.
2. Freshen up laundry
'Adding a few drops of tea tree oil to your laundry detergent will help to eliminate odors and kill bacteria – think pet bedding and sweaty gym clothes', says Karina. If removing odors isn't enough, try adding in a few drops of another essential oil to recreate a more natural version of the flowery or citrusy scents you usually get from shop-bought detergents.
Karina is the Operations Manager at Spekless Cleaning, a trusted maid service based in Washington, D.C. The team has over five years of experience providing top-quality cleaning services for both residential and commercial clients. Karina oversees every aspect of the business, ensuring that every client gets the same top-notch service and a spotless clean every time.
3. Banish dust mites
Wondering how to get rid of dust mites? While it might not eliminate them completely, tea tree oil certainly will help to keep them at bay. Made up into a spray, it can be used across an array of furnishings, from carpets and upholstery to cleaning a mattress. Simply combine two cups of water with two tablespoons of tea tree oil and two tablespoons of eucalyptus oil and shake to mix.
The same mixture also doubles up as an effective homemade bug spray; spritz it around door and window frames during the summer months to stop them sneaking into the house.
4. Get rid of mold
Even if you're familiar with how to clean a bathroom properly, mold can be tricky to contend with. As well as looking unsightly, it can play havoc with your respiratory system, so it's something you'll need to tackle.
Rather than resorting to bleach, try cleaning grout with a teaspoon of tea tree oil combined with 1 cup water. Leave for an hour, then wipe away with a cloth or sponge. As a natural fungicide, it'll kill the mold spores, and should prevent them from reemerging, too.
5. Disinfect surfaces
Whether you're cleaning kitchen countertops, the sink or the floor, ensuring surfaces are kept fresh, hygienic and germ-free is an essential part of cleaning a kitchen. With such a variation in the types of materials you're using it on, keeping things natural is a good idea when it comes to all-purpose disinfectants.
'As a natural disinfectant, tea-tree oil is a prime ingredient for a homemade kitchen cleaner, particularly when combined with other pantry staples such as grime-busting vinegar and deodorizing baking soda. You can always scent it to your taste with other essential oils too, if you want a lasting fragrance', says Millie Hurst, Section Editor at Homes & Gardens.
Millie Hurst is Section Editor at Homes & Gardens, overseeing the Solved section, which provides readers with practical advice for their homes. Millie has written about and tried out countless cleaning and DIY hacks in the six years since she became a journalist, and has worked in both London and New York.
6. Freshen up the trash can
Trash cans can quickly turn stinky if they don't get a little TLC every now and then. Regular cleaning is of course recommended, but according to Jennifer Rodriguez chief hygiene officer at Pro Housekeepers, prevention is better than cure; 'before inserting a new garbage bag, place a cotton ball soaked in naturally deodorizing tea tree oil at the bottom to prevent nasty odors from building,' she says.
Jennifer Rodriguez is the Chief Hygiene Officer at Pro Housekeepers, a nationwide cleaning business. She has over 20 years of experience cleaning both residential and commercial properties and has been featured in publications such as First For Women, Fatherly, Business Insider, and NBC News.
7. Clean your washing machine
Wondering how to clean a washing machine? Adding a couple of teaspoons of tea tree oil before running an empty hot cycle should do most of the hard work for you – make your job easier next time by ensuring you leave the door open after every wash to prevent soap scum from building up.
FAQs
What should I not use tea tree oil on?
Tea tree oil is pretty safe to use when cleaning, but there are a few precautions you'll want to take before using it on any surface in your home. It's pretty potent, so experts recommend diluting it, either with water or a carrier oil, to reduce any risk of marks. If you're worried, test it on a small, inconspicuous area first.
It's also worth noting that, while uncommon, some people do find they're allergic to tea tree oil. If you do have any kind of reaction when using it, it's best to cut it from your cleaning routine altogether.
How do you make tea tree oil cleaning solution?
It may sound like hassle, but making your own tea tree oil cleaning solution is so easy to do – you've likely got everything you need in the house already. According to Karina, all you need is a spray bottle, distilled water and tea tree oil.
'Fill the spray bottle with distilled water, add 2 teaspoons of tea tree oil to the bottle and shake to mix. That's it! You can use this solution to clean and disinfect surfaces around the home, or spritz into the air to freshen and purify', she says.
---
So, if you want to take a greener approach towards your cleaning routine, tea tree oil is a great place to start, and with its natural antibacterial properties you can rest assured it's just as effective as any chemical-laden cleaner – and a lot safer, too.
Sign up to the Homes & Gardens newsletter
Decor Ideas. Project Inspiration. Expert Advice. Delivered to your inbox.
For 10 years, Tara King worked as a Content Editor in the magazine industry, before leaving to become freelance, covering interior design, wellbeing, craft and homemaking. As well as writing for Ideal Home, Style at Home, Country Homes & Interiors, Tara's keen eye for styling combined with a passion for creating a happy – and functional – family home has led to a series of organization and cleaning features for H&G.