8 incredible emerging destinations in America
From the great outdoors in Tucson to jazz and Art Deco design in Tulsa, there's something for everyone...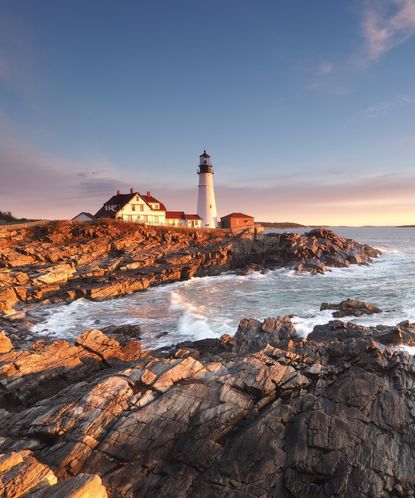 (Image credit: Visit the USA)
The US is teeming with awe-inspiring bucket list destinations and experiences, but beyond the most notable cities and regions are some truly remarkable emerging destinations in America for 2020 that should be on your radar.
'Undertourism' is a growing global travel trend, seen on both a local scale—for example, exploring up-and-coming neighbourhoods and boroughs in popular cities—and on a larger scale, where travellers are considering lesser-known destinations.
From low-key beach breaks to culinary-focused city stays, seeeight emerging destinations in America for 2020 that are waiting to be explored…
Discover 8 emerging destinations in America for 2020
See our news section for more expert interiors tips, product launches, and luxury travel and property updates
1. For modern art and award-winning food: Baltimore, Maryland
While Baltimore may have made its name as one of America's most important port cities in the 1700s, today the Charm City is experiencing one of the largest millennial booms in the country, with a growing class of entrepreneurs and artists. As a result, the city has a thriving food, drink and art scene.
Art lovers should head to the Baltimore Museum of Art, home to the largest collection of Henri Matisse in the world, and to the American Visionary Art Museum, which showcases the work of self-taught artists, and encourages visitors to participate in walk-in weekend workshops.
The city's food scene has also enjoyed a culinary renaissance, with new food hall markets opening up, such as the Lexington Market, and restaurants with James Beard award-winning chefs at the helm, including The Woodberry Kitchen.
2. For wilderness and adventure: Mammoth Lakes, California
Most visitors to California make a beeline for SoCal beaches, but those looking for an outdoor adventure combining picturesque scenery with excellent culinary options should make time for Mammoth Lakes, in the Sierra Nevada Mountains.
During the summer, Mammoth offers wilderness camping, mountain biking, hiking and fly fishing, whilst skiing, snowboarding and snowshoeing activities take over in the winter months.
Accommodation ranges from cool campsites and luxurious hotels to the Tamarack Lodge—Mammoth's most secluded resort, where cosy cabins line the water's edge of Twin Lakes. An emerging destinations in America for 2020 list wouldn't be complete without it.
3. For arts districts and craft beer: Dallas, Texas
Austin has long been favoured as Texas' hip city escape, but visitors who head north to Dallas will discover a city with a flourishing arts scene, as well as some of the state's best bars and restaurants.
Downtown, the Dallas Museum of Modern Art features 22,000 works of art stretching over 5,000 years of history while in the leafy suburb of North Oak Cliff, the Bishop Arts District is home to independent shops selling locally designed jewellery, art and all-natural beauty products.
Deep Ellum is the spot for an alternative night out; colourful murals line the streets, and craft-beer bars sit side-by-side with blues music venues.
See: Explore this stunning new Parisian hotel
4. For jazz and art deco architecture: Tulsa, Oklahoma
Emerging destinations in America for 2020 are surprising and diverse. For example, there's more to Tulsa than its self-billed name 'the Oil Capital of the World' – although the wealth generated from the industry is what helped create its beautiful Art Deco downtown.
Those keen to explore the 'Deco District' should start at Decopolis—a museum, souvenir shop and bookstore that gives out free walking maps highlighting the city's magnificent architecture, including the Philcade Building, with its art deco architecture exhibit.
Meanwhile, music lovers should head to the Oklahoma Jazz Hall of Fame at Union Station to learn about music legends and attend Sunday jazz concerts in the concourse.
5. For history and seafood: Portland, Maine
Portland, Oregon has been celebrated as a quirky holiday destination for years, but its namesake town on the east coast, Portland, Maine, has plenty to offer travellers interested in history and coastal cuisine.
The port city was first settled in 1632, and its rich maritime heritage can be experienced through historical walking tours or a visit to the Maine Historical Society Museum in downtown Portland.
Seafood lovers can enjoy a lobster roll from one of Portland's many excellent quality seafood shacks, or opt for an elevated experience at the James Beard Award-winning Eventide Oyster Company, which offers some of the best seafood dishes in town served with a signature Bubbly Mary (a bloody Mary with cava).
See: The most popular luxury family holiday destinations
6. For gastronomy and the great outdoors: Tuscon, Arizona
Tucson - designated as the USA's first UNESCO City of Gastronomy in 2016 - has some of the best tacos in the country thanks to its location an hour's drive north of the Mexican border.
It also has so much to offer outdoors lovers, including hiking through the Sabino Canyon and Saguaro National Park, exploring three miles of passageways and caves at Colossal Cave Mountain Park or horse riding and rock climbing at White Stallion Ranch.
Accommodation options in Tucson include Hotel McCoy - a colourful mid-century-inspired modern art hotel suitable for laidback travellers, and Posada by Joshua Tree House - a serene five-suite inn located within 38 acres of forest, perfect for nature-lovers.
7. For beaches and bars: Fort Lauderdale, Florida
Fort Lauderdale is just an hour's drive north of Miami, and has beaches and bars to rival its famous neighbour. The highly anticipated Seminole Hard Rock Hotel—a huge casino and hotel complex built in the shape of a guitar featuring 469 rock star-worthy rooms and suites, waterslides and live events—opened in late 2019.
Fort Lauderdale is also one of the most LGBTQ+ friendly destinations in the world, and is home to the world's first LGBTQ+ Visitor Centre, which showcases the attractions and bars that may interest visitors.
8. For dining and distilleries: Louisville, Kentucky
Home to the Kentucky Derby and the Muhammad Ali Centre, Louisville is ideal for an easy-going city stay with excellent restaurants. The city's burgeoning food scene ranges from contemporary American cuisine with city-skyline views at the rooftop restaurant 8UP, to thick and cheesy Louisville-style pizza at Impellizzeri.
Imbibers can enjoy the state's national drink, bourbon, at their pick of distilleries and bars such as Gerstle's in Crescent Hill, serving signature deep-fried cheese balls with bourbon and a side of live blues and rock'n'roll, and Old Louisville's 610 Magnolia, which pairs locally-distilled bourbon and wine with multi-course tasting menus.
Head to Visit the USA for more information.
Ruth Doherty is an experienced digital writer and editor specializing in interiors, travel and lifestyle. With 20 years of writing for national sites under her belt, she's worked for the likes of Livingetc.com, Standard, Ideal Home, Stylist and Marie Claire as well as Homes & Gardens.