Bobby Berk's 5 top design tips – on using temporary wallpaper for impact
Plus our favorite temporary wallpaper designs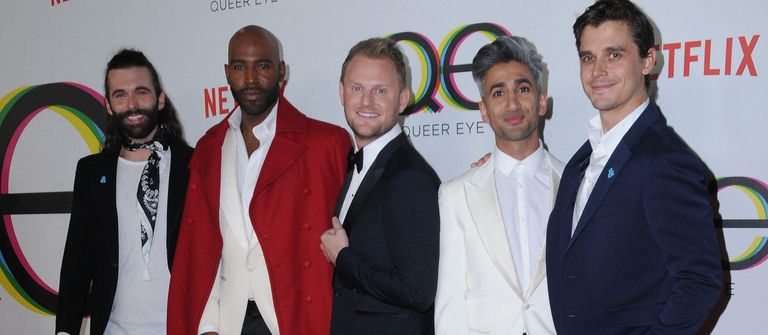 (Image credit: Alamy)
By Shanicka Anderson published
Season 6 of Queer Eye may still be some way off thanks to the pandemic, but Bobby Berk is still on hand to dispense design advice – and this week we bring you his tips on using temporary wallpaper.
It's well known that Bobby, who has his own line of temporary wallpapers, is a fan of the accent wall, usually in black or blue and white – and he's said in the past on his blog that they are perfect if you are experimenting with pattern for the first time.
And while they're ideal for anyone who has issues with commitment – decoratively – temporary wallpapers are also a fantastically easy design switch for anyone looking to add quick updates to a room – from brightening the backs of bookcases to papering ceilings. And that's what got us interested.
We've listed Bobby's top tips for using wallpaper (temporary or not), plus his best temporary wallpaper designs, below, along with a few other finds.
See: Wallpaper ideas – gorgeous decor for every room
Bobby Berk's tips for using wallpaper
In his blog, Bobby lists his favorite ways of using temporary wallpaper effectively – but of course these ideas can be adapted to permanent wallpaper, too. Keep scrolling to see our pick of Bobby's temporary wallpapers – plus other fabulous finds that suit his signature style.
1. Use temporary wallpaper to decorate a ceiling
In his blog, Bobby points out that while the ceiling is often 'the last place' you would think to wallpaper, it's a great way to add a decorative surprise in a room – and to draw the eye upward.
In fact, we spotted that Drew Barrymore is a fan of this trick – her living room ceiling is wallpapered with gold stars.
Bobby says on his blog that adding a darker pattern to the ceiling can make a room feel taller, too, perfect in a room that has a low ceiling – or where you spend time looking upwards, like in a bedroom – or bathroom.
2. Make a staircase more stylish
Adding paint to the risers of a staircase is one thing – but adding a graphic wallpaper gives it a bigger boost. 'We suggest sticking to a larger scale pattern to make more of an impact, as something smaller won't stand out,' suggests Bobby's blog.
See: Staircase ideas – 25 inspirational features for treads, rails, materials and more
3. Boost a powder room
A small room needn't be plain, but if you are worried about choosing a big bold pattern, temporary wallpaper will take some of the pressure off. In a small space, such as a powder room or half bath, Bobby suggests going bold, like in the room above.
4. Make an entry interesting
An entry sets the tone for your home, advises Bobby, which is why a wallpaper is such a vital decorative element.
Hallway ideas – stylish ways to create a welcoming first impression
5. Wallpaper a closet to make it cool
'The right wallpaper can be the perfect complement to your wardrobe – and truly elevate the act of getting dressed every day,' says Bobby.
And if you don't have a walk-in? Bobby suggests that wallpapering the inside of a wardrobe is just as effective and beautiful.
Bobby Berk's temporary wallpaper – plus more fabulous finds
Bobby's most iconic temporary wallpaper, this design offers a quirky twist on the traditional stripe. Bold black stripes bend and wind themselves along a solid white background. This easily removable, vinyl design would be ideal for a bedroom or sitting room.
This piece is perfect for the most whimsical home decorator. The wallpaper design pairs adorable woodland creatures with a floral print and it has the power to take even the most drab spaces a few steps closer to nature. The non-woven construction allows for a paste-free application and an easy removal.
This abstract design will instantly liven up a space with even the most minimalist decor. The brushstroke pattern is printed on non-woven material and has a semi-gloss finish and a paste-free application.
Blue Moon Moire Dots Wallpaper
The dreamy design creates the illusion of a watercolor painting with none of the mess. This wallpaper is DIY-friendly, paste-free, and ready-to-use. It would be perfect as an accent wall in a bedroom or living room.
Herringbone Modern Stripe Wallpaper
Though this wallpaper features a classic herringbone design, the faux brushstrokes provide a twist that makes the wallpaper feel more personal and handmade. The peel and stick vinyl construction is beginner-friendly and would be ideal in a bedroom, living room, or used in a hall or entryway.

Will there be a sixth series of Queer Eye?
There will be a season 6 of Queer Eye, however, the filming and release date has been severely delayed due to the pandemic.
Back in July 2020, Bobby Berk told PureWow that Queer Eye season 6 had just started filming in Austin, Texas in March 2020 when the city was locked down due to coronavirus.
The Fab Five had only filmed one episode, then, 'unfortunately, everyone got quarantined, so we had to stop filming. But at some point this year, we'll be back,' he said.
However, in an update on how the pandemic had affected filming, Berk said in November on Showbiz Cheat Sheet that filming hadn't yet recommenced, citing public, talent and crew safety and the impossibility of social distancing in making the show as reasons for the delay.
Referring to the vaccination program, he concluded, 'once that's out we can probably get back to work in a good way.'
Shanicka Anderson is a writer, editor, creative, and superfan of Jamaican descent hailing from New York. Her work can be found on OK! Magazine, Bustle, gal-dem, The Tempest, and more. She holds a Bachelor's degree in English Literature and Creative Writing. She was previously associate editor at OK! Magazine and J-14 Magazine online. Often and without prompting, she enjoys talking about pop culture, K-pop, Harry Styles, all but forgotten 80's movies, her year abroad in London, and the complexities of the Caribbean diaspora.